Tender, flavorful chicken in a richly spiced sauce makes this easy Chicken Tikka Masala a serious crowd pleaser. Serve with rice and naan to help you enjoy every last drop!

I've been on a mission to create a simple, delicious Chicken Tikka Masala recipe ever since my daughter Tessa sampled this dish at Trader Joe's.
Despite occasionally snacking on prosciutto and Cambozola, my kids are notoriously picky eaters. In their minds, white rice on tortillas makes for a perfect meal.
The fact that Tessa's palate expanded to include this popular Indian dish had me dancing in the aisles. I was so excited that I bought two packages of the frozen entree on the spot.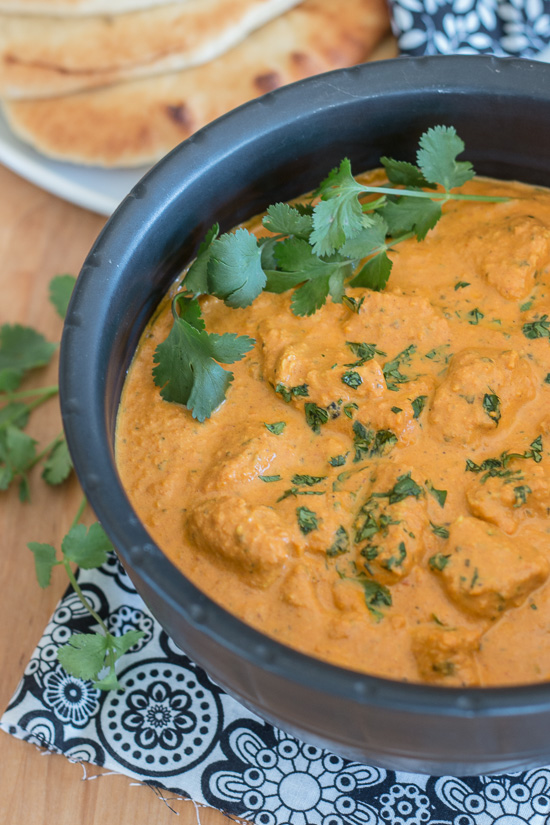 The next time we hit Trader Joe's, both of my daughters asked if we could buy the Chicken Tikka Masala again.
Since I actually enjoy making dinner and experimenting with new recipes, I suggested that we make our own instead.
The girls loved the idea, so I googled recipes on my phone and grabbed everything we needed to prepare their new favorite meal.
Because I'm always testing and adapting recipes, my family knows that I don't want sugar-coated feedback about anything I prepare. After they started eating dinner, the girls suggested that we just stick with Trader Joe's frozen version the next time around.
Ouch.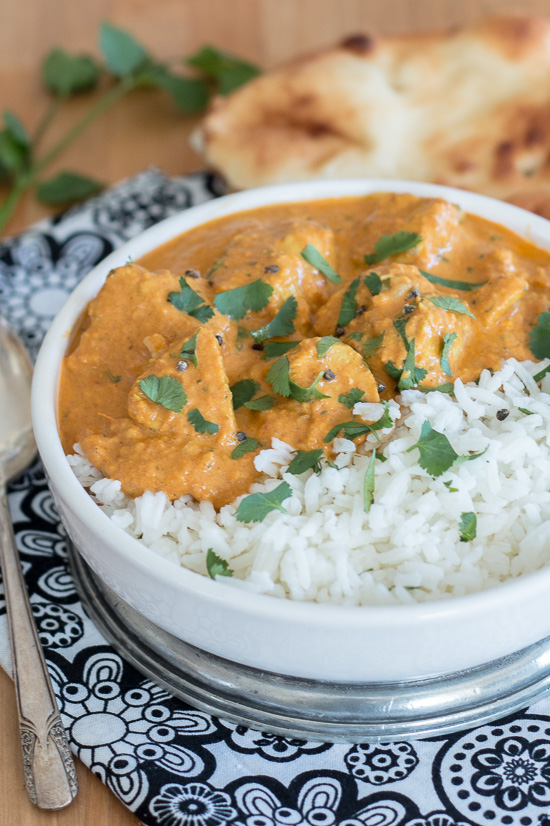 While I appreciated their brutally honest feedback, hearing that a frozen dinner tasted better than my home-cooked meal didn't exactly make my day.
I refused to admit defeat to the frozen foods section, though. I simply found another recipe to try.
The reviews of my next attempt fared better, and, with more experimentation and tweaking, this Chicken Tikka Masala has become my kids' most requested meal. Since it's a super easy dish to prepare, I'm always happy to oblige.
The recipe does require some advance planning as the chicken marinates at length in yogurt infused with spices, garlic, and ginger. In addition to making the chicken extra tender and flavorful, this step means you can do much of the required chopping and measuring when it's convenient.
Since everyone, myself included, is tired, hungry, and needy in the late afternoon when I'm usually preparing dinner, having a good chunk of of the work out of the way is a serious bonus.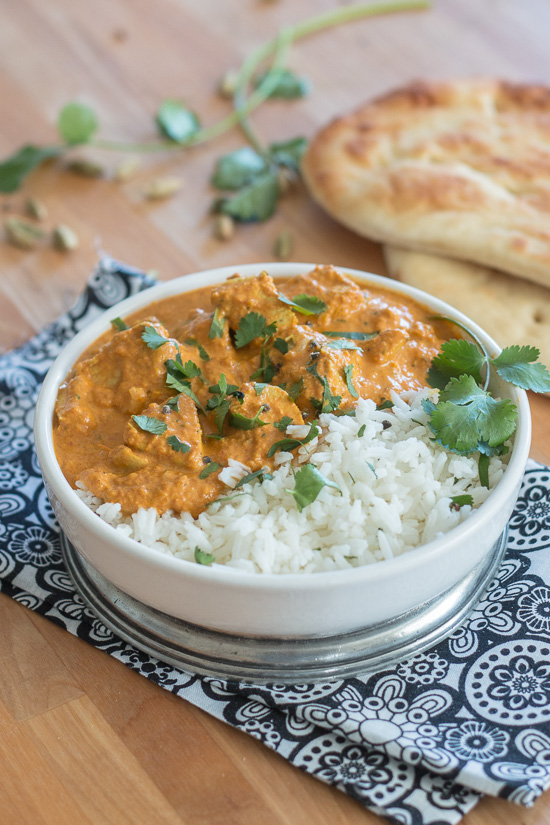 Tomatoes and onions feature prominently in this dish, which, oddly enough, my kids passionately dislike. Really, they dislike evidence of tomatoes or onions in their food, so, with the aid of an immersion mixer, I transformed these delicious vegetables into a creamy, richly-spiced sauce that my kids crave.
After about 20 minutes of active time, the sauce requires little attention as it simmers on the stove. When it's nearly ready, all that's left to do is broil the meat, chop it into bite-sized pieces, and add it to the sauce to cook it completely. It's so easy.
This recipe produces an abundance of Chicken Tikka Masala, which makes it great for parties, meal sharing, or leftovers. My kids always want it in their lunchboxes day after day until we finally eat every last drop. And then they ask me to make it again.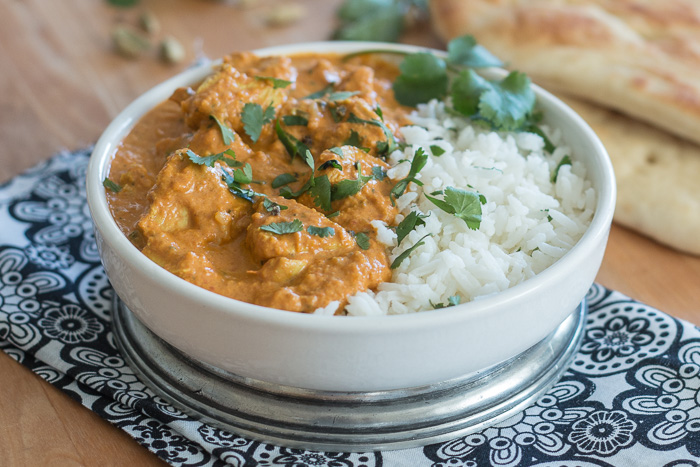 Recently, I asked Tessa how it compared to the frozen version.
"Your Chicken Tikka Ma-Awesome?" she said. "Way better. Can I have some in my lunch tomorrow?"
Take that, Trader Joe's.
Print Recipe
Easy Chicken Tikka Masala
If you're feeling ambitious, make your own
flatbread
to serve with this flavorful, saucy dish. Adapted from
Bon Appetit
.
Ingredients
6

garlic cloves

minced or pressed

2

tablespoons

minced ginger

4

teaspoons

ground turmeric

2

teaspoons

garam masala

2

teaspoons

ground coriander

2

teaspoons

ground cumin

1½

cups

whole-milk plain yogurt

European-style

1

tablespoon

kosher salt

3

pounds

skinless boneless chicken breasts

halved lengthwise

3

tablespoons

ghee or olive oil

1

large onion

sliced thinly

¼

cup

double concentrated tomato paste

1

teaspoon

green cardamom pods

crushed and seeded (discard husks), plus more for garnish

1/2

teaspoons

crushed red pepper flakes

optional

1 28-

ounce

can whole peeled tomatoes

2

cups

heavy cream

1

cup

loosely packed fresh cilantro leaves

plus additional sprigs for garnish

Basmati rice

for serving

Naan

for serving
Instructions
Mix garlic, ginger, turmeric, garam masala, coriander, and cumin in a small bowl. In a large bowl, combine yogurt, salt, and about half of the spice mixture. Whisk well and add chicken, turning to coat. Cover and chill for 4 to 12 hours. Cover remaining spice mixture and chill until ready to use.

Heat ghee or oil in a large pot over medium heat. Cook onion, tomato paste, cardamom, and red pepper flakes, if using, stirring often, until the onions are soft, about 5 minutes. Add remaining spice mixture and cook, stirring often, until bottom of the pot begins to brown, about 4 minutes.

Add tomatoes and their juices, crushing them a wooden spoon as you stir and scraping up browned bits from the bottom of the pan. Bring mixture to a boil, reduce heat, and simmer, stirring often, until sauce thickens, 8 to 10 minutes.

Stir in cream and chopped cilantro. Working carefully, puree mixture with an

immersion blender

until smooth. Simmer, stirring occasionally, until sauce thickens, 30-40 minutes.

While the sauce simmers, preheat broiler. Line a rimmed baking sheet with foil and set a wire rack on top. In a single layer, place chicken on the rack. Broil until the meat begins to char and blacken, about 10 minutes (it will not be cooked through).

Chop chicken into bite-size pieces and add it to the sauce. Simmer until the chicken is cooked through, about 8 to 10 minutes. Serve with basmati rice and garnish with cilantro and cardamom seeds, if desired.
Some of the links in this post are affiliate links. If you click through and make a purchase, I earn a small commission for my referral at no additional cost to you. Thank you for supporting Flour Arrangements.
PIN EASY CHICKEN TIKKA MASALA FOR LATER

You might also like