Simple and elegant, this raspberry chocolate layer cake blends rich, decadent chocolate with tart, sweet raspberries. Raspberry liqueur adds a fruity backdrop to the chocolate cake layers, while raspberry jam and raspberry buttercream add bright sweetness.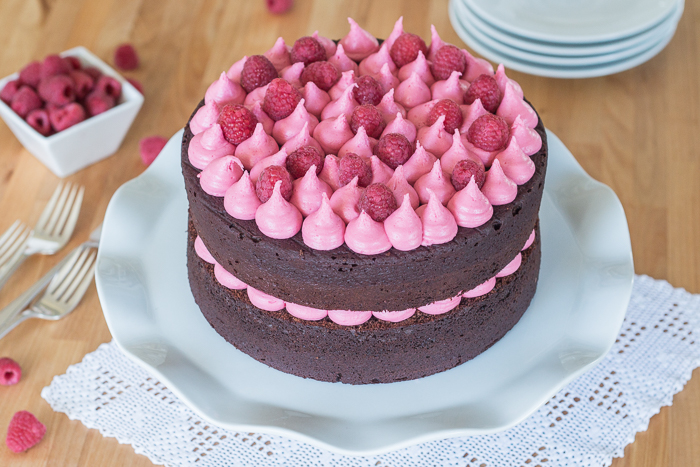 My sweet, lovely grandmother turned 102 this month. 102! We celebrated with a raspberry chocolate layer cake almost as sweet and pretty as she is.
My grandma doesn't always know me anymore, and she sometimes thinks my dad is her husband rather than her son. The other day she talked at length about a "recent" conversation she had with her parents. And always, always, she repeats the very same questions again and again while we visit.
The loss of her short-term memory sometimes makes conversation challenging, but we all still love to visit her.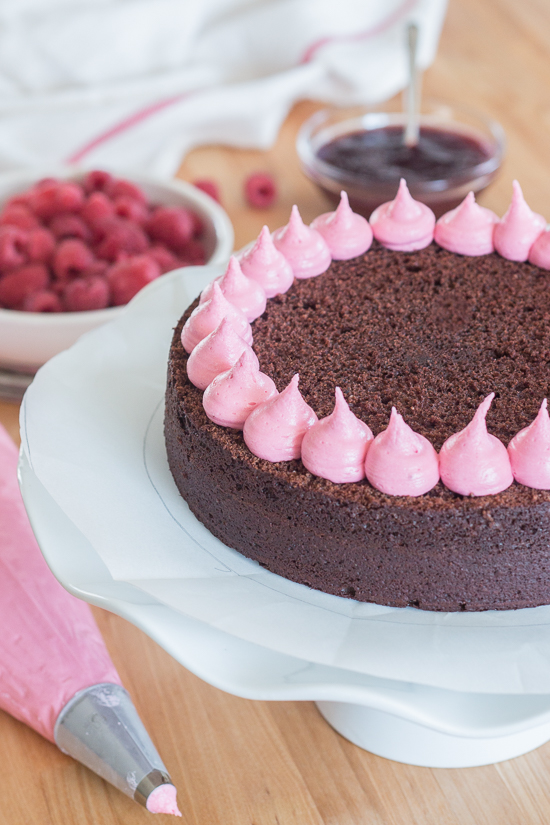 My grandma lights up any room. She claps with delight, a twinkle in her eye, as we tell her about the big and small details of our lives. She goes on and on about how lucky she is to live in such a nice place with such friendly people. Without fail, she offers to take us somewhere nice for dinner.
And then she'll ask my kids who they are again. They smile and answer sweetly every single time.
Of course I wish we could chat like we used to, but, like I've told my kids, she's lived so long that her brain is just too full to keep track of everything.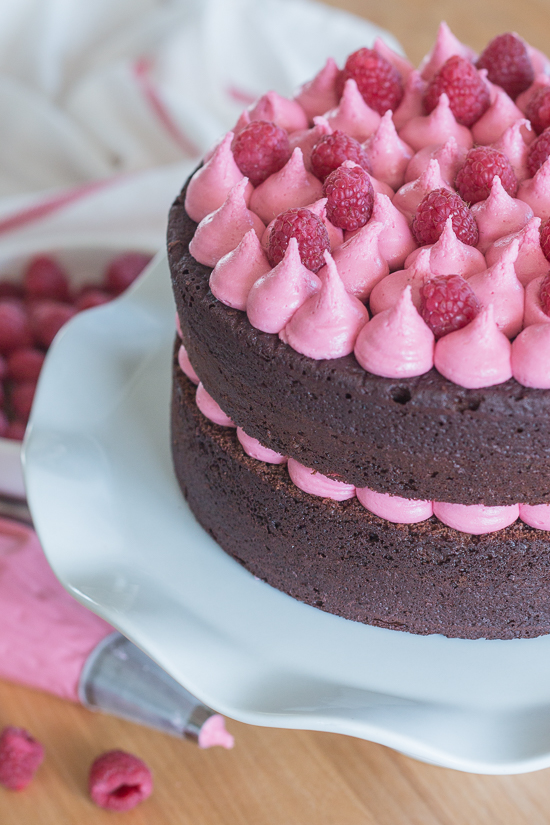 Watching her radiate pure joy — even when she can't hold the thread of conversation for more than a few minutes — helps me remember how full and wonderful her life has been.
While my grandpa was still alive, I often watched my grandparents holding hands like teenagers in love, despite the fact that they'd been together almost 60 years. The two of them raised three sons, pursued hobbies together — like lawn bowling and travel — and always made time for their grandchildren. They treated us to tea, had us for sleepovers, and took us camping.
At some point, my grandma got interested in cake baking and decorating, and she made birthday cakes that looked like baskets full of flowers and peek-a-boo Easter eggs with festive scenes inside.
Now when I visit, I pull out my phone to show her pictures of cakes I've made, often with her decorating tools. Since she can't easily get out in the world anymore, I also show her pictures of our travels, of the kids heading out on their first day of school, of our garden, of our cat, and more.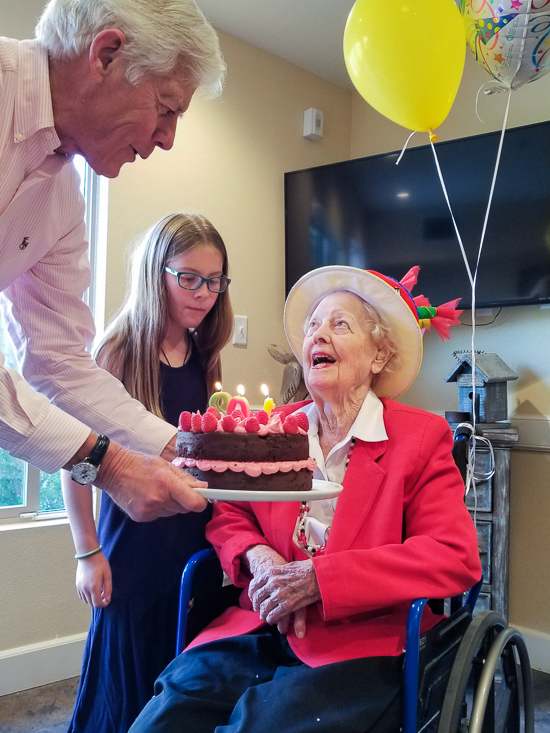 My grandmother started her career as a telephone operator long before all phones had rotary dials, let alone push buttons or touch screens. Now she always turns my cell phone over in her hands, amazed at how many pictures the strange device holds. It makes me wonder about the changes my lifetime will hold if I'm lucky enough to live past the century mark.
I was glad to bring my grandma a real cake for a change, and I made sure to take plenty of pictures of her enjoying it with my phone. The next time I visit, I'll show her the pictures and remind her about her 102nd birthday party. I know she won't remember, but the pictures will delight her all the same.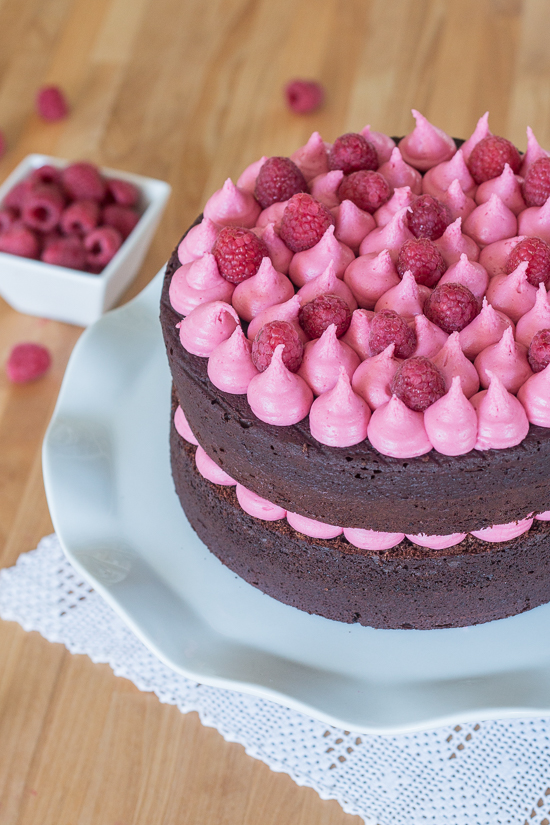 My kids helped create this simple, elegant chocolate cake infused with raspberry goodness inside and out. Raspberry liqueur imparts it a sweet, tart backdrop into the rich chocolate cake, and a layer of raspberry jam sandwiched between the layers gives it tangy sweetness while keeping the cake moist.
The jam was Eliza's idea, as was the pretty pink raspberry buttercream frosting. We piped dollops of frosting around the edge of the bottom layer to hold in the generous portion of jam that Eliza made herself (feel free to go there if you want, but the recipe below calls for prepared jam). On the top layer, we piped little peaks of frosting, squeezing in fresh raspberries for extra color and flavor.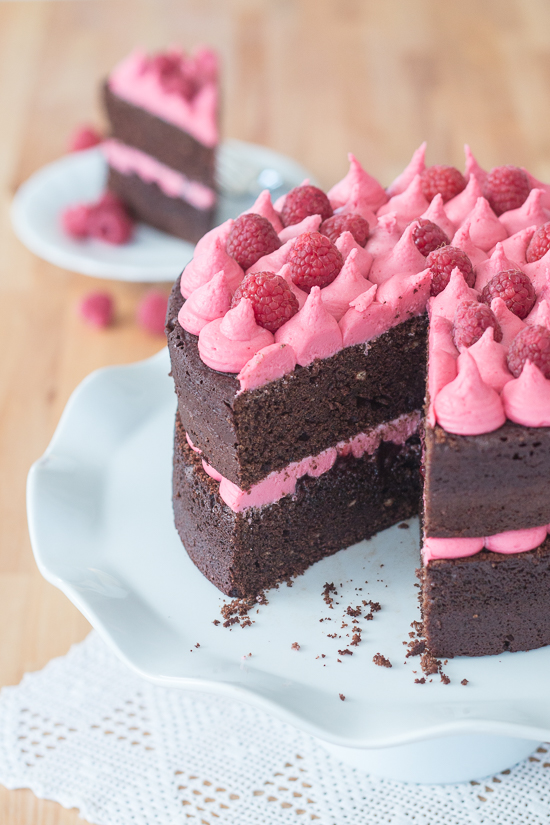 "Did you make 102 mounds of frosting?" my husband asked just as we finished. "Better than 102 candles, right?"
I wish that I'd thought of marking her years with frosting, a much safer option than using 102 candles. My mother was probably thinking the same thing when she told me days before the party that she'd bring the candles.
We learned our lesson at my grandma's 100th birthday party. Let's just say lighting 100 candles on a cake is bad idea, especially when the candles sit on the Styrofoam cake that your daughter made for her 100th day of school project.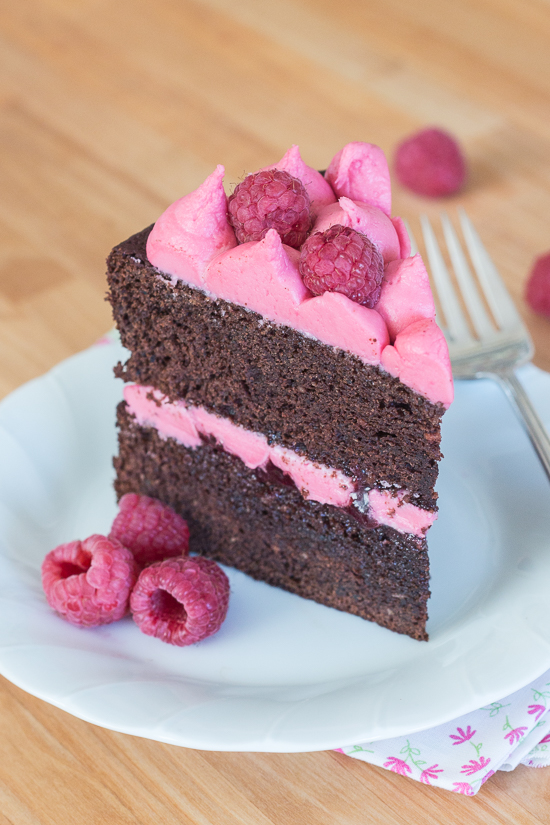 We didn't burn the restaurant down, thank goodness, but we all jumped into action to help blow out the candles as fast as we could. I know my grandma doesn't remember the excitement, but I'll never forget it. At least I hope I won't.
I hope, too — even if my mind stops processing new memories someday — that I'll always remember my grandmother. Her smile, her joy, her delight in everything remind me to pack as much love as I can into each and every day.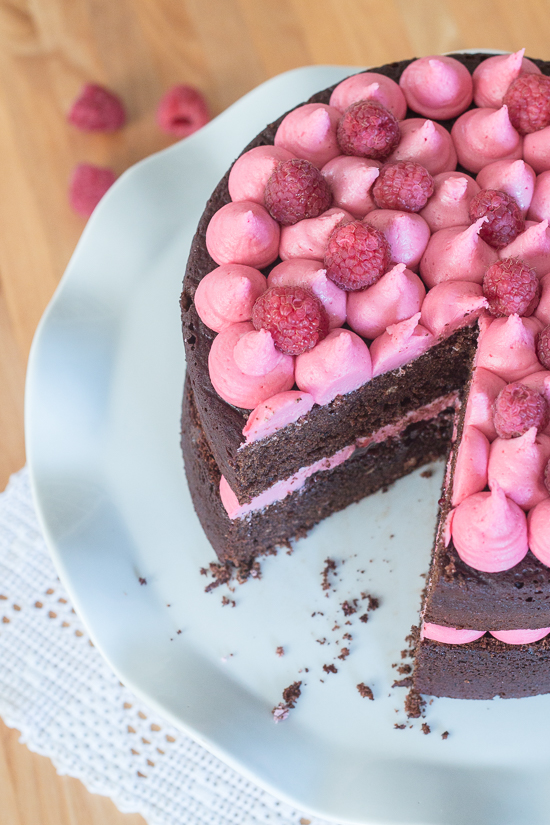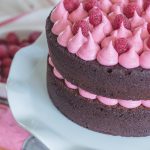 Print Recipe
Raspberry Chocolate Layer Cake
Ingredients
Chocolate Raspberry Cake

4

ounces

unsweetened chocolate

chopped

¼

cup

unsweetened cocoa powder

2¼

cups

unbleached all-purpose flour

1½

teaspoons

baking soda

½

teaspoon

kosher salt

1

cup

raspberry liqueur or raspberry wine

1

cup

sour cream

9

tablespoons

butter

softened but still cool

1½

cups

granulated sugar

4

large eggs

1

teaspoon

vanilla extract

Raspberry Buttercream

1

cup

fresh or frozen raspberries

at room temperature

½

cup (1 stick)

unsalted butter

at room temperature

4 to 5 1/2

cups

confectioners' sugar

milk or cream

as needed

Assembly

½

cup

seedless raspberry jam

1

pint

fresh raspberries
Instructions
Preheat oven to 350° F. Generously butter two 8-inch cake pans. Dust with cocoa powder; turn and tap pans lightly over the sink to release excess cocoa.

Place chocolate in a double boiler and melt over medium-low heat, stirring occasionally, until melted. Remove from heat and mix in cocoa powder 1 tablespoon at a time. Stir until smooth and set aside.

Whisk flour, baking soda, and salt together in a bowl and set aside.

Pour raspberry liqueur/wine into a 2-cup glass measure with a pour spout. Spoon in sour cream until the the level of both ingredients reaches the 2-cup line. Mix well and set aside.

In the bowl of a standing electric mixer, cream together butter and sugar until light and fluffy.

Add the eggs to the butter mixture one at a time, beating after each addition. Beat until well blended. Add the vanilla and chocolate mixture and stir until well combined.

Add the flour mixture, alternating with the sour cream mixture, to the egg-butter mixture. Stir until the dry ingredients are just moist and blended, taking care not to over mix.

Divide the thick batter between prepared pans, smoothing the top to even out the batter. Bake until the cake is firm to the touch and a skewer inserted into the center comes out with just a few crumbs clinging to it, about 35 to 40 minutes.

Remove from the oven and cool the cakes for 15 to 20 minutes in their pans. Carefully turn the cakes out onto a rack and cool completely.

For the buttercream, place raspberries in a mesh strainer over a bowl. Press the berries against the side with a spatula to release their juices into the bowl.

In the bowl of a standing electric mixer, combine butter, 3 cups of the confectioners' sugar and the raspberry juice. Mix slowly with the paddle attachment to combine. Add another cup of confectioners' sugar and mix until incorporated. Increase speed to medium-high and beat until smooth. Add additional powdered sugar about ½ cup at a time to achieve a smooth, creamy consistency that will hold up on the cake. Mix in milk or cream to thin frosting if needed.

To assemble, trim mounded tops of cooled cakes. Place one layer on a cake stand or serving plate. Using a a 1/2-inch round tip, pipe dollops of buttercream around the edge of the cake to make a border. Spoon jam within the border and spread it evenly. Chill cake for about 20 minutes before proceeding. Pipe a thin layer of buttercream over the jam and top with remaining cake layer. Working from the outside in, pipe dollops of buttercream over the top. Garnish with fresh raspberries.
Pin Raspberry Chocolate Layer Cake for Later

You might also like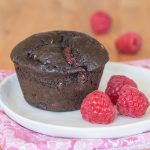 Chocolate Raspberry Muffins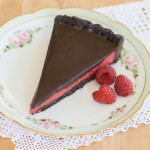 Raspberry Cream Tart