These Chocolate Tuile Cigars with Whisky Ganache feature wafer-thin chocolate cookies loaded with boozy chocolate. This truly decadent treat provides a sweet alternative to the idea of celebratory cigars!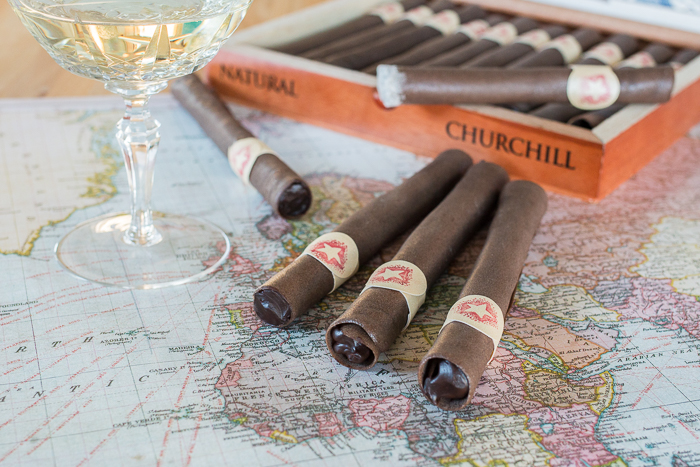 Have you seen the Darkest Hour yet? I love this amazing portrayal of Winston Churchill's early days as Great Britain's Prime Minister during World War II.
Even though I know the story from history, watching Churchill struggle to lead a government torn between negotiating a peace treaty with Hitler or fighting for liberty and freedom still felt super dramatic and suspenseful.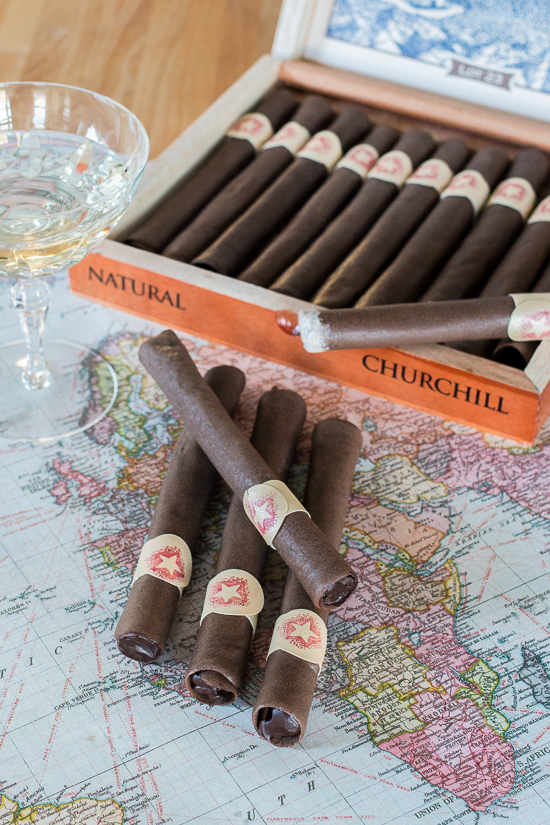 Talk about pressure. No wonder the guy always had a glass of whisky in one hand and a cigar in the other.
Okay, to be honest, sometimes he mixed it up and drank champagne. Never water, people! My head hurts just thinking about it.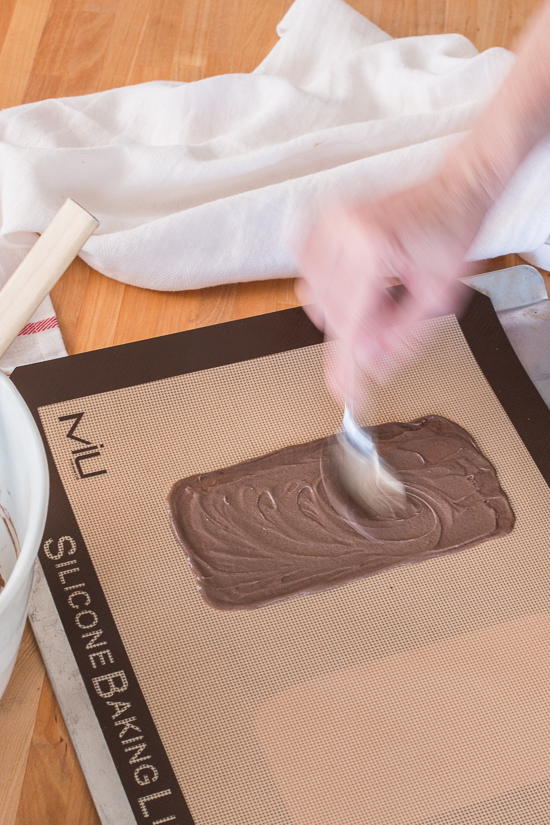 When I volunteered to develop a recipe in honor of Darkest Hour's nomination for best picture this year, all that drinking and smoking led me on a delicious charge toward Chocolate Tuile Cigars with Whisky Ganache.
With their authentic look, these edible cigars are sure to add a sweet surprise to your Academy Award-watching celebrations! Crisp, wafer-thin chocolate cookies loaded with boozy ganache make a truly decadent treat.
Think pirouette cookies, only chocolate inside and out, and with whisky. Yeah, it's hard to go wrong with that.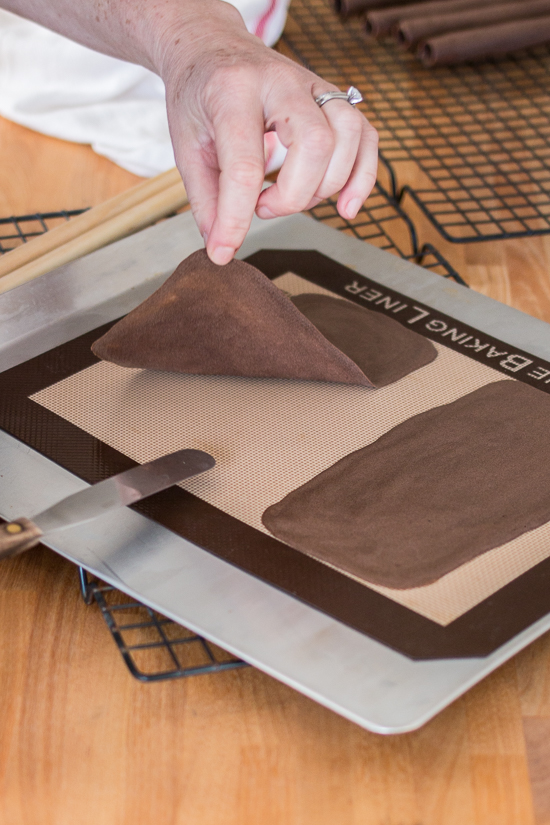 Making the tuiles takes some practice, so you want to leave yourself plenty of time to get the hang of things. Since the cookies harden as they cool, each tuile needs to be hand-rolled right from the oven, and this means you can really only bake two at a time.
Working with piping hot cookies without completely burning your fingers can be tricky. If you have kids, you may want to bake when they're are not around since you will almost certainly curse. Probably more than a little.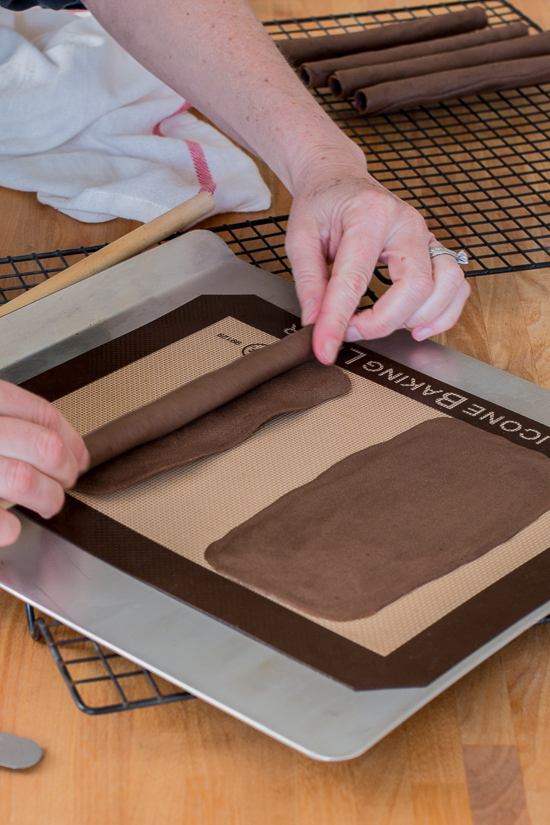 Once you get the timing down, the process of spreading batter, baking, spreading more batter while another batch bakes, rolling cookies, etc. takes on an easy rhythm, but finding that rhythm takes a bit of trial and error.
The first time I made tuiles, the process felt a bit frantic and chaotic, but the most recent batch came together super easily, probably because I realized how important it was to get organized and have everything in place and ready to use right when I needed it.
If you're planning to serve these cookies at a party, you may want to make a test batch well ahead to help you master the technique.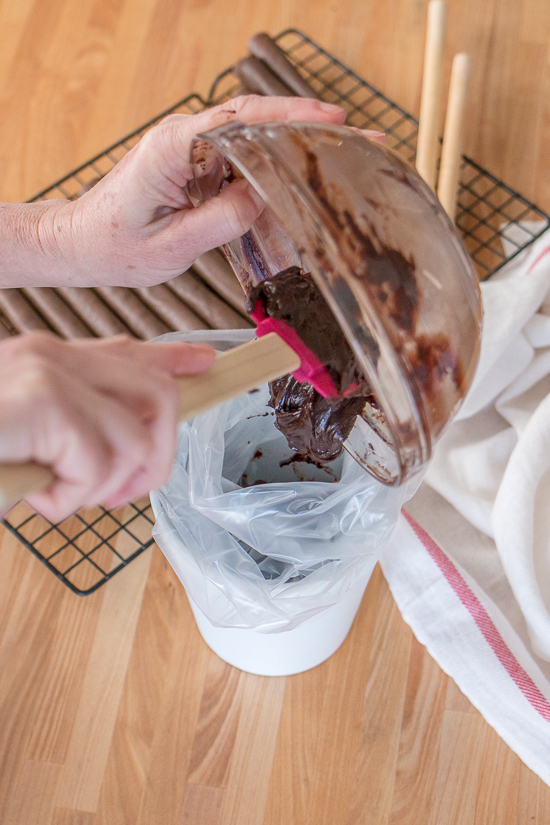 Fortunately the whisky ganache filling comes together easily. The hardest part is waiting for it to cool enough to pipe into the tuiles.
The first time I tried to fill these long tuiles with ganache, I had a hard time getting an even layer all the way through the delicate, wafer-thin cookies. I traded my large round piping tip for a Bismarck tip, which has an elongated end that can reach inside the tuile to ensure even filling without cracking the cookies.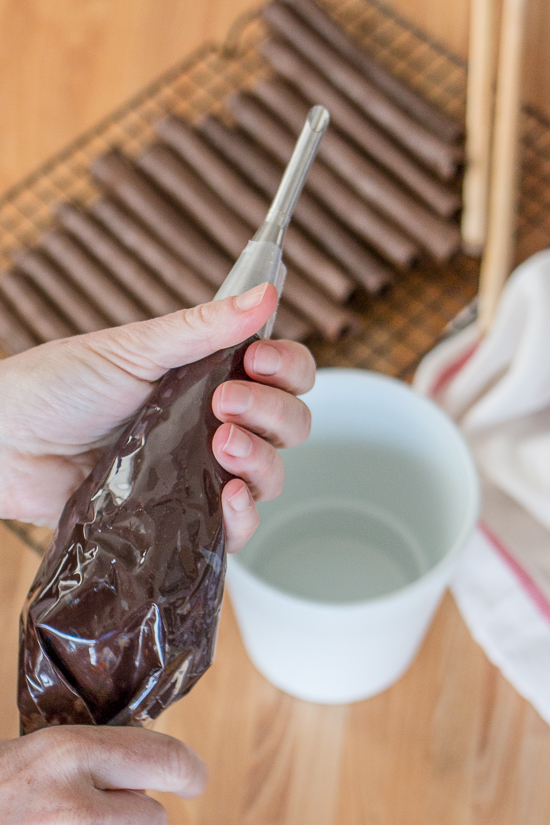 I was so excited to find this cool new tool, and I can't wait to use it with eclairs and jelly doughnuts!
Fill the tuiles no more than an hour or two before serving to help them stay crisp; you really don't want to miss that satisfying crunch in combination with the smooth, creamy ganache.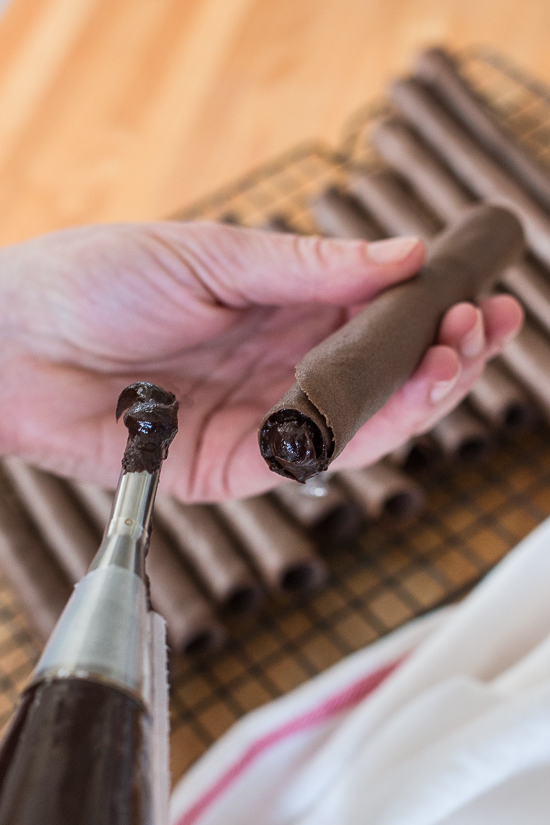 Once I figured out the basics of these cigar cookies, I wanted to add small edible cigar bands to complete the effect. I think I cheered in the aisle at the craft store when my daughter handed me some gold sugar paper. We even found edible adhesive which worked perfectly for attaching the bands to the tuiles.
Initially I thought I would hand-decorate each band with edible markers, but this felt like too much after I started assembling the chocolate cigars. I ended up using edible ink with a rubber stamp, which gave the bands a consistent look with much less effort.
I put my finished chocolate cigars in an old wooden cigar box. They look so realistic that they might have fooled the old prime minister himself. I'm thinking they could have helped him kick his penchant for smoking. Who can say?
These chocolate cigars join a fun collection of recipes inspired by this year's best picture-nominated films. Check out these awesome ideas from a creative group of bloggers and let your Oscars party-planning begin!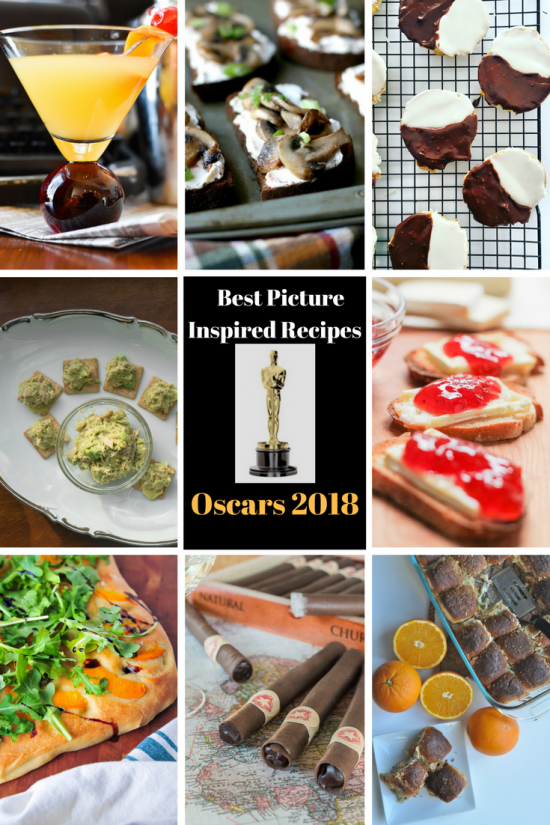 While these Chocolate Tuile Cigars with Whisky Ganache will light up any Oscars party, they'd also make great treats for bachelor parties or baby showers.
If you're not a fan of whisky, just leave it out. They taste amazing either way!
It isn't often that you can offer up a chocolate dessert as a better-for-you option, so I'm excited to present this healthy substitute for celebratory cigars. If that's not a perfect excuse to make them, I don't know what is!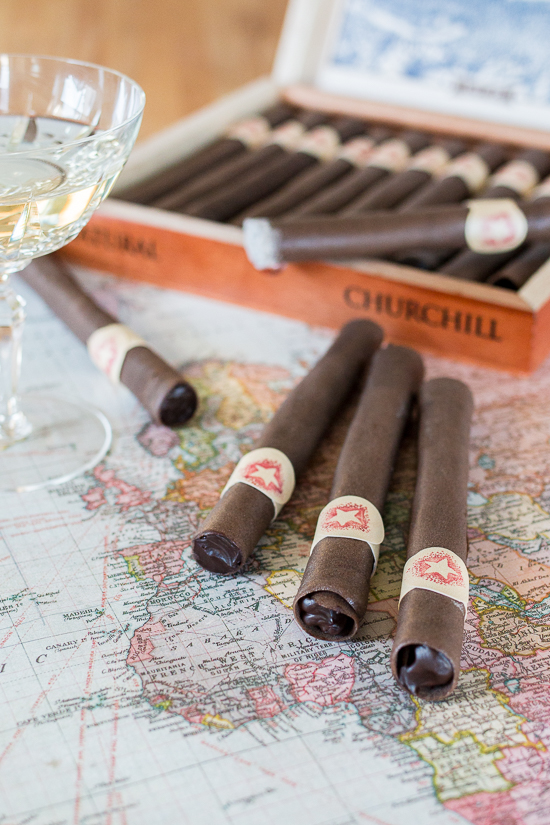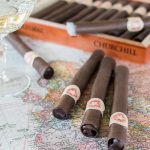 Print Recipe
Chocolate Tuile Cigars with Whisky Ganache
Shaping tuiles take some practice! It may take a few tries to figure out the timing for perfect rolling. If you get frustrated, err on the side of under-baking. Put tuiles that still feel soft after they've cooled back in the oven to crisp. Place tuiles seam-side down on a rack and bake at 225°F for about 15 minutes. For best results, slide a dowel or wooden spoon handle into each tuile to maintain its shape.
Ingredients
Chocolate Tuiles

3

large egg whites

½

cup

confectioners' sugar

pinch

kosher salt

½

cup

unbleached all-purpose flour

1

tablespoon

Dutch-process cocoa powder

¼

cup

unsalted butter

melted and cooled slightly

Whisky Ganache

12

ounces

dark chocolate

finely chopped

1 ¼

cup

heavy cream

2

tablespoons

scotch whisky

Tools

2 ½-

inch

dowels or wooden spoons with ½-inch round handles

4

insulated baking sheets

2

paper rectangles sized 3 ½ by 7 inches with rounded corners to use as patterns for spreading tuile batter

large pastry bag

large Bismarck piping tip

paper cutter

for cutting labels

1-

inch

circle punch

for cutting labels

small star or other shaped stamp

shimmer dust or powdered sugar

if desired for ash
Instructions
To make tuiles, sift confectioners' sugar over egg whites in a medium bowl. Add salt and whisk until the sugar is fully incorporated into the egg whites. Sift flour and cocoa over the top. Add butter and whisk until well combined. Scrape down the sides and let the mixture rest for at least 20 minutes before continuing.

Preheat oven to 350°F. Place paper rectangles (see Tools, above) under a silicone mat on a baking sheet. Spoon one barely mounded tablespoon of batter in the center of each rectangle. Spread the mixture with the back of small spoon to cover the rectangle as evenly as you can. The batter will be very thin.

Bake for 7 to 9 minutes, until the tuiles look and feel dry to the touch.

Remove the tray from the oven. Work as carefully and quickly as you can while the tuiles are very hot, which is essential for shaping. Using a thin, flat spatula, flip one of the tuiles over on the hot baking sheet. Starting from the wider edge, wrap the tuile tightly around a wooden dowel (or spoon handle). Quickly set the tuile and dowel seam-side town on a cooling rack holding gently for a moment to make sure it won't unroll. Repeat with the second tuile. If it is too stiff to roll, return the baking sheet to the oven for 30 seconds to a minute to soften before continuing. Once tuiles cool slightly, slip them off the dowels/handles.

Repeat with remaining batter, swapping out baking sheets and silicone mats (this is why you need 4 of each!) so you begin with a room temperature surface for the batter. If preparing ahead, store fully cooled tuiles in an airtight container until ready to use.

For the whisky ganache, place chocolate in a medium glass bowl. Warm heavy cream over medium heat until it just comes to a boil. Pour cream over the chocolate and let sit without stirring for 2 minutes. Stir until smooth and glossy. If bits of chocolate remain, warm briefly over simmering water or in the microwave at 50 percent power for short bursts. Mix until smooth. Stir in whisky until smooth. Cover loosely with plastic wrap and let sit at room temperature for several hours, until it holds its shape on a spoon. To speed this process, refrigerate, stirring frequently, until the ganache cools enough to hold its shape.

To fill the tuiles, spoon whisky ganache into a pastry bag fitted with a Bismarck tip. Pipe ganache into both ends of the tuiles to fill completely, taking care as the cookies will be quite fragile.

To create cigar wrappers, cut 3 or 4 Sugar Sheets into 3/4-inch strips. Trim to fit around the tuiles and use edible adhesive to hold them in place. Punch circles and decorate them with stamp, if desired. Working one at a time, color the design on the stamp with an edible marker and press it firmly in the center of each circle. Attach circles atop the bands with edible adhesive.

If you want to add "ash" to any of the tuiles, add a thin layer of edible adhesive to the tip of a cigar and dip it in luster dust or powdered sugar.

Chill and serve within a few hours as the tuiles will soften as time passes.
Some of the links in this post are affiliate links. If you click through and make a purchase, I earn a small commission for my referral at no additional cost to you. Thank you for supporting Flour Arrangements.
Pin Chocolate Tuile Cigars with Whisky Ganache for Later
You might also like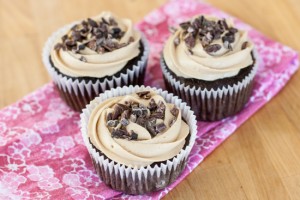 Peanut Butter Chocolate Chip Muffins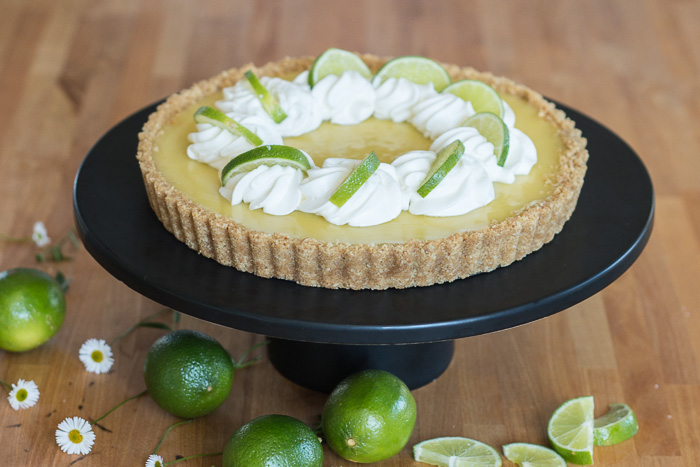 Margarita Tart with Corn Chip Crust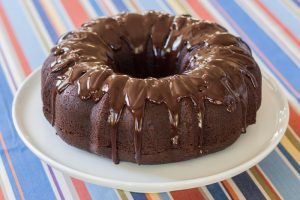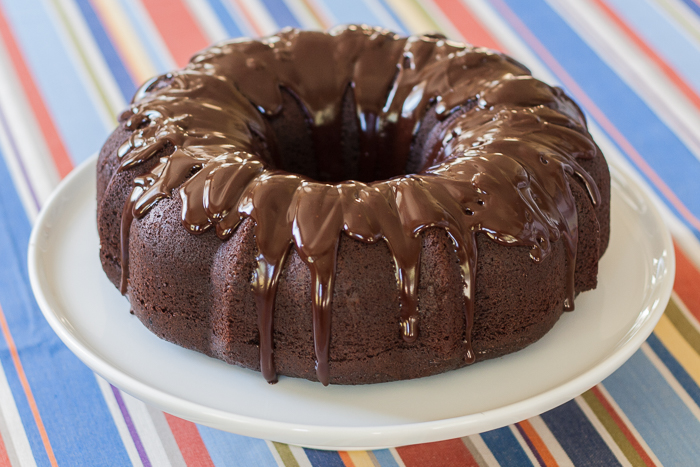 Chocolate Whiskey Cake