With a small bowl of marinara sauce for dipping, these cheesy, garlicky pizza chips make a fun party appetizer for your Super Bowl or Oscars Party!
One day last winter, a friend and I woke up early to take our kids for a snow day in Truckee, CA. We spent the morning sledding, building snowmen, and throwing snowballs at the snow park.
We waited way too long to tear ourselves away for lunch, so by the time we arrived at Village Pizza, we could hardly think. My friend asked our server to bring us pizza chips as soon as we sat down.
When the warm, garlicky platter of cheesy bread arrived, all talk stopped as we scrambled to take the edge off our hunger.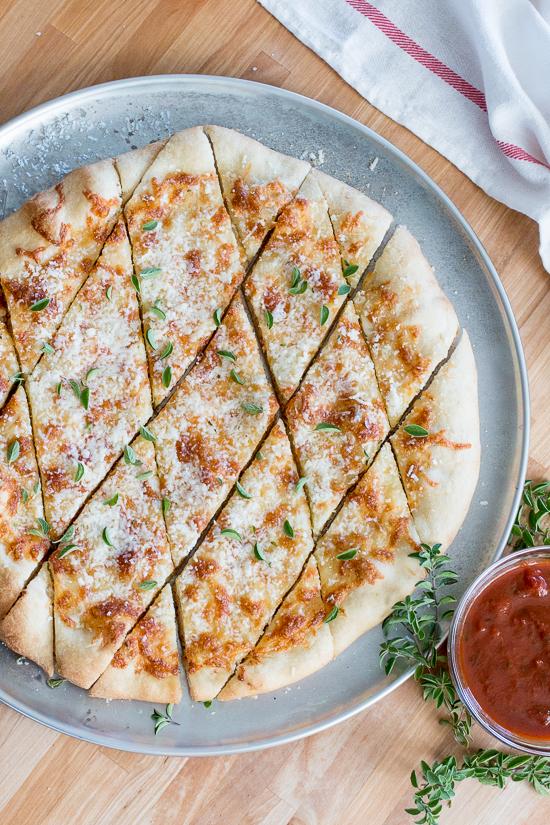 Even though I knew I'd regret it when our lunch arrived, I couldn't stop eating. I remember thinking that pizza chips had to be the most delicious food I'd ever eaten in my entire life.
There's something about spending hours running around in freezing cold weather that heightens my enjoyment of food.
When my family returned to Truckee for ski week, the kids couldn't wait to go back for more pizza chips. I worried that this cheesy snack couldn't possibly live up to my perfect memory, but as I bit into a warm, tender pizza chip, it tasted every bit as delicious as I remembered.
Since we don't make it to the mountains as much as we'd like, we had to come up with our own version of pizza chips to enjoy. We're no strangers to pizza at our house, so I'm surprised it took me so long to give it a try.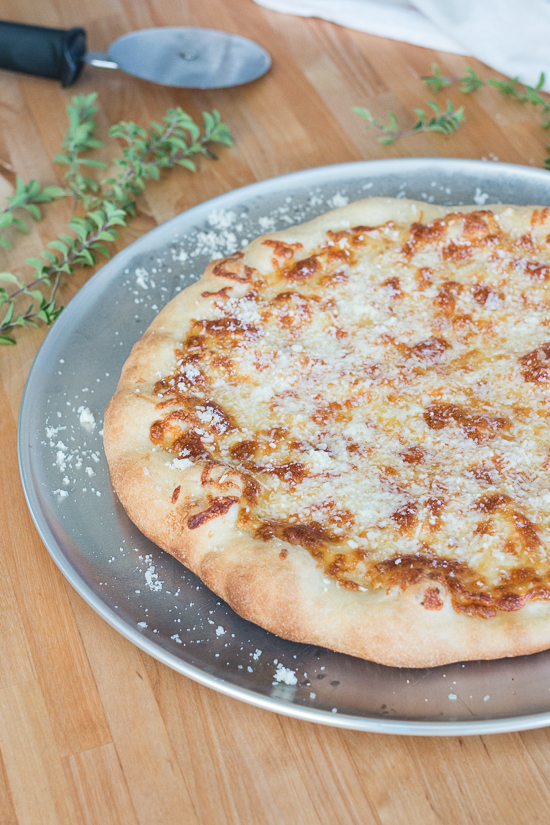 The dough needs some rising time, but otherwise, this recipe comes together super easily.  Mix some olive oil, garlic, and mozzarella for the topping and roll out the dough when you're ready to bake. Coat the dough lightly with olive oil, top with the mozzarella cheese mixture and a sprinkling of Parmesan, and then slide the round of cheesy excellence into the oven.
Once it's done, the hardest part is letting it rest. If this didn't make it easier to slice and safer to eat without burning your mouth, I'd probably skip this step entirely.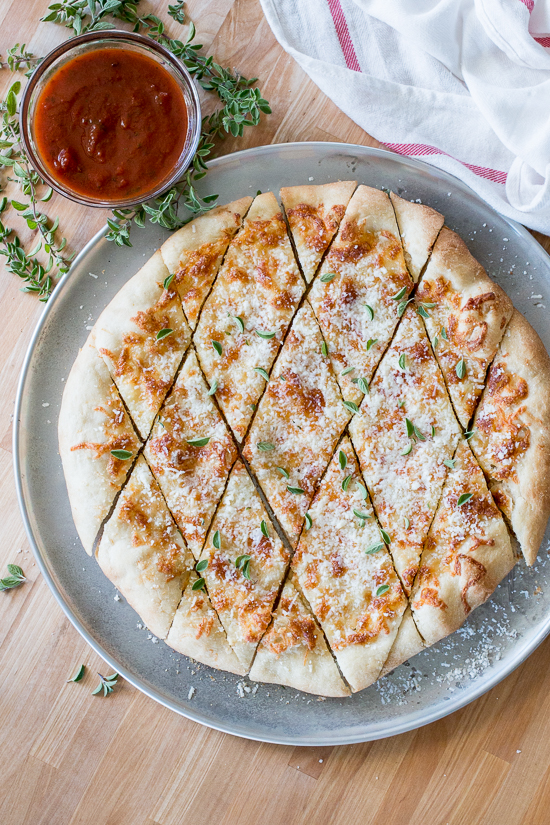 After a few minutes, cut the pizza into strips, and then, on a diagonal, cut additional strips to form "chip" shaped pieces. Sprinkle with more Parmesan, some fresh herbs, and serve.
Serve these pizza chips with a small bowl of marinara sauce for dipping as an appetizer or transform a simple bowl of soup or salad into a satisfying meal with a platter of warm, cheesy bread.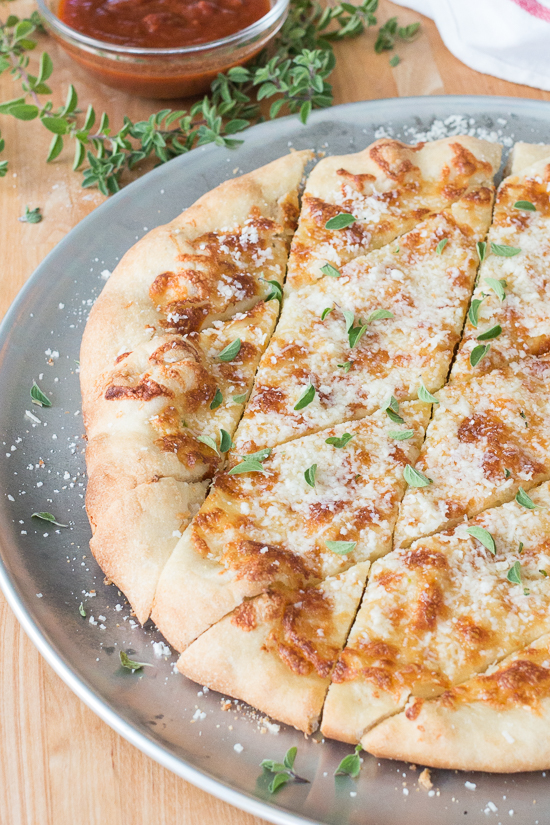 However you decide to serve them, make sure you dig in while you can; pizza chips taste best warm from the oven and they disappear fast.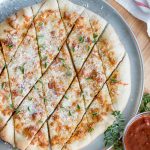 Print Recipe
Pizza Chips
Once it's time to assemble, this easy recipe comes together quickly, but be sure to plan ahead as the dough needs time to rise. To speed things along, you can also use prepared pizza dough.
Ingredients
Dough

3/4

cups

warm water

about 110ºF

1 1/2

teaspoons

active dry yeast

pinch

sugar

1 3/4 to 2

cups

unbleached all-purpose flour

2

tablespoons

olive oil

1/2

teaspoon

salt

cornmeal

for sprinkling

Toppings

2-3

tablespoons

minced garlic

to taste

1

tablespoon

olive oil

plus more for oiling the dough

3

cups

shredded mozzarella cheese

about 9 ounces

1

cup

about 2 ounces freshly grated Parmesan cheese, divided

chopped fresh herbs
Instructions
Add water to a large bowl or the bowl of a standing electric mixer. Scatter yeast over the water's surface. Add sugar and stir to combine. Let stand until bubbly, about 5 minutes.

Add 1 cup of the flour, the olive oil, and salt to the bowl and mix with a wooden spoon or the mixer's paddle attachment until well combined. Add remaining flour, about 1/4 cup at a time, mixing by hand or with the paddle until the dough clears the sides of the bowl.

If working by hand, turn the dough out on a lightly floured surface and knead, adding flour a little at a time if the dough still feels sticky. Knead until dough is smooth and elastic. If using an electric mixer, switch to the dough hook and knead on medium speed for about 5 minutes until the dough is smooth and elastic. If the dough feels too sticky, add a bit more flour and knead for another minute or two.

Transfer dough to a bowl coated with olive oil, turning the dough once to coat it with oil. Cover with plastic wrap and let it rise in a warm place until doubled in volume, about an hour.

Preheat oven to 475º F. Grease and dust a baking sheet with cornmeal or place a baking stone in the oven (preheat for at least 45 minutes before baking). Gently deflate the dough and turn it out on a lightly floured surface and shape it into a ball. Cover with plastic wrap and let the dough rest for 10 to 15 minutes as you prepare the toppings.

Combine garlic and olive oil in a medium bowl, stirring to combine. Add mozzarella and toss to coat with garlic and oil.

Flatten the dough on a lightly floured surface, rolling and stretching it into a 12 to 13-inch round. Place the dough circle on prepared baking sheet or pizza paddle dusted with cornmeal.

Brush the top of the dough round lightly with olive oil. Add the cheese mixture, leaving a half-inch border all the way around the edge. Sprinkle with about half of the Parmesan cheese.

If using a baking stone slide pizza off the paddle (a baking sheet works just as well if you don't have a paddle) onto the baking stone. If using a baking sheet, place the pan and pizza in the oven to bake. Bake until the crust is browned and the cheese is melted and golden in places, about 12 minutes.

Cool for 5 minutes. Slice into into strips. Rotate the pizza and slice another set of strips on a diagonal to produce chip-shaped pieces. Sprinkle with remaining Parmesan cheese, chopped herbs, and serve.
Pin Pizza Chips for Later

You might also like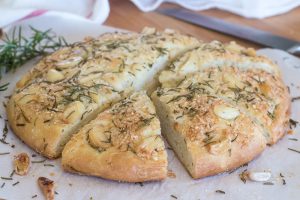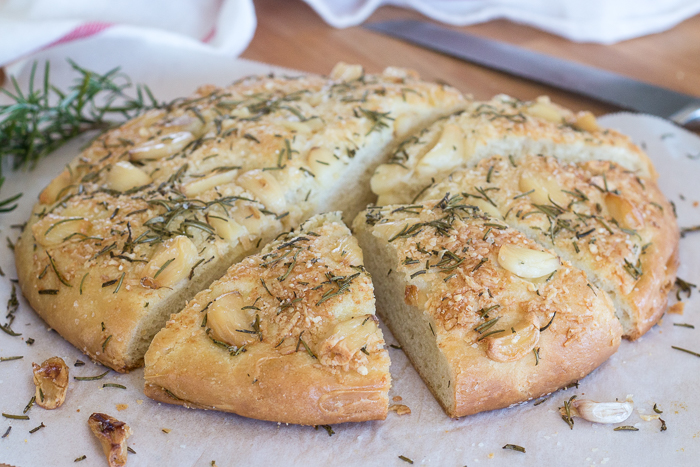 Garlic and Rosemary Focaccia
Garlic and Rosemary Grissini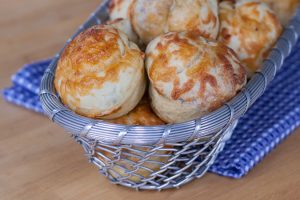 Olive and Prosciutto Pizza Rolls