Sweet and tangy, this Margarita Tart includes fresh lime juice, tequila, and triple sec. A simple-to-prepare tortilla chip crust provides the perfect vessel for the smooth, creamy cocktail-inspired margarita filling.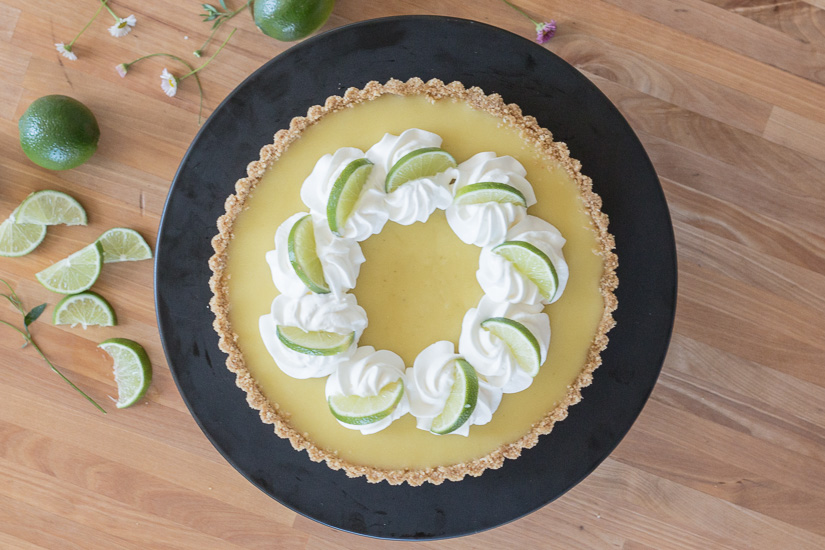 While eating out few years ago, our server brought my daughter Eliza a margarita instead of the lemonade she ordered.
We knew something was up when her eyes bugged out as she took her first sip.
Eliza spluttered that it wasn't lemonade, so we tasted it, laughed, and called the server over to ask for a new drink. Good thing she was eight at the time instead of 16, right?
While she didn't like the alcohol in the drink, she loved the cocktail's tangy lime flavor.
Now when we're having Mexican food at our house, she sometimes talks me into buying margarita mix — the kind without alcohol — to serve with our tacos or enchiladas.
So when Haley of Cheap Recipes Blog asked if I wanted to participate in a virtual Cinco de Mayo party, I knew immediately that my contribution would feature some kind of margarita dessert that both kids and adults could enjoy.
As I pondered margaritas in dessert form, I became fixated on the idea of making a tortilla chip crust.
It just seemed right, not only because it felt festive for Cinco de Mayo, but because it would give a bit of salty flavor to the dessert — sort of like the salt on the rim of a margarita glass.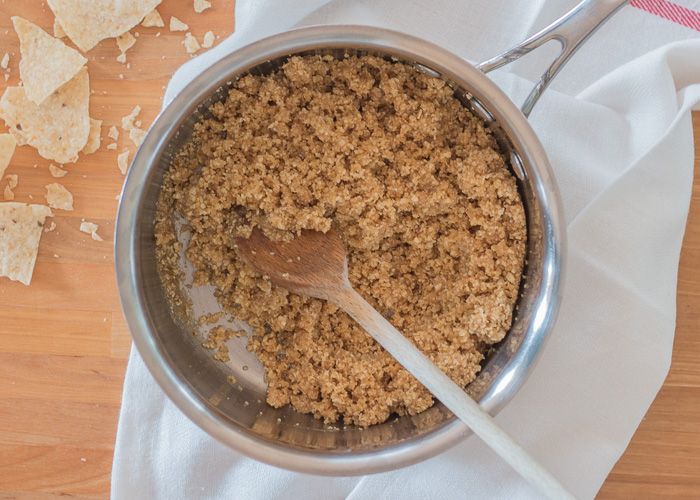 My first tortilla chip crust fell to pieces, but I learned that grinding the chips super finely and increasing the amounts of butter and sugar helped the dry, gritty crumbs hold together.
This corn chip crust is quite similar to a graham cracker crust. With just three ingredients, preparation is a breeze, and it bakes quickly, too.
Unlike graham crackers, tortilla chips are gluten-free. Since I usually don't have much to offer the gluten-free eaters of the world, I can't help pointing out that this crust totally works for people who avoid gluten.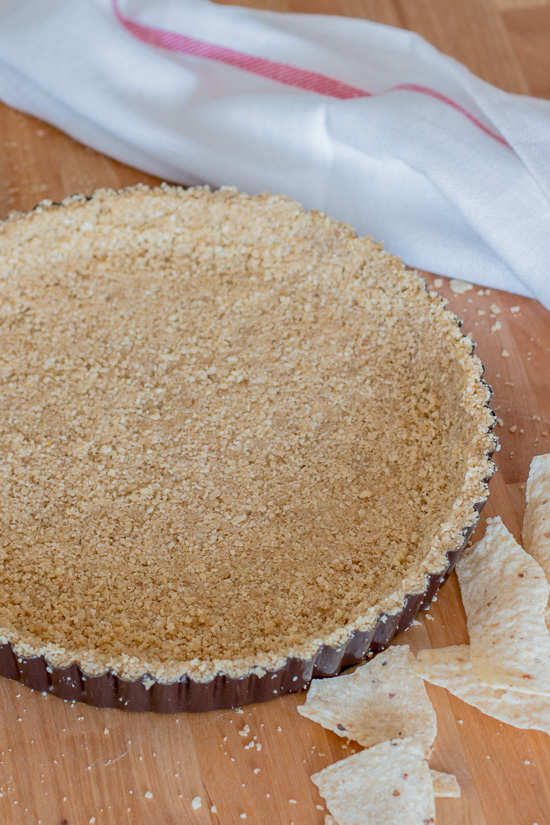 I'm thinking it could replace its graham cracker cousin in just about any recipe calling for a graham cracker crust. Just sayin'. Try it and let me know!
For the filling, I adapted a simple lime curd recipe, playing with the amounts of lime juice, tequila, and triple sec to arrive at a sweet, tangy filling reminiscent of margaritas.
This version tastes more limey than your standard margarita. If you want more tequila flavor, adapt the recipe to your own personal taste. So long as you use about 3/4 cups of liquid, the filling should set up just fine.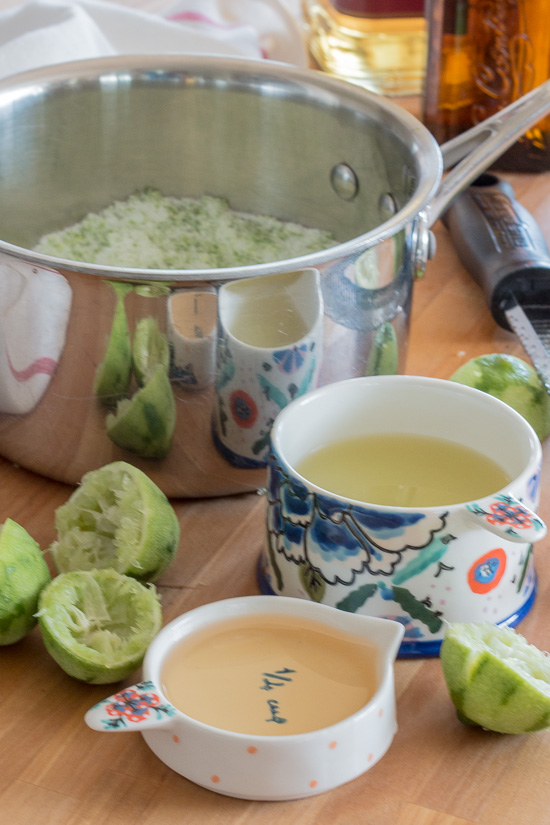 Sugar, eggs, a pinch of salt, lime zest and juice, plus booze cook over medium heat for about 10 minutes. Once the mixture thickens, whisk in butter a piece at a time, and then strain the filling into the prepared crust.
Don't skip the straining!
A fine mesh strainer will catch any stray bits of egg that might have overcooked during heating.
Additionally, the lime zest loses its bright, pretty color during cooking. If you don't strain it out, the tart will take on an army-green hue.
So strain it, please, unless you're going for camo-style.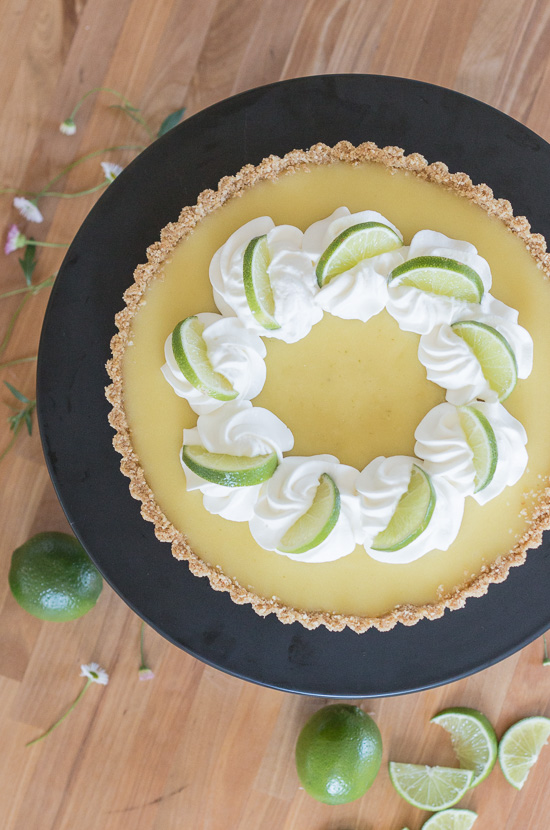 Since the filling cooks on the stove, the alcohol evaporates as it heats. This means you don't have to limit your intake of margarita tart in quite the same way that you might with that pitcher of margaritas.
It also means you can serve it to your kids.
When my daughters acted shocked that I'd serve them a cocktail-themed dessert with real alcohol in it, I didn't let them have any of the tequila whipped cream since it contains a small amount of the real thing. Serves them right.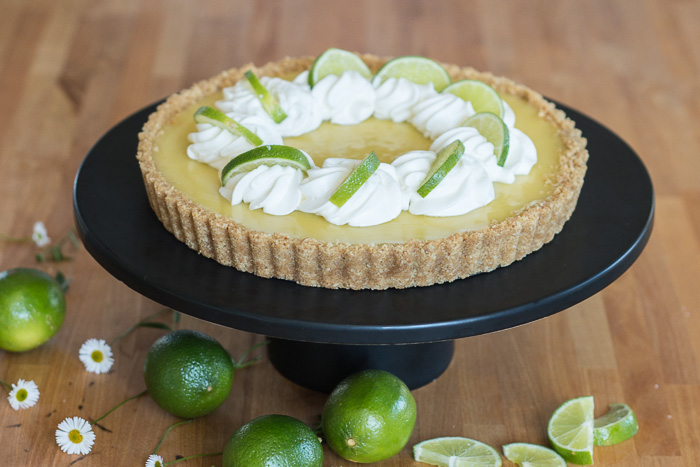 In any case, you need this sweet, tangy, flavorful margarita tart for your Cinco de Mayo festivities.
I'm thinking you also need it anytime you're having a Mexican-themed dinner.
It's an easy, prepare-ahead dessert that's fun, festive, and palate-pleasing. Why settle for just sipping a margarita from your glass when you can enjoy one on your dessert plate as well?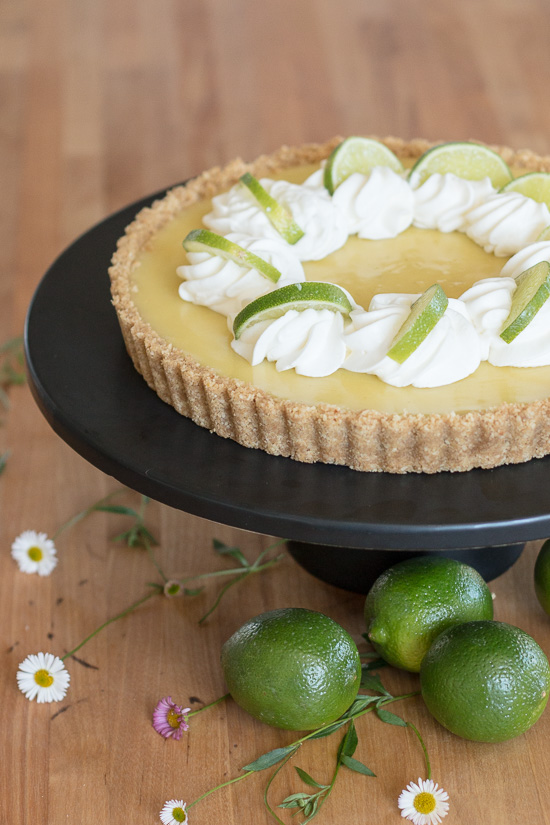 Check out these other great Cinco de Mayo party recipes from this talented group of bloggers:
DIY Guacamole Bar from Haley of Cheap Recipes Blog
Homemade Refried Beans from Greta of Pickles Travel
Crispy Lemongrass Chicken Tacos from Joyce of Pups with Chopsticks
Fiesta Brown Rice Salad from Sharon of The Honour System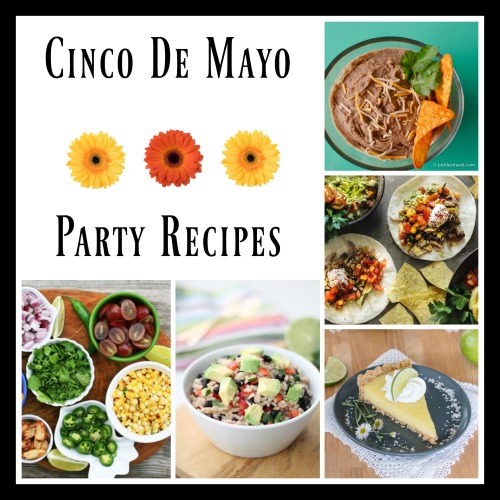 Happy Cinco de Mayo!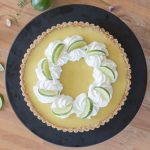 Print Recipe
Margarita Tart with Tortilla Chip Crust
Ingredients
Tortilla Chip Crust

6

tablespoons

butter

1/3

cup

packed brown sugar

1 ¼

cups

finely ground salted tortilla chips

(about 6 ounces)

Filling

1

cup

granulated sugar

5

large eggs

pinch

salt

4

limes

zested

1/3

cup + 1 tablespoon

lime juice

(from about 4 limes)

1/4

cup

tequila

2

tablespoons

triple sec

½

cup (1 stick)

unsalted butter

sliced in 8 pieces

Topping

1

cup

heavy cream

2

tablespoons

confectioners' sugar

1

teaspoon

tequila

½

teaspoon

triple sec

fresh lime slices

for garnish

coarse salt

for garnish
Instructions
To prepare the crust, preheat oven to 350° F. Combine butter and sugar in a sauce pan over medium heat. Stir frequently until the butter has melted and the sugar loses its gritty consistency.

Mix in finely ground tortilla chips, stirring until well combined. Transfer crumbs to a 9 to 9/ 1/2-inch tart pan with a removable bottom or a 9-inch pie pan. Working carefully -- the mixture will be quite warm -- distribute crumbs evenly and firmly press them into the bottom and up the sides to form a crust (a small measuring cup helps, although fingers work best for the sides).

Bake crust until it smells fragrant and has just started to brown, about 15 minutes. Remove from oven and set aside.

For the filling, whisk together sugar and eggs in a medium saucepan. Add lime zest, juice, tequila, triple sec, and salt; whisk until smooth. Cook over medium-low heat, stirring constantly, until mixture thickens to the consistency of loose pudding, about 10 minutes. Reduce heat to low and whisk in butter, a few slices at a time, until completely melted and smooth.

Pour filling through a fine strainer into prepared tart crust. Jostle tart pan until the filling is evenly distributed. Cool at room temperature for about 30 minutes and then chill in the refrigerator for at least four hours until set.

For the whipped cream, combine cream, confectioners' sugar, tequila, and triple sec in a large bowl. Beat with an electric mixer or whisk by hand until peaks form. Spoon or pipe atop the tart. Garnish with lime slices. Sprinkle with coarse salt before serving if desired.
YOU MIGHT ALSO LIKE
Lime-Flavored Cactus Meringues
Little Lime Tarts
Pin Margarita Tart for Later!