These Grilled Chicken and Brie Sandwiches with Mango Chutney and Balsamic Onions make a perfect meal or party dish! Ciabatta, with its chewy open texture, offers up plenty of nooks and crannies to capture the rich, creamy Brie, tangy mango chutney, and tender balsamic onions.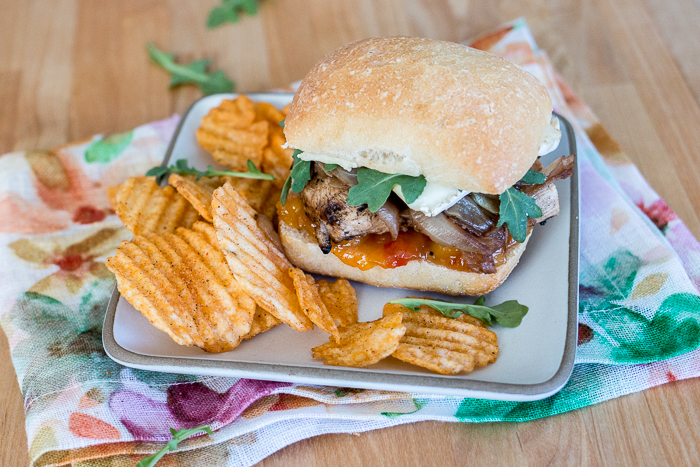 I typically leave sandwich-making to my husband. He's quite passionate about the art of a good sandwich, and there's really nothing finer than eating an awesome sandwich made by someone else. Am I right?
While the elements of a sandwich — meat, cheese, vegetables, and spreads — can be quite simple, somehow, when they come together between two pieces of quality bread, they transform into something truly spectacular.
Even though I'm not sandwich-obsessed like my husband, I managed to wow him with these Grilled Chicken and Brie Sandwiches with Mango Chutney and Balsamic Onions. Rich, creamy Brie, tangy mango chutney, tender balsamic onions, and spicy arugula create an explosion of flavors in this grilled chicken sandwich.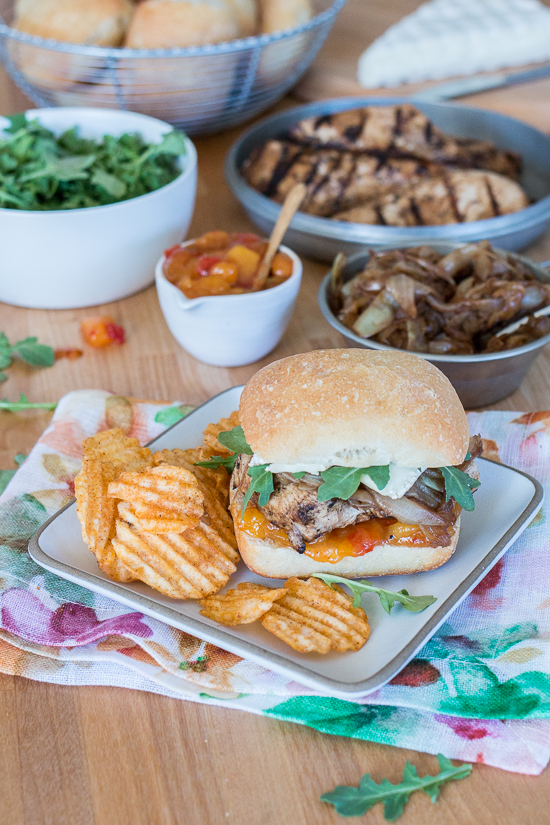 Ciabatta's chewy, open-texture makes it the perfect vehicle for these sandwich fixings. The chutney, Brie, and onions nestle into all the spaces in the bread, which means you can slather more goodness into your sandwiches than you would with a denser bread.
I discovered an awesome trick of slicing boneless chicken breasts in half horizontally while making this recipe. Not only does the chicken cook more quickly and evenly this way, it's much better proportioned for using in sandwiches.
Marinate the chicken in balsamic vinegar and olive oil as you caramelize the onions. The onions take about an hour to develop their deep, rich sweetness, but they're definitely worth the time and effort. They store well, so you can easily caramelize them ahead of time.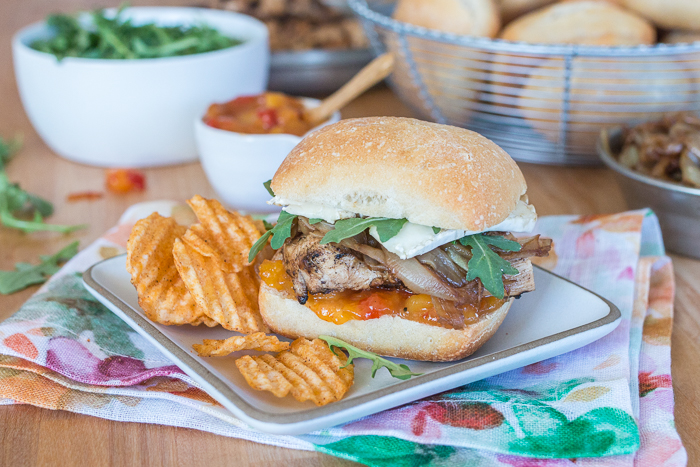 After cooking up a batch of these balsamic onions, you may find that you like having them on hand! They add amazing flavor and sophistication to salads, pasta, and other dishes.
After grilling the chicken, assemble the sandwiches to serve or set out the fixings so people can customize sandwiches to their own tastes.
Ciabatta rolls work great for serving these grilled chicken sandwiches as a main course. Since the sandwiches — with fruit, vegetables, meat, dairy, and grains — includes all the major food groups, they make a perfect meal!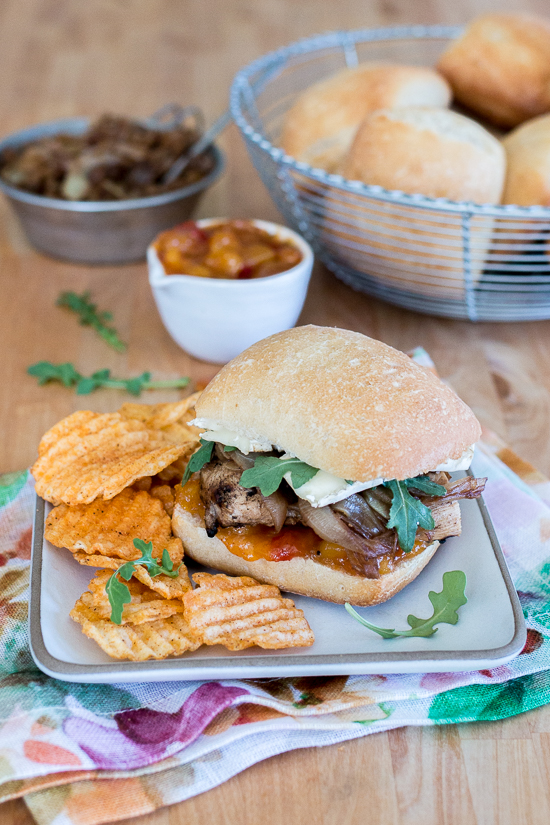 Mini ciabatta rolls make fun little sandwiches, too, for smaller appetites. They also work well if you plan to serve these grilled chicken sandwiches and brie sandwiches at a party alongside other dishes.
My sandwich-pro husband recommends adding bacon, which takes the decadence of this already spectacular sandwich up a notch. With or without it, it's hard to go wrong!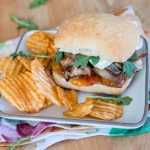 Print Recipe
Grilled Chicken and Brie Sandwiches with Mango Chutney and Balsamic Onions
Ingredients
Grilled Chicken

2

tablespoons

olive oil

2

tablespoons

balsamic vinegar

salt and pepper

4

large boneless skinless chicken breasts

Balsamic Onions

4

large yellow onions

4

tablespoons

butter

1/2 stick

1/4

cup

balsamic vinegar

salt and pepper

to taste

Assembly

8

cibatta rolls or 16 mini cibatta rolls

8

ounces

Brie

thinly sliced

1

cup

mango chutney

4

cups

arugula
Instructions
To prepare the chicken, whisk olive oil, balsamic vinegar, and salt and pepper, to taste, in a medium bowl. Slice horizontally through each chicken breast, starting at the thick end. Add chicken to the bowl and toss to combine. Set aside until ready to grill.

To prepare the onions, trim off both ends, cut them in half, remove skins, and slice into strips from root to stem end. Melt butter over medium heat in a large skillet. Add the onions to the pan, stirring to coat with butter. Continue cooking over medium heat, stirring every 5 to 10 minutes, scraping up burned bits from the bottom of the pan as needed. After about 20 minutes, lower the heat if the onions seem to be burning in places. At about 40 minutes, the onions should be golden and very soft. If they taste great at this point, you can add remaining ingredients and finish cooking. If you like a deeper flavor, continue cooking until you're satisfied. Once the onions reach the desired flavor and texture, add 1/4 cup balsamic vinegar, scraping up the burned bits on the bottom as you combine it with the onions. Add a bit of water, if needed, to get all the goodness off the bottom of the pan. Sprinkle in salt, to taste. Remove from heat and use immediately or store in a sealed container for up to a week in the refrigerator.

Heat grill to high heat. Add chicken, turning every 2 to 3 minutes until cooked through, about 6 to 10 minutes.

To assemble sandwiches, spread a generous layer of chutney on the bottom half of each ciabatta roll. Add chicken, slicing as needed if using smaller rolls, and top it with Brie, balsamic onions, and arugula. Season with salt and pepper and top with the remaining halves of each roll.
Some of the links in this post are affiliate links. If you click through and make a purchase, I earn a small commission for my referral at no additional cost to you. Thank you for supporting Flour Arrangements.
Pin Grilled Chicken and Brie Sandwiches for Later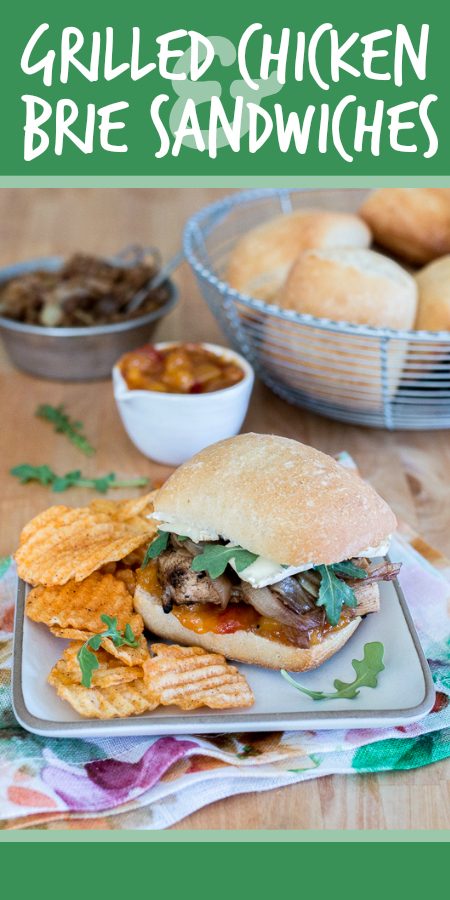 You might also like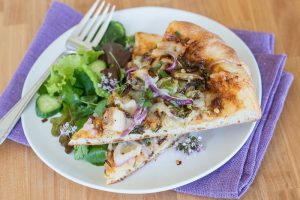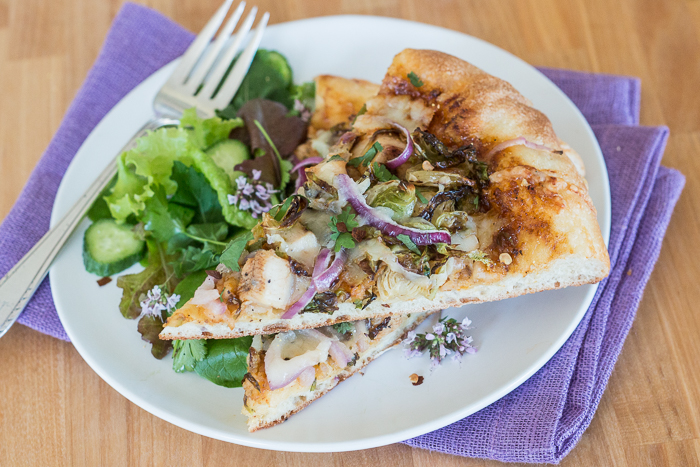 Barbecue Pizza with Chicken and Roasted Brussels Sprouts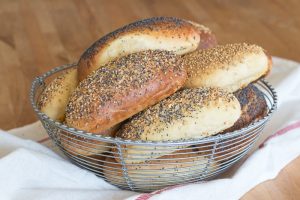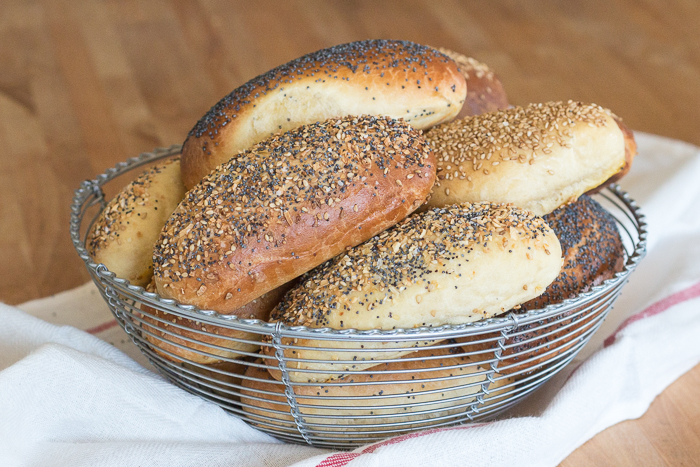 Homemade Hot Dog Buns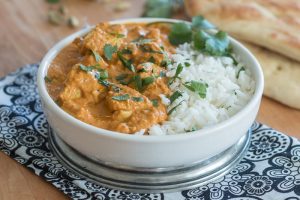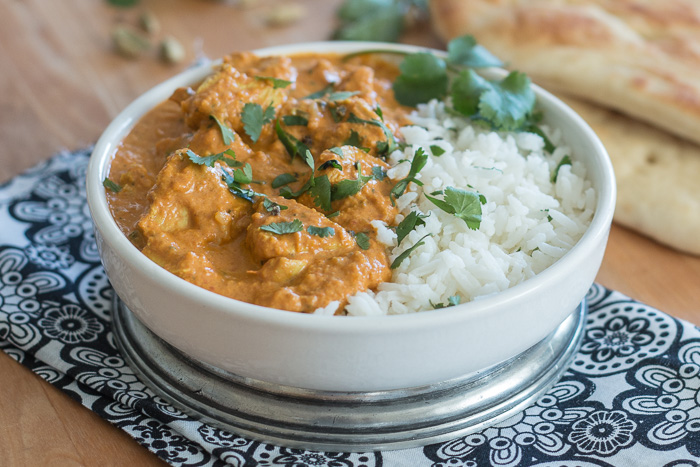 Easy Chicken Tikka Masala