Glossy, whiskey-laced ganache adds over-the-top decadence to this moist, rich Chocolate Whiskey Cake. Mix this simple recipe in one pot on your stove.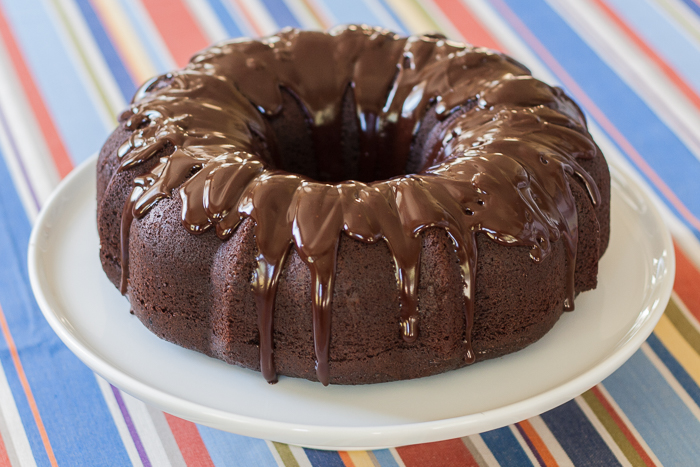 If you love simple baking projects, you're going to want to grab yourself a bottle of whiskey and some cocoa powder.
This chocolate whiskey bundt cake gives new meaning to the word simple. You don't even need a mixing bowl to make it — just combine everything in the saucepan you use to melt the butter.
If you happen to be fond of washing dishes, you could transfer that butter to a mixing bowl before adding everything else. I'm going to ask you nicely to use the saucepan, though.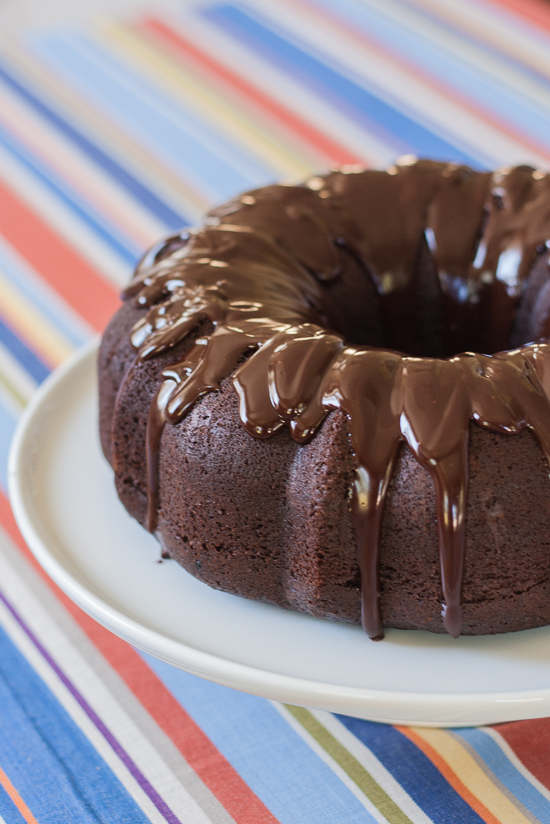 We've got a drought going on here in California; since I've got to conserve water, everyone else should, too.
This cake is nearly effortless to throw together, to be sure, but make no mistake, its flavor belies its simplicity. Imagine moist, rich chocolate cake with a subtle boozy backdrop.
Did I mention that it's studded with semi-sweet chocolate chips? Now all it needs is some over-the-top decadence from a glossy whiskey-laced ganache.
I recommend chasing a thick slice of cake with shot of whiskey. Why not?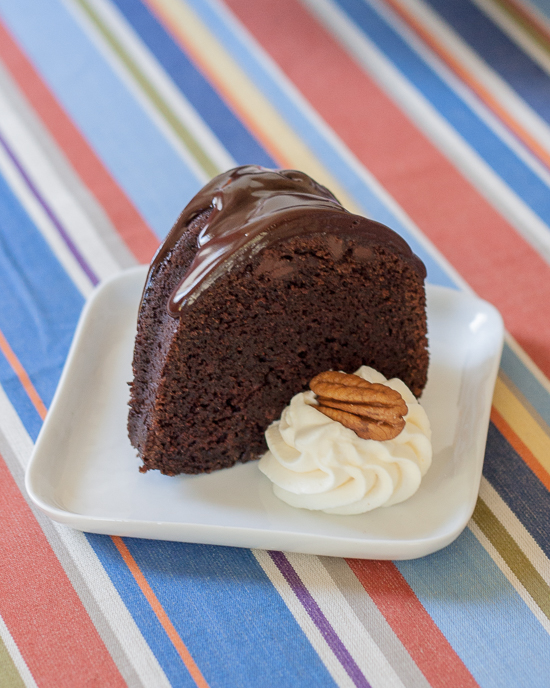 Here's the thing, about this cake though. It turns out, the whiskey matters.
I first baked it at my friend's house. At the time, I hoped her husband would forgive me for raiding his liquor cabinet. Since he was SCUBA diving in Florida while I was making his wife birthday cake, I figured I should be beyond reproach.
The cake turned out perfectly. We all had generous slices after dinner, and the kids liked it so much they begged for slices the next morning at breakfast.
Days later, when I baked the same cake at home with the rot-gut swill my husband keeps on hand to make barbecue sauce, I realized I needed to beg forgiveness.
After eating one bite, I texted my friend's husband, "What kind of whiskey should I buy? Something nice that you'd want to drink next time you come over."
A few minutes later, he responded: "Did you mean to text me?"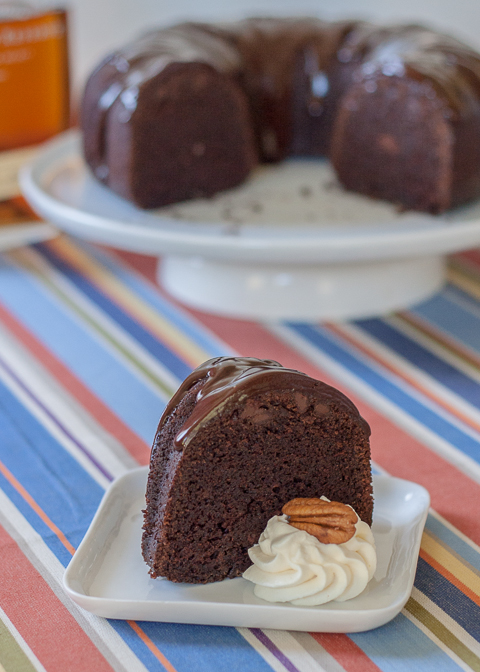 I admit, it did seem kind of random. We live two hours from our friends, so it's not like they'd pop over for a drink anytime soon.
I had to fess up, "This chocolate whiskey cake tasted way better when I baked it at your house."
"Intriguing," he replied, along with a list of brands to try.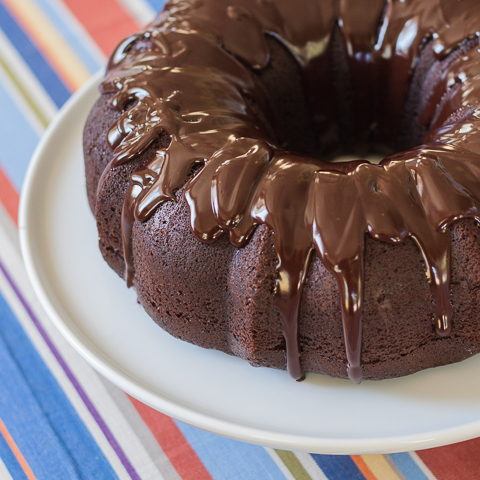 Now I have decent whiskey in my cupboard, fine chocolate whiskey cake in my belly, and a damn clean kitchen.
Go make yourself some cake. You won't regret it.
Print Recipe
Chocolate Whiskey Cake
Ingredients
Cake
1

cup

unsalted butter

cut into slices

1

cup

unsweetened cocoa powder

(not Dutch-process) plus more for dusting the cake pan

1 1/2

cups

milk

1/2

cup

whiskey

1

teaspoon

vanilla extract

2

cups

sugar

2

cups

unbleached all-purpose flour

1 1/4

teaspoons

baking soda

1/2

teaspoon

salt

2

large eggs

3/4

cups

chocolate chips
Glaze
4

ounces

dark chocolate

chopped

1/3

cup

heavy cream

1

tablespoon

whiskey
Instructions
Combine butter and cocoa powder in a large heavy saucepan over medium-low heat, whisking, until butter is melted.  Add milk and sugar, whisking until sugar dissolves, about 1 minute.  Remove pan from heat and stir in whiskey and vanilla extract.  Set aside to cool slightly.

While chocolate mixture cools, generously grease a 12-cup bundt pan, then dust with cocoa powder, knocking out excess.  Place the pan in the refrigerator to chill while preparing the batter.

Whisk together flour, baking soda, and salt in a bowl and set aside. Whisk eggs into the cooled chocolate mixture until combined well. Add flour mixture and whisk until flour is incorporated and no lumps remain (batter will be thin and bubbly). Pour batter into chilled bundt pan and then sprinkle the chocolate chips evenly over the surface of the batter. Bake in an oven preheated to 325°F until a wooden pick or skewer inserted in center comes out clean, about 50 to 60 minutes.

Cool cake completely in pan on a rack, about 2 hours.  Invert rack over pan and turn cake out onto rack.

For the glaze, place dark chocolate in a 2-cup measuring glass with a pour spout.  Bring cream to a boil in a small saucepan over medium heat.  Pour cream over the chocolate and let it sit without stirring for two minutes before mixing vigorously with a small spatula.  Once the chocolate becomes smooth and glossy, add 1 tablespoon whiskey and mix until smooth.

Set the rack holding the cooled cake atop a baking sheet.  Stir the ganache well before slowly drizzling the glaze over the cake.  Allow the glaze to set for about 10 minutes before slicing.
YOU MIGHT ALSO LIKE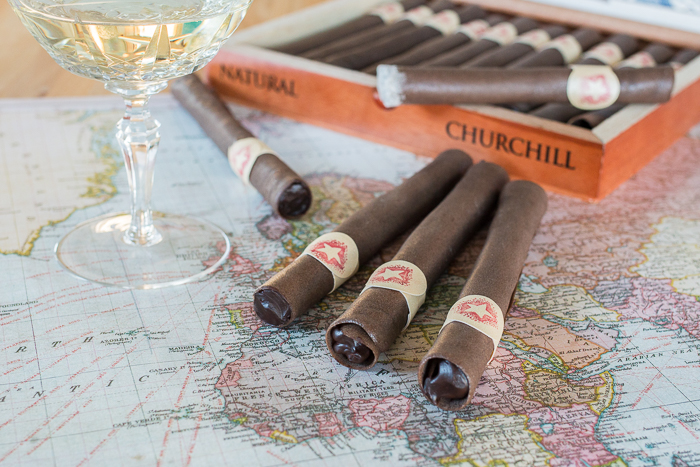 Chocolate Tuile Cigars with Whisky Ganache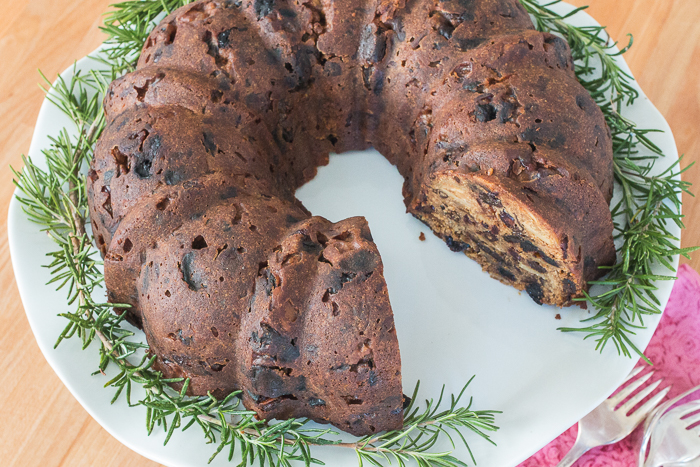 Magical Holiday Fruit Cake
Pin Chocolate Whiskey Cake for Later