Light, tender dough encases a warm, thyme-laced turkey filling in these Turkey Cranberry Runzas. These deliciously satisfying stuffed rolls taste like an inside-out turkey dinner.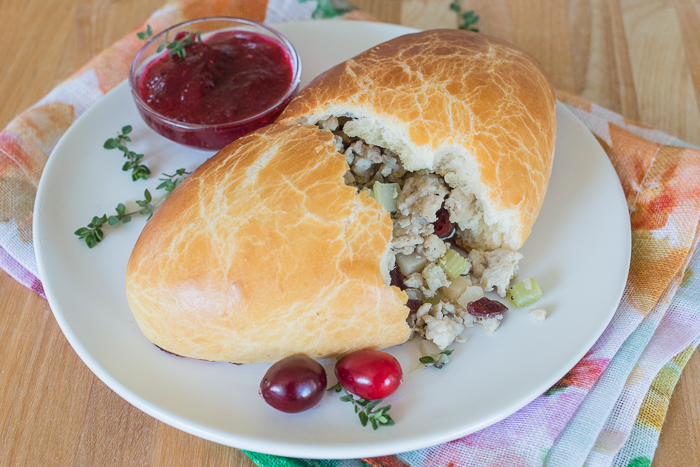 My husband sometimes shares stories about his childhood visits with Nebraska relatives. On one trip in particular, his family introduced him to a local delicacy called runzas. These ground beef and cabbage stuffed buns, his relatives assured him, would soon be sweeping the nation.
It was only a matter of time, they said, before he'd be able to order runzas all the way out in California.
While this treasured Nebraskan food hasn't exactly swept the nation, the idea of the runza — especially its name — has stuck with him for nearly 35 years. When we drove across country last year, my husband seriously proposed driving 200 miles out of our way so we could stop for runzas.
My kids, despite the fact that they've never been to Nebraska, share my husband's fascination with the word runza, and I can hardly blame them. Say it yourself. With feeling! See, isn't that satisfying?
When they first heard of this stuffed roll, my kids proposed many odd combinations of ingredients to hide inside yeasted dough and bake.
One afternoon, they even made up a song about Craisin runzas. As they sang their silly song, my husband and I morphed their idea into a filling that we actually wanted to try.
Since we often add dried cranberries to Thanksgiving turkey stuffing, we thought that combining ground turkey with cranberries and other stuffing ingredients like shallots, celery, water chestnuts, and thyme would taste amazing. Think turkey dinner, just inside out!
As we sunk our teeth into our first batch of Turkey Cranberry Runzas, I understood the passion my husband's Nebraska relatives shared for their beloved runzas. Sure, our variation strays far from the classic Nebraska-style runza, but the runza concept of tucking ground meat and vegetables neatly inside a bun is one I can wholeheartedly get behind.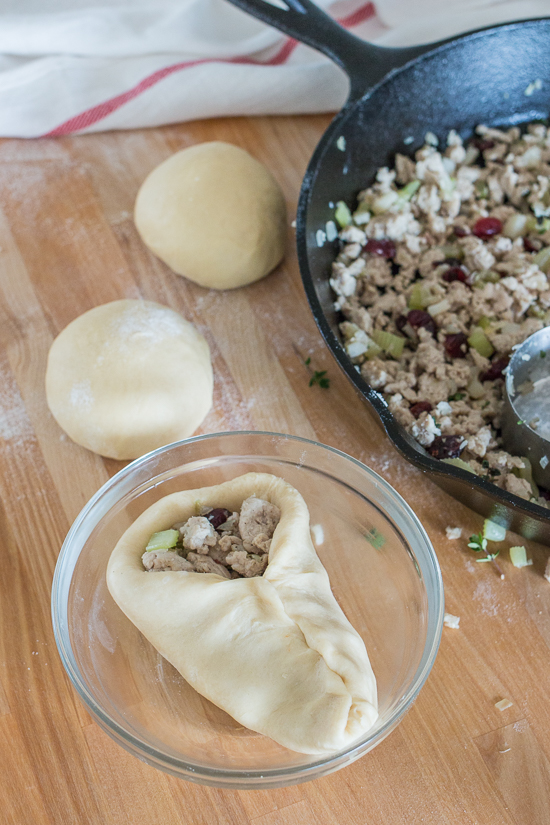 In our version, light, tender dough encases the pocket of warm turkey-dinner goodness that you can eat with your hands (or a knife and fork if you're feeling fancy).
The diced celery and water chestnuts add crunch to the turkey mixture, while the cranberries impart bright bursts of tart flavor. Thyme adds the final touch that really gives these runzas a Thanksgiving dinner feel — all without having to roast a turkey!
While these Turkey Cranberry Runzas taste truly incredible oven-warm with cranberry sauce, I love them for hiking and picnics, too. They're so easy to pack since the bread completely encloses the filling.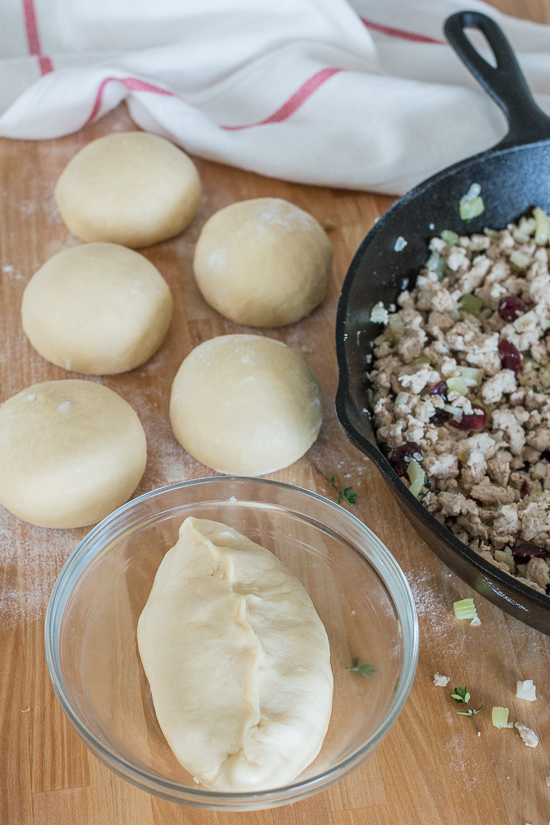 This recipe produces eight large runzas, which means my family of four can feast on them them for dinner and then take the rest on an adventure the next day!
I usually prepare the yeasted dough well in advance and let it rest in the refrigerator until I'm ready to assemble runzas. Since the dough includes lots of butter, it's much easier to work with when it's cold.
After dividing the dough into eight even pieces, shape them into balls that rest on the counter while you saute the filling in a skillet.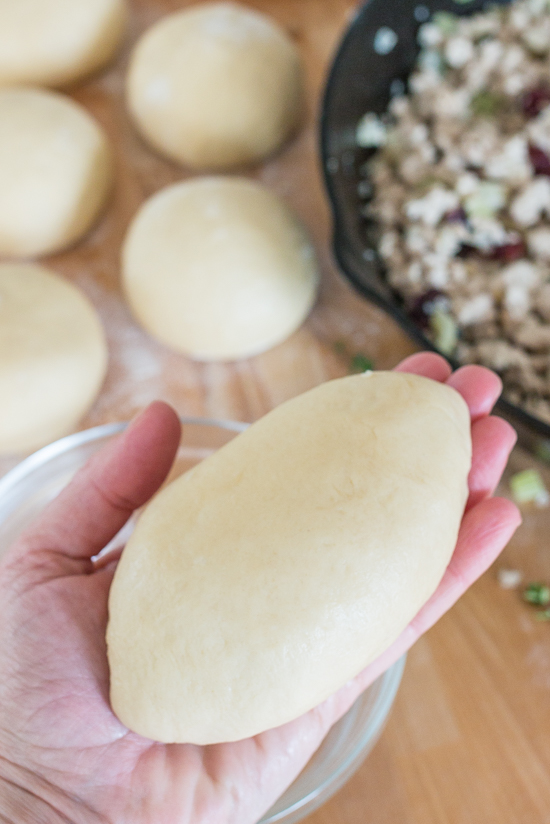 Once the filling is ready, flatten the dough into rounds and tuck them, one at a time, into a small bowl. Add a scoop of filling and then pull the sides together around the filling, pinching and folding to seal the edges.
This simple trick makes it easy to prepare the stuffed rolls since the bowl does the work of maintaining the shape for you.
When you turn the neat package of dough out into your hands, it looks like a fat little football! After letting the runzas rise for about 30 minutes, they're ready to bake.
I considered calling this recipe Turkey Cranberry Hot Pockets since no one outside of Nebraska has any idea what I'm talking about when I mention runzas. In the end, I just love the evolution of this Turkey Cranberry Runza recipe too much to care.
It seems that the runza really has made its way to California, just not in the way the Nebraska relatives imagined. I hope they feel proud rather than offended by the liberties we've taken with their traditional recipe.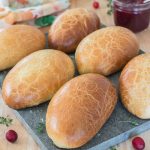 Print Recipe
Turkey Cranberry Runzas
Makes 8 large runzas.
Ingredients
Dough

¾

cups

warm water

2 ¼

teaspoons

active dry yeast

3

tablespoons

granulated sugar

3¾

cups

bread flour

plus more for the work surface

3

large eggs

2

teaspoons

kosher salt

12

tablespoons

1½ sticks unsalted butter, at room temperature and sliced into ¼-inch pieces

Filling

3

tablespoons

unsalted butter

2

celery stalks

diced

1

shallot

diced

3

cloves

garlic

minced or pressed

1

pound

lean ground turkey

1

cup

dried cranberries

1

cup

diced water chestnuts

2

teaspoons

fresh thyme leaves

or 1½ teaspoons dried thyme

salt and pepper

to taste

Egg wash

1

egg

2

tablespoons

water

pinch

salt
Instructions
For the dough, combine ¾ cup warm water (approximately 110° F), the yeast, and a pinch of the sugar to the bowl of a standing electric mixer. Let sit until foamy, about 5 to 10 minutes.

Add 2 cups of the bread flour and the eggs to the bowl. Beat with the paddle attachment until well combined. Add the remaining 3 tablespoons sugar and the salt.

Add remaining flour about ½ cup at a time, alternating with the butter. Mix well until a sticky dough forms. Let rest for 15 minutes.

Knead with the dough hook for about 5 minutes. Scrape the soft, silky dough into a well-greased bowl, turning once to coat the top. Cover and let rise for about an hour at room temperature before transferring to the refrigerator. Let it rest for at least an hour, but several hours to overnight work best.

Remove the dough from the refrigerator and divide it into 8 even portions. Using only enough flour to prevent sticking, roll pieces into smooth balls. On a lightly dusted counter, cover the dough and let it rest as you prepare the filling.

To prepare the filling, melt butter in a large skillet over medium heat. Cook celery and shallot until they begin to soften, stirring occasionally, about 5 minutes. Add garlic, stirring for one minute.

Increase heat to medium high and add the ground turkey, breaking it up with a wooden spoon and stirring frequently until cooked through, about 5 to 7 minutes. Mix in dried cranberries, water chestnuts, and thyme. Season generously with salt and pepper.

Grease two baking sheets and set aside. Preheat the oven to 375° F.

Fill the runzas one at a time. Flatten a dough ball on a lightly floured surface and roll it out into 6 to 7-inch circle. Set the circle of dough in a small bowl. Add about ½ cup of the filling to the center. Pull the sides of the dough together around the filling, tucking and pinching to create a good seal.

Turn the sealed bun into your hands and set the fat oval seam-side down on one of the prepared baking sheets.

Repeat with the remaining dough and filling, spacing the runzas generously on the baking sheets. Cover with plastic wrap and let rise for about 30 minutes.

For the egg wash, whisk egg, water, and a pinch of salt. Right before baking, brush the tops of the runzas lightly with the egg wash. Bake until golden brown, about 25 minutes. Serve warm with homemade or prepared cranberry sauce, if desired.
Print Recipe
Quick and Easy Homemade Cranberry Sauce
I love cranberries, so I usually stock up when they're available in the fall so I can freeze them to use when they're hard to find. When I found bags for sale in the freezer case the other day -- in spring -- I felt inspired to share this simple cranberry sauce recipe to go along with the Turkey Cranberry Runzas!
Ingredients
3

cups

fresh or frozen cranberries

about 12 ounces

1

cup

water

1

cup

sugar

juice from half a lemon
Instructions
Combine all the ingredients in a medium sauce pan and bring to a full boil over medium-high heat. Reduce temperature and simmer until the sauce thickens, about 10 minutes.

Let cool to room temperature. Refrigerate until ready to use.
Pin Turkey Cranberry Runzas for Later

You might also like
Stuffed Pizza Rolls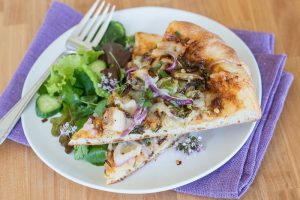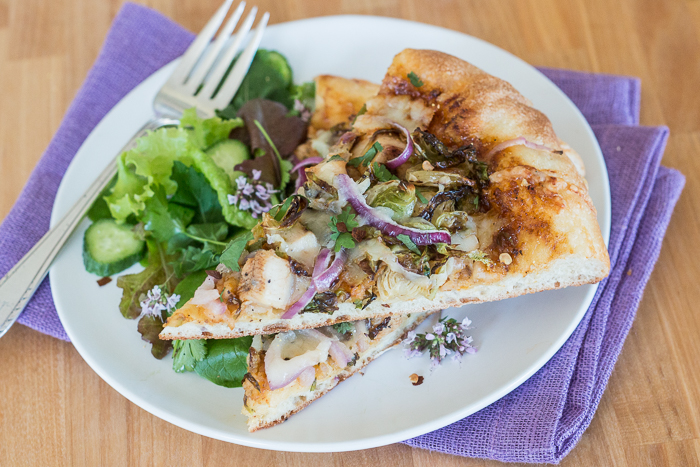 Barbecue Pizza with Chicken and Brussels Sprouts