Tender and irresistible, these tangy Lemon Blondies burst with bold citrus flavor. Smooth, creamy lemon frosting adds sweetness and zing to these easy-to-prepare treats.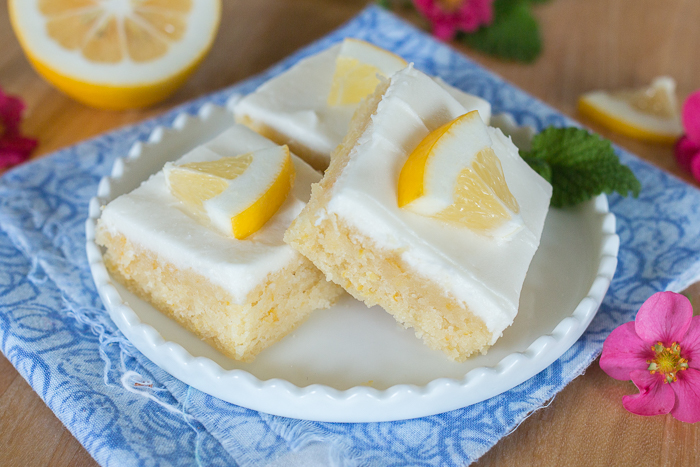 The last time we went out of town, I left some Lemon Blondies for our pet sitters to nibble on while they played with our cat and fed our fish.
When we returned, one of them told me that she liked the lemon treats so much that she'd looked for them on my blog. Try as she might, she'd had no luck finding the recipe.
I explained that I was still experimenting with the recipe. Did she think it needed more lemon flavor?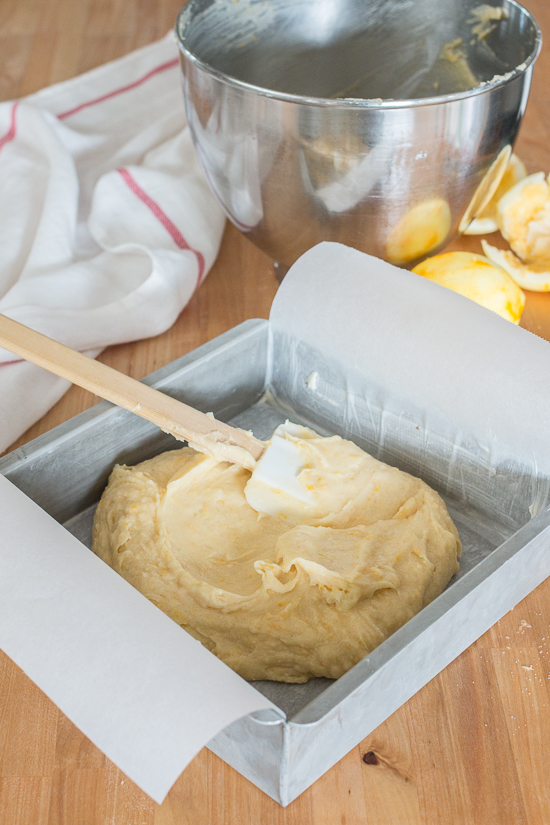 She assured me that it was ready now, thank you very much. Would I please just post the recipe so she could bake them right away?
When I made them again, I realized that she was right.
Full of tangy citrus flavor, these tender bars taste bright and luscious. Creamy lemon frosting adds a smooth sweetness and gives them some extra zing.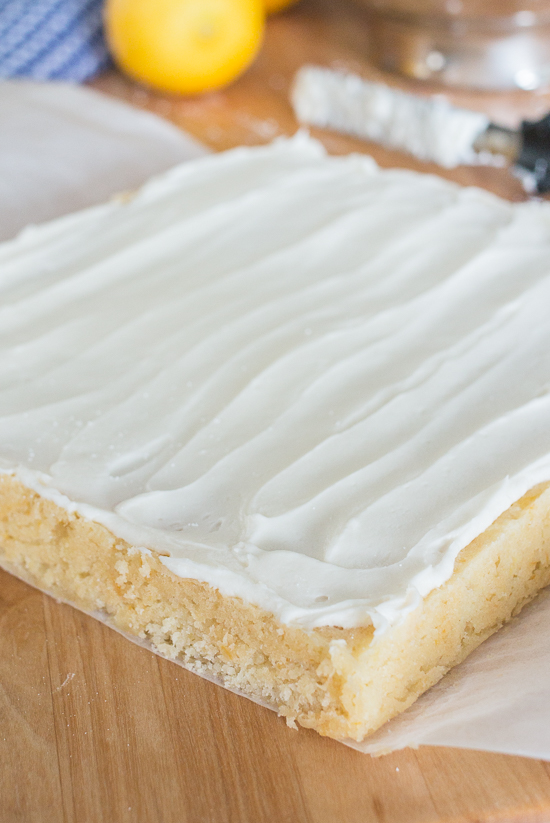 After frosting and slicing the blondies, I like to top each one with thin wedge of Meyer lemon. While it's perfectly acceptable to remove this garnish before eating, I love the juicy burst of sour lemon flavor in combination with the sweet, tart bars.
I used a stand mixer to prepare these treats, but this simple, straightforward recipe could easily be mixed by hand as well. If you go that route, be sure to soften the butter to room temperature. This will make mixing both the batter and frosting a breeze.
It seems like everyone, myself included, has a tendency to call these treats lemon "bars" rather than blondies. But lemon bars, really a dessert category of their own, feature a layer of crisp shortbread covered with a succulent lemon curd-like topping. They're decidedly different from these blondies, which have a brownie-like texture.
Tempting as it is to call these tangy sweets "Goldies" because of their pale golden hue, I'm sticking with Lemon Blondies since it's a bit more obvious.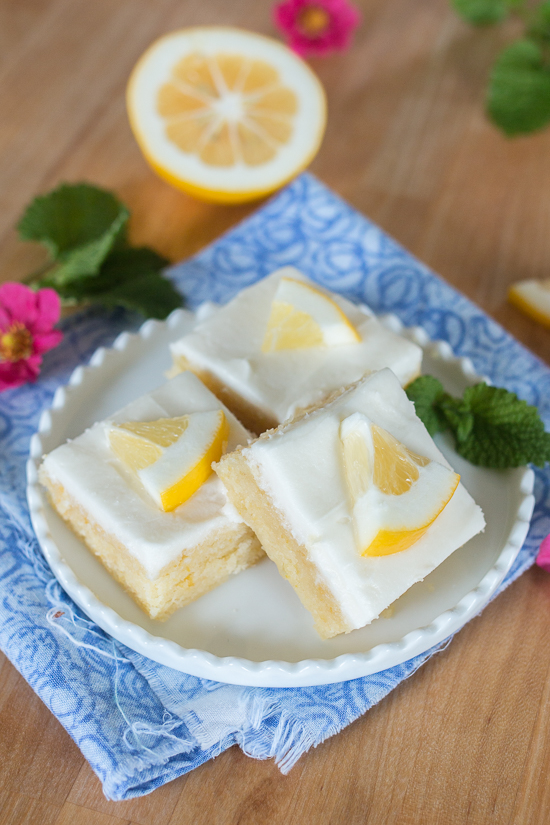 Really, though, it doesn't matter what you call this dessert, as long as you can eat it, preferably as soon as possible.
Since the better part of my daughter's soccer team is waiting patiently to make this recipe, I'll just stop typing now and share it. Enjoy!
Print Recipe
Tart and Tangy Lemon Blondies
Ingredients
Blondies

1

cup

granulated sugar

1/2

teaspoon

salt

2

large lemons

zested

1/2

cup

unsalted butter

softened

2

large eggs

2

tablespoons

freshly squeezed lemon juice

1

cup

all-purpose flour

Lemon Frosting

¼

cup

unsalted butter

softened

1

cup

confectioners' sugar

1

tablespoon

lemon juice

Pinch

salt

lemon wedges

for garnish
Instructions
Preheat oven to 350° F. Butter an 8-inch square pan. Add a layer of parchment paper to the pan, leaving the edges long enough to lift the blondies out of the pan once cool for easier slicing. Butter the parchment paper, pressing it to adhere smoothly to the pan.

In the bowl of a standing electric mixer fitted with the paddle attachment, mix sugar, salt, and lemon zest until well combined and fragrant. Add butter and beat until light and fluffy.

Add eggs, one at a time, mxing well to combine. Mix in lemon juice.

Add flour and stir until just combined. Scrape batter into the prepared pan, spreading evenly to the edges. Bake until the surface of the blondies springs back when pressed gently with a finger, about 25 to 30 minutes. Cool completely in the pan.

For the frosting, beat the butter in the bowl of a standing electric mixer until light and creamy. Add confectioners' sugar, lemon juice, and salt. Mix slowly with the paddle attachment to combine, and then increase speed to medium-high and beat until well combined. Add additional powdered sugar or lemon juice, as needed, to achieve a smooth, creamy consistency.

Remove cooled blondies from the pan and top with frosting, spreading it evenly to the edges. Slice in 2-inch squares with a sharp knife, wiping the blade between slices to keep the edges of the blondies looking neat and tidy. If desired, top with lemon wedges. Set lemon wedges on a paper towel briefly to absorb excess juice before adding them to the blondies.
Pin Lemon Blondies for Later
You might also like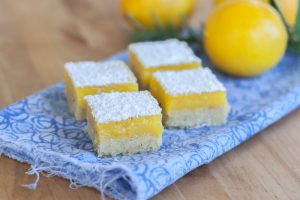 Meyer Lemon Bars with Rosemary Pine Nut Shortbread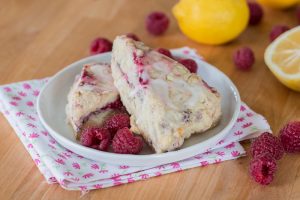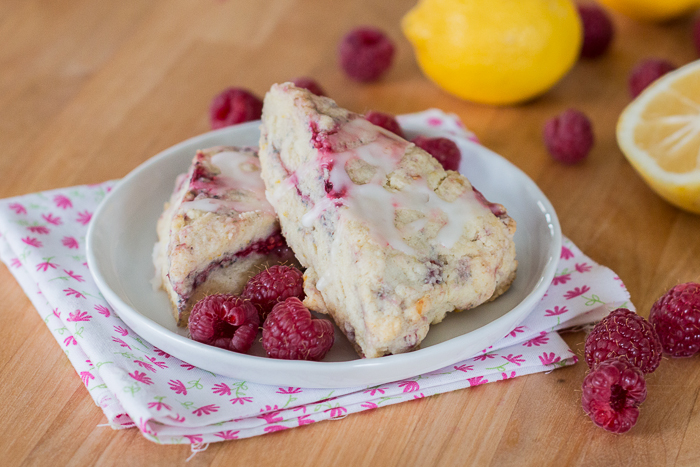 Raspberry Lemon Scones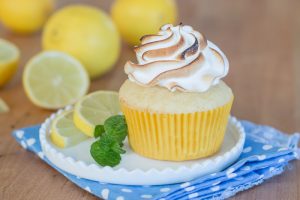 Lemon Meringue Cupcakes