Simple and quick to prepare, these little Raspberry Lemon Scones are full of tart berry and tangy lemon flavor. They're perfect for a quick breakfast or afternoon snack.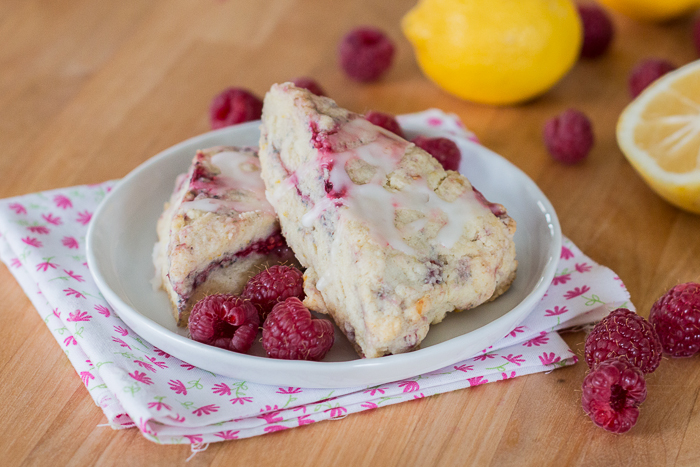 A few weeks back, Tessa and her friend Kadin snacked on Raspberry Lemon Scones after school. Since Kadin couldn't seem to get enough of these tender, fruity scones, I told him I'd send the recipe to his mom.
Eliza and I had been testing the scones in preparation for baking with her fifth grade class at school, so when I sent the recipe, I added a note explaining that Kadin could bake them himself with just a little help.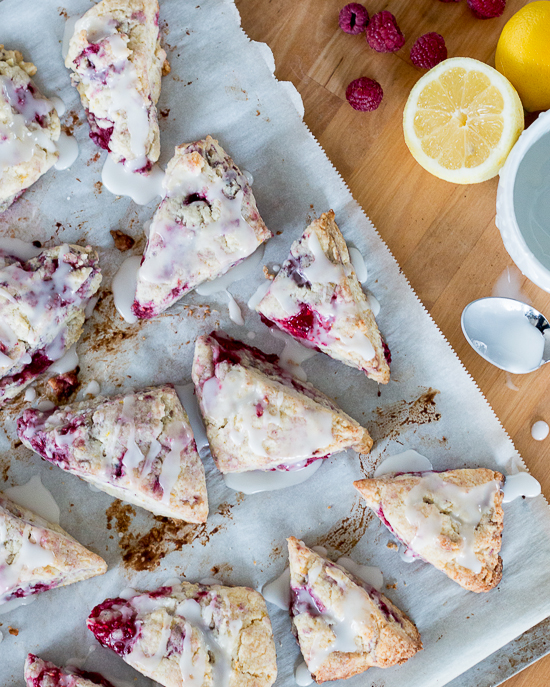 Later that evening, she wrote back, "Kadin will help bake these! When he got home he announced that he ate scones, and, as he put it, 'They were fit for a king, Mommy. Really, they were that good!'"
The scones elicited involuntary "Ooohs" and "Aaahs" from the fifth graders at school, and I learned, too, that one of the teachers who sampled a scone asked Eliza's teacher for the recipe — which she used the very same day.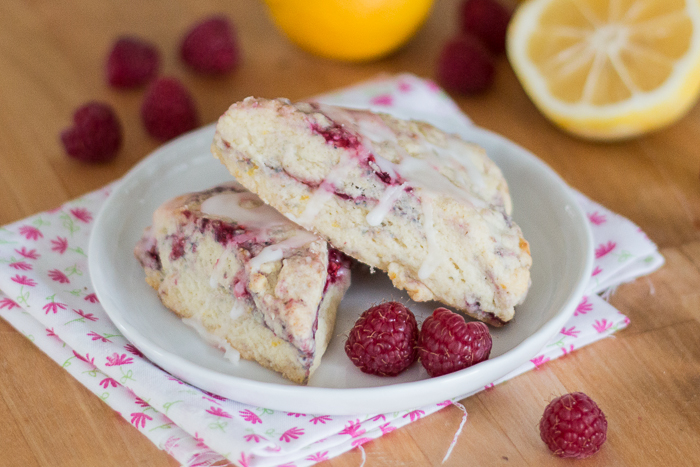 What is it that makes these Raspberry Lemon Scones so addictive?
With their tart berry and tangy lemon flavor, they aren't super sweet, which means that the syrupy lemon glaze — made from lemon juice and powdered sugar — rounds out the flavors without feeling cloying.
This, coupled with their smallness, may be why it's so easy to lose track of the sheer quantity of scones that you've eaten at a given sitting.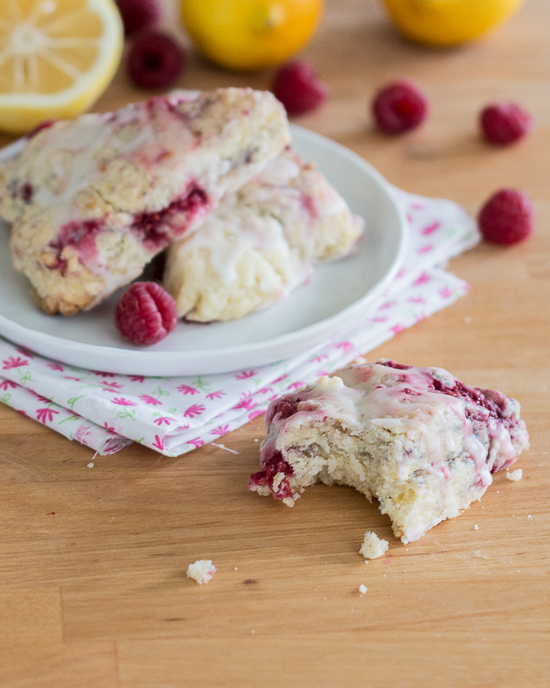 You're going to love these scones, not only for their enticing flavor, but also for how quick and easy they are to prepare.
When you bake them — if you find yourself willing to share them — it's pretty much guaranteed that someone will ask for the recipe.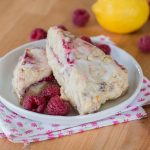 Print Recipe
Raspberry Lemon Scones
Makes 18 small scones.
Ingredients
Scones

1/2

cup

cold, unsalted butter

2

cups

unbleached all-purpose flour

(250 grams)

1/4

cup

granulated sugar

(50 grams)

1

tablespoon

baking powder

1/2

teaspoon

salt

1

large lemon

zested

3/4

cups

heavy cream

3/4

cup

frozen raspberries

Glaze

1/2

large lemon

juiced

1/2 to 1

cup

confectioners' sugar
Instructions
Cut butter into ¼-inch pieces and return it to the refrigerator to keep it cold until needed.

Preheat oven to 425° F. Line a baking sheet with parchment paper.

Combine flour, sugar, baking powder, salt, and lemon zest in a large wide bowl. Mix to combine.

Add butter to the dry ingredients and toss it to coat with flour. Working quickly with clean fingers or a pastry blender, rub or cut butter into the flour mixture until it resembles coarse meal.

Add frozen raspberries to the mixture and toss to coat. Drizzle the heavy cream evenly over the mixture. Toss with a fork, scraping up from the bottom, until the dough starts to clump together. Knead the mixture together in the bowl until it comes together in a mass. It's okay if there are a few crumbs and stray bits.

Turn out the dough on a parchment-lined baking sheet. Press in stray bits gently and shape the dough into an a 7 to 8-inch square about 3/4-inch thick.

Using a knife or bench scraper, divide the square into 9 smaller squares. Divide each square in half diagonally to make 18 small triangles.

Separate the scones carefully to give them room to spread. Bake until pale golden, about 12 to 15 minutes.

To prepare the glaze, combine lemon juice and 1/2 cup confectioners' sugar in a small bowl. Whisk to combine. Add more sugar, as needed to create the desired consistency for glazing.

Cool scones for at least 10 minutes before glazing. Serve warm or at room temperature.
PIN RASPBERRY LEMON SCONES FOR LATER

YOU MIGHT ALSO LIKE
Raisin Scones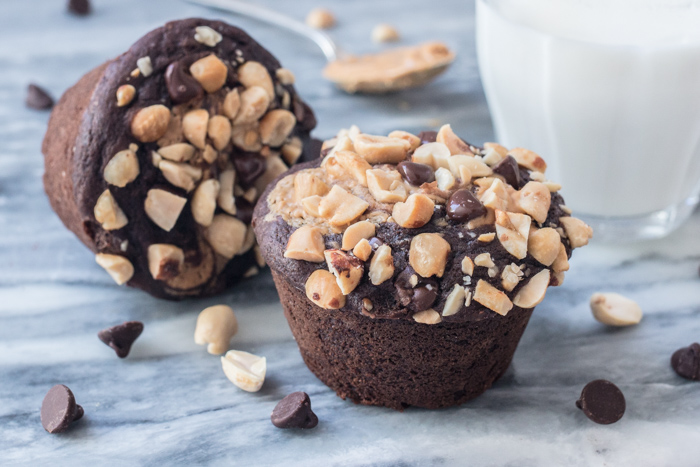 Chocolate Peanut Butter Muffins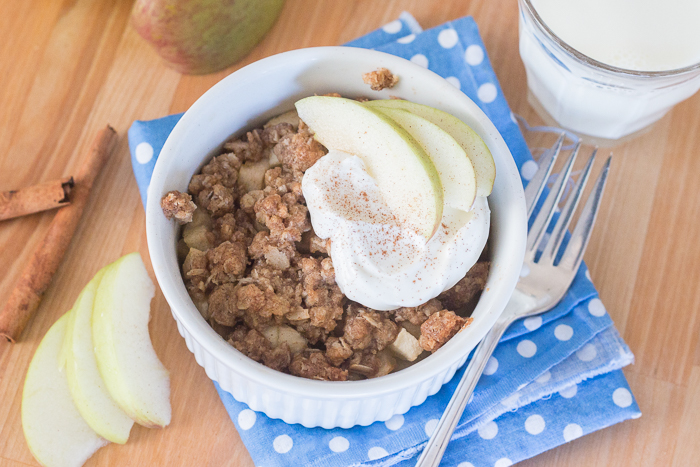 Single-Serving Breakfast Crisp