Turn a simple hot fudge sundae into a St. Patrick's Day treat with this easy Guinness Hot Fudge Sauce recipe.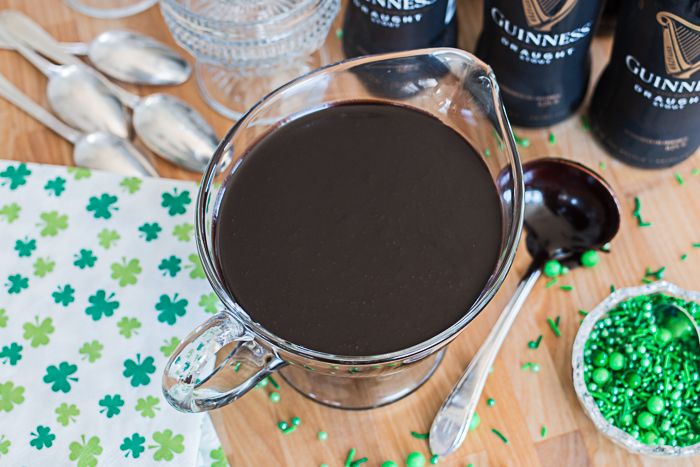 Hot fudge sundaes are such an easy treat, but somehow they always feel special. There's just something about the way warm, rich hot fudge pairs with cold, smooth ice cream. It's truly a perfect combination.
For St. Patrick's Day this year, I decided to give my standard hot fudge recipe a makeover with some Irish flair. Rather than using heavy cream in the sauce, I swapped in Guinness instead!
Despite skepticism from my family, it totally worked! This Guinness Hot Fudge Sauce is just as rich and smooth as my traditional recipe with the added bonus of deep stout flavor. Say hello to St. Patrick's Day Hot Fudge Sundaes!
Guinness and chocolate make great companions, and in this sauce, the stout's boozy flavor is subtle enough that my kids enjoyed this hot fudge even though they turned their noses up when they sniffed Guinness in the bottle. Since the hot fudge cooks on the stove, the alcohol boils off, which makes it kid-friendly.
The first time I made Guinness Hot Fudge Sauce, I measured the stout straight from the bottle, but the hot fudge didn't taste as different from regular recipe as I'd hoped. Because hot fudge sauce doesn't call for much liquid, I decided to try simmering down the Guinness to pack in more flavor. The Guinness reduction — along with a splash of unadulterated Guinness to the finished hot fudge — gives this rich sauce just the right amount of stout goodness.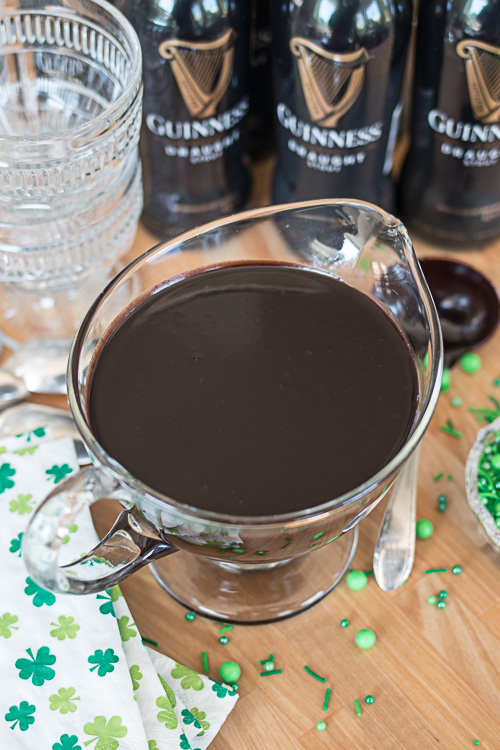 The recipe conveniently uses an entire bottle of Guinness, which means you needn't feel compelled to drink the extra Guinness on the spot. But don't let this convenience seem like punishment! You can always crack open another bottle to enjoy while cooking if that sounds like a good idea.
I especially like a Guinness Hot Fudge Sundae with coffee ice cream, but vanilla and mint are popular at my house, too. Top your sundaes with green sprinkles for extra pizzazz and serve with Guinness. Why not!
Happy St. Patrick's Day!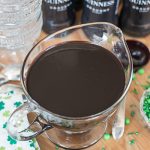 Print Recipe
Guinness Hot Fudge Sauce
Makes about 2 cups.
Ingredients
1

11.2 fl. ounce bottle of Guinness Draught Stout

divided

6

ounces

finely chopped bittersweet chocolate

divided

1/3

cup

packed brown sugar

¼

cup

unsweetened Dutch-process cocoa powder

¼

teaspoon

kosher salt

½

cup

light corn syrup

2

tablespoons

unsalted butter

diced
Instructions
Measure 1 tablespoon of the Guinness into a small bowl or cup. Set aside. Pour the rest of the bottle into a medium sauce pan and bring to a boil over moderate heat. Reduce heat to low and cook until reduced to about 2/3 of a cup, about 20 minutes.

In the meantime, combine half of the chocolate, the brown sugar, cocoa powder, and salt in bowl and mix well. Set aside.

Once the Guinness has reduced, combine chocolate mixture and corn syrup with the Guinness reduction in the saucepan. Warm the mixture over moderate heat, stirring until the chocolate melts completely.

When the mixture begins to steam, reduce heat to medium-low and continue cooking for about 5 minutes, stirring occasionally. Remove from heat and add the remaining chocolate, the butter, and reserved Guinness. Stir vigorously until smooth and glossy. Serve warm.

Store in a sealed container in the refrigerator for up to a week. To reheat, warm on the stove over moderate heat or in short bursts in the microwave. Stir frequently to avoid scorching.
Some of the links in this post are affiliate links. If you click through and make a purchase, I earn a small commission for my referral at no additional cost to you. Thank you for supporting Flour Arrangements.
YOU MIGHT ALSO LIKE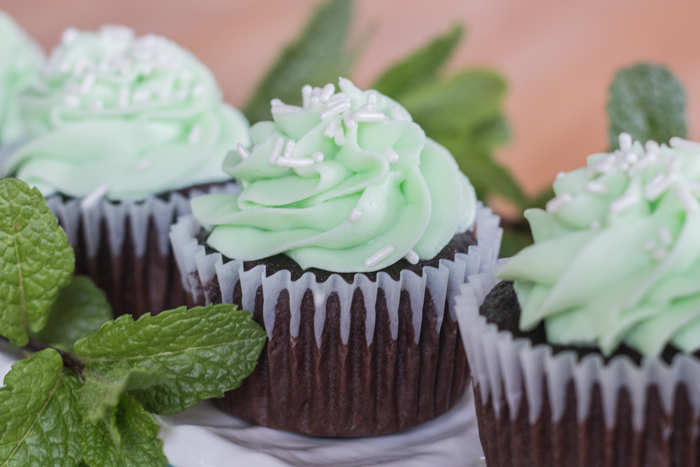 Grasshopper Cupcakes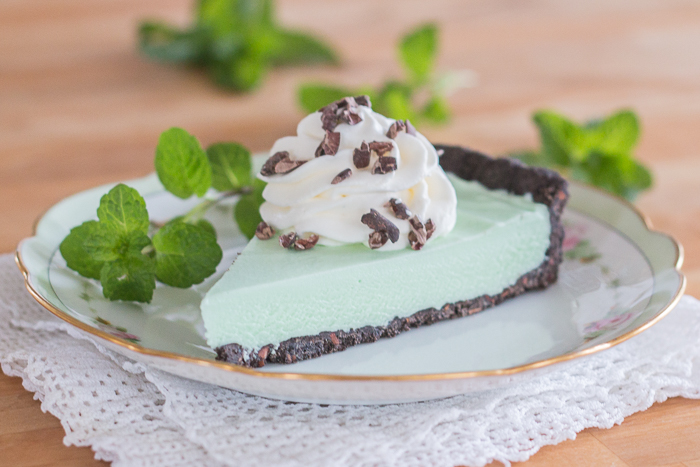 Grasshopper Tart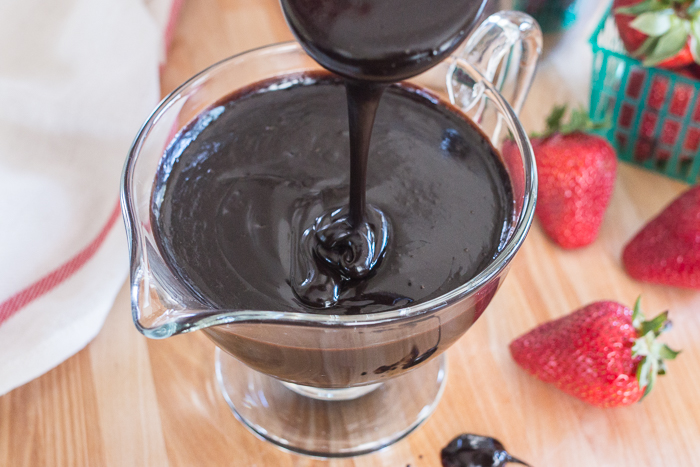 Simple Hot Fudge Sauce