Mango Pie topped with Lime Whipped Cream delivers vibrant, tropical flavors in a delightfully flaky pastry packaging.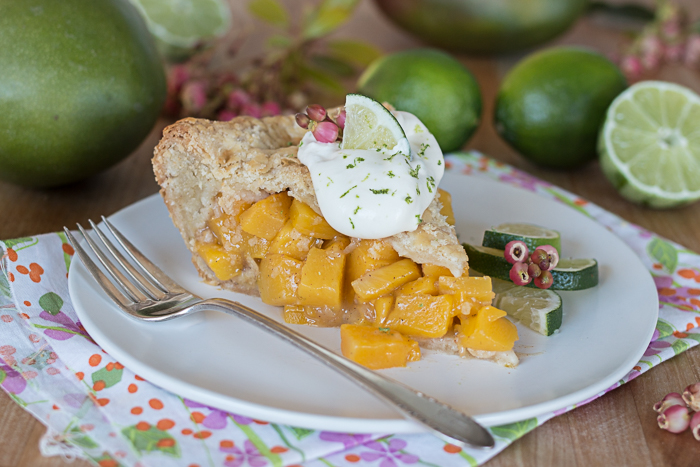 We take Pi Day (March 14 — 3.14) seriously at my house. We sometimes send Pi Day cards in lieu of traditional holiday cards, and we always celebrate this annual event with a Pi Day party.
During our Pi Day festivities, my kids and their friends usually sidewalk chalk up the neighborhood with at least 1,000 digits of Pi, the ratio of diameter to the circumference of a circle. But really, the main event for our Pi Day soiree involves making and eating lots of piE, that favorite circular dessert of mine.
This year, we're hosting not one, but two Pi Day parties — one on Friday night for my high school daughter's friends, and another on Saturday for my middle school daughter's friends. I love the idea of Pi Day Eve AND Pi Day parties. You can never have enough pie.
In preparation for this year's big day, I came up with a delicious new pie recipe that stars smooth, luscious mangoes.
I'd never heard of Mango Pie before, but my younger daughter's passion for mangoes inspired me to give it a try. One day, while I sliced juicy chunks of mango off the skin for her, she asked how mango would taste in a pie. Since I felt pretty sure it would be awesome, I told her we'd find out as soon as possible.
Many of the Mango Pie recipes we found involved pureed mango mixed into heavy cream or cream cheese. We'd envisioned a more traditional double-crusted fruit-filled pie, so I improvised a recipe with diced mango, sugar, lime juice, spices, and corn starch for thickening. The pie turned out perfectly on my first try, giving new meaning to the saying, "easy as pie." This tropical fruit definitely deserves more pie love!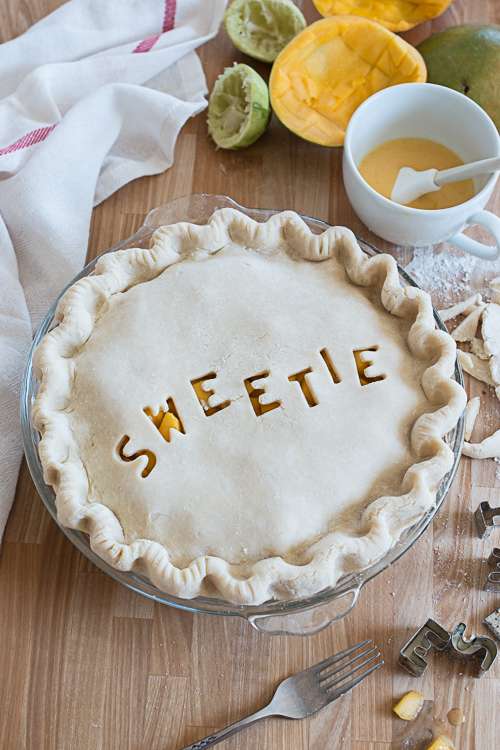 A splash of lime juice and a hint of cinnamon and cardamom set off the fragrant mango flavor nestled in a crisp, flaky all butter crust. The firm, ripe mangoes I used held their shape incredibly well as they baked into tender, sweet bites of fruit.
Since lime and mango go so well together, I decided to zest a lime into some heavy cream to create a citrusy topping for this pie. The rich, smooth cream, with its bright lime flavor and pretty specks of green, pairs elegantly with the succulent, tangy filling.
A thick wedge of Mango Pie with generous dollop of Lime Whipped Cream delivers an incredible combination of flavors and textures. Garnish with lime slices and edible fresh flowers for an extra special presentation.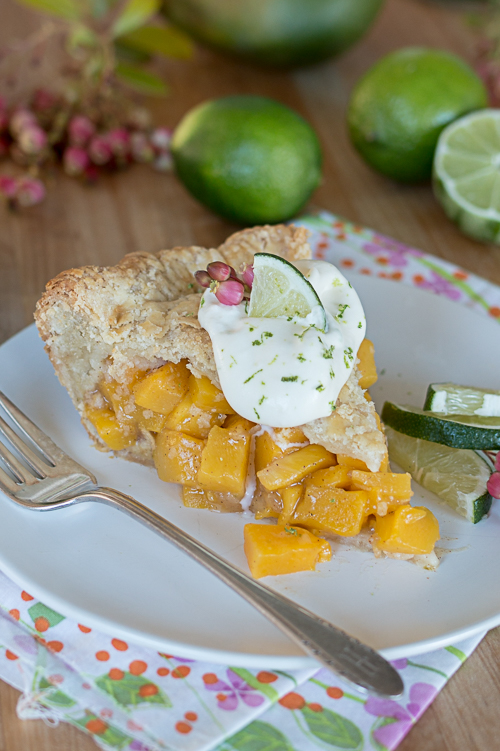 This Mango Pie experiment worked so well that I'm super excited about tackling other unexpected fruit pies. Papaya? Pineapple? Jack-fruit? The possibilities for my new Pi Day Resolution are endless!
In the meantime, I can't wait to mix up some mango pie filling, along with some apple and berry fillings, for the mini pies my daughters will be making with their friends in celebration of Pi Day this year.
If you don't already have Pi Day plans, I recommend picking up ingredients for Mango Pie and Lime Whipped Cream, along with some colorful chalk to decorate the sidewalks in your neighborhood with the cool, irrational number Pi. Happy Pi Day!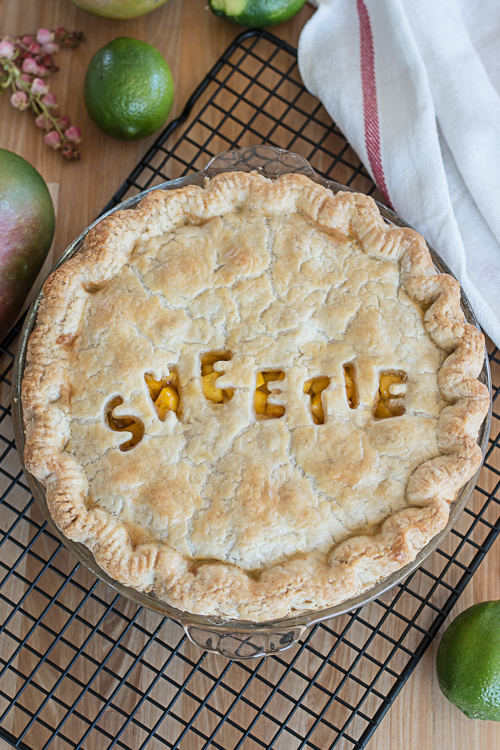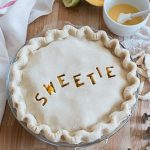 Print Recipe
Mango Pie with Lime Whipped Cream
If you decide to use
alphabet cutters
or other shapes to decorate your pie, cut the shapes before adding the top crust to the pie.
Ingredients
Pastry

2½

cups

unbleached all-purpose flour

1

tablespoon

confectioners' sugar

1

teaspoon

kosher salt

2½

sticks unsalted butter

cut in ¼-inch slices (1¼ cups)

1/3

cup

plus 1 tablespoon ice water

strained

Filling

5

cups

mango

chopped in 1/4 to 1/2-inch cubes (about 4 large)

1/4 to 1/2

cup

granulated sugar

depending on the sweetness of the fruit

¼

cup

cornstarch

2

tablespoons

lime juice

1/2

teaspoon

ground cinnamon

1/4

teaspoon

ground cardamom

¼

teaspoon

kosher salt

Egg Wash

1

egg

2

teaspoons

water

pinch

kosher salt

For Serving

1

cup

heavy cream

1

large lime

zested

2

tablespoons

confectioner's sugar

lime wedges

edible flowers

if desired
Instructions
To prepare the pastry dough, whirl flour, confectioners' sugar, and salt in food processor with the blade attachment. Add about half of the butter and whirl until no chunks remain. Add remaining slices and whirl briefly to chop them up slightly. Turn food processor on again and quickly begin drizzling ice water through the feed tube, stopping before the dough comes together. Pinch some crumbs together between your fingers; if they don't stick together, add a bit more water and whirl briefly.

Turn the mixture out onto a large piece of plastic wrap. Use the plastic wrap to help you bring the dough together; fold the edges of the dough toward the center and press down until it holds together, taking care not to overwork the dough. Divide it in half and shape into two flat disks wrapped tightly in plastic wrap. Refrigerate for at least 30 minutes.

While the dough chills, preheat oven to 425º F. Combine filling ingredients in a large bowl and let stand for 15 minutes, stirring occasionally.

Whisk egg, water, and salt together in a small bowl and set aside.

On a lightly floured surface, roll out one of the dough rounds into a 13 to 14-inch circle. Transfer it carefully to a 10-inch pie dish. Brush some of the egg wash over the dough. Roll out remaining round into a 13 to 14-inch circle.

Add mango mixture to the pie dish and brush the overhanging edge of pie dough with cold water. Center top crust over the pie dish and seal the pie gently by pressing down all the way around the pie's edge with the bottom of a fork. Trim overhanging dough with a knife and flute the edge with your fingers, if desired. Cut steam vents in the top. Brush the top crust lightly with egg wash.

Place pie on a baking sheet to catch any overflowing juices. Bake for 30 minutes on the bottom rack of the oven. Reduce heat to 350º F and continue baking for 30 to 45 minutes, until juices bubble thickly through the vents and the crust is golden brown (if the top browns too quickly, slip a baking sheet on the top rack of the oven to diffuse the heat). Allow to cool completely before slicing. Serve warm.

To prepare the Lime Whipped Cream topping, combine heavy cream, lime zest, and powdered sugar in a large bowl. Using an electric mixer or hand whisk, beat until soft peaks form.
Some of the links in this post are affiliate links. If you click through and make a purchase, I earn a small commission for my referral at no additional cost to you. Thank you for supporting Flour Arrangements.
YOU MIGHT ALSO LIKE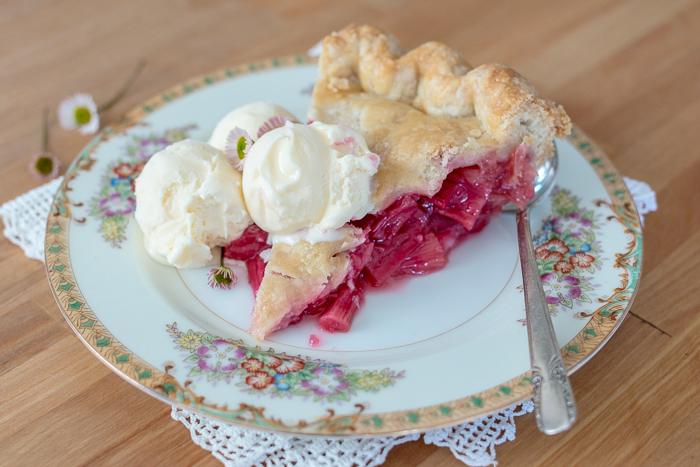 Rhubarb Pie
Pear Pie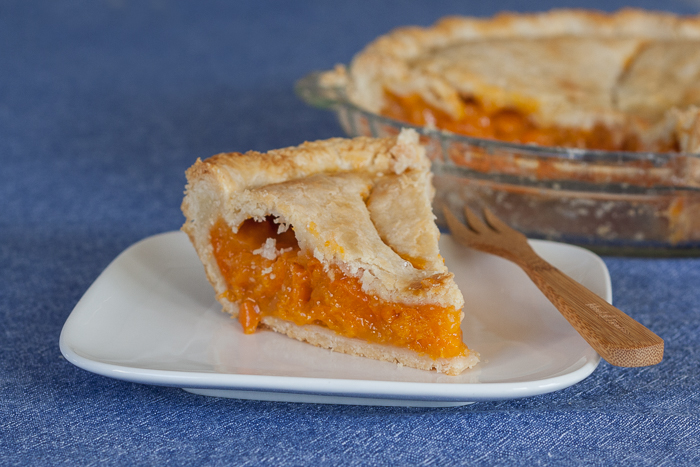 Apricot Pie