These Easy Jam Hand Pies feature tender, flaky pastry filled with your favorite jam.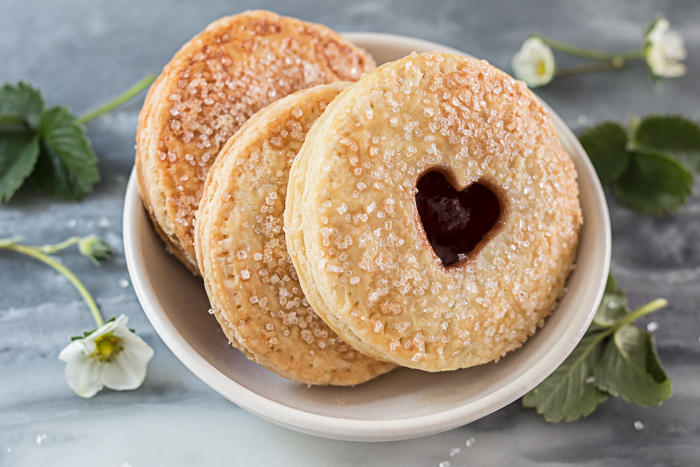 I'm pretty sure pie is the perfect food. Delicious filling wrapped up in crisp, flaky pastry? Yes, please!
I especially love petite pies that you can eat by hand. There's no need to slice and serve, and they're super portable for hikes and picnics.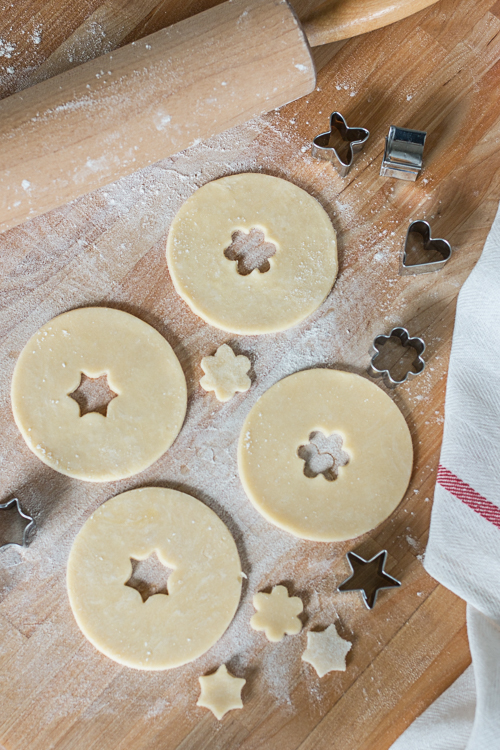 These little Jam Hand Pies are easy enough to make any time. Using your favorite jam takes all the effort out of preparing the filling.
It also means that you can create a variety of hand pie flavors by simply using different kinds of jam. Popular flavors at my house include strawberry, seedless raspberry, and apricot.
If you're a fan of baking with others, these Jam Hand Pies make a fun group project. Kids, especially, love to customize their pies with their favorite jam flavors and cookie cutter shapes.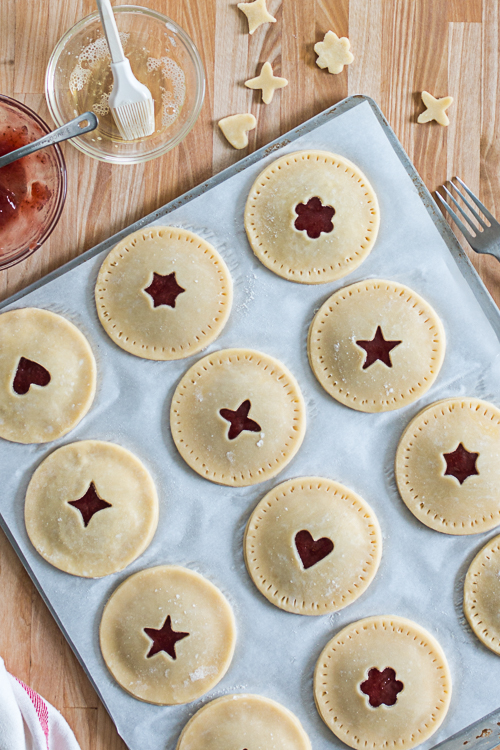 Using a round cookie cutter helps create uniform bases and tops. Once you've rolled and cut the shapes, set aside 12 rounds for the bottoms and add some decorative vents to the remaining dozen. I like to use mini cookies cutters, but making cuts with a sharp knife works, too.
Spread one tablespoon of jam on each of the bottom halves, brush the edges with egg white, and add the prepared tops, pressing the edges gently together before crimping them lightly with a fork.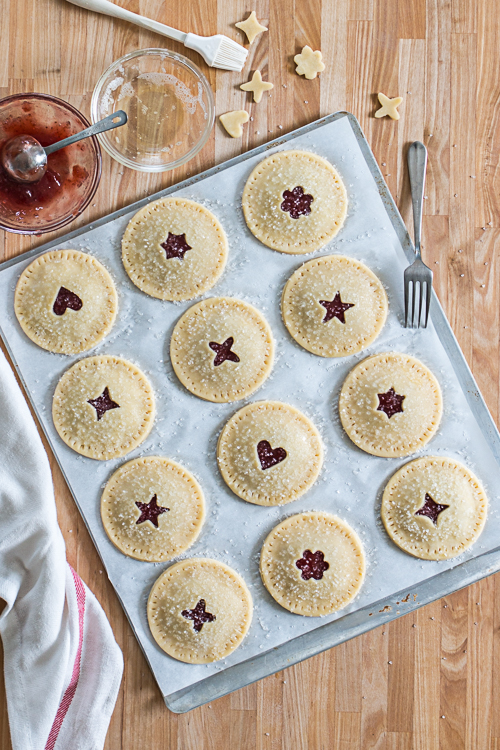 Once the pies are sealed, brush the tops with egg white and sprinkle them generously with coarse sugar. It looks pretty and gives these pies a satisfying crunch.
Bake the pies for about 20 minutes until golden brown. Be sure to wait for at least 10 minutes before indulging — the jam filling gets super hot!
With flaky, tender crust and sweet, luscious jam filling, these diminutive pies are both adorable and delicious. This simple recipe makes it easy to serve up a special treat any time!
Happy baking!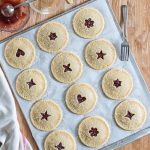 Print Recipe
Easy Jam Hand Pies
Use mini cookie cutters to give these jam hand pies personality! Makes one dozen 3 1/2-inch pies. 
Ingredients
2

cups

unbleached all-purpose flour

2

tablespoons

confectioners' sugar

1/2

teaspoon + a pinch

kosher salt

divided

1

cup (2 sticks)

unsalted butter

cut into small pieces

1

egg

separated and divided

1/4

cup

strained ice water

3/4

cups

jam

coarse sugar

for sprinkling
Instructions
To prepare the pastry dough, whirl flour, confectioners' sugar, and 1/2 teaspoon salt in a food processor with the blade attachment. Add about half of the butter and whirl until no chunks remain. Add remaining slices and whirl briefly to chop them into pea-sized pieces.

Whisk together the egg yolk and strained ice water. Turn food processor on again and quickly begin drizzling yolk/water mixture through the feed tube, stopping before the dough comes together. Pinch some crumbs together between your fingers; if they don't stick together, add a bit more water and whirl briefly.

Turn the mixture out onto a large piece of plastic wrap. Use the plastic wrap to help you bring the dough together; fold the edges of the dough toward the center and press down until it holds together, taking care not to overwork the dough. Divide it in half and shape into two flat disks wrapped tightly in plastic. Refrigerate for at least 30 minutes. 

Preheat oven to 375º F. Whisk together egg white and a pinch of salt. Set aside.

Remove one of the chilled pastry disks from the refrigerator and, on a floured surface, roll the dough to 1/8-inch thickness. Cut as many 3 1/2 to 3/4-inch circles, as you can. Roll out remaining dough and cut additional circles to make 24 total, re-rolling the scraps as necessary. 

Place 12 of the rounds on a parchment-lined baking sheet. Set aside. On the remaining rounds, cut vent holes with a sharp knife or miniature cookie cutters.

Add about 1 tablespoon of jam to the center of each round on the prepared baking sheet. Working one at a time, spread egg wash around the the outer 1/4-inch edge of the pastry dough.

Flatten and spread the jam with your finger tip or the back of a spoon within the circle of egg wash.

Gently place a prepared top over the filling, lining up the edges carefully. Lightly press to the edges together with your fingers and then seal with a fork.

Apply egg wash lightly to the entire surface of each pie and sprinkle generously with coarse sugar. 

Bake until golden, about 20 to 25 minutes. Let the pies cool for at least 10 minutes before eating as the jam filling will be quite hot straight from the oven. Serve warm or at room temperature.
Some of the links in this post are affiliate links. If you click through and make a purchase, I earn a small commission for my referral at no additional cost to you. Thank you for supporting Flour Arrangements.
YOU MIGHT ALSO LIKE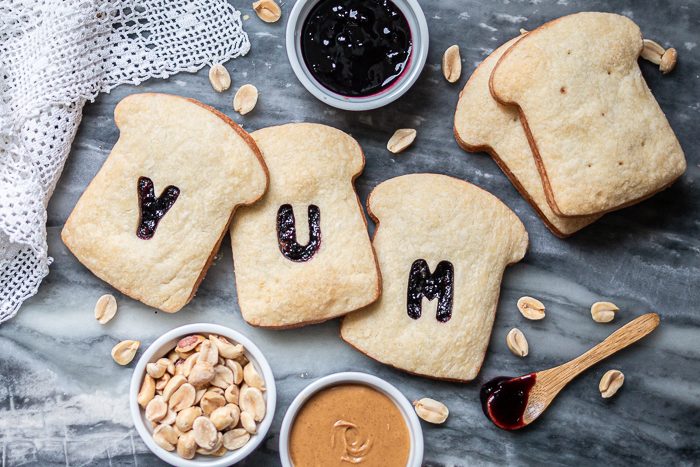 Peanut Butter and Jelly Hand Pies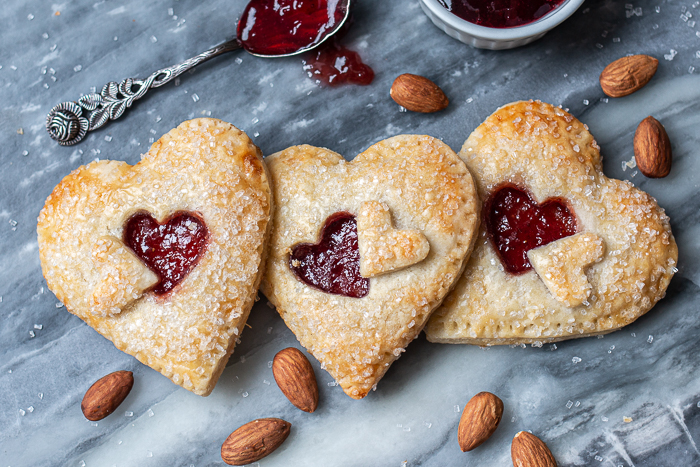 Jammy Almond Hand Pies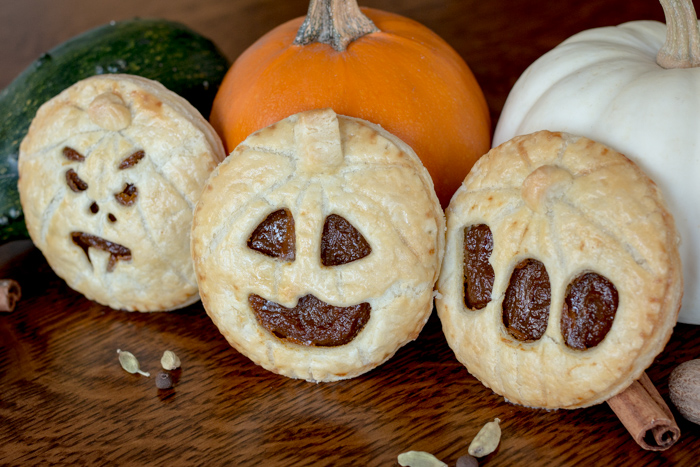 Pumpkin Hand Pies