Perfect for Halloween, these adorable Jack-O'-Lantern Pumpkin Hand Pies feature a velvety-smooth pumpkin filling tucked between layers of rich, flaky pastry.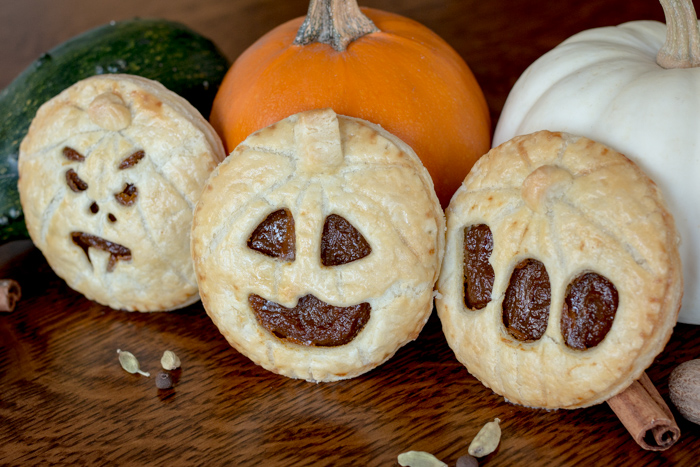 I
've been wanting to make sweet little Jack-O'-Lantern Pumpkin Hand Pies ever since I came up with this
savory version
featuring cubed pumpkin, leek, thyme and Gruyere cheese. It turns out that was SEVEN years ago. How is that even possible?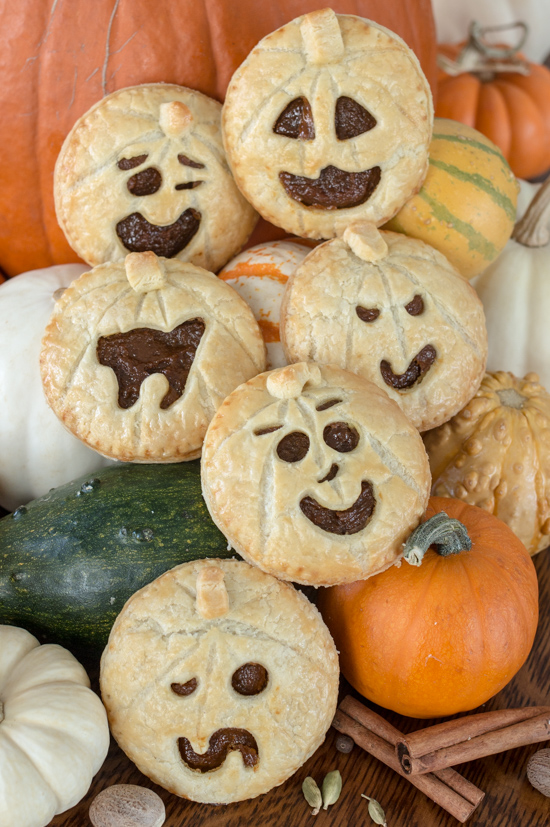 Every time I thought about making sweet pumpkin hand pies in all those intervening years, mental images of the smooth, luscious filling oozing from the pies' eyeballs and mouths as they baked made me shudder. While horrifying treats do make sense for Halloween, they should still be edible, and burned pie guts don't exactly qualify. I was talking about pumpkin hand pies with Tessa, who — since we made the savory version so long ago — didn't even remember them. If I didn't have
photographic proof
, she probably wouldn't have believed me.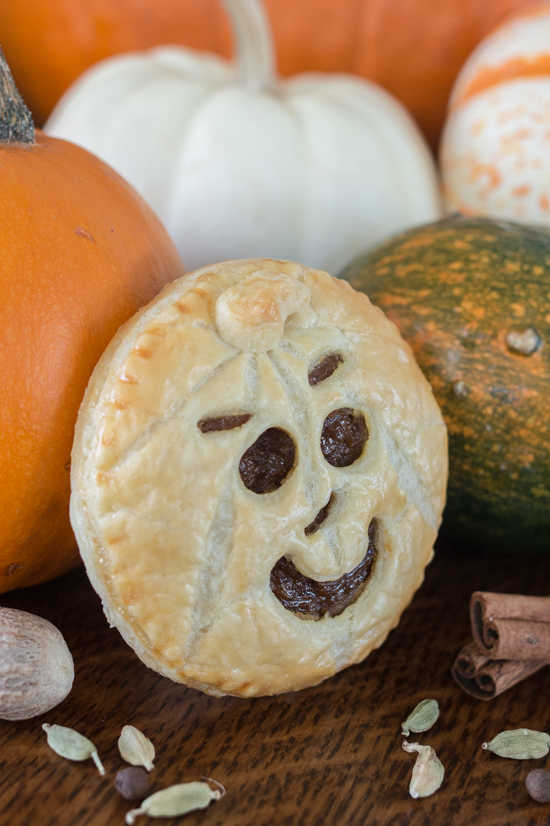 Tessa wanted to see if we could make a sweet version work. which gave me the courage to face the possibility of pie carnage. It's hard to argue with a kid who tells you it's worth a try even if you fail. On our first attempt, we spooned a small amount of pumpkin pie filling between two rounds of pastry and braced for the mess. Surprisingly, the filling stayed inside, but you could hardly tell it was there!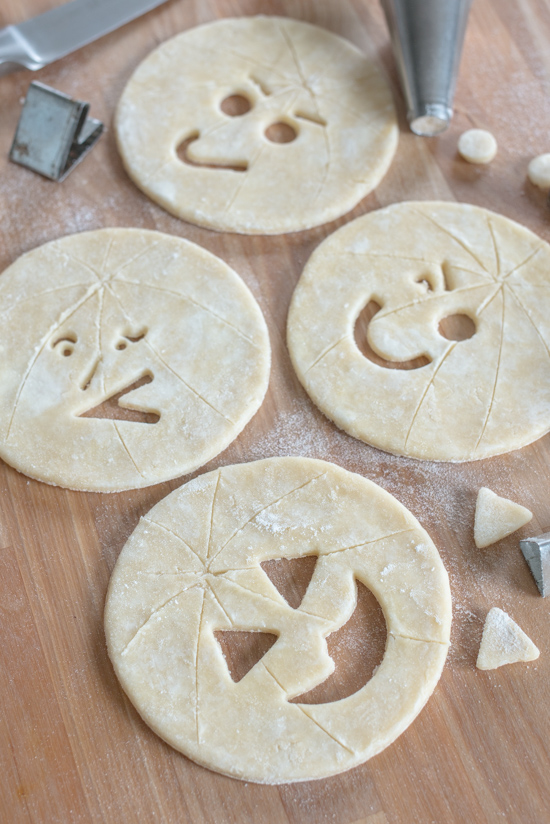 What good is a pumpkin hand pie that's mostly pastry? Additionally, with so little filling, the pies lacked the convex pumpkin shape that makes the savory version so adorable. We needed a thicker filling to boost the flavor and give these hand pies contour! This meant reducing the pumpkin filling down before tucking it inside the pies. We cooked the pumpkin puree, brown sugar, and spices for about 20 minutes until the mixture looked like mashed potatoes. Off heat, we mixed in some yogurt and a single egg yolk to give the filling a smooth, silky texture.
This dense, rich filling held its shape beautifully. After scooping generous mounds onto each pastry base, we actually had to flatten the filling before topping each pie with a round of pastry dough. Success! All fears of pumpkin oozing through the cute or frightful Jack-O'-Lantern faces disappeared. These generously filled hand pies stay jam-packed throughout baking, which means more temptingly-spiced, velvety filling to enjoy as you sink your teeth into them.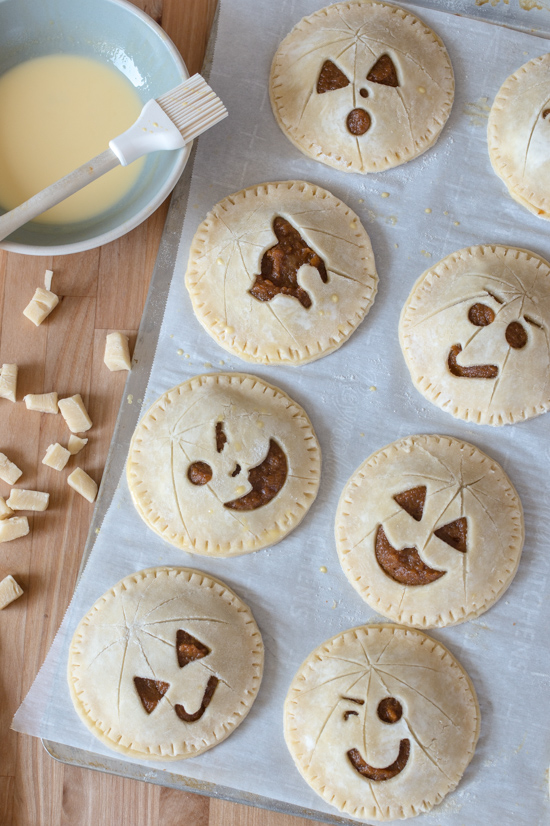 Cinnamon, ginger, cardamom, cloves, and nutmeg blend harmoniously without overpowering the brown sugar-sweetened pumpkin. The filling's luxurious smoothness provides the perfect counterbalance to the flaky, buttery pastry, which somehow manages a crisply delicate texture that's also sturdy enough for eating by hand. If you can believe it, these pies taste even better than they look!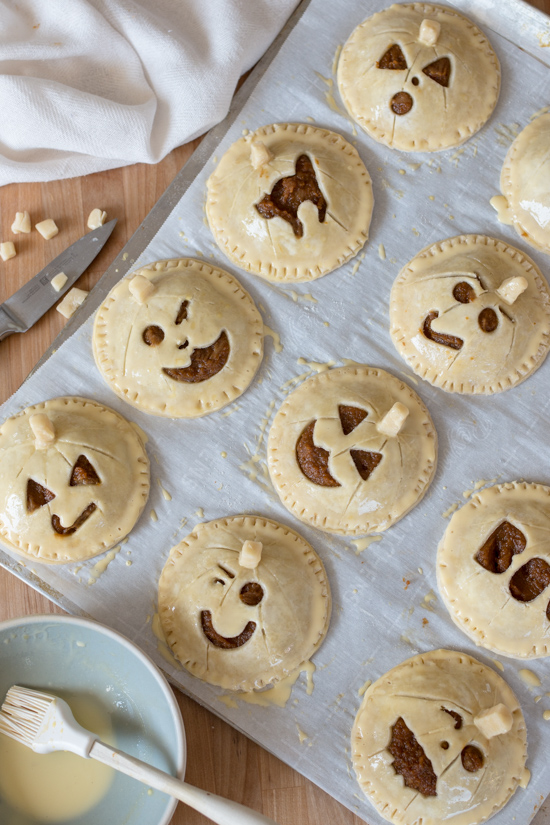 My kids love cutting Jack-O'-Lantern faces into the pastry rounds, and it's fun to watch the variety of creative faces take shape. I'm thinking these Pumpkin Hand Pies would make an awesome Halloween party activity. Fortunately, both the filling and pastry can rest in the refrigerator for a day or so, which would make it easy to prep everything in advance. Just be sure to put the filling in a sealed container and to wrap the pastry dough tightly in plastic.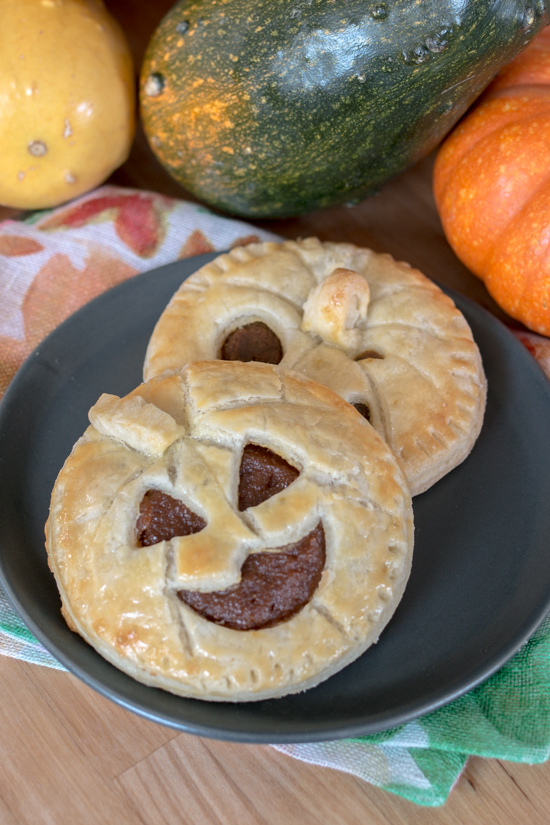 Depending on the size of your group, you may want to roll and pre-cut the rounds of dough. Set pastry rounds on baking sheets and cover them with plastic wrap until you're ready to assemble. Once you're ready, set out cookie cutters and start "carving" Jack-O'-Lantern faces and assembling pies!
We used miniature sets of
Halloween
and
alphabet
cutters as well as
piping tips
and other miscellaneous cookie cutters, which gave us plenty of options. Moon, bat, and letter cutters make great mouths, while various piping tips combine to create eyes, noses, and fangs. You can also freehand shapes with a sharp knife, which you'll have on hand for scoring the pastry rounds to give them pumpkin-like ridges.
Whether you make these Pumpkin Hand Pies on your own or with a crowd, they won't last long. Sure, they're are almost too cute to eat, but after one bite, you'll have no qualms about making them disappear.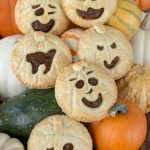 Print Recipe
Pumpkin Hand Pies
Makes one dozen hand pies. Pumpkin purees vary wildly in consistency, from super runny to quite thick. For this recipe, I used Libby's 100 Percent Pure Pumpkin. Don't toss unused egg whites after separating the eggs needed for this recipe -- the amount is perfect for making
meringues
.
Ingredients
Pastry

2

cups

unbleached all-purpose flour

2

tablespoons

confectioners' sugar

1/2

teaspoon

kosher salt

1

cup

cold, unsalted butter

cut into small pieces

1

large egg yolk

1/4

cup

ice water

strained, plus more as needed

Filling

15

ounces

pumpkin puree

(about 2 cups)

3/4

cups

packed light brown sugar

1/4

teaspoon

kosher salt

1

teaspoon

ground cinnamon

1/2

teaspoon

ground ginger

1/4

teaspoon

ground cardamom

1/8

teaspoon

ground cloves

1

pinch

freshly grated nutmeg

2

tablespoons

whole milk yogurt

1

large egg yolk

Assembly

1

egg yolk

2

tablespoons

heavy cream
Instructions
To prepare the pastry dough, whirl flour, confectioners' sugar, and salt in a food processor with the blade attachment. Add about half of the butter and whirl until no chunks remain. Add remaining slices and whirl briefly to chop them into pea sized pieces.

Whisk together the egg yolk and strained ice water. Turn food processor on again and quickly begin drizzling yolk/water mixture through the feed tube, stopping before the dough comes together. Pinch some crumbs together between your fingers; if they don't stick together, add a bit more water and whirl briefly.

Turn the mixture out onto a large piece of plastic wrap. Use the plastic wrap to help you bring the dough together; fold the edges of the dough toward the center and press down until it holds together, taking care not to overwork the dough. Divide it in half and shape into two flat disks wrapped tightly in plastic. Refrigerate while you prepare the filling.

For the filling, combine pumpkin puree, sugar, salt, and spices in a 2 1/2 quart saucepan and mix well. Cook over medium-high heat, stirring frequently, until the mixture begins to steam and bubble. Reduce heat to low and continue cooking for about 20 minutes to achieve a mashed-potato like consistency, stirring more regularly as the mixture thickens.

Remove from heat and mix in yogurt. Add egg yolk, stirring vigorously to combine. Transfer the filling to a small bowl and put it in the refrigerator to cool while you roll out the pastry dough. You should have about 1 1/2 cups.

Preheat oven to 375º F. Whisk together yolk and heavy cream. Set aside.

Remove one of the chilled pastry disks from the refrigerator and, on a floured surface, roll the dough to 1/8-inch thickness. Cut as many 3 1/2 to 3/4-inch circles, as you can. Roll out remaining dough and cut additional circles to make 24 total, re-rolling the scraps as necessary. Reserve remaining scraps for pumpkin stems.

On 12 of the rounds, use a sharp knife to score shallow lines that radiate from a center point near the upper edge of the circle (later, you will place stems atop the center point). Create faces on each scored round using miniature cookie cutters, the pointed ends of decorating tips, or free handing with a sharp knife.

Using dough scraps, shape 12 small rectangles to use as stems. Set aside.

Place the the remaining 12 rounds on a parchment-lined baking sheet. Add about 2 tablespoons of the thick filling to the center of each round (a 2 tablespoon

cookie dough scoop

works especially well for this).

Working one at a time, spread egg wash around the the outer 1/4-inch edge of the pastry dough. Flatten and spread the thick filling with the back of a spoon within the circle of egg wash.

Gently place a prepared top over the filling, lining up the edges carefully. Lightly press to the edges together with your fingers and then seal with a fork.

Apply egg wash lightly to the entire surface, avoiding the holes as best you can. Attach a prepared stem where the scored lines meet near the top of the round, pressing it to adhere. Brush egg wash on the stem. Repeat with with remaining pies.

Bake until golden, about 20 to 25 minutes. Serve warm or at room temperature.
Some of the links in this post are affiliate links. If you click through and make a purchase, I earn a small commission for my referral at no additional cost to you. Thank you for supporting Flour Arrangements.

YOU MIGHT ALSO LIKE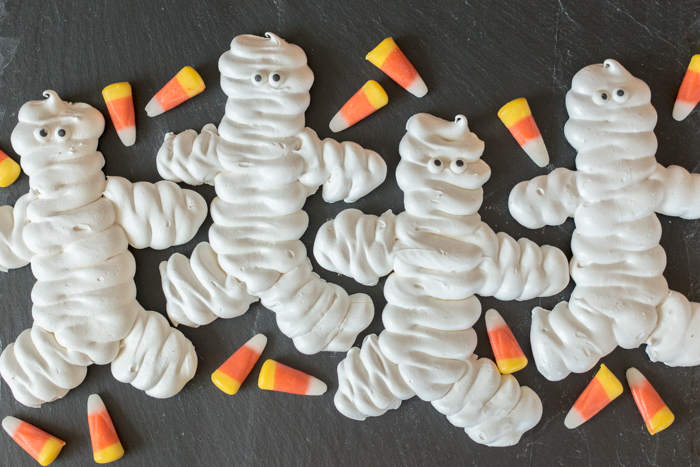 Meringue Mummies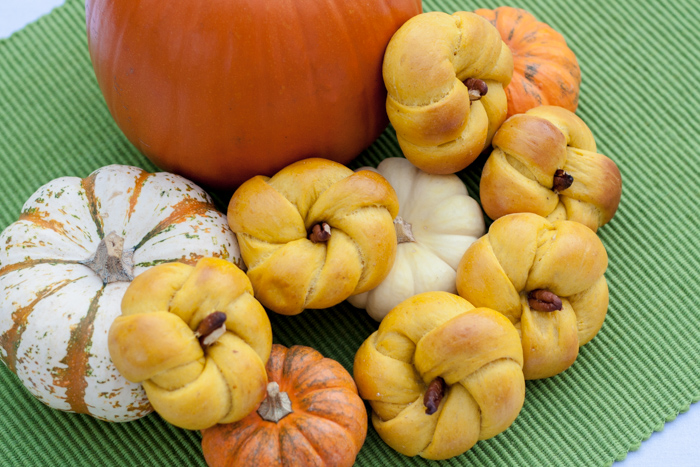 Pumpkin Dinner Rolls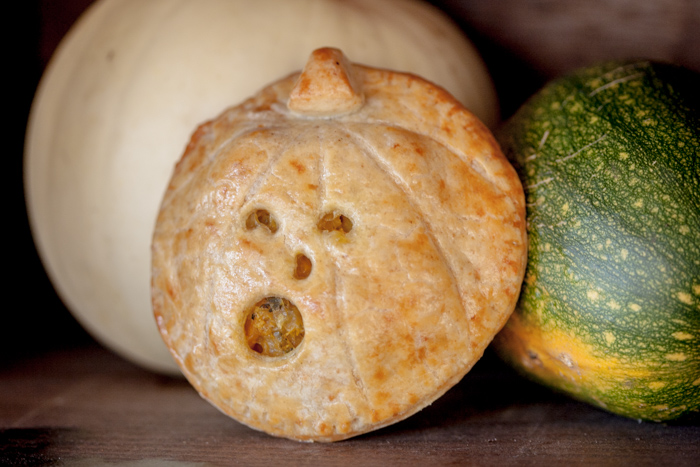 Savory Pumpkin Hand Pies