Flavored with lime juice and zest, these whimsical Cactus Meringues deliver a light, crisp texture with every sweet, addictive bite.
I love visiting family in Tucson, Arizona. In addition to the great company, the desert landscape always blows me away. Coming from the San Francisco Bay Area with its grassy hillsides and sprawling oak trees, it seems unreal to see giant saguaro cacti everywhere you turn.
Every time we travel to Tucson, I suggest that we move there. Without fail, my husband reminds me that we've never actually visited in summer time.
He's right, too. We usually go for Thanksgiving, when it's mild and warm enough to swim and hike in shorts. I'm not sure I could take the crazy heat of an Arizona summer.
This past November after baking Pumpkin Hand Pies for dessert, I had enough egg whites leftover for a batch of meringues. Inspired by desert scenery, I pictured adorable little Cactus Meringues lined up on a baking sheet. I rushed to the store to buy a piping tip, food coloring, and sprinkles so I could test out the idea, but we ran out of time during our quick trip.
Before we left, I traced my sister-in-law's cactus-shaped cookie cutter to use as a guide since its size and proportions matched what I had in mind. As soon as I got home, I mixed up a batch of meringue, and the bright, crisp cacti turned out even better than I'd imagined.
I was super excited to share the recipe immediately, but my husband and kids talked me out of it. It just didn't seem right, they said, to share cheery, lime-green Cactus Meringues in dark, gloomy December. Grudgingly I agreed and started working on peppermint-flavored desserts.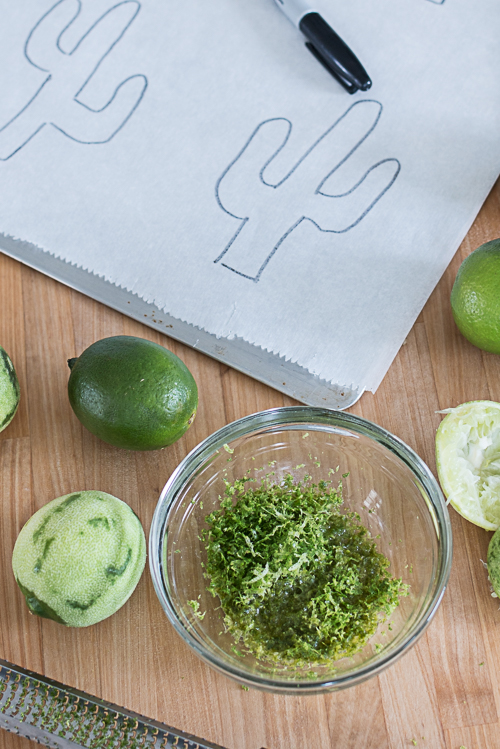 So yeah, I've been waiting to share these delectable little treats since December. With Cinco de Mayo coming up, the time to post this festive recipe finally seemed right.
Meringues are surprisingly easy to make and include just a handful of ingredients: egg whites, sugar, flavoring, and, if desired, food coloring. This recipe calls for dissolving the sugar in the egg whites over simmering water before beating the mixture on high speed until light, fluffy, and cool to the touch.
Dissolving the sugar into the egg whites gives the meringue a smooth, even texture that pipes beautifully and holds it shape well, which makes it perfect for these cacti.
A mixture of lime zest and juice gives these Cactus Meringues bold lime flavor. Mashing the zest into the juice extracts the flavorful oils from the skin. I like to strain off the zest before adding the liquid to the meringue, which gives them a clean look without streaks. Adding a few drops of lime green icing gel gives the cacti a pleasant green hue.
If you don't have a cactus-shaped cookie cutter to trace on parchment as a guideline for piping, feel free to download the rough sketch that I made and used with success. Using an open star tip adds ridges that gives the meringues the appearance of mini Saguaros. Once I start piping, I use the guidelines as as more of a suggestion, altering the placement and length of the arms since I like a little variety in the finished meringues.
After piping, sprinkling white nonpareils over the top gives these meringues the suggestion of spines, and pressing icing flowers into them adds bright spots of color.
It's fun to serve these treats standing up to create a desert effect. I filled a bowl with dried black beans to prop them up, but my kids had a way better idea. They served up bowls of ice cream, pushed in a couple of cacti, and sprinkled brown sugar over the top to look like sand!
You could totally use graham crackers instead, but I've got to admit that my girls know what they're about; brown sugar tastes pretty awesome on vanilla ice cream, especially with crunchy bites of lime meringue in the mix.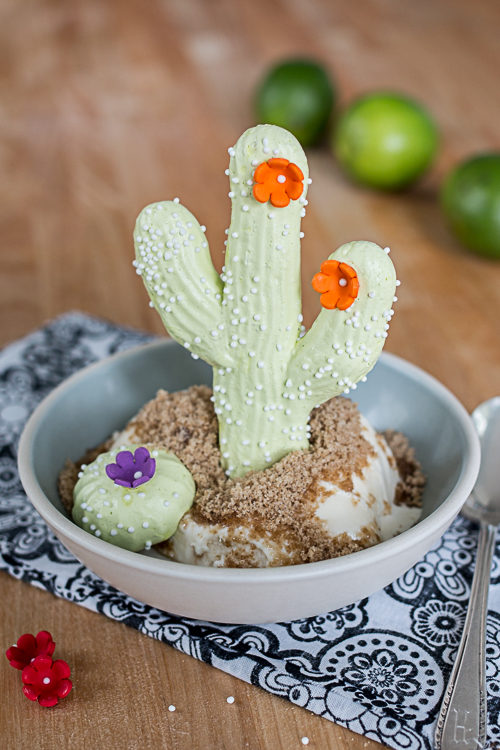 However you decide to eat these little lime-flavored Cactus Meringues, they're sure to deliver incredible texture and flavor in a fun, whimsical packaging. Happy Spring!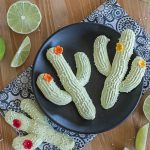 Print Recipe
Cactus Meringues
For best results, use organic or pesticide-free limes that smell fragrant. Be sure to wash the fruit before zesting. If you don't have an immediate use for the extra zested limes, slice and
freeze
them to use in drinks later. Makes 18 saguaro-style cacti plus a handful of barrel cacti.
Instructions
Preheat oven to 200º F. Line three baking sheets with parchment paper. Trace the cactus cutter (or pattern) six times on each piece of parchment paper. Return the paper to the baking sheets ink-side down and set aside.

Add egg whites and sugar to the bowl of a standing electric mixer. Whisk to combine. Set the bowl over a saucepan filled with just enough simmering water to heat the egg mixture without touching the bottom of the bowl. Stir constantly with a silicone spatula, scraping down the sides frequently until the sugar melts and the mixture reaches 140º F (once the mixture begins to lose its grittiness, check frequently with an instant-read thermometer).

Carefully transfer the hot bowl to a mixer fitted with the whisk attachment. Whisk on high speed until the meringue is fluffy and has cooled to room temperature (this will take some time).

In the meantime, zest the limes into a small bowl. Once finished, slice one of the limes in half and squeeze 2 teaspoons of the juice into the bowl with the zest. Mix well and mash with the side of a silicone spatula.

Once the meringue has cooled, press the lime solids to one side of the bowl. Reduce mixer speed and pour the liquid into the meringue (it's okay if a few stray bits of zest pour in with the liquid). Add food coloring, if using. Whisk on high speed until evenly combined.

Fit a pastry bag with a large open star tip and fill the bag with the meringue. Add a bit of the remaining meringue on the spatula or whisk to the four corners of each baking sheet underneath the parchment paper. Smooth the paper over the meringue to keep it in place during piping.

Begin by piping the arms of each cactus, starting at the top of each one and releasing the pressure as you finish piping just inside the area where you will pipe the central stem.

For the stems, start at the top and pipe downward with gentle, even pressure. Be sure to pass over the end of each arm. As you near the bottom, release the pressure while pulling away from the bottom edge.

Use any remaining meringue to pipe barrel cacti in the open areas on the parchment paper. Hold the tip straight down while you pipe small mounds, gently releasing pressure and lifting up as you finish each one.

Sprinkle white nonpareils over the freshly-piped meringue and gently press icing flowers into the cacti.

Bake the meringues in the preheated oven until crisp but not browned, about 2 to 3 hours.

Let meringues cool completely in the oven with the heat turned off. Store in an airtight container for up to a week.
Some of the links in this post are affiliate links. If you click through and make a purchase, I earn a small commission for my referral at no additional cost to you. Thank you for supporting Flour Arrangements.
YOU MIGHT ALSO LIKE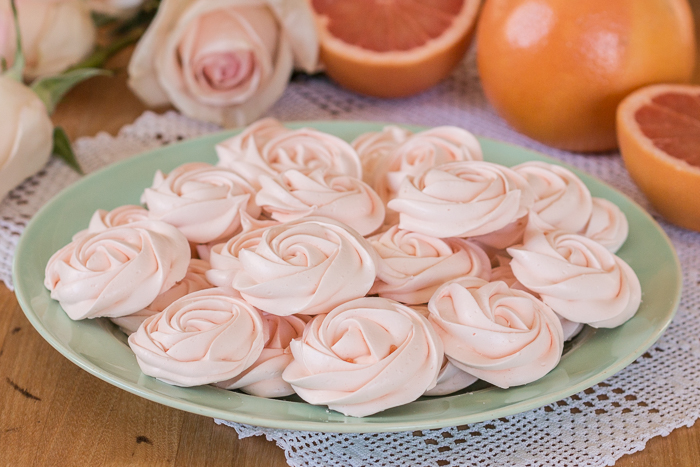 Grapefruit Meringue Roses
Strawberry Meringue Hearts