The airy, delicate texture of these Angel Food Cupcakes pairs perfectly with sweet and light Strawberry Whipped Cream.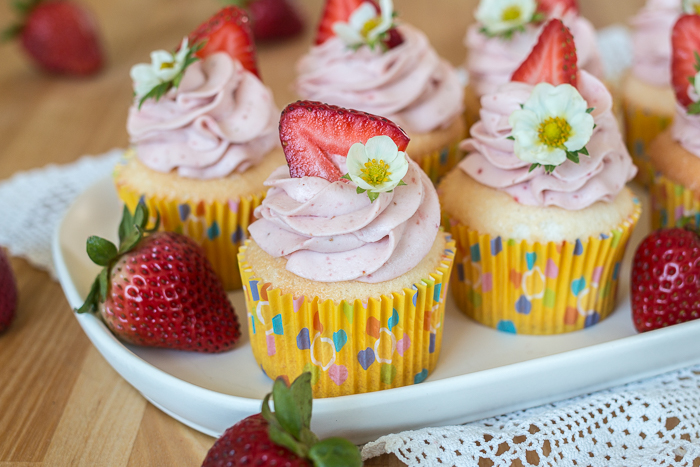 I first baked Angel Food Cupcakes to use up some egg whites that this Vanilla Cream Pie recipe left hanging out in my refrigerator.
After some serious practice alternating between these two recipes, I'm happy to report that they're perfect partners for using up each other's leftover egg whites or yolks.
Initially, I thought making Angel Food Cupcakes would be as simple as mixing up a half recipe of my tried and true Angel Food Cake recipe and scooping the batter into a cupcake pan. Was I ever wrong!
The cupcakes rose beautifully while they baked, but as soon as they came out of the oven, they shrank into tiny, sad looking mounds. They looked hilarious and lacked light and fluffy texture I expected, but they tasted amazing! My family gobbled them up in nothing flat and pressed me to make them again.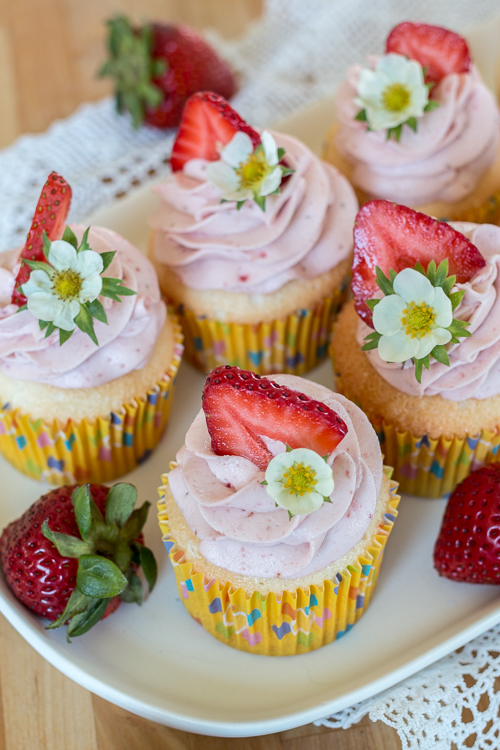 Angel Food Cake can be finicky. It requires super clean tools and typically bakes in an ungreased, straight-edged tube pan. The batter sticks to the pan's sides as it rises, which helps maintain the cake's volume as it bakes. Once the cake comes out of the oven, immediately inverting it to cool upside down prevents it from collapsing. The airy, delicate structure sets as the cake cools.
Angel Food Cupcakes face some obvious challenges when it comes to maintaining their volume after they finish baking. There's no way to turn the pan upside down without cupcakes dropping out the counter and smashing their tops. Additionally, the flexible cupcake liners allow the cupcakes to accordion in on themselves while they cool.
If I wanted to get these cupcakes right, I needed to make some changes that would boost batter's structure.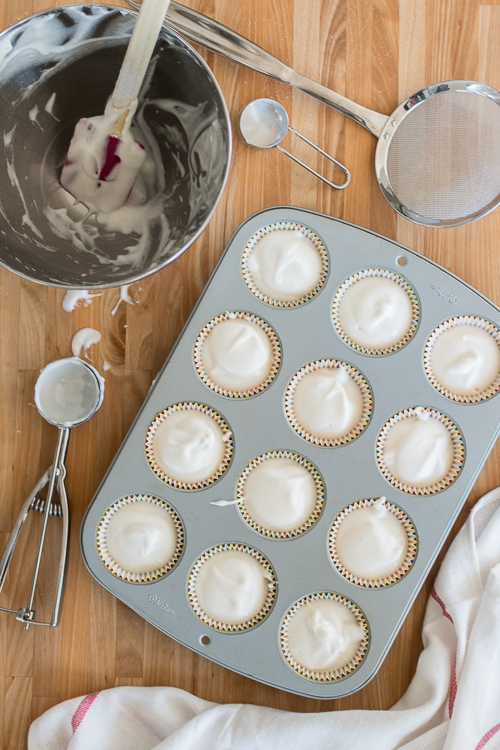 Since sugar adds structure to the egg whites, I pulsed granulated sugar in the food processor with the idea that smaller granules would dissolve more easily into the batter. I decided to try this before buying superfine sugar (my kitchen's small size makes it nearly impossible to find space for new specialty ingredients). Because it worked so well, I never even tried baking these cupcakes with superfine sugar, but if you don't have a food processor, I'm guessing superfine sugar would work just as well.
In addition to pulverizing granulated sugar, I upped the proportion of cream of tartar in the batter since this ingredient helps stabilize the bubbles that form in the egg whites.
With these two changes, the cupcakes maintained much more of their volume, baking up lighter than air and perfectly tender. I'm now wondering just how tall a cake I could bake if I made these changes to my Angel Food Cake recipe!
These cupcakes' fluffy, cloud-like texture calls for a delicate topping, and whipped cream totally fits the bill. Cocoa-Vanilla Swirl Whipped Cream tastes — and looks — incredible on them, but I wanted to try sometime new for this recipe: Strawberry Whipped Cream (and yes, if you were wondering, it's only a matter of time before these three flavored whipped creams cozy up into Neapolitan Whipped Cream)!
I've used freeze-dried strawberries for flavoring before with great success, and they worked just as well in this sweet, fruity topping. I pulsed the berries into a fine powder in the food processor to mix into the cream. This concentrated berry powder imparts plenty of flavor without adding extra liquid to the mix.
Soft and light, this pale pink billowy topping packs serious strawberry punch. I've always loved berries with Angel Food Cake, so Strawberry Whipped Cream strikes the right note for me, especially with the addition of fresh fruit on top!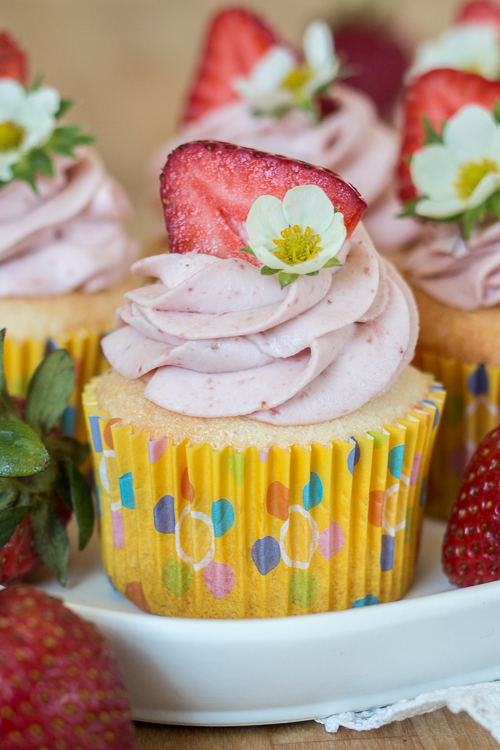 Biting into one of these Angel Food Cupcakes feels almost like sinking your teeth into sweet, decadent air. Since they're mostly egg whites, I don't even feel bad when my family eats a whole batch in one sitting. The only downside is the lack of sweet treats to enjoy later.
Fortunately, it's easy enough to turn the leftover egg yolks into sweet, luscious Vanilla Cream Pie.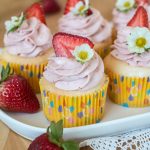 Print Recipe
Angel Food Cupcakes with Strawberry Whipped Cream
The airy, delicate texture of these Angel Food Cupcakes pairs perfectly with sweet and light Strawberry Whipped Cream. I've always had better luck weighing the sugar and flour for these cupcakes, but I've included volume information in case you don't have a kitchen scale.
Ingredients
Angel Food Cupcakes
150

grams

granulated sugar

(3/4 cups)

50

grams

sifted cake flour

(1/2 cup)

3/4

cups

egg whites

(from 5 to 6 large eggs)

3/4

teaspoons

cream of tartar

1/4

teaspoon

salt

1

teaspoon

vanilla extract

3/4

teaspoons

fresh lemon juice
Strawberry Whipped Cream
1/4

cup

confectioners' sugar

pinch

salt

1 1/4

cups

chilled heavy cream

divided

1/2

teaspoon

vanilla extract

fresh strawberries

for garnish
Instructions
Angel Food Cupcakes
Preheat oven to 325º F. Line cupcake pans with 14 paper liners.

In the bowl of a food processor fitted with the blade, whirl the sugar to make the grains finer (about 1 minute). Remove half of the sugar to a small bowl and set it aside.

Add cake flour to the food processor and whirl to combine the sugar and flour. Set aside.

Wipe the bowl and whisk of a standing electric mixer clean before adding the egg whites. Beat the egg whites at low speed until the eggs begin to froth.

Add the cream of tartar and salt to the egg whites and increase the speed to medium. Beat until the whites form soft, billowy, slightly translucent mounds. Keeping the mixer on medium-speed, slowly add the sugar, one tablespoon at a time.

Continue beating on medium speed until the whites are soft, glossy, and form very soft peaks that flop over on themselves. Take care not to overbeat; the batter should still flow when you tilt the bowl.

Add vanilla and lemon juice and beat until just blended.

Sift a fine layer of the flour-sugar mixture over the batter (no more than 2 tablespoons at a time) and fold it in gently using a large silicone spatula. Repeat with remaining flour-sugar mixture.

Using a large ice cream scoop or spoon, add batter to the prepared cupcake liners, filling them almost to the top.

Bake until the cupcakes are pale golden and a toothpick inserted in the center comes out clean, about 20 minutes. Let the cupcakes cool for about 10 minutes in the pan before removing them to a wire rack to cool completely.
Strawberry Whipped Cream
In the bowl of a food processor fitted with the blade, whirl the freeze-dried strawberries into a fine powder.

Pour about 1/4 cup of the heavy cream into the bowl of a standing electric mixer. Sift the berry powder over the heavy cream (it's okay if some of the seeds make their way through). Sift in the confectioners' sugar and add a pinch of salt. Mix to combine.

Add the remaining heavy cream and mix on low speed to begin incorporating the heavy cream. Increase speed to medium and beat until the mixture just holds stiff peaks.

Pipe the whipped cream on the cooled cupcakes or spread it on with a spatula. Garnish with fresh berries.
Some of the links in this post are affiliate links. If you click through and make a purchase, I earn a small commission for my referral at no additional cost to you. Thank you for supporting Flour Arrangements.
YOU MIGHT ALSO LIKE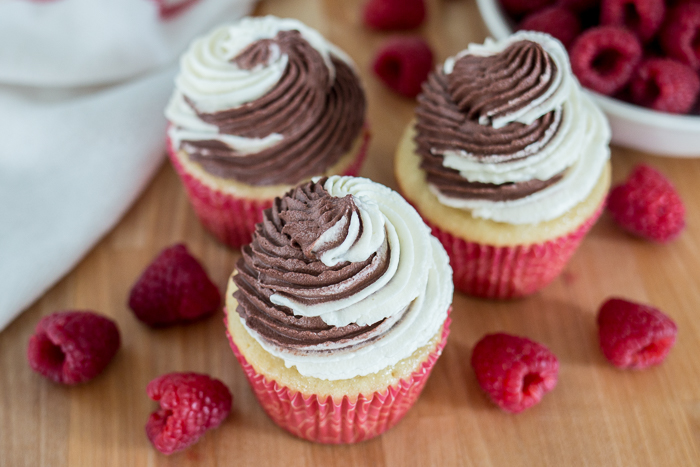 Cocoa-Vanilla Swirl Whipped Cream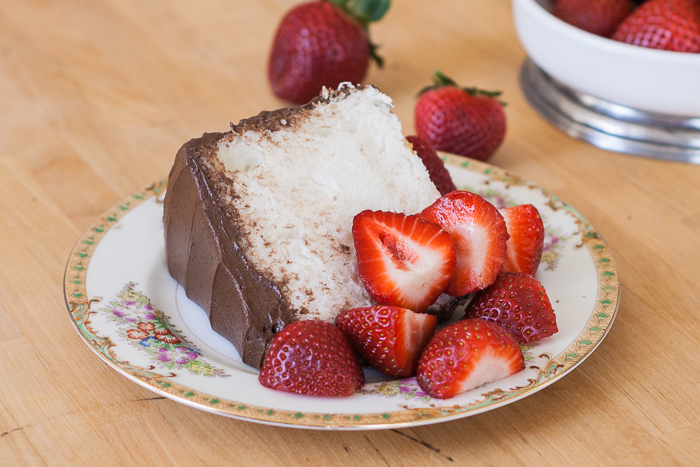 Angel Food Cake with Chocolate Frosting
Strawberry Meringue Hearts