With a pale pink hue and delicate berry flavor, these easy-to-make Strawberry Bagels add flair to breakfast or snack-time.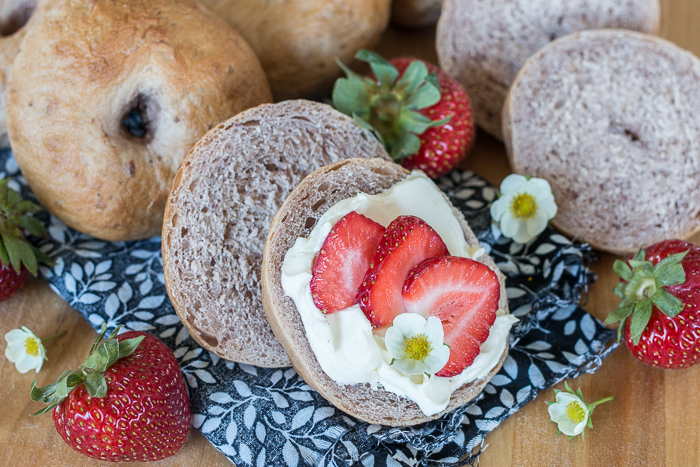 My daughter Tessa loves bagels, so we've started baking them every couple of weeks.
Every time we set out to bake them, I try to convince Tessa to try something new, like mixing in dried fruit or cheese, but she loves her bagels plain!
In all fairness, plain bagels taste pretty awesome, and since she's the one eating most of them, I try not to be too pushy about it.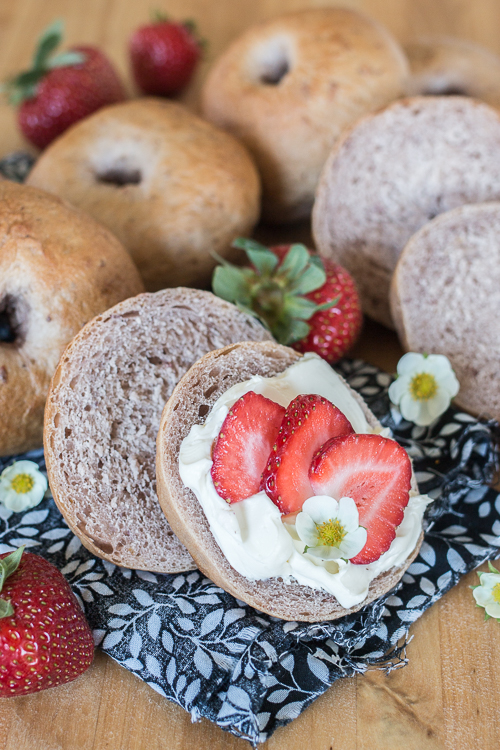 Last week, though, some past-their-prime strawberries got me super excited about the idea of mixing berries into bagels.
Tessa wasn't interested, of course, so once we finished baking plain bagels, I set out to bake my own batch of Strawberry Bagels. I didn't know how they would turn out, but since no once was going to eat the wrinkled, sad-looking strawberries, I figured it was worth a try.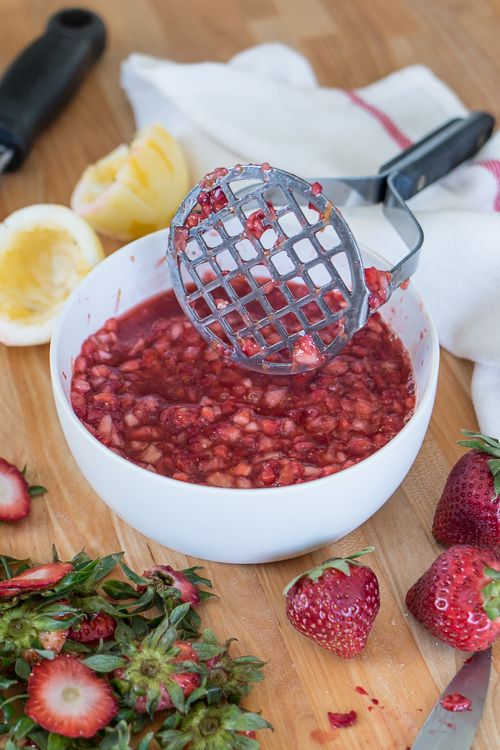 Since strawberries have so much liquid in them, I reduced the water in the bagel recipe by half, which wasn't nearly enough!
I ended up taming the sticky dough by adding way more flour than seemed reasonable, and — no surprise — they didn't turn out super well.
While they weren't the most delicious bagels I'd ever tasted, they were definitely the prettiest. I just couldn't get over their pale pink hue, so I had to try making them again!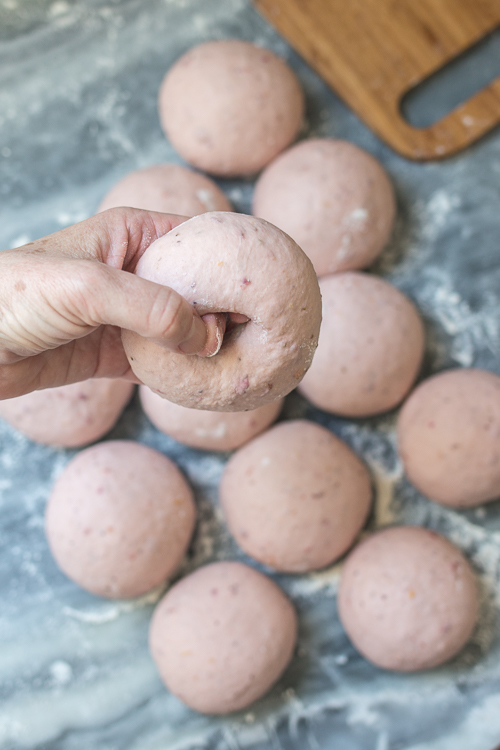 This time around, I used just enough water to activate the yeast and counted on the juicy strawberries to hydrate the dough. Additionally, to prevent gooey patches from forming around the succulent berry pieces, I diced the strawberries quite fine and let them macerate in a little lemon juice and sugar to draw out much of their moisture.
These changes resulted in a smoother, more manageable dough that I could easily shape and slip into the water bath.
A quick simmer on the stove before baking — in addition to giving the bagels a glossy sheen– prevents them from rising as much once they go in the oven, which creates the satisfyingly dense and chewy interior people associate with bagels.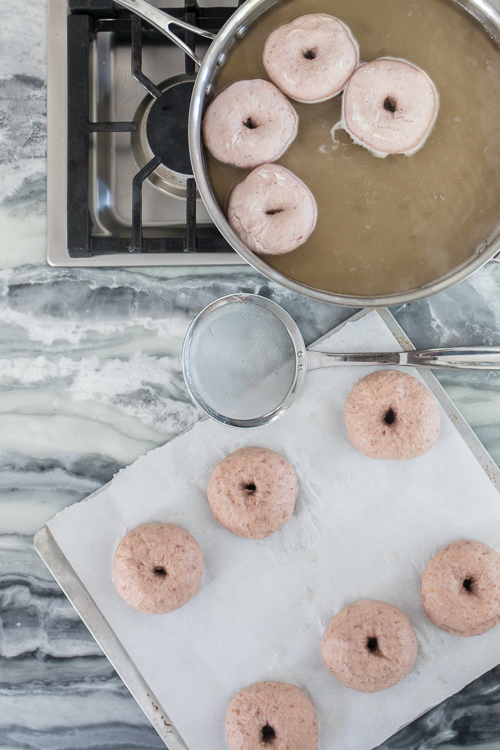 I actually experimented with boiling times as I made these bagels for fun, and I found that the bagels I boiled for only a minute on both sides rose so much in the oven that their holes closed up! Clearly, heating the bagels in a water bath affects the way they bake, so you don't want to skip it!
Two minutes in the water bath on the first side with an additional minute after flipping the bagels over works out just right!
These pretty-in-pink bagels have a subtle strawberry flavor that tastes delicious topped with butter or cream cheese. Adding fresh strawberries or strawberry jam heightens their berry flavor.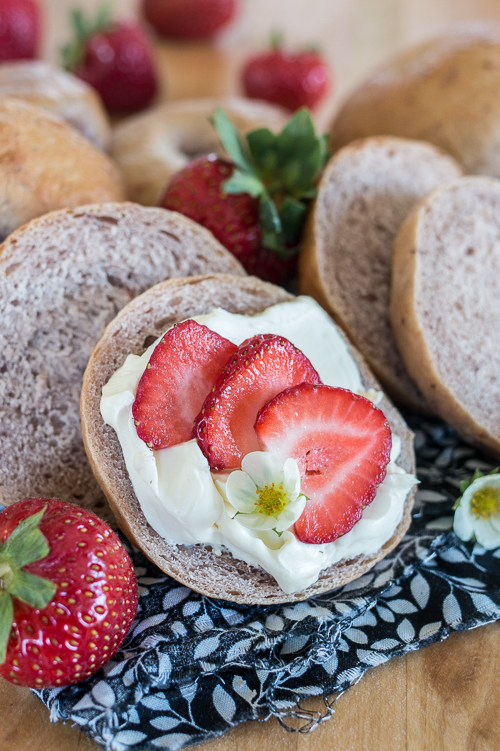 My daughter Eliza likes to mix up a glaze with confectioners' sugar to drizzle over her Strawberry Bagels, and, I've got to admit, she's totally onto something. It's almost like a bagel trying to be a doughnut.
Sweetness aside, I actually love making sandwiches with these Strawberry Bagels. I know it sounds weird, but cream cheese, sliced turkey, arugula, fresh strawberries, and cracked black pepper layered between a Strawberry Bagel makes a perfect lunch. You've got to try it, but please don't add mustard to your Strawberry Bagel sandwich like my husband did. That's just wrong.
While this recipe provides a perfect way to use up overripe strawberries, it's definitely worth buying fresh berries to make as well. I'm thinking these rosy bagels would make an especially lovely addition to breakfast on Valentine's Day!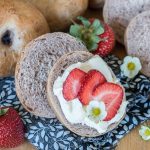 Print Recipe
Strawberry Bagels
With a pale pink hue and delicate berry flavor, these easy-to-make Strawberry Bagels add flavor and flair to breakfast or snack-time. Makes a dozen 3-inch bagels.
Ingredients
Dough
1

pound

strawberries

1

Meyer lemon

zested

1

teaspoon

Meyer lemon juice

3

tablespoons + a pinch

brown sugar

divided

1/4

cup

lukewarm water

2 1/4

teaspoons

active dry yeast

4 1/2

cups

unbleached all-purpose flour

plus more for shaping

2

teaspoons

kosher salt
Water Bath
2

quarts

water

2

tablespoons

brown sugar

1

tablespoon

granulated sugar
Instructions
Bagel Dough
Finely dice the strawberries (should be about 2 cups) and mix them with the lemon zest, lemon juice, and brown sugar. Stir occasionally, pressing on the solids with the back of a spoon or a potato masher to draw out the juices.

In the meantime, add water to the bowl of a standing electric mixer, sprinkle the yeast and a pinch of brown sugar over its surface, and stir to combine. Let sit for 10 minutes until it begins to bubble.

Add the macerated berries, one cup of flour, and the salt to the yeast mixture. Mix with the paddle attachment or a wooden spoon until well-combined. Add the remaining flour, about 1/2 cup at a time, to form a thick dough that clears the sides of the bowl. Change to the dough hook and knead for about 5 minutes. The dough should feel slightly tacky but not sticky.

Place the dough in a lightly greased bowl. Flip the dough to coat completely with oil and cover the bowl with plastic wrap. Let rise until about doubled in bulk, about 1 to 1 1/2 hours.

Transfer the risen dough to a lightly floured work surface and divide it into 12 equal pieces. Using just enough flour to prevent sticking, shape the dough into tight, round balls, pinching and smoothing the seams on what will be the bottom side of each bagel.  Cover the balls with plastic wrap and let them rest for 20 to 30 minutes.
Water Bath and Baking
While the dough rests, prepare the water bath by heating the water and sugars to a gentle boil in a large, wide-diameter pan. Preheat oven to 425°F. Line 2 baking sheets with parchment paper.

Working with one ball of dough at a time, use your index finger to poke a hole through the center of each ball, then twirl the dough on your finger to stretch the hole until it's about 1 inch in diameter. Shape 3 more of the bagels and then transfer all 4 of them to the simmering water.

Increase the heat under the pan to bring the water back up to a gently simmering boil, if necessary. Cook the bagels for 2 minutes, flip them over, and cook for 1 minute more. Using a skimmer or strainer, remove the bagels from the water and place them on one of the prepared baking sheets. Repeat with the remaining bagels, cooking 2 additional groups of 4 bagels each.

Bake until the bagels are golden brown, about 20 to 25 minutes. When finished, remove from the oven and transfer the bagels to a wire rack to cool.
YOU MIGHT ALSO LIKE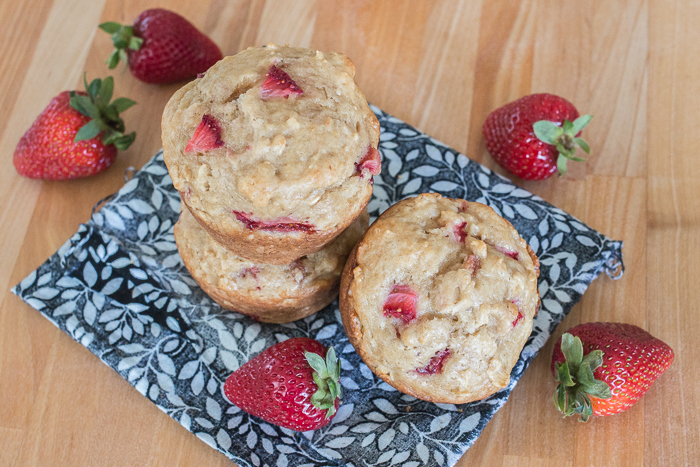 Strawberry Oat Muffins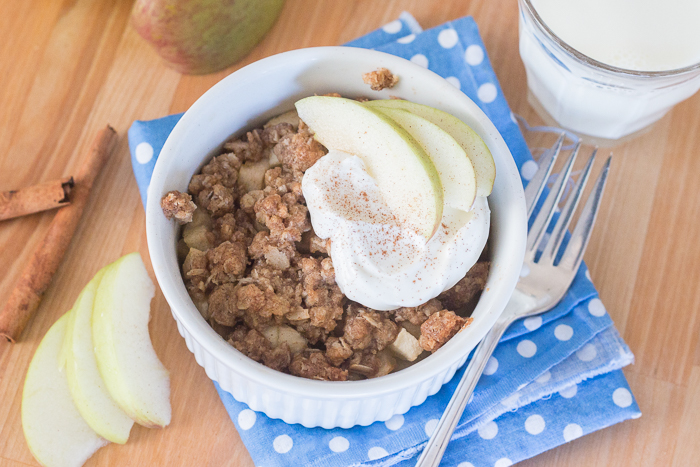 Single-Serving Breakfast Crisp
Strawberry Meringue Hearts