These crisp little Strawberry Meringue Hearts melt in your mouth with a sweet, hint-of-strawberry flavor that comes from freeze-dried strawberries.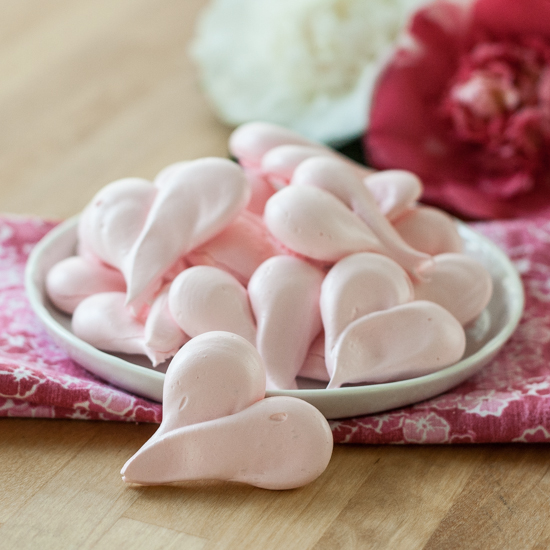 Do you hate it when recipes leave you with a million egg whites? Yeah, me, too.
Here's the thing, though. Extra egg whites are the perfect excuse to make light-as-air recipes like pavlova or angel food cake. Since Valentine's Day is right around the corner, I decided to turn some of the leftover egg whites from these Meyer Lemon Bars into petite pink strawberry meringue hearts.
I had planned to freeze the remaining whites to use later; you can store egg whites in the freezer for up to a year. Fortunately, though, I was lazy about dividing them into usable quantities and labeling them. I ended up using every single egg white and then some on my quest to perfect the recipe for strawberry meringue.
Separating a few extra eggs was worth the effort, though: these crisp little meringue hearts melt in your mouth with a sweet, hint-of-strawberry flavor. They're adorable and delicious all at the same time.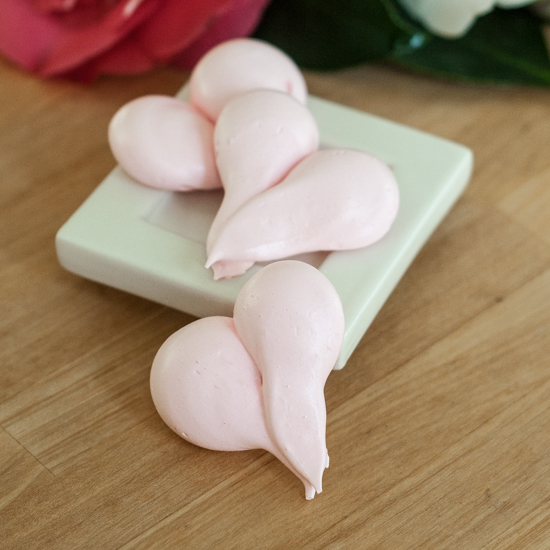 Their strawberry flavor resulted from my effort to create pink meringue without using food coloring.
I'm no stranger to pink meringue, but I wanted to try something different this time around.
Since freeze-dried strawberries pulverize into fine dust in the food processor, I figured they'd be just the thing for tinting the meringue pink without adding extra liquid.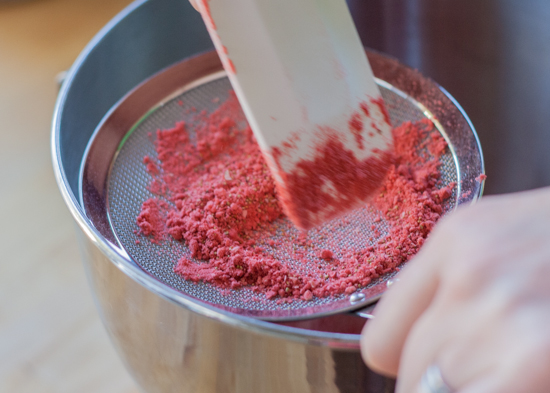 Here's what happened though: while the mixture turned the perfect shade of pink once I mixed in the strawberries, its lovely hue faded as the meringue hearts dried out in the oven.
Not to be deterred, I kept upping the amount of strawberry dust in the recipe, but when I finally added enough for the meringues to dry into the desired shade of pink, their texture became gritty, and they lost their glossy sheen.
You can almost feel the grittiness looking at this picture of the uncooked meringue coming out of the piping bag.
UGH!
It's worth noting, though, that the gritty meringues had the best strawberry flavor. I guess that shouldn't surprise anyone.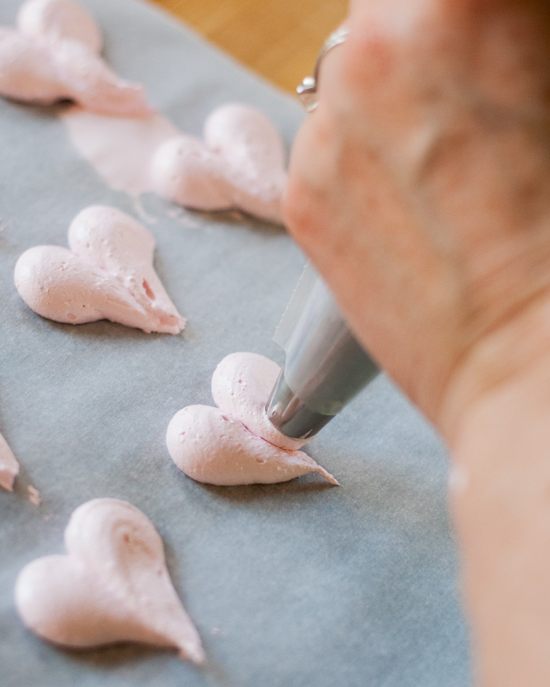 It turns out that more of a good thing isn't always the solution.
To get the shade of pink I wanted without all the grit, I finally gave up and added a drop of pink food coloring after mixing in the strawberries.
Like magic, I had the shade I'd hoped to achieve.
While my strawberry-as-colorant experiment wasn't a complete success, at least now we have Strawberry Meringue Hearts.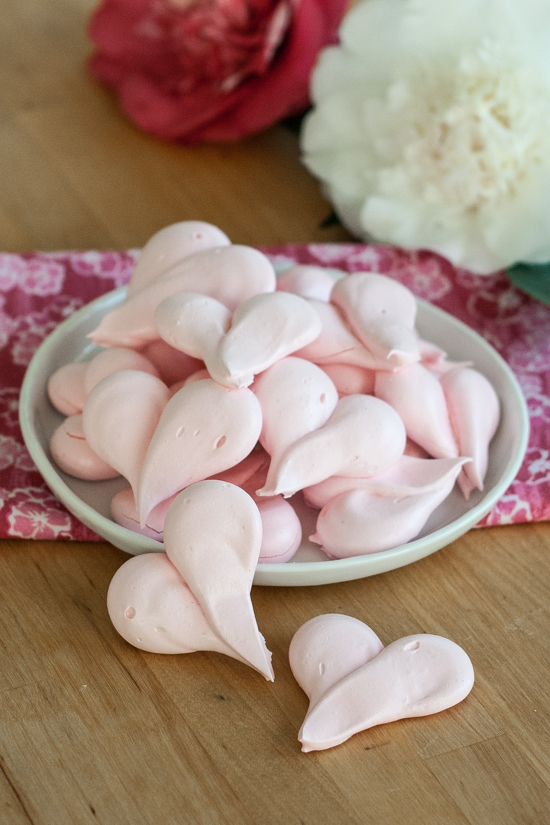 Ironically, I started this project to use up extra egg whites, but I now find myself stuck with extra yolks.
Fortunately, I can freeze them for up to a year. I'm guessing they won't last that long, though. In fact, maybe I'll skip the freezer altogether and just make more Meyer Lemon Bars to complete the cycle.
Happy Valentine's Day!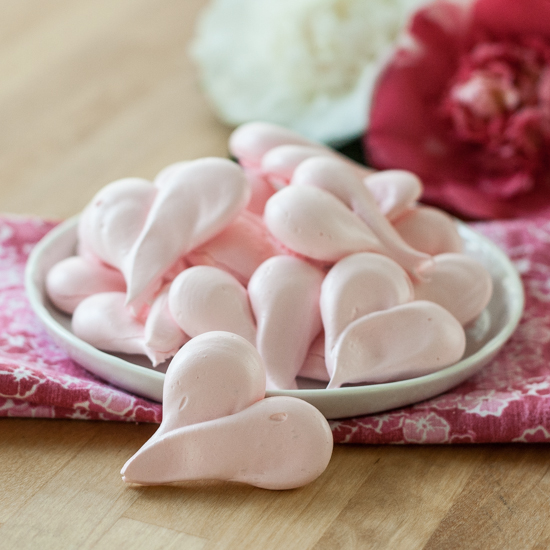 Print Recipe
Strawberry Meringue Hearts
Ingredients
1/2

cup

egg whites

(from about 3 to 4 eggs)

1

cup

sugar, plus 1 tablespoon

1/2

cup

freeze-dried strawberries

1

teaspoon

vanilla extract

1 to 2

drops pink food coloring, if desired
Instructions
Preheat oven to 200º F. Line two baking sheets with parchment paper.

Add egg whites and sugar to the bowl of a standing electric mixer. Whisk to combine. Set bowl over a saucepan filled with just enough simmering water to heat the egg mixture without touching the bottom of the bowl. Stir constantly with a silicone spatula, scraping down the sides frequently until the sugar melts and reaches 140º F (once the mixture begins to lose its grittiness, check frequently with an instant-read thermometer). Carefully transfer the hot bowl to a mixer fitted with the whisk attachment. Whisk on high speed until the meringue is fluffy and has cooled to room temperature (this will take some time).

In the meantime, whirl strawberries in the bowl of a food processor until well pulverized. Let the dust settle a bit before opening the lid. Sift the strawberries through a fine mesh sieve and discard seeds and other large bits.

Once the meringue has cooled, add the sifted strawberry dust. Mix at slow speed to combine for about 30 seconds before adding vanilla extract and food coloring, if using. Whisk on high speed until evenly combined.

Fit a pastry bag with a 1/2-inch round tip and fill the bag with the meringue. Remove parchment paper from the baking sheets and add a dab of the remaining meringue on the spatula or whisk to the four corners of each baking sheet (this will help the parchment stick to the baking sheets during piping). Replace parchment paper and smooth it down over the sticky meringue.

To pipe hearts, create a "V" shape using the following technique: pipe a round dollop about 1-inch wide and pull away from it at an angle, releasing the pressure slowly as you drag the tip away. Pipe a second round dollop next to the first, releasing and pulling toward the tip of the other half, overlapping slightly as you go. (If you're new to piping --like me--it may take some practice to align the piping pressure and movement to achieve the right shape.) If you have remaining meringue after filling your baking sheets, fill spaces between hearts with small dollops, if desired.

Bake meringues in preheated oven until crisp but not browned, about 2 to 3 hours. Let meringues cool completely in the oven with the heat turned off. Store in an airtight container for up to a week.
Some of the links in this post are affiliate links. If you click through and make a purchase, I earn a small commission for my referral at no additional cost to you. Thank you for supporting Flour Arrangements.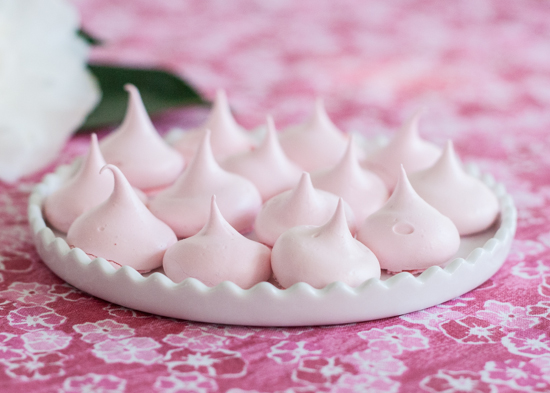 You might also like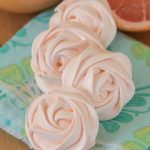 Grapefruit Meringue Roses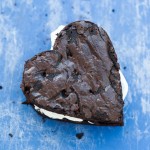 Brownie Ice Cream Sandwiches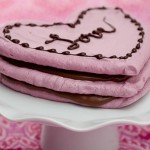 Raspberry Meringue Hearts with Chocolate Pudding
Conversation Hearts Cake
Pin Strawberry Meringue Hearts for Later