Quick and easy Rosemary Roasted Sweet Potatoes provide a vibrant, flavorful addition to any meal.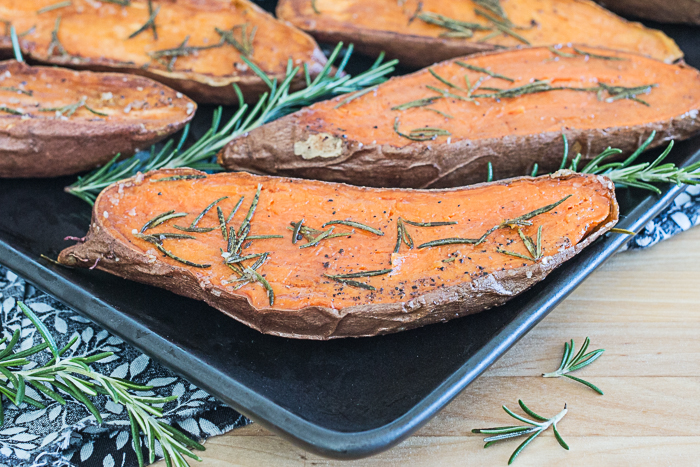 Many people think of sweet potatoes only around the holidays, picturing a traditional sweet potato casserole topped with marshmallows and brown sugar.
I much prefer a simpler preparation — Rosemary Roasted Sweet Potatoes — which makes a satisfying addition to your dinner plate at anytime of the year!
Baking whole sweet potatoes in the oven takes about an hour, which often requires too much advance planning for me. Rather than skip them, I started slicing the sweet potatoes in half lengthwise, which means they're ready in half the time!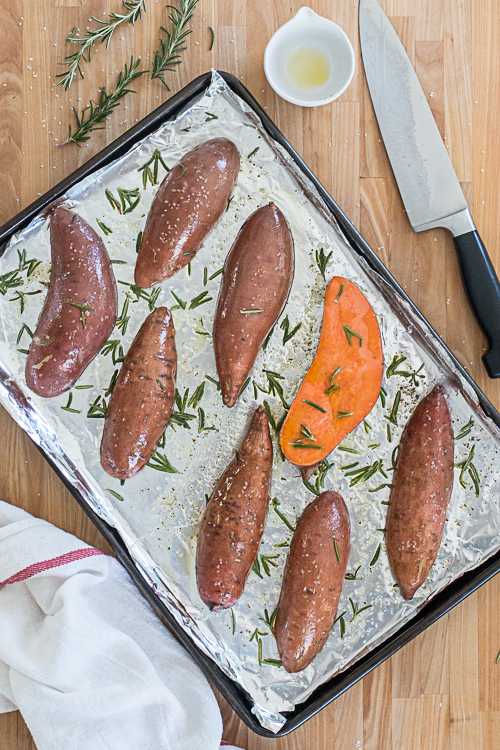 In addition to saving time, this trick helps boosts their flavor, too!
Roasting sweet potatoes cut-side down on a baking pan caramelizes the open surface, which intensifies the natural sweetness of this colorful root vegetable. A layer of olive oil or butter mixed with fresh rosemary, coarse salt, and cracked pepper keeps them from sticking to the pan while adding extra flavor to the mix.
These tender, luscious Rosemary Roasted Sweet Potatoes taste amazing unadorned, but, if you're so inclined, a little butter on top adds richness to this delicious side dish.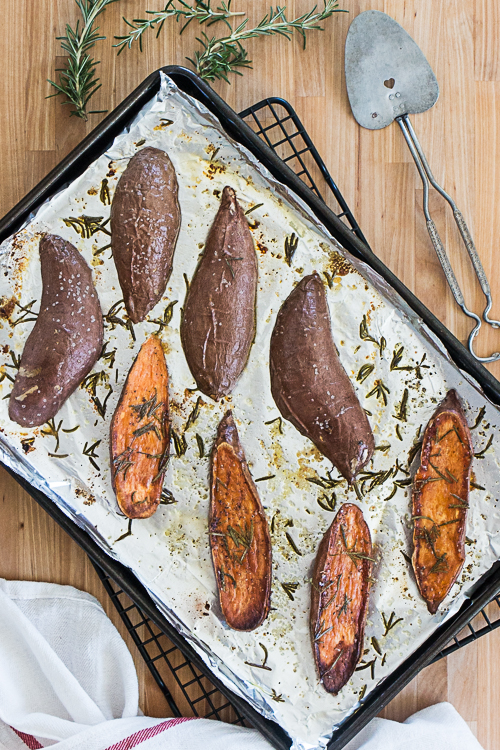 Along with their incredibly addictive flavor, these gorgeous orange potatoes add vibrant color to your plate. Next to bright green vegetables and grilled meat, they're stunning.
When I make these sweet potatoes, I often like to throw in a couple of extras so I'll have some leftover to bake a batch of Sweet Potato Rolls, one of my family's favorite recipes. The sweet potatoes add deep golden color and distinctive flavor to these fluffy, light rolls. They're irresistible!
Quick and easy, this Rosemary Roasted Sweet Potato recipe delivers incredible flavor without any need for marshmallows or brown sugar! Let's save those sweet ingredients for dessert.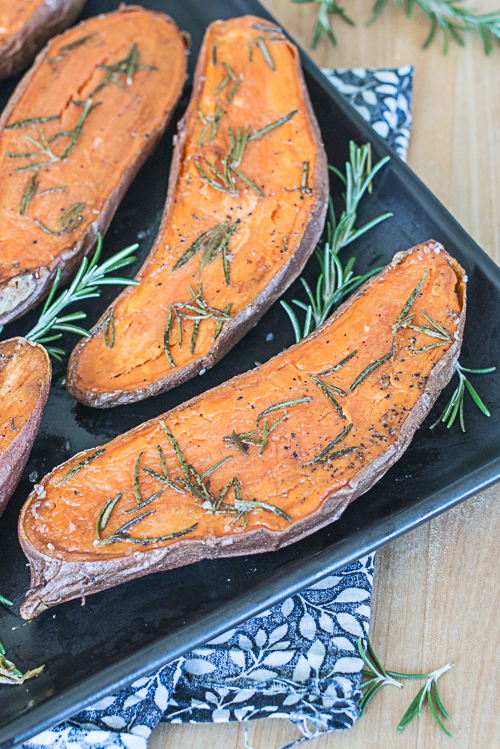 Print Recipe
Rosemary Roasted Sweet Potatoes
Ingredients
4

small to medium

sweet potatoes

3

tablespoons

olive oil, melted butter, or a mixture of the two

3-4

tablespoons

fresh rosemary

(fresh thyme works great, too)

1

teaspoon

kosher salt

freshly cracked black pepper

to taste
Instructions
Mix olive oil or melted butter (or a mixture!) with the rosemary, salt, and pepper on a rimmed baking sheet.

Slice sweet potatoes in half lengthwise. Toss them on the prepared pan to coat the skin before turning them cut-side down on the baking pan.

Bake until the sweet potatoes feel soft to the touch and the cut sides turn golden brown, about 25 to 30 minutes for small potatoes or 30 to 35 minutes for larger ones. Serve warm.
Some of the links in this post are affiliate links. If you click through and make a purchase, I earn a small commission for my referral at no additional cost to you. Thank you for supporting Flour Arrangements.
YOU MIGHT ALSO LIKE
Sweet Potato Rolls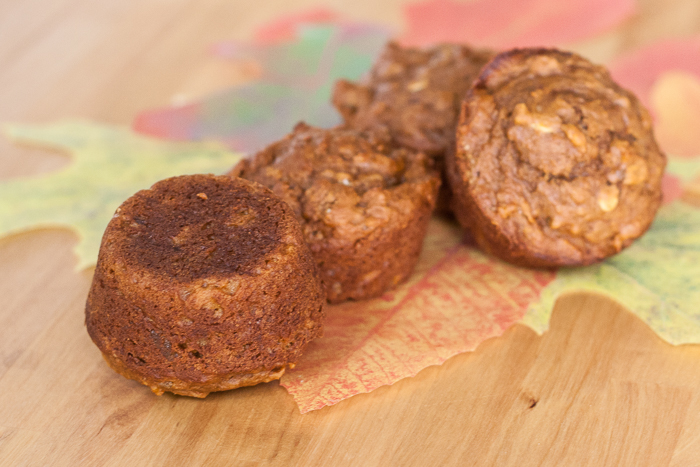 Sweet Potato Muffins with Candied Ginger