A departure from traditional basil pesto, this arugula-basil pesto blends spicy arugula, sweet basil, and fresh mint to create a unique summer recipe. Pine nuts, slivered almonds, garlic, and capers round out the flavors in this easy, versatile sauce.

If you've ever grown arugula, you know that this spicy, flavorful green shoots up from the ground almost immediately. It's no surprise that many people refer to it as rocket.
I love its small, tender leaves after they first sprout when they're easy to mix into salads and other dishes. In no time at all, though, the leaves grow enormous and the plants go to seed.
I've gotten better at succession planting so I'll always have a constant supply of young arugula leaves. Since I hate to waste anything, I'm always on the lookout for ways to use the large leaves when I rip them out of the garden.
This arugula-basil pesto is my favorite way to transform perfectly delicious, though unwieldy leaves into something useful and versatile.
I'm already a big fan of pesto, and I love the unique flavors in this departure from the classic basil version.
In addition to spicy arugula, fresh mint adds brightness and capers impart a briny, tangy depth.
Both pine nuts and slivered almonds add nuttiness and texture. With the sweetness of fresh basil leaves and pungent garlic backdrop, this combination of ingredients takes pesto to the next level.
The many uses of this simple recipe make it a perfect summer staple. Toss it with pasta, spread a thick layer on pizza dough, or slather it on sandwiches to create flavorful, easy meals.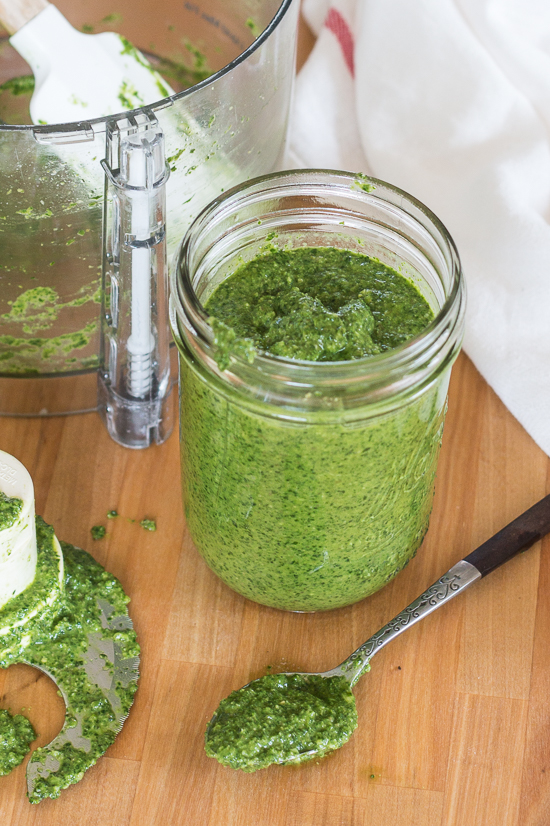 The possibilities are really endless. Mix it with green beans, fresh tomatoes, or roasted potatoes to add something special to side dishes. Stir it into sour cream or yogurt to create an easy veggie dip.
Last night I mixed a spoonful of arugula-basil pesto with some oil and vinegar to create a simple salad dressing that got rave reviews.
Arugula-basil pesto keeps for about a week in the fridge, but with its many uses, it doesn't end up lasting long.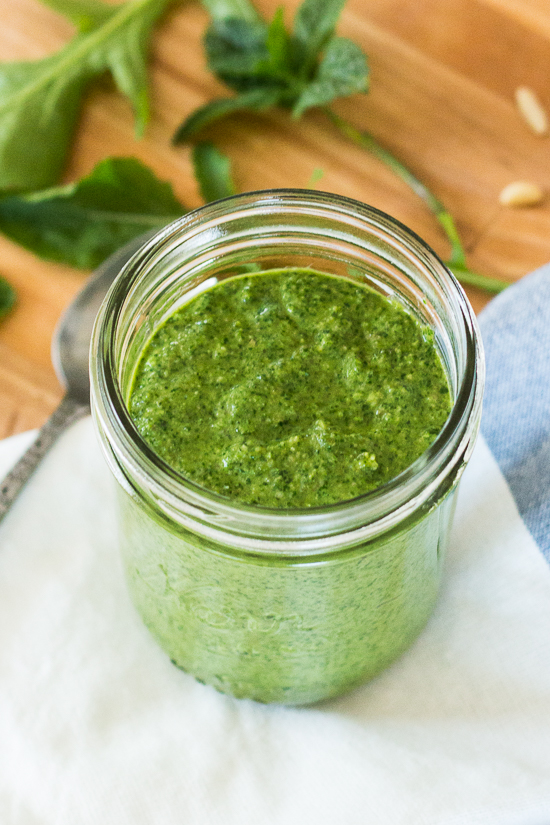 You can keep it longer in the freezer, though, which is a huge relief for me; I currently have enough arugula to make pesto for an army with more growing all the time!
Print Recipe
Arugula-Basil Pesto
If you're a garlic lover, resist the temptation to add extra garlic to this recipe as it will overpower the other flavors in the pesto.
Servings:
6
to 8. Makes about 1 1/2 cups.
Ingredients
3

tablespoons

slivered almonds

3

tablespoons

pine nuts

1

clove

garlic

crushed

1/2

teaspoon

coarse salt

plus more to taste

2

cups

packed arugula leaves

2

cups

packed basil leaves

1/4

cup

packed mint leaves

3

tablespoons

capers

rinsed

1/2

cup

olive oil
Instructions
Toast almonds and pine nuts in a skillet over medium heat, stirring frequently until fragrant and pale golden. Let cool.

Pulse nuts, garlic, and salt in a food processor or blender until coarsely chopped. Add arugula, basil, mint, and capers and pulse until finely chopped. With the motor running, pour olive oil through the feed tube and process until smooth. Add additional salt, as needed, to taste.

Use immediately or store refrigerated in an airtight container for up to a week.
PIN ARUGULA-BASIL PESTO FOR LATER

You might also like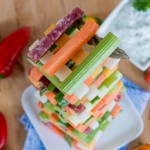 Jenga Veggie Tower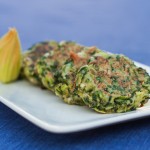 Zucchini Pancakes with Basil & Blue Cheese
Cheese-Stuffed Monkey Bread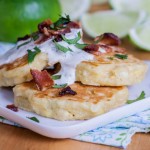 Savory Corn Pancakes