Full of smoky, flavorful ham and plenty of vegetables, this Ham Pot Pie delivers comfort food at its best.
Last week, my father-in-law shipped hams to all six of his kids. How cool is that?
While our extended family couldn't gather for a meal, his generosity provided a collective experience that brought us together through photos documenting everything from packages of ham arriving on doorsteps, to unboxing impressive spiral-sliced beauties, to plated holiday-looking dinners.
In these days of staying at home, we all need to find new ways of connecting, and I fully support the idea of eating ham to build community.
One evening while we enjoyed some of our ham with green beans and scalloped potatoes, I wondered aloud about what Ham Pot Pie might taste like.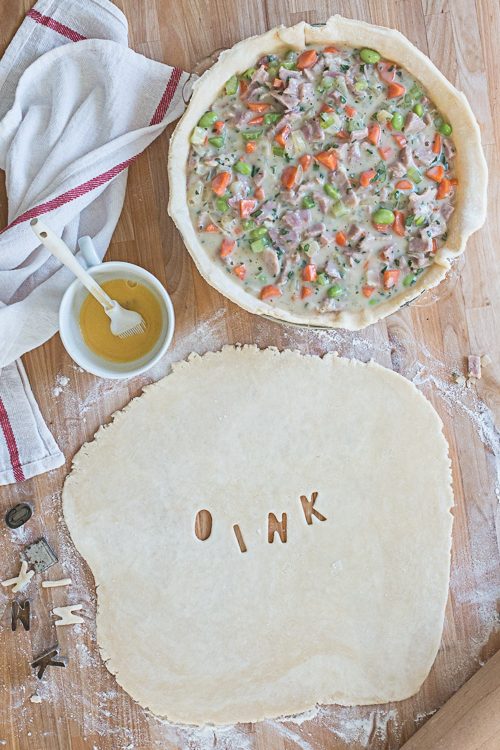 My family agreed that we needed to find out, and, oh, yeah, I'm so glad we did!
I've said it before and I'll say it again: pie is pretty much the perfect food, and this Ham Pot Pie is no exception.
Full of flavorful ham and plenty of veggies mixed up in a creamy sauce, this Ham Pot Pie wraps all the major food groups up in flaky, buttery pastry while delivering comfort food at its best.
I've long been a fan of chicken and turkey pot pies, but ham has now edged them out as my favorite meat pie. Ham's rich smokiness adds a depth of flavor that I didn't even know I was missing in pot pie perfection.
How to Make Pot Pie
I like to start by mixing up the pastry dough first so it can chill while I prepare the savory filling.
The rich, creamy sauce starts with some melted butter and flour whisked into a roux that will thicken a mixture of broth and milk. I like to use a spring whisk, which enables you to reach the corners of the pan. After a quick simmer, set the sauce aside while you chop and saute carrots, celery, and onions.
Once the veggies are just tender, stir the filling ingredients together, but hold back the frozen edamame or peas. Since they're so small, they're prone to overcooking; adding them frozen at the last minute keeps them from becoming mushy.
After rolling out the bottom crust and nestling it into the pie dish, brush its surface with egg wash to keep it from getting soggy during baking.
For the top crust, I love using tiny alphabet cutters to make vent holes that signify a pie's ingredients. For this particular pie, my husband suggested "Some Pig," but alluding to Wilbur of Charlotte's Web just seemed like the wrong way to go. I opted for "Oink" instead.
Right before adding the filling, it's time to stir in the frozen vegetables. Cover the pie with the top crust, seal, and brush it with an egg wash for added color and sheen.
Since the filling is precooked, the pie just needs to bake until the pastry turns golden brown. This usually takes between 45 minutes and an hour, during which time the flavors blend and the vegetables become tender.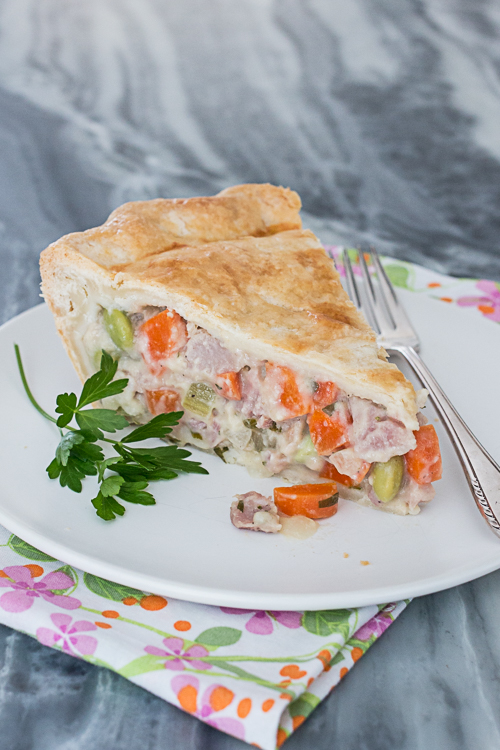 Allowing the pie cool for several hours helps the filling thicken up for serving, but it's equally delicious if you can't wait.
Sometimes you just can't wait.
I used to think of pot pie as a great way to mix things up with leftover meat, but this Ham Pot Pie has turned my thinking on its head. Why not buy a ham with the express purpose of making pot pie and eat the rest as leftovers?
While you're at it, suggest that some friends or family members do the same so you can Zoom your Ham Pot Pie meal together.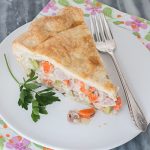 Print Recipe
Ham Pot Pie
My kids prefer to eat their frozen peas frozen, so I often use edamame in recipes instead of peas but either one works great in this pie!
Ingredients
Pastry Dough

2 1/2

cups

unbleached all-purpose flour

1

tablespoon

confectioners' sugar

1

teaspoon

kosher salt

1 1/4

cups

unsalted butter

cut in 1/4-inch slices

1/3

cup + 1 tablespoon

ice water

strained

Filling

5

tablespoons

unsalted butter

divided

3

tablespoons

unbleached all-purpose flour

1 1/2

cups

chicken broth

1

cup

whole milk

1

bay leaf

2

tablespoons

dry sherry

1

small

onion

finely chopped

2

celery stalks

chopped in 1/4-inch pieces

2

large

carrots

peeled and chopped in 1/4-inch pieces

12

ounces

chopped ham (about 2 1/2 cups)

freshly grated nutmeg

to taste

salt and pepper

to taste

2

tablespoons

chopped parsley

1/2

cup

frozen edamame or peas

Egg Wash

1

egg

2

teaspoons

water

pinch

kosher salt
Instructions
To prepare the pastry dough, whirl flour, confectioners' sugar, and salt in food processor with the blade attachment. Add about half of the butter and whirl until no chunks remain. Add remaining slices and whirl briefly to chop them up slightly. Turn food processor on again and quickly begin drizzling ice water through the feed tube, stopping before the dough comes together. Pinch some crumbs together between your fingers; if they don't stick together, add a bit more water and whirl briefly.

Turn the mixture out onto a large piece of plastic wrap. Use the plastic wrap to help you bring the dough together; fold the edges of the dough toward the center and press down until it holds together, taking care not to overwork the dough. Divide it in half and shape into two flat disks wrapped tightly in plastic wrap. Refrigerate for at least 30 minutes.

Warm 3 tablespoons of the butter in a large sauce pan over medium-low heat. Once the butter has melted, add the flour all at once and whisk constantly for two minutes.

Add the chicken broth and whisk until smooth, scraping down the sides with a spatula if needed. Increase heat to medium and add the milk and bay leaf, whisking to incorporate the milk.

Increase heat to medium-high and, whisking frequently, bring mixture to a simmer. Once the mixture begins to bubble, whisk constantly until it thickens, about one or two minutes more. Add the sherry and whisk to combine. Remove bay leaf. Set aside.

Heat remaining 2 tablespoons of butter in a large skillet over medium-high heat until the foam begins to subside. Add onions, carrots, and celery and cook, stirring often, until vegetables are barely tender, about 5 minutes.

Mix sauteed vegetables and ham into the sauce. Season to taste with freshly grated nutmeg, salt, and pepper.

Prepare the egg wash. Whisk egg, water, and salt together in a small bowl and set aside.

On a lightly floured surface, roll out one of the dough rounds into a 13 to 14-inch circle. Transfer it carefully to the pie dish. Brush some of the egg wash over the dough. Roll out the remaining round into a 13 to 14-inch circle. If using alphabet or decorative cutters, make vent holes.

Mix the parsley and frozen edamame (or peas) into the filling before adding it to the pie dish. Brush the overhanging edge of pie dough with some of the egg wash. Center the top crust over the pie dish and seal the pie gently by pressing down all the way around the pie's edge with the bottom of a fork. Trim any overhanging dough with a knife and flute the edge with your fingers, if desired. If not using cookie cutters for vent holes, cut steam vents in the top. Brush the top crust lightly with egg wash.

Place the pie on a baking sheet to catch any overflow. Bake for 30 minutes on the bottom rack of the oven. Reduce heat to 350º F and continue baking until the crust is golden brown. Allow to cool for several hours before slicing. Serve warm.
Some of the links in this post are affiliate links. If you click through and make a purchase, I earn a small commission for my referral at no additional cost to you. Thank you for supporting Flour Arrangements.
YOU MIGHT ALSO LIKE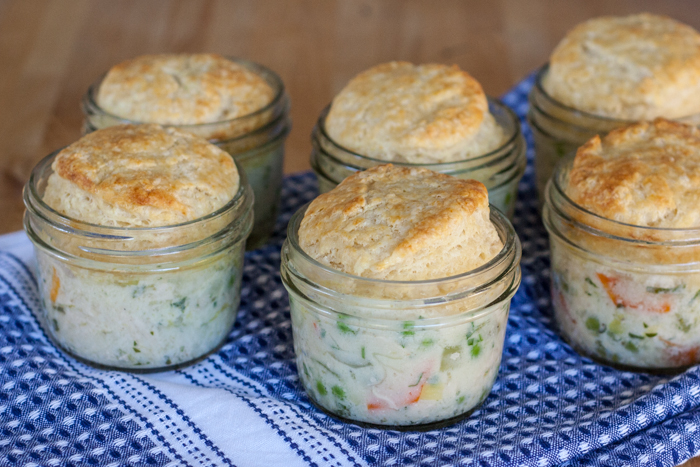 Mini Turkey Pot Pies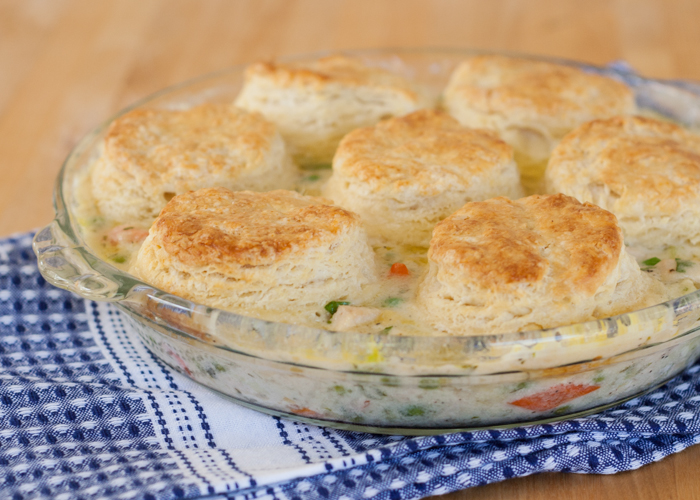 Chicken Pot Pie