With tangy citrus tones from fresh lime juice and zest, this maple syrup-sweetened Blueberry Pie makes a perfect summer-time dessert.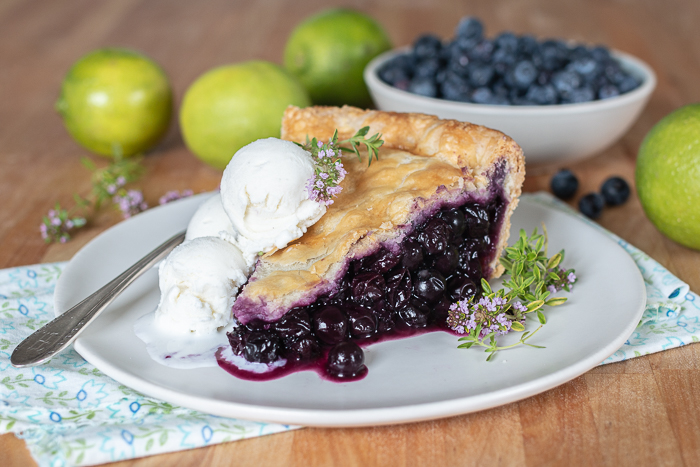 The abundance of fresh, ripe fruit during summertime makes it perfect pie season.
I especially love baking berry pies since the tiny fruit requires no peeling, coring, or slicing. After a quick rinse, berries are ready to mix into sweet, scrumptious pie filling. How easy is that?
This Blueberry Pie has long been a favorite at our house. Mixing lime juice and zest in with the blueberries imparts a tangy citrus backdrop, and using maple syrup instead of granulated sugar adds depth of flavor to this succulent summer dessert.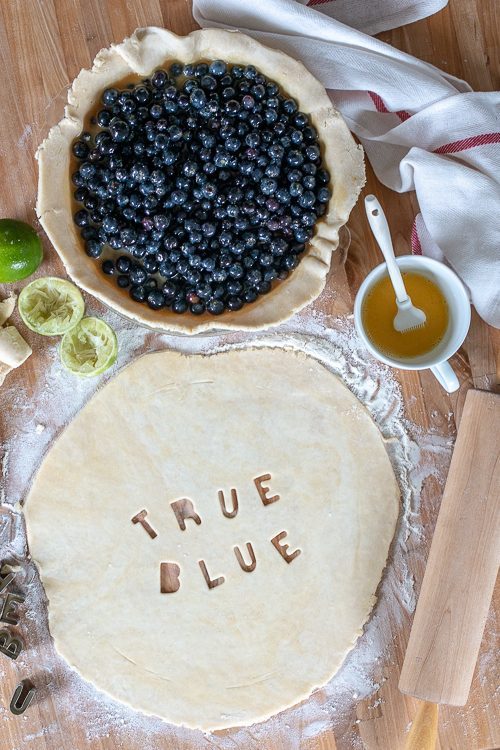 A crisp, flaky all-butter crust adds texture and richness that set off the sweet, luscious blueberry-maple-lime filling.
If you're intimidated by homemade pie crust, this pie's simple filling offers a perfect opportunity to put some extra effort into from-scratch pie crust. With only five ingredients, it's much easier to make than most people think!
I like to use a food processor to cut the butter into the flour quickly and easily. Once the dough comes together, letting it rest in the fridge while you mix up the filling keeps it cold, which facilitates rolling and transferring the thin layers of pastry to the pie dish.
I often use alphabet cutters to hint at the filling in my pies, as I did by adding "True Blue" to this one (can anyone else hear Madonna singing that?).
Letter cutters also transform pies into festive special occasion desserts! "Happy Fourth" would look especially lovely on this pie. Served with fresh strawberries and whipped cream, it would definitely look the part on Independence Day.
Don't let summer pass you by without indulging in some sweet, flavorful fruit pie. I recommend getting off to a great start with this luscious Blueberry Pie.
With a dollop of lime whipped cream or a generous scoop of vanilla ice cream, a thick wedge will whet your appetite for more summer pie!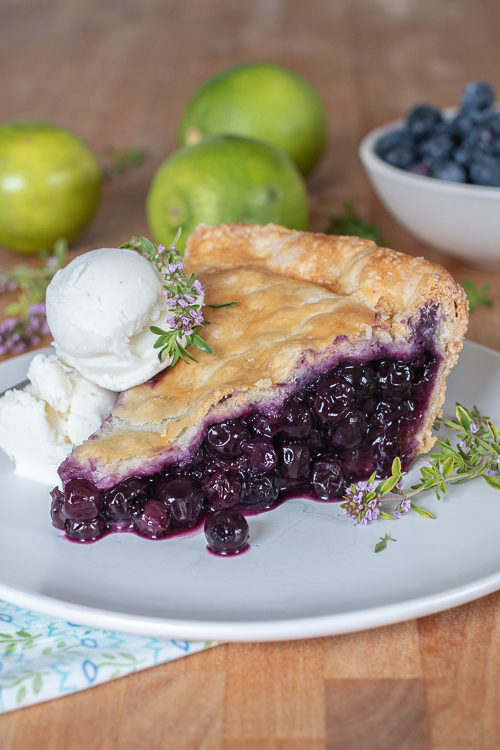 Print Recipe
Blueberry Pie
With tangy citrus tones from fresh lime juice and zest, this maple syrup-sweetened Blueberry Pie makes a perfect summer-time dessert. Serve generous wedges topped with vanilla ice cream or lime whipped cream. If you decide to use alphabet cutters or other shapes to decorate your pie, cut the shapes before adding the top crust to the pie.
Ingredients
Pastry
2½

cups

unbleached all-purpose flour

1

tablespoon

confectioners' sugar

1

teaspoon

kosher salt

1 1/4

cups

unsalted butter

cut in ¼-inch pieces

1/3

cup

plus 1 tablespoon ice water

strained
Filling
5

cups

fresh blueberries

3/4 to 1 1/4

cups

maple syrup

depending on the sweetness of the fruit

¼

cup

cornstarch

2 to 3

tablespoons

unbleached all-purpose flour

depending on how much maple syrup you use

1

lime, zested and juiced

¼

teaspoon

kosher salt
Egg Wash
1

egg

2

teaspoons

water

pinch

kosher salt
Instructions
To prepare the pastry dough, whirl flour, confectioners' sugar, and salt in food processor with the blade attachment. Add about half of the butter and whirl until no chunks remain. Add remaining slices and whirl briefly to chop them up slightly. Turn food processor on again and quickly begin drizzling ice water through the feed tube, stopping before the dough comes together. Pinch some crumbs together between your fingers; if they don't stick together, add a bit more water and whirl briefly.

Turn the mixture out onto a large piece of plastic wrap. Use the plastic wrap to help you bring the dough together; fold the edges of the dough toward the center and press down until it holds together, taking care not to overwork the dough. Divide it in half and shape into two flat disks wrapped tightly in plastic wrap. Refrigerate for at least 30 minutes.

While the dough chills, preheat oven to 425º F. Combine filling ingredients in a large bowl and let stand for 15 minutes, stirring occasionally.

Whisk egg, water, and salt together in a small bowl and set aside.

On a lightly floured surface, roll out one of the dough rounds into a 13 to 14-inch circle. Transfer it carefully to a pie dish. Roll out remaining round into a 13 to 14-inch circle.

Add berry mixture to the pie dish and brush the overhanging edge of pie dough with cold water. Center top crust over the pie dish and seal the pie gently by pressing down all the way around the pie's edge with the bottom of a fork. Trim overhanging dough with a knife and flute the edge with your fingers, if desired. Cut steam vents in the top. Brush the top crust lightly with egg wash.

Place pie on a baking sheet to catch any overflowing juices. Bake for 30 minutes on the bottom rack of the oven. Reduce heat to 350º F and continue baking for another 45 to 55 minutes, until the crust is golden brown and the juices bubble thickly through the vents with a syrup-like consistency. If the crust browns too quickly, slip a baking sheet on the top rack of the oven to diffuse the heat.

Allow to cool completely before slicing. Serve warm.
Some of the links in this post are affiliate links. If you click through and make a purchase, I earn a small commission for my referral at no additional cost to you. Thank you for supporting Flour Arrangements.
YOU MIGHT ALSO LIKE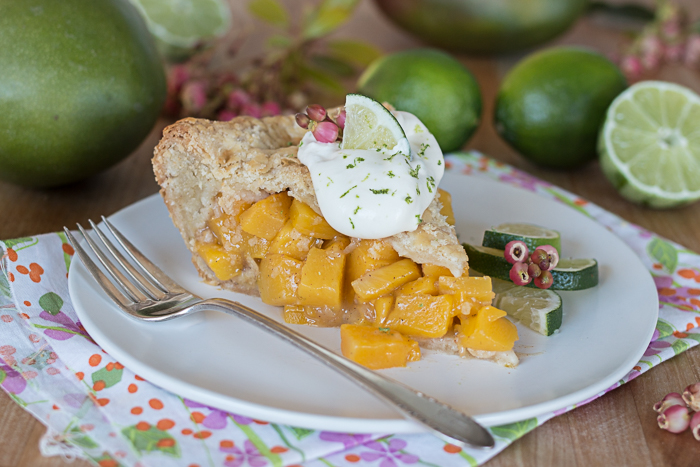 Mango Pie with Lime Whipped Cream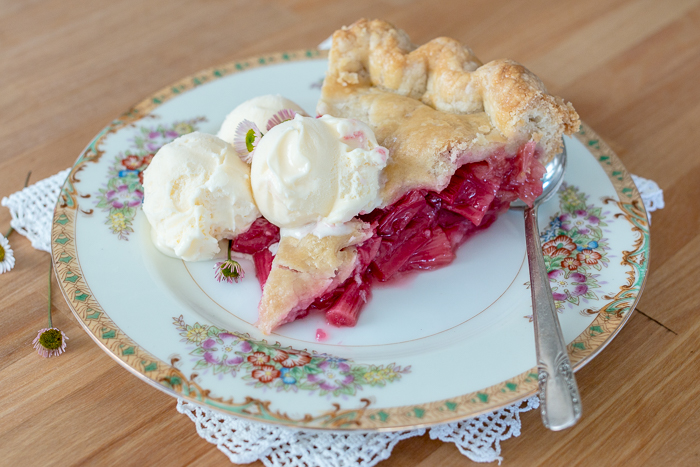 Straight-Up Rhubarb Pie