Sweet and tangy, this straight-up Rhubarb Pie shines a spotlight on the tantalizing flavor of rhubarb's bright crimson stalks. A rich buttery pastry crust provides the perfect backdrop for this pleasantly sour filling.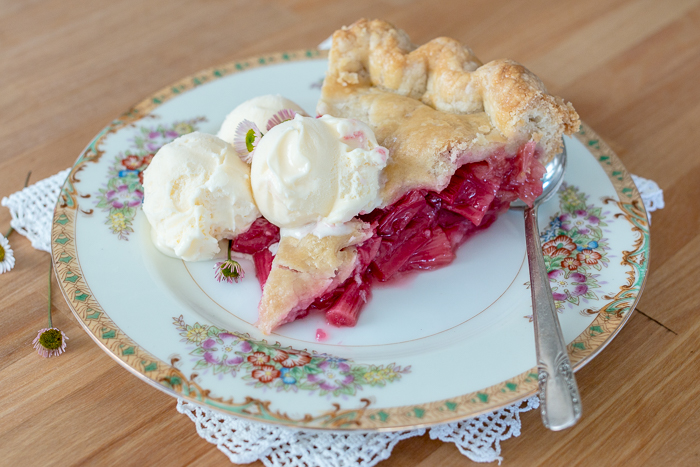 When I started thinking about our Pi Day plans for this year (March 14 or, more appropriately, 3.14), I realized that I couldn't remember the last time I'd baked a pie.
Eliza and I prepared apple and pumpkin pies for the holidays this year, and I'm pretty sure that was the last time we indulged in this most perfect of desserts.
I made a pre-Pi Day resolution to bake and eat more pie, which got me thinking about traditions.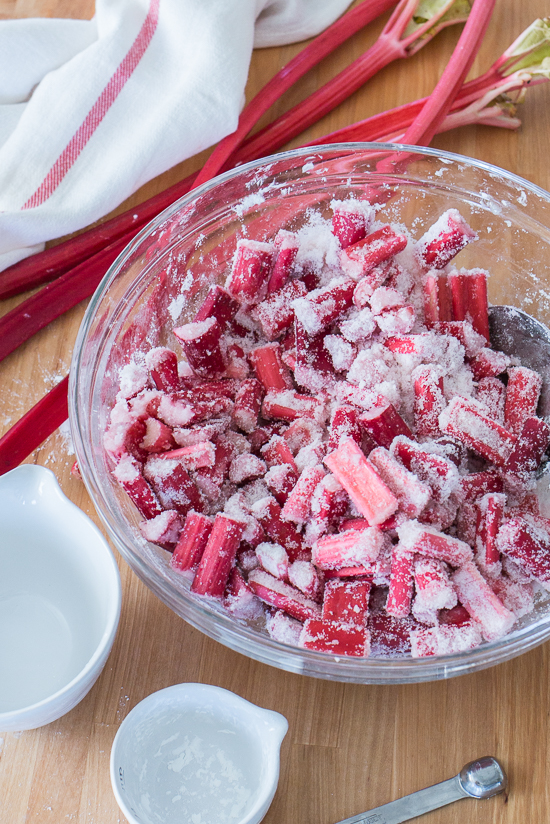 People make New Year's resolutions on December 31, but most of these good intentions fall by the wayside.
Changing habits feels insurmountable when we're exhausted from the holiday season and trying to get back in our routines. I totally failed with my plan to get more exercise this year because I had too much going on as the year got started.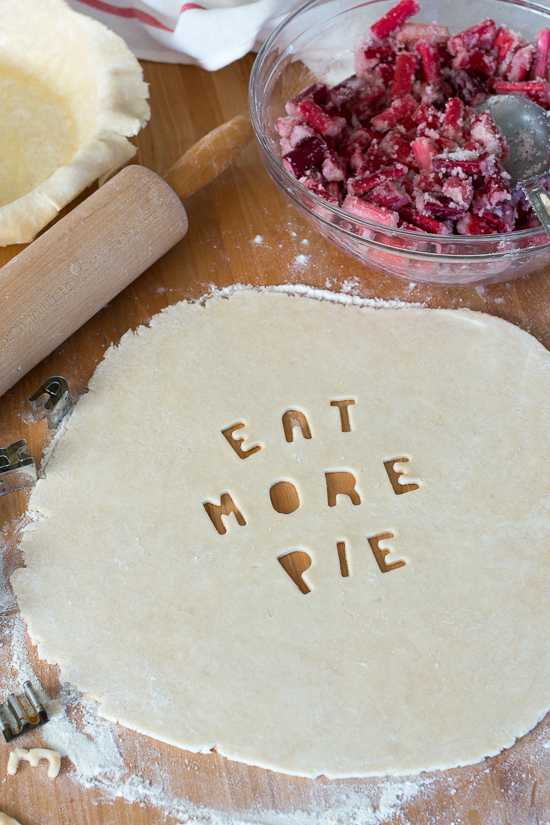 What if we decided to make Pi Day resolutions every March 14 instead? Ones that we'd actually keep!
Spring's just around the corner, and everything feels fresh and new, which means it's the perfect time to set some goals!
For Pi Day this year, I'm sticking with my resolution eat more pie. I'm also challenging myself to try baking new and different kinds of pie, starting with this rhubarb pie.
My father-in-law's nostalgia for rhubarb pie inspired this first attempt at something new. I remember him lamenting that straight-up rhubarb pie, one of his childhood favorites, was nearly impossible to find.
This didn't surprise me. While I've indulged in the prevalent strawberry rhubarb pie many times, I had yet to see — let alone taste — a straight up rhubarb pie.
I'm so glad he shared his love for rhubarb pie with us. Its tangy, delicate flavor — with just a hint of earthiness — truly deserves a pie all its own.
With its pretty magenta hue, this pie would look gorgeous with a lattice crust, but I couldn't resist using some miniature alphabet cutters to add my resolution to the top crust instead. The brilliant rhubarb makes a lovely backdrop for the letters, which show off the filling's amazing rosy shade.
I'm not usually a fan of single-use kitchen tools. These little alphabet cutters, which are far too small for anything beyond adding important messages to pie, make an exception to this rule. "Happy Birthday" adds festive flair to the birthday pie concept, and "Congrats!" adds something special to a celebratory pie honoring graduations, new jobs, or promotions.
I'm thinking "Marry Me?" would be especially awesome. Will someone please propose via pie and share your story with me?
Whether it's emblazoned with a message or not, homemade pie always hits the spot. Since Pi Day's right around the corner, now's a particularly perfect time to bake pie!
I'm recommending this tart and tangy rhubarb pie, but why limit yourself? Starting with chicken pot pie for dinner seems like a good idea, too! I know my kids are planning to make whipped cream pies for the entertainment portion of Pi Day, so I'll have plenty of towels on-hand for cleaning up the mess.
Wishing you an awesome Pi Day filled with all of your favorite kinds of pie! And if you decide to give Pi Day resolutions a whirl, may you have the strength and determination to make them come true!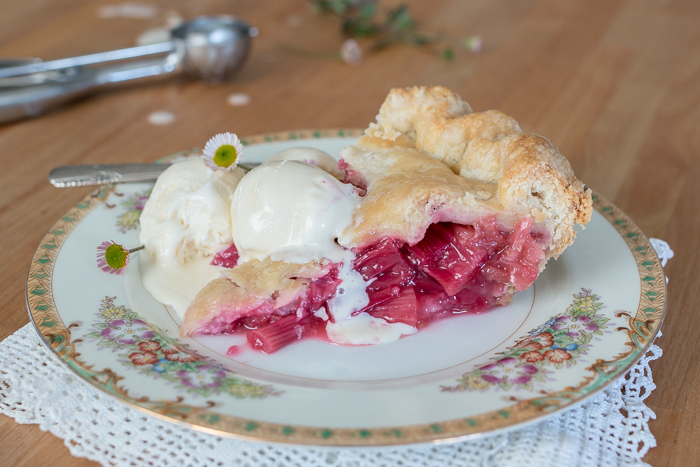 Some of the links in this post are affiliate links. If you click through and make a purchase, I earn a small commission for my referral at no additional cost to you. Thank you for supporting Flour Arrangements.
Pin Rhubarb Pie for Later
You might also like