Lemon-Blueberry Swirl Ice Cream combines tart, tangy citrus and bright, sweet berry in a cool, luscious dessert.
When I first made this sweet, luscious Lemon-Blueberry Swirl Ice Cream a few weeks ago, we ate the entire batch in one sitting. It's just that good.
The next day, I went to pick lemons from our tree to mix up another batch to photograph. Guess what? I'd already picked all the ripe lemons!
Since then, I've been checking my lemons daily. They're taking their time turning from green to golden yellow. It's like watching a pot boil!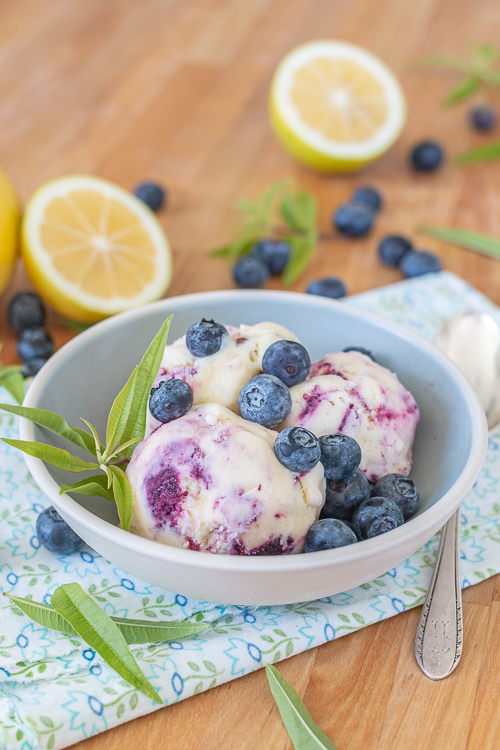 When my husband asked when I planned to share the recipe for this bright, summery ice cream, I bemoaned our lack of lemons. He reminded me that several of our neighbors have trees much bigger than ours that look heavy with bright yellow lemons.
I pulled out my phone to ask some new friends around the corner if I could trade them lemons for ice cream. They told me to come on over! Hooray for awesome neighbors!
Rich and creamy, this tangy lemon ice cream gets extra flavor and sweetness from its bright blueberry swirl. It's a perfect combination of tart and sweet!
How to Make Lemon-Blueberry Swirl Ice Cream
This sweet, decadent ice creams starts out with a custard base that cooks briefly on the stove. Whisk the lemon zest, juice, milk, and eggs together over medium heat until the mixture just simmers. Strain off the lemon zest, and then stir in the vanilla and heavy cream.
Give the warm, silky mixture a taste, and try not to slurp up all of the sweet, tart goodness. Set the bowl in the refrigerator to chill until cold.
In the meantime, mix up the blueberry swirl. Simmer some blueberries, sugar, and lemon zest and juice to thicken and then strain off the solids. Mix in a splash of vodka to keep the swirl from freezing hard and crunchy in the ice cream. Chill the blueberry sauce until cool.
If you're in a hurry, you can use a water bath (you can do the same with the blueberry swirl, too) to speed things along. Just fill a large bowl with ice water and nestle the bowl containing the ice cream base into the water bath, taking care to prevent water from spilling into the ice cream mixture. Stir occasionally until cold.
Once cool, freeze the ice cream base according to the directions for your ice cream maker.
I always pre-freeze the container I plan to use for the ice cream, which helps keep the soft, just-frozen ice cream from melting during transition. This step is especially important when you're adding a swirl, since it takes a bit more time than simply scraping the soft, creamy mixture into the container.
Add a layer of the lemon ice cream to the bottom of the cold container. Spoon or pour in some of the blueberry sauce and then add more ice cream. Continue layering ice cream and swirl until you've transferred all of the ice cream and sauce to the container. Cover it and quickly tuck the mixture into the freezer until ready to serve.
I recommend planning ahead to give the ice cream several hours of freezing time. If you serve homemade ice cream right away, it melts almost immediately. Letting the mixture freeze for a few hours "hardens" the ice cream, which enables you to serve up proper scoops rather than just puddles.
With its pale yellow hue interspersed with bright purple splashes, this Lemon-Blueberry Swirl Ice Cream looks as incredible as it tastes. Best of all, this tart, sweet dessert provides a refreshing treat that will help you beat the summer heat.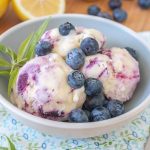 Print Recipe
Lemon-Blueberry Swirl Ice Cream
Lemon-Blueberry Swirl Ice Cream combines tart, tangy citrus and bright, sweet berry in a cool, luscious dessert that's perfect for summertime! If it feels like too much to add a swirl, the lemon ice cream tastes amazing on its own! Makes about 1 quart.
Ingredients
Lemon Ice Cream
2

large

lemons

zested

1

cup

granulated sugar

1/2

cup

lemon juice

from about 2 lemons

3

large

eggs

1

cup

whole milk

1

cup

heavy cream

1/2

teaspoon

vanilla extract
Blueberry Swirl
3/4

cups

fresh or frozen blueberries

(about 3 ounces)

2

tablespoons

granulated sugar

1

pinch

kosher salt

1

large

lemon

zested

1

tablespoon

lemon juice

2

teaspoons

vodka
Garnish
fresh blueberries

lemon verbena or fresh mint
Instructions
Lemon Ice Cream
Place a one quart container in the freezer to chill.

In a medium sauce pan, whisk together lemon zest and sugar until fragrant. Whisk in lemon juice, eggs, and milk to combine.

Warm the mixture over medium heat, whisking constantly until it just simmers.

Using a fine mesh sieve, strain the custard into a bowl, pressing to extract the juices from the zest. Whisk in vanilla and heavy cream. Cover and chill until until the mixture is cold.
Blueberry Swirl
Combine blueberries, sugar, salt, lemon zest, and lemon juice in a small saucepan. Cook over medium heat, stirring, until the berries soften and release their juices. Mash the berries against the side of the pan with a wooden spoon or a potato masher.

Bring the mixture to a simmer and cook until it thickens slightly. Using a fine mesh sieve, strain into a bowl, pressing on the solids to release the juices. Mix in the vodka, cover, and chill until the mixture is cold.
Assembly
Freeze the lemon ice cream base according to the instructions of your ice cream mixer.

As you remove the ice cream from the machine, layer it into the pre-chilled container with spoonfuls of the blueberry sauce.

Cover the container and return it to the freezer for several hours.

Top scoops of ice cream with fresh blueberries and lemon verbena or mint leaves before serving.
Some of the links in this post are affiliate links. If you click through and make a purchase, I earn a small commission for my referral at no additional cost to you. Thank you for supporting Flour Arrangements.
YOU MIGHT ALSO LIKE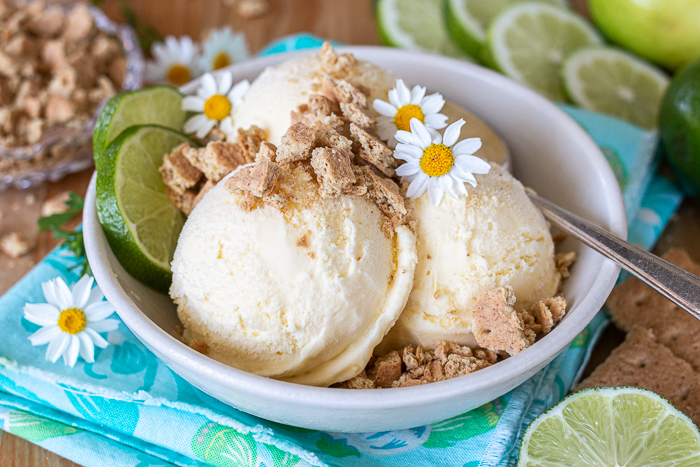 Sweet and Tangy Lime Ice Cream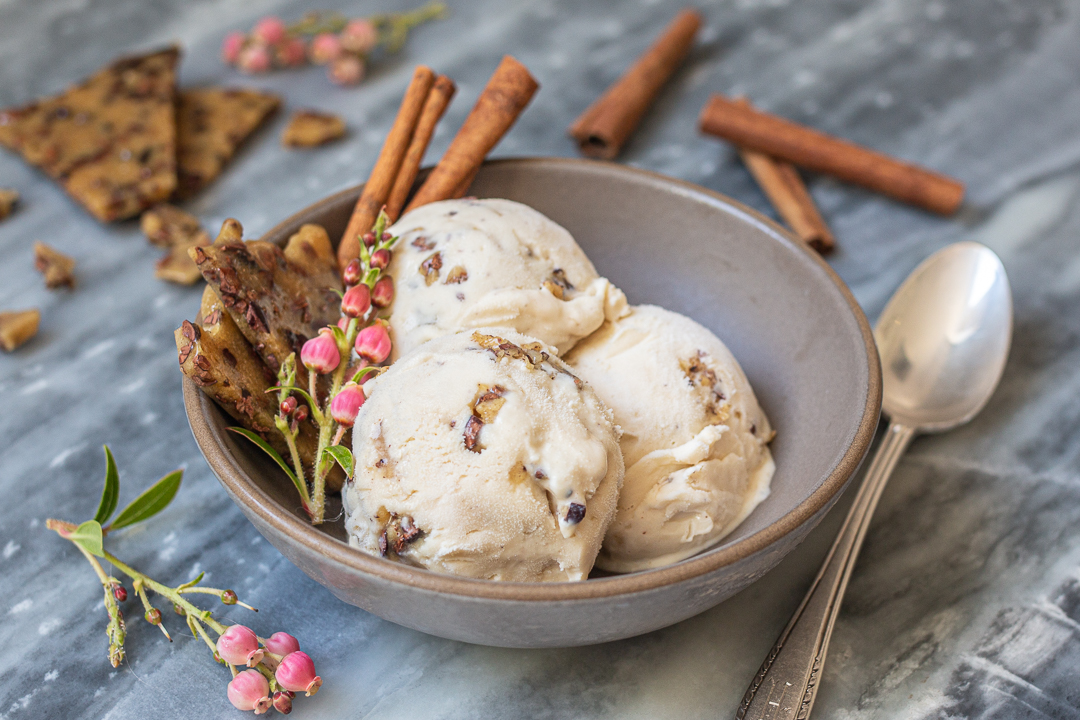 Cinnamon Cocoa Nib Brittle Ice Cream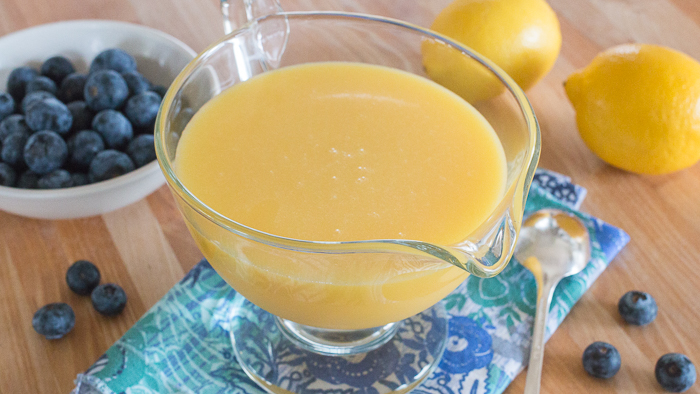 Sweet and Tangy Hot Lemon Sauce