Decadent Cinnamon Cocoa Nib Brittle Ice Cream combines spicy, flavorful cinnamon ice cream with crunchy, cocoa nib-studded brittle.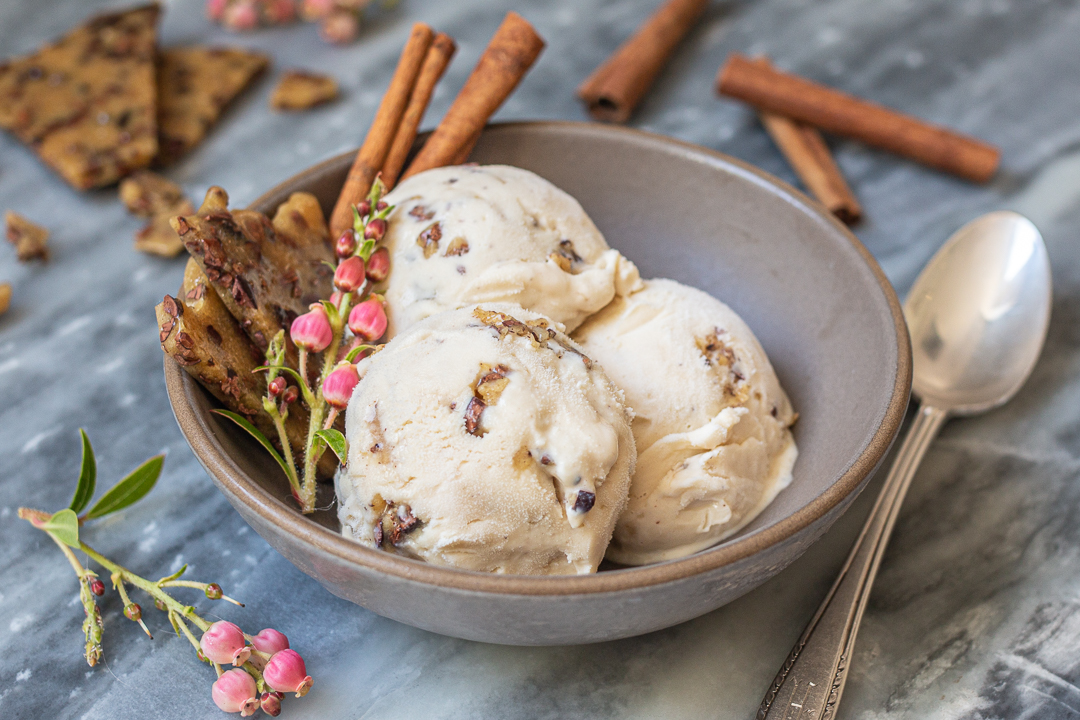 My daughter Eliza has long had a love affair with cinnamon. A few years ago, she even asked for cinnamon sticks for Christmas so she'd have her own stash.
I had her in mind when I decided to mix up Cinnamon Ice Cream the other day, starting with some enticingly aromatic cinnamon sticks I'd picked up curbside at our local spice shop (no affiliate connection here–I just love this shop and hope it survives these crazy times).
The cinnamon sticks' sweet and spicy fragrance smelled incredible as I broke them up with my mortar and pestle. Eliza used to eat her cinnamon sticks, and, as I breathed in their bold scent, I felt tempted to do the same.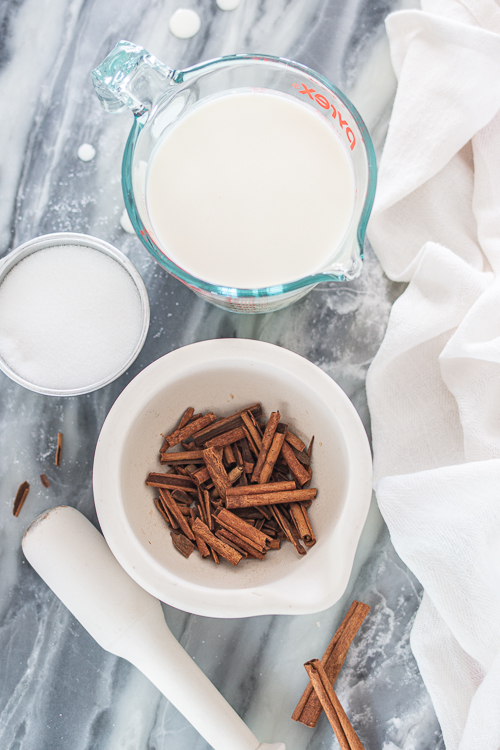 Letting the cinnamon shards steep in a warm milk-cream-sugar mixture for an hour infuses the ice cream base with distinctive cinnamon flavor.
After fishing out the large cinnamon pieces with a slotted spoon, adding eggs to the mix over gentle heat transforms it into custard. Once it thickens, pouring the mixture through a mesh strainer separates off remaining cinnamon fragments, as well as any overcooked bits of egg.
Adding more cream after heating helps cool the mixture down before placing it in the refrigerator to chill.
If you're in a hurry, a water bath speeds up the chilling even more, though the mixture will still need some cooling time in the fridge. The base should be quite cold before you add it to your ice cream maker.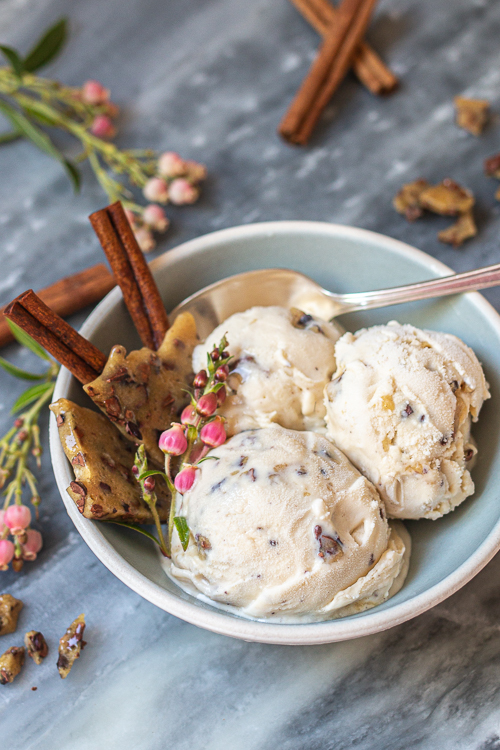 This rich, creamy Cinnamon Ice Cream's vivid, spicy flavor delivers way more heat than I imagined. The juxtaposition of warm flavor and cold temperature makes this ice cream super interesting.
As we savored bowls after dinner last week, we brainstormed desserts that would taste great with a generous scoop, like Pear Pie, Chocolate Brownie Tart, and Gingerbread.
My husband quickly pivoted to toppings, sprinkling some cocoa nibs over his ice cream. Cocoa nibs — fermented, dried, and roasted cacao beans that form the basis of chocolate — have a deep, roasted cocoa flavor without any sweetness. They paired well with the ice cream's spice, but we felt like they needed something more.
I wondered aloud about the possibility of mixing nibs into peanut brittle instead of peanuts. Before I could say Cocoa Nib Brittle, Eliza, who often makes brittle to snack on, jumped up to make a small test batch.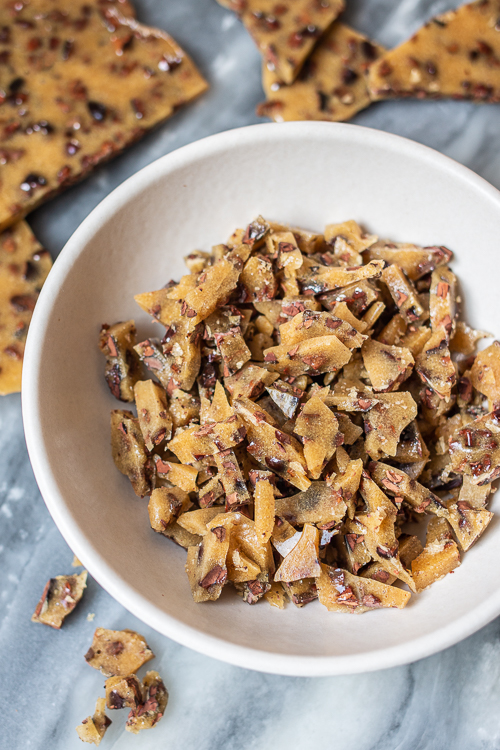 The sweet caramel crunch and deep cocoa nib toastiness tasted incredible with our ice cream. Since the combination worked so well, my husband suggested mixing the brittle into the ice cream rather than just sprinkling it over the top.
He was so right! Sweet-bitter bursts of crunch add delightful texture, transforming this smooth, spicy ice cream into Cinnamon Cocoa Nib Brittle Ice Cream, something I never would have come up with on my own. I love the way recipes evolve at our house, especially when they take such unexpected turns.
The brittle itself is quick and simple to prepare, and the recipe produces enough for the ice cream with extra for topping and snacking. Believe me, you're definitely going to want extra for snacking.
With a house full of cinnamon-lovers, this Cinnamon Cocoa Nib Brittle Ice Cream will definitely become part of our regular dessert rotation. I also can't wait to make some straight-up Cinnamon Ice Cream for a little fruit pie a la mode!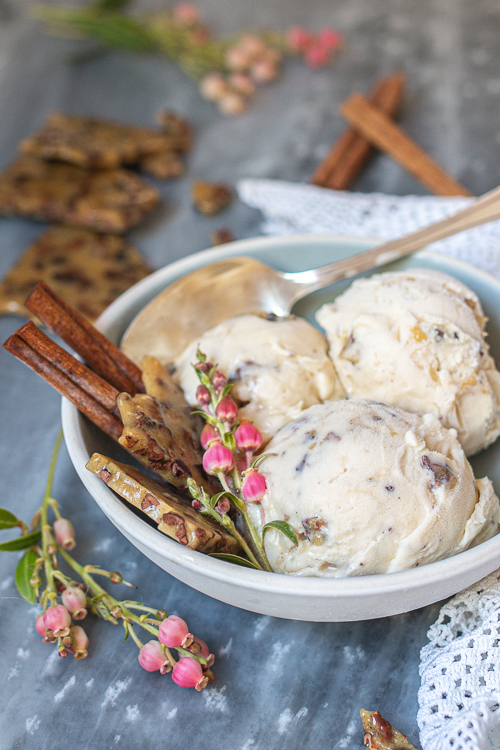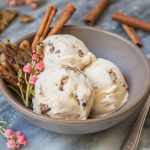 Print Recipe
Cinnamon Cocoa Nib Brittle Ice Cream
Decadent Cinnamon Cocoa Nib Brittle Ice Cream combines spicy, flavorful cinnamon ice cream with crunchy cocoa nib-studded brittle. For best results, use fragrant, fresh cinnamon sticks. Ice cream recipe adapted from David Lebovitz. Cocoa Nib Brittle Recipe adapted from Food52. Makes about a quart of ice cream with extra brittle for garnishing and snacking. If you're looking for something to do the with the leftover egg whites, try making meringues!
Ingredients
Cinnamon Ice Cream
1 1/2

cups

whole milk

1 1/2

cups

heavy cream

divided

3/4

cups

granulated sugar

pinch

kosher salt

10

cinnamon sticks

broken up with a mortar and pestle or with a hammer in a seal-able bag

4

large

egg yolks

1/4

teaspoon

vanilla extract
Cocoa Nib Brittle
1

cup

granulated sugar

1/4

cup

corn syrup

1/4

cup

water

1/2

cup

cocoa nibs

1

tablespoon

butter

1

teaspoon

vanilla extract

1/2

teaspoon

baking soda

1/2

teaspoon

kosher salt
Instructions
Cinnamon Ice Cream
Place a 1-quart container in the freezer to chill.

Whisk together milk, 1/2 cup cream, sugar, salt, and cinnamon sticks in a medium saucepan. Warm the mixture over medium heat until bubbles begin to form around the edges and steam just begins to rise from the surface. Remove from heat, cover, and let steep for an hour.

Rewarm the cinnamon-infused mixture. Turn off the heat and remove the cinnamon shards with a slotted spoon. It's okay if smaller pieces get left behind.

Set a mesh strainer over a medium bowl. Set aside.

Whisk egg yolks in a small bowl. In several additions, add a some of the warmed cinnamon-infused mixture to the yolks, whisking constantly. Pour the yolk-milk mixture back into the sauce pan. Cook over medium heat, stirring constantly and scraping the bottom of the pan until the mixture begins to thicken.

Remove from heat and immediately pour the custard through the strainer, discarding solids. Whisk in remaining 1 cup heavy cream and the vanilla extract. Cover and refrigerate until the mixture is cold.
Cocoa Nib Brittle
Line a rimmed baking pan with a silicone baking mat.

Combine sugar, corn syrup, and water in a medium saucepan, stirring to combine. Cook over moderate heat until the syrup turns a deep caramel color.

Remove the pan from heat. Add cocoa nibs, butter, vanilla extract, baking soda, and kosher salt. Taking care as the mixture will be quite hot, mix until the butter has melted and the bubbling subsides, about a minute.

Transfer the mixture onto the prepared baking pan. Working quickly, spread it out with a lightly-greased offset spatula. Let cool until solid, about 15 minutes.

Chop a portion of the brittle into bite-sized pieces to mix into the ice cream (about 3/4 cups, more if you like lots of crunch). Break the remaining brittle into larger pieces for garnishing or snacking. Store in an airtight container until needed.
Assembly
Freeze the cinnamon ice cream base according to the instructions for your ice cream mixer.

When it's almost finished, add about 3/4 cup chopped Cocoa Nib Brittle to the mixer, allowing it to churn for about a minute to incorporate the pieces.

Transfer the ice cream to the pre-chilled container, cover, and freeze for at least 4 hours before serving.

Top scoops of ice cream with additional Cocoa Nib Brittle, if desired.
Some of the links in this post are affiliate links. If you click through and make a purchase, I earn a small commission for my referral at no additional cost to you. Thank you for supporting Flour Arrangements.
YOU MIGHT ALSO LIKE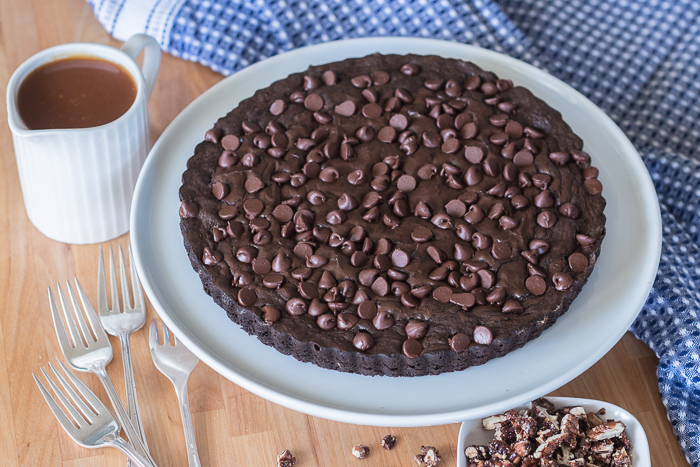 Brownie Tart with Caramel Sauce and Cinnamon Pecans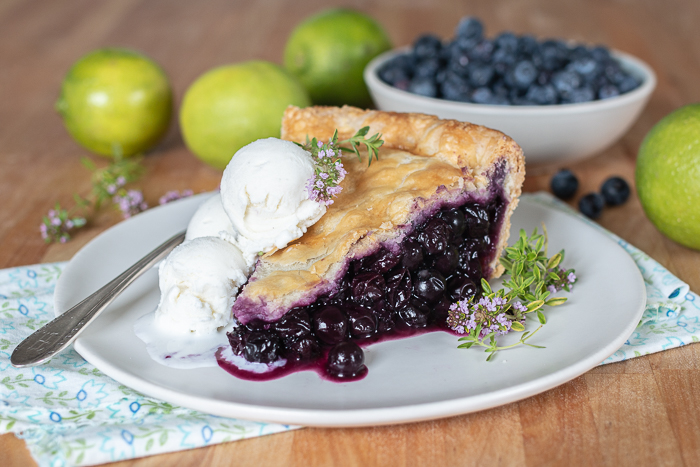 Maple-Lime Blueberry Pie
Lemon Blueberry Swirl Ice Cream