Blue cheese, sauteed leeks, and wilted spinach provide a savory backdrop for thinly sliced apples in this Blue Cheese Apple Tart.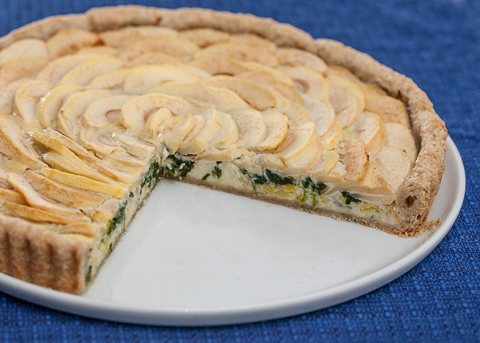 In the past several weeks, we've canned three giant batches of applesauce.  We've produced several dozen apple cinnamon rolls.  We've added diced apples to dishes of all kinds, including the stuffing for our Thanksgiving turkey.  And, of course, we've made apple pies.
We still have apples.
When you live in a small house, having a lot of apples causes logistical problems.  The laundry basket that we filled with apples still sits in the middle of our tiny kitchen.  I keep moving it around so I can sweep the floor.  Someone trips over it at least once a day.
I'm not complaining.  I like apples….