A thick layer of chocolate chip cookie dough — made with cream instead of eggs — is sandwiched between a delicious chocolate shortbread crust and dark chocolate ganache in this Chocolate Chip Cookie Dough Tart.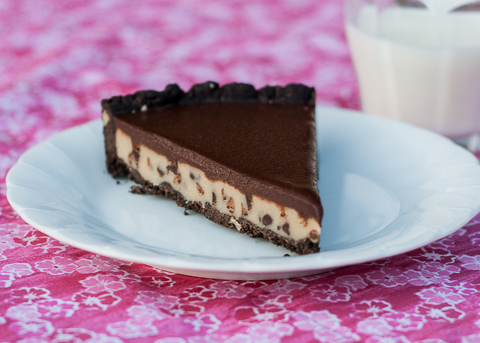 Whenever anyone decides to bake chocolate chip cookies at my house, I transform into a cookie dough ninja.  I swoop in and grab dough off the cookie sheet when the baker's back is turned. 
At one point, my husband thought he was losing his mind rather than his cookie dough. This is a testament to how fast and quiet I can be when it comes to stealing dough.
While I'm a sucker for a good chocolate chip cookie, I have to admit it:  a hunk of chocolate chip cookie dough beats a chocolate chip cookie hands down.  Am I alone, here?  I don't think so, but I can never tell.  Some people freak out about the raw egg thing, but I never let that bother me.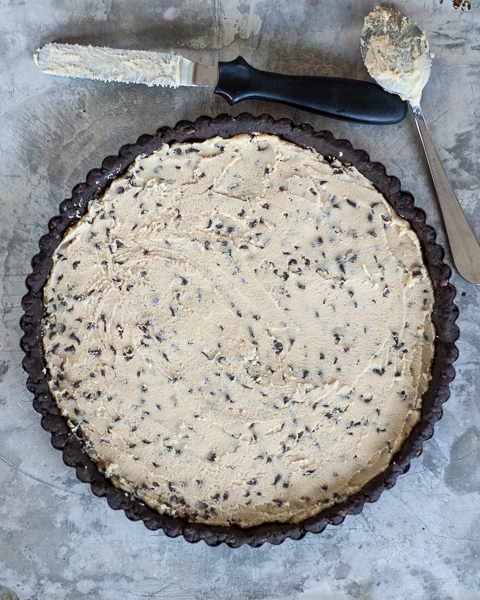 I'm the kind of person who makes chocolate chip cookies for the sole purpose of eating as much dough as I can before it hits the oven.  Its sweet vanilla flavor, its buttery richness, its satisfying sugar-crunch between my teeth, and all those bursts of deep, dark chocolate turn me into a compulsive eater:  a ball of dough for the baking sheet, a ball of dough for my mouth and so on and so forth.
Despite cookie dough's sheer addictiveness, eating it tends to be a private affair.  You can't just serve up bowls of cookie dough for everyone after dinner, can you?
If you're thinking, "Yes, you can" right now, I'm coming to live at your house.  For the rest of us who are not quite as cool or daring, I have found a way to give cookie dough center stage on your dessert table:  cookie dough tart!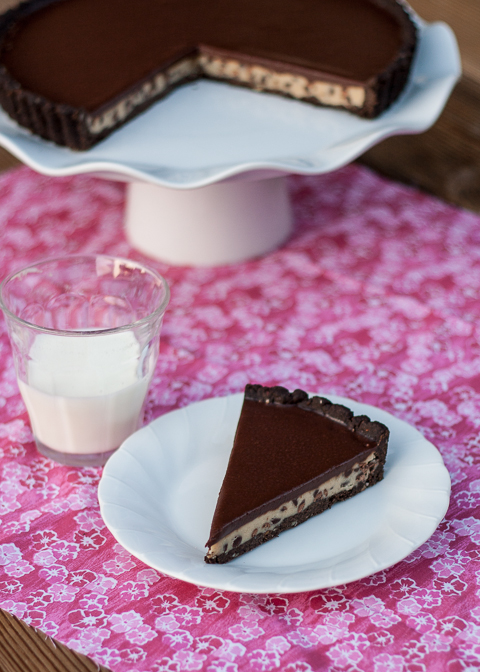 This tart's lovely and elegant and playful all at the same time.  A thick layer of chocolate chip cookie dough — made with cream instead of eggs — is sandwiched between a delicious chocolate shortbread crust and dark chocolate ganache.
What more could you want, right?  I feel downright civilized sharing cookie dough around the dining room table with a fork in my hand.  It's a totally new experience — one you need to have as soon as possible.  Milk mustache optional.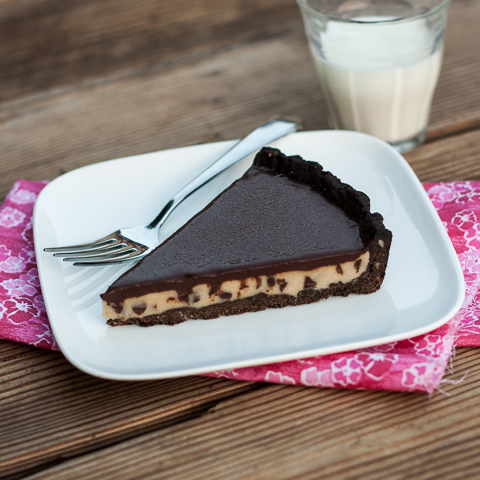 Chocolate Chip Cookie Dough Tart
The first time I made this tart, I learned that some recipes CAN have too much chocolate. The thick layer of ganache I poured on top overpowered the cookie dough's flavor! Sometimes, less can be more, even with chocolate. Shocking, but true. Makes one 10-inch tart. Serves 8 to 10.
Ingredients
Chocolate Shortbread Crust
8 tablespoons unsalted butter, melted and cooled slightly
¼ cup cocoa powder
¼ cup toasted pecans, chopped finely
¼ cup brown sugar
½ teaspoon salt
1 teaspoon vanilla extract
1 cup unbleached all-purpose flour
Cookie Dough Filling
½ cup butter, softened but still cool
½ cup brown sugar
¼ cup granulated sugar
¾ teaspoon salt
½ teaspoon vanilla extract
2½ tablespoons heavy cream
1¼ cups unbleached all-purpose flour
¾ cups mini chocolate chips
Ganache
4 ounces bittersweet chocolate, finely chopped
½ cup heavy cream
Instructions
To make the crust, mix butter, pecans, brown sugar, salt, vanilla in a medium bowl. Add flour and mix until blended. Press the dough evenly over the bottom and up the sides of a 10-inch tart pan with a removable bottom. Generously prick the bottom and sides of the crust with the tines of a fork. Bake in the lower third of an oven preheated to 350° F until the crust feels firm to the touch, about 20 to 25 minutes. Cool completely.
Once the crust is cool, prepare the cookie dough filling. Beat butter, sugars, and salt on medium speed in the bowl of a standing electric mixer until light and fluffy. Add vanilla and cream and mix well. Add flour and mix on low speed until incorporated. Stir in chocolate chips by hand.
Scrape the filling into the tart crust and spread it evenly to the edges using the back of a spoon. Smooth the top with an offset spatula as best as you can. Set aside and prepare the ganache (if not preparing ganache right away, refrigerate the filled tart crust until ready).
Place chopped chocolate in a measuring glass with a pour spout; set aside. In a small saucepan, bring cream to a boil over medium heat. Pour hot cream over the chocolate; without stirring, let the cream-chocolate mixture sit for 2 minutes. After 2 minutes, stir slowly with a rubber spatula until the mixture is smooth and glossy.
Acting quickly, pour ganache over the cookie dough filling. Carefully pick up the tart pan, tilting and rotating to spread the ganache to the tart's edges as needed. If desired pop any large bubbles that form with a toothpick or the tip of a sharp knife.
Refrigerate uncovered until set, about 30 minutes. Serve chilled.
Pin Chocolate Chip Cookie Dough Tart for Later

You might also like
Chocolate Chip Cookie Dough Brownie Bites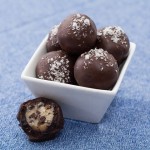 Chocolate Chip Cookie Dough Bonbons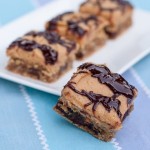 Peanut Butter Chocolate Chunk Brownies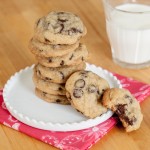 Chewy Chocolate Chip Cookies