Rich chocolate chip cookie dough brownie bites combine three impossibly delicious layers of goodness. These decadent treats feature a thin, dense chocolate brownie topped with chocolate chip cookie dough smothered with chocolate ganache.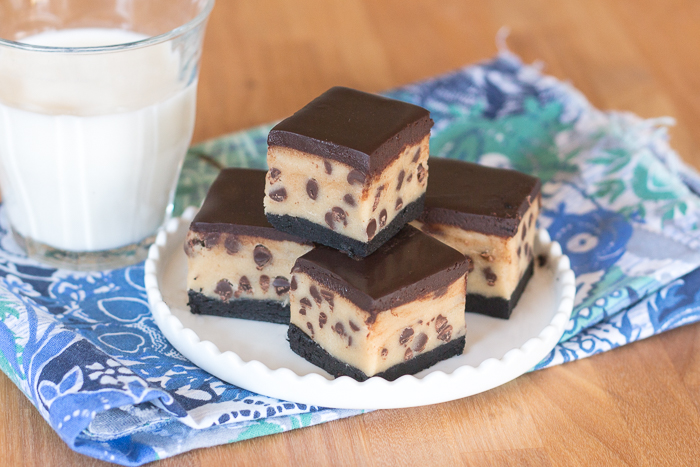 When my daughter Tessa made a list of recipes that she'd like to bake this summer, chocolate chip cookie dough tart ranked at the very top.
It's hard to beat the combination of chocolate shortbread layered with cookie dough and covered with rich chocolate ganache. It's just as good as it sounds. Maybe better. It's a definite favorite dessert in our house, and if you haven't tried it, I totally recommend it.
We almost made it, too, but then we got sidetracked. Did we want a tart we'd serve formally or finger food that would be easier for summer parties?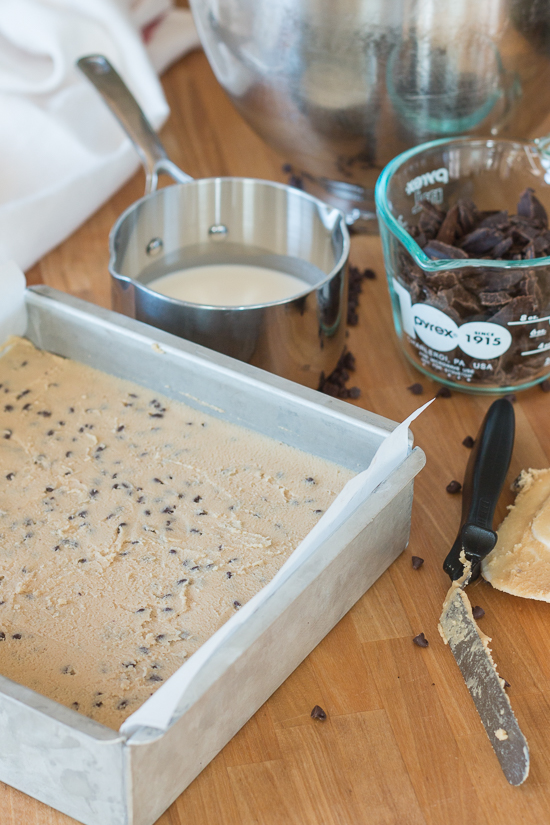 We opted for bars instead and saved the tart for another day.
As we nibbled on our tart-in-bar form, Tessa wondered out loud how it would taste with brownie on the bottom instead of chocolate shortbread.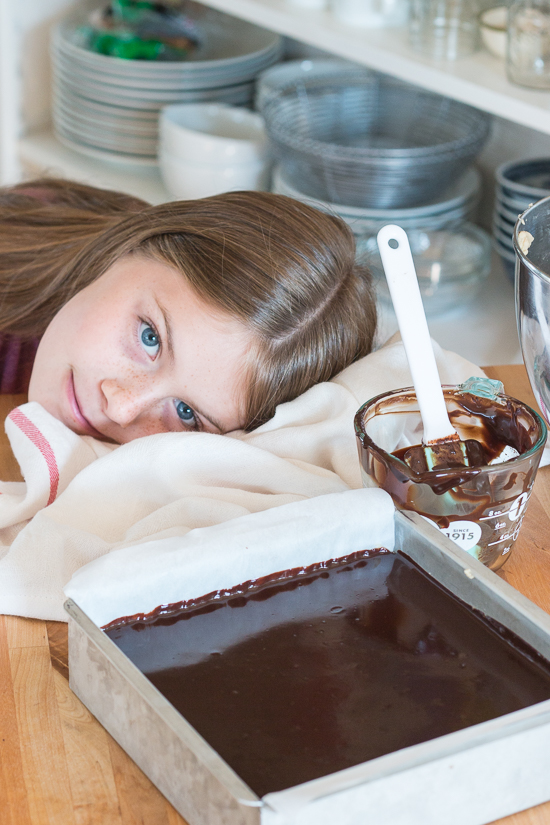 Oh, how I love the way my daughter thinks.
Of course we had to know, right?
Tessa's instincts were right on. The dense, rich brownie integrates with the cookie dough more cohesively than the crisp shortbread, giving these chocolate chip cookie dough brownie bites a smoother feel than the bars.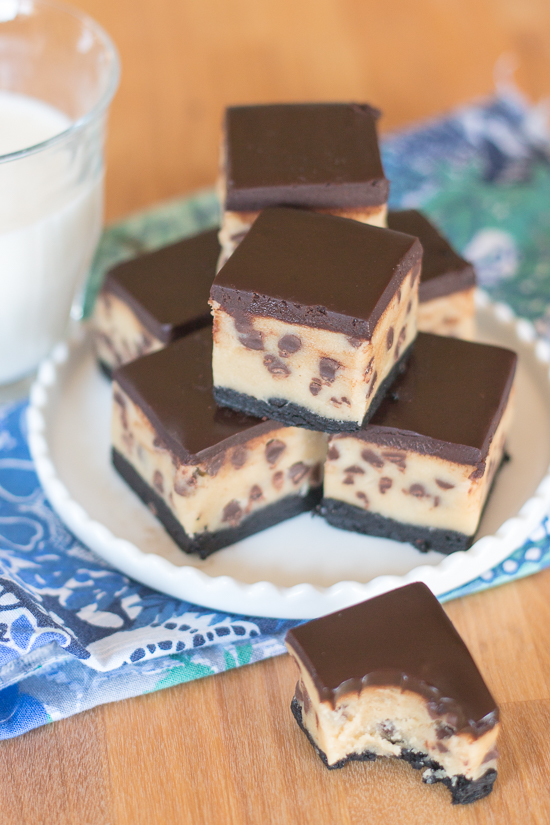 While we loved their texture, the bold, dark chocolate ganache and brownie layers overshadowed the creamy, delicious cookie dough in the middle.
On our next try, we increased the amount of cookie dough and made the brownie layer half as thick. As we sunk our teeth through the three silky layers of goodness, we knew we'd gotten it right.
These cookie dough brownie bites will be the hit at any party. Since they're super rich, each small square delivers an intense, chocolate and cookie dough flavor explosion.
You're going to love them.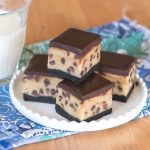 Print Recipe
Chocolate Chip Cookie Dough Brownie Bites
These bars are best served chilled. Keep them in the fridge until serving for best results.
Ingredients
Chocolate Brownie

4

tablespoons

unsalted butter

melted and cooled slightly

1/2

cup

granulated sugar

1/2

cup

unsweetened cocoa powder

1/8

teaspoon

salt

1

teaspoon

vanilla extract

1

large egg

1/4

cup

unbleached all-purpose flour

Cookie Dough Filling

3/4

cups

butter

softened but still cool

3/4

cups

packed brown sugar

1/3

cup

granulated sugar

1

teaspoon

salt

1

teaspoon

vanilla extract

1/4

cup

heavy cream

2

cups

unbleached all-purpose flour

1

cup

mini chocolate chips

Ganache

4

ounces

bittersweet chocolate

finely chopped

1/2

cup

heavy cream
Instructions
Preheat oven to 325º F. Generously butter an 8-inch square metal baking pan. Add a layer of parchment paper, leaving the edges long enough to lift the brownie bites out of the pan for easier slicing. Press the parchment down to help it adhere smoothly to the pan. Set aside.

For the brownie layer, combine butter, sugar, cocoa powder, and salt in a medium bowl. Stir until well combined; the mixture will be very thick. Add vanilla and egg and mix well. Add flour and stir until combined. Spread the batter into a thin layer on the bottom the prepared pan (fingers work best to spread the thick, gooey mixture as evenly as you can). Bake until set, about 15 to 20 minutes. Cool to room temperature.

Once the crust is cool, prepare the cookie dough filling. Beat butter, sugars, and salt on medium speed in the bowl of a standing electric mixer until light and fluffy. Add vanilla and cream and mix well. Add flour and mix on low speed until incorporated. Stir in chocolate chips briefly on low speed or mix in by hand.

Spread the cookie dough filling over the brownie, using a the back of a spoon or an

offset spatula

to create an even layer. Smooth the top as best as you can. Set aside and prepare the ganache (if not preparing ganache right away, refrigerate until ready).

Place chopped chocolate in a measuring glass with a pour spout; set aside. In a small saucepan, bring cream to a boil over medium heat. Pour hot cream over the chocolate; without stirring, let the cream-chocolate mixture sit for 2 minutes. After 2 minutes, stir slowly with a rubber spatula until the mixture is smooth and glossy.

Acting quickly, pour ganache over the cookie dough filling. Carefully pick up the pan, tilting and rotating to spread the ganache to the edges as needed. If desired, pop any large bubbles that form with a toothpick or the tip of a sharp knife.

Refrigerate uncovered until set, at least 30 minutes. Slice in 1 to 2-inch squares. Serve chilled.
Some of the links in this post are affiliate links. If you click through and make a purchase, I earn a small commission for my referral at no additional cost to you. Thank you for supporting Flour Arrangements.
Pin it for Later

You might also like
Chocolate Chip Cookie Dough Tart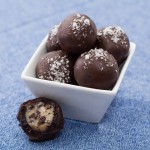 Chocolate Chip Cookie Dough Bonbons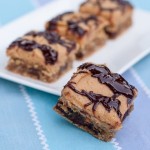 Peanut Butter Chocolate Chunk Brownies
Chewy Chocolate Chip Cookies