Caramelized Onion and Gruyere-Stuffed Rolls wrap up the warm, inviting flavors of French Onion Soup in soft, tender bread dough.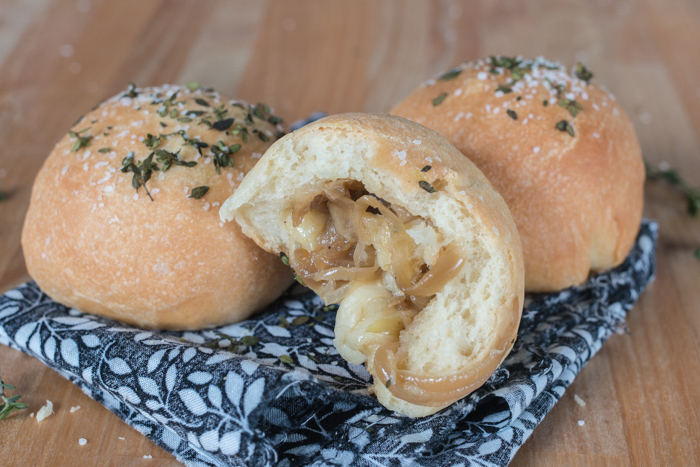 Imagine the amazing combination of flavors in French Onion Soup — deep, rich, and sweet caramelized onions and nutty, smooth Gruyere cheese — wrapped up in soft, buttery bread, and you'll have these Caramelized Onion and Gruyere-Stuffed Rolls.
These luscious rolls are impossibly irresistible, and I always find myself eating at least one more than I probably should. I just can't say no to warm, melty cheese mingling with luscious caramelized onions.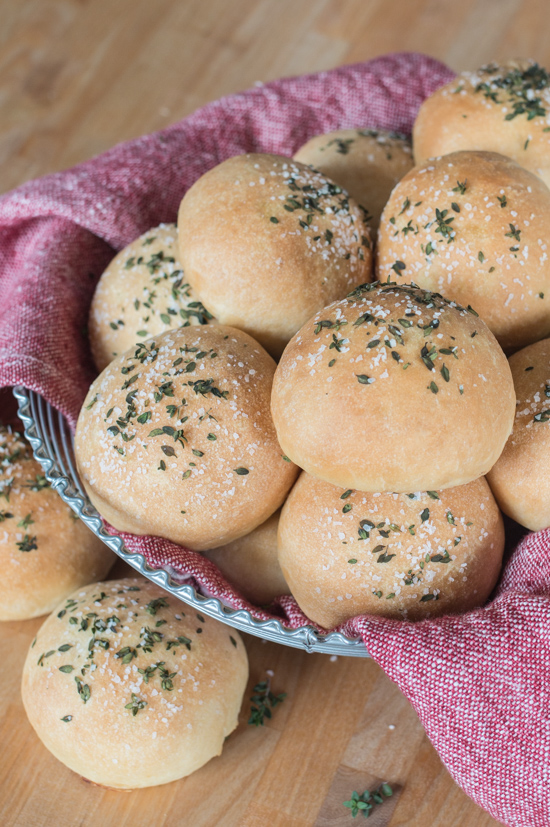 While these Caramelized Onion and Gruyere-Stuffed Rolls take a bit of time to prepare, they're worth every minute of it. Because of the dough's rising time and onion's slow cooking, this recipe doesn't require active participation throughout preparation. These rolls are really quite easy to make!
Start with the dough recipe, which rises as you prepare the caramelized onions. Once the onions get going, they only need a stir every now and again.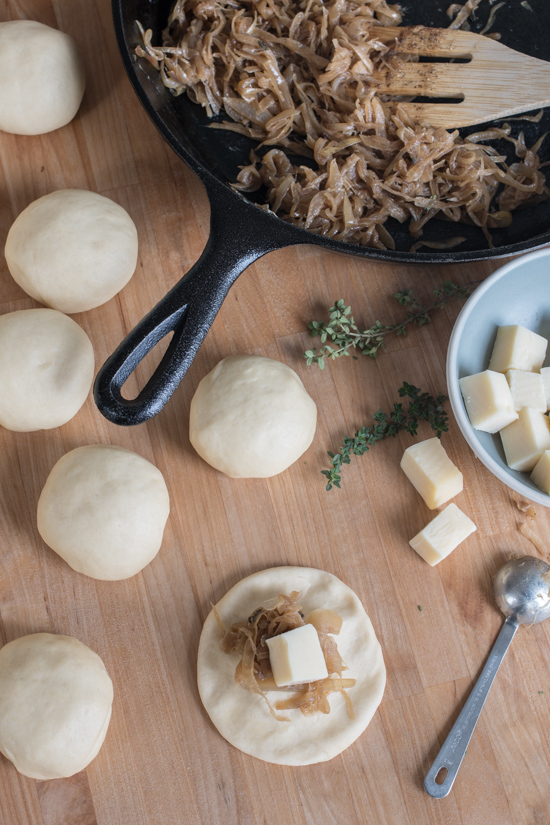 When the dough has risen, deflate and divide it into 18 pieces on an unfloured surface. The smooth, supple dough handles easily without flour, which can interfere with the dough's ability to stick to itself once you start stuffing the rolls. A tight seal ensures that the rich, melted cheese and onions stay right where they should in the center of each roll, so definitely resist the temptation to use flour.
Roll the dough pieces into balls and flatten them into disks that are slightly thicker in the center — almost like little spaceships. The bulge in the center helps balance the dough-to-filling ratio around the entire roll as you pull together the edges to seal the bottom.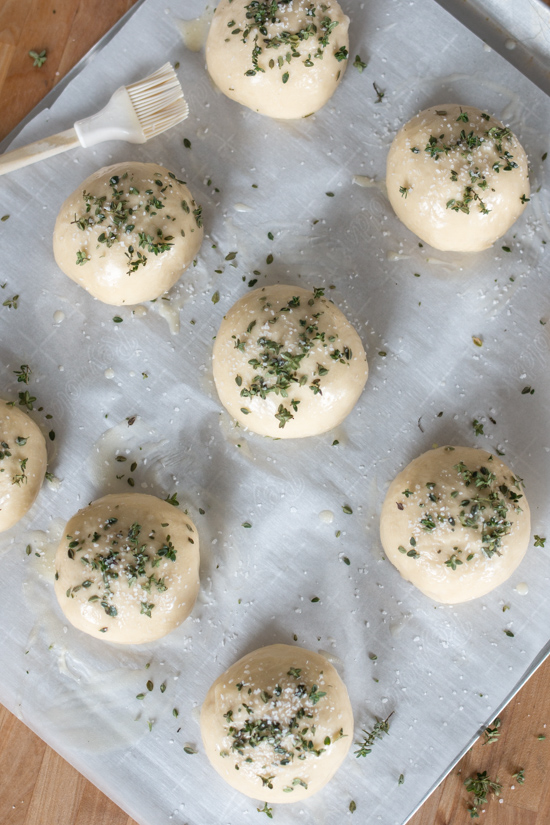 Add two generous teaspoons of the onion to each disk and top with a cube of Gruyere before pulling the edges around the filling and pinching them together to form a tight ball. After shaping, let the rolls rise again for about 30 minutes.
Just before baking, brush the rolls with melted butter and sprinkle them with thyme leaves and coarse salt. Bake until golden brown, about 20 minutes.
While these decadent rolls would make a welcome addition to any holiday dinner — imagine that soft bread filled with warm, melty cheese and onions alongside a plate loaded with ham or roast beef and all the fixings — I love dressing up simple meals like hearty soups and salads with them as well.
However you serve them, with all that goodness rolled up in a tidy, tempting package, it's impossible to go wrong. These Caramelized Onion and Gruyere-Stuffed Rolls are sure to deliver comfort and joy to all who eat them!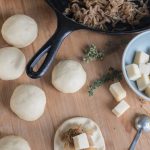 Print Recipe
Caramelized Onion and Gruyere-Stuffed Rolls
Makes 18 rolls.
Ingredients
Dough

3

tablespoons

warm water

2 1/4

teaspoons

active dry yeast

2

tablespoons

plus a pinch sugar

5

tablespoons

butter

1

cup

milk

1

teaspoon

kosher salt

1

large egg

3 1/2 to 4

cups

unbleached all-purpose flour

Caramelized Onions

2

tablespoons

butter

2

medium onions

(about 1 ½ lbs) thinly sliced

½

teaspoon

kosher salt

plus more to taste

handful

fresh thyme sprigs

2

tablespoons

dry sherry

freshly cracked pepper

to taste

Preparation

6

ounces

Gruyere Cheese

chopped into 18 cubes

¼

cup

unsalted butter

melted

¼

cup

fresh thyme leaves

coarse salt

to taste
Instructions
To make the dough, add water to the bowl of a standing electric mixer. Scatter yeast and a pinch of the sugar over the water's surface. Stir to combine. Let stand until bubbly, about 5 minutes.

Meanwhile, melt butter in a small saucepan over medium heat. Remove from heat and add milk, the remaining 2 tablespoons sugar, and salt. Stir to combine. Add egg and mix well.

Add contents of the saucepan to the yeast mixture along with 2 cups of the flour. Beat with the paddle attachment until combined. Add remaining flour, about half a cup at a time, until a smooth but sticky dough forms. Switch to the dough hook and knead for 3 to 5 minutes.

Transfer the dough into a lightly oiled bowl, flipping it to coat the entire surface. Cover with plastic wrap and let rise until doubled in size, about 1 to 2 hours.

In the meantime, prepare the onions. Melt butter in a large skillet over medium heat. Add onions and a sprig of thyme and stir to combine. Cook, covered, until softened, about 20 minutes, lifting the lid occasionally to stir.

Remove lid and continue cooking, stirring occasionally, until onions are golden and any remaining liquid has evaporated. Mix in sherry and salt and cook, stirring, until the liquid evaporates. Remove thyme sprig and turn off heat. Strip about a tablespoon of fresh thyme leaves from remaining sprigs and mix them into the onions, along with salt and pepper to taste. Allow onions to cool while the dough rises.

Parchment-line two baking sheets. Turn the risen dough out on an unfloured surface and divide into 18 equal pieces. Shape pieces into balls and flatten them into disks that are thicker in the center.

Add 2 to 3 teaspoons of the onions and a cube of cheese into each round and pinch the dough tightly together at the bottom, working to shape each one into a tight ball.

Place rolls, pinched-side down on prepared baking sheets, spacing them at least 1 inch apart. Cover with plastic wrap and let rise again in a warm place for about 30 minutes.

Preheat oven to 375° F. Just before baking, brush the tops of the rolls with melted butter. Sprinkle fresh thyme leaves and salt over the tops.

Bake for 18 to 20 minutes, switching baking sheets halfway through baking, until the rolls are golden brown. Remove from the oven and cool for about 10 minutes before serving.

These rolls taste best warm from the oven, but they reheat well. Microwave individual rolls for about 20 seconds or wrap rolls in foil and warm in an oven heated to 350 degrees for about 7 to 10 minutes.
YOU MIGHT ALSO LIKE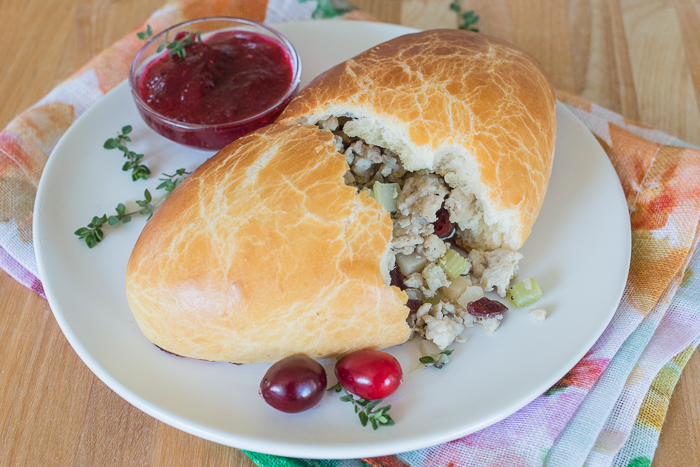 Turkey Cranberry Runzas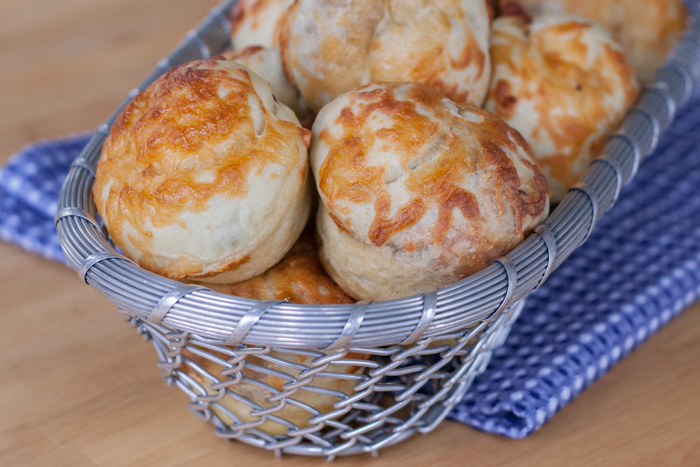 Olive & Prosciutto Pizza Rolls