With a scoop of vanilla ice cream and a generous drizzle of homemade Mocha Sauce, this Blond Brownie Tart transforms a casual sweet treat into a celebration-worth dessert.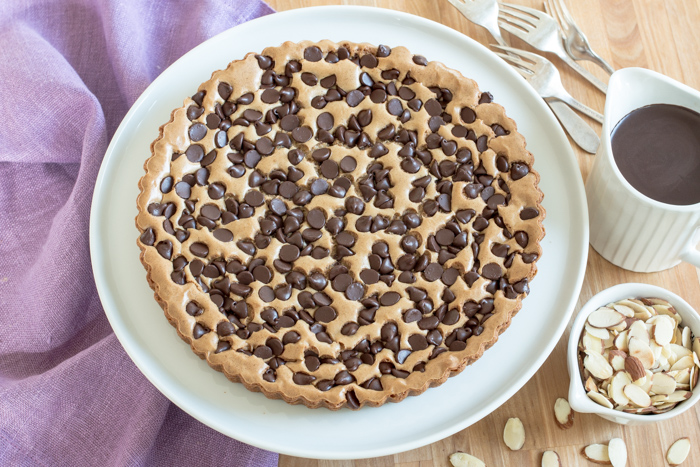 I've always considered brownies of the non-chocolate variety "Blond" Brownies, but I often see them called "Blonde" Brownies. As I was baking this rich, delicious Blond Brownie Tart recently, the English teacher in me pondered this name variation.
Since this golden word came to the English language from Old French, it has masculine and feminine forms. Even though we aren't used to gendered nouns in English, this one managed to hang on to its specificity: a blond is a fair-haired male while a blonde is a fair-haired female.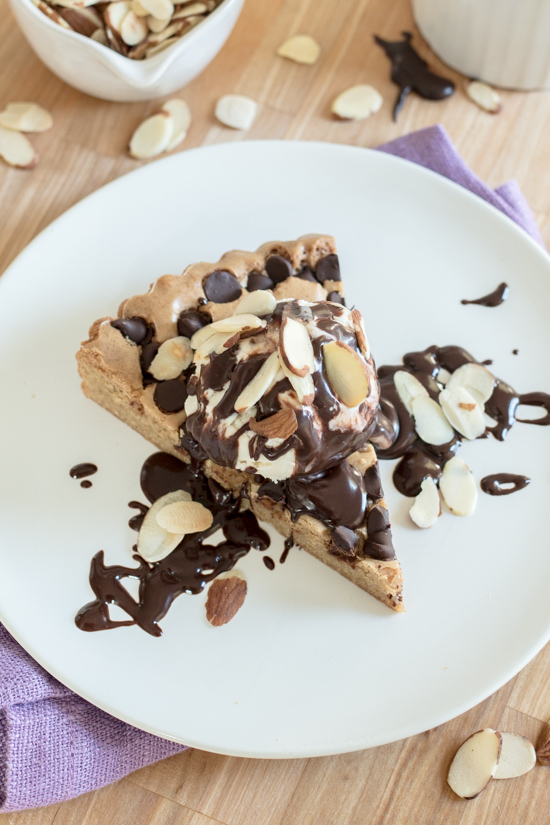 As a rule, I try to keep hair and food separate, but I had to start somewhere in my quest to understand the name variety associated with these fair brownies. In any case, when we use blond or blonde with inanimate objects like brownies, we're actually using the word as an adjective to describe color, and this means we're not really talking about hair anyway.
In English, according to Grammar Girl, most inanimate objects are "treated as male." This makes "blond" the technically correct adjective to use with pale-colored brownies, so I'm sticking with it.
While others (including Starbucks) use the female "blonde" when describing edibles, I won't argue. I'd rather use my mouth to eat some Blond Brownie Tart.
I love a good Blond Brownie, and my mom's recipe, in my opinion, produces one of the very best versions out there.
Chewy and chocolate-studded, they taste like caramel. I will eat them anytime, anywhere.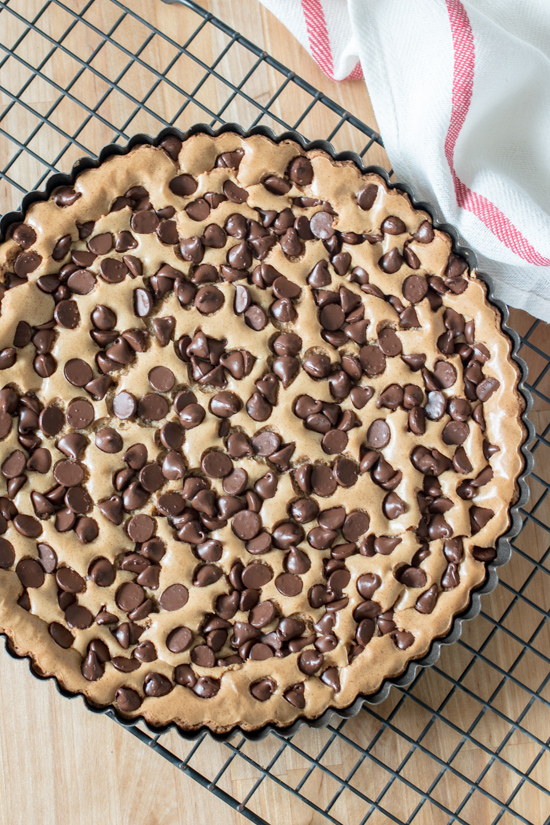 Now that that I've scaled this favorite recipe to a 9-inch tart pan, this dessert is even more versatile than ever. I love how a fluted tart pan magically transforms a casual treat into an elegant, special occasion-worthy dessert.
Birthday candles would look especially civilized in this Blond Brownie Tart. And why not add it to a Thanksgiving dessert spread? I baked a Chocolate Brownie Tart for Thanksgiving a couple of years ago, and it was a huge hit!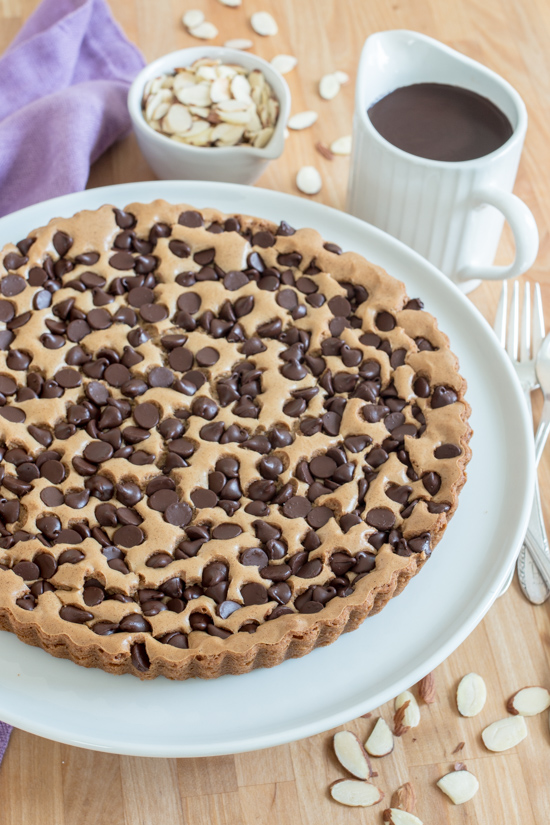 When you're dressing up brownies, accessories definitely complete the effect. A scoop of ice cream goes without saying, and, once you add ice cream, it's hard not to want sauce, too.
Because of its caramel overtones, drizzling an ultra-sweet sauce over this Blond Brownie Tart would make it cloying. Enter Mocha Sauce, a deep, dark chocolate and coffee dream.
With just coffee, chocolate, corn syrup, and butter, this easy-to-prepare sauce comes together in one pan on your stove. It imparts amazing richness and flavor without adding extra sweetness. It's my new favorite alternative to Hot Fudge Sauce.
I couldn't resist toasting some sliced almonds to scatter on top of this dessert for a little crunch and nutty flavor. They're a perfect finishing touch!
This Blond Brownie Tart slices into handsome wedges with delicate fluting along the curved edge. With a generous scoop of vanilla ice cream, a splash of homemade Mocha Sauce, and a scattering of toasted almonds, this easy dessert serves up comforting deliciousness in ultra-stylish packaging.
Print Recipe
Blond Brownie Tart with Mocha Sauce
Ingredients
Blond Brownies

6

tablespoons

unsalted butter

1

cup

packed brown sugar

¼

teaspoon

kosher salt

1

egg

lightly beaten

1

teaspoon

vanilla extract

½

teaspoon

baking powder

1/8

teaspoon

baking soda

1

cup

unbleached all-purpose flour

2/3

cup

semisweet chocolate chips

Mocha Sauce

3/4

cup

freshly brewed espresso or strong coffee

3

tablespoons

corn syrup

8

ounces

bittersweet chocolate

finely chopped

2

tablespoons

unsalted butter

softened

For Serving

1

cup

sliced almonds

vanilla ice cream
Instructions
Preheat oven to 350° F. Grease a 9-inch tart pan with a removable bottom. Set aside.

Melt butter in a large saucepan over medium-low heat. Add the brown sugar and salt, stirring to combine.

Remove the mixture from heat and stir in egg and vanilla extract, mixing well. Add baking powder and baking soda, stirring until combined. Add flour and stir until just combined.

Place prepared tart pan on a baking sheet. Scrape the thick batter into the pan, spreading it as evenly as you can. Scatter chocolate chips over the top.

Bake until the center is just set, about 25 minutes. Place pan on a rack to cool before unmolding.

For the sauce, stir coffee and corn syrup in a saucepan over low heat until it begins to steam. Add chocolate, whisking until the mixture is just melted and smooth. Remove from heat and whisk in butter. If making ahead, store the sauce in the refrigerator and re-warm it over low heat.

To toast the almonds, heat them a wide skillet over medium heat, stirring frequently until fragrant and pale golden. Immediately transfer them from the hot pan onto a plate to prevent burning.

Serve Blond Brownie Tart slices with generous scoops of vanilla ice cream, Mocha Sauce, and toasted sliced almonds.
Some of the links in this post are affiliate links. If you click through and make a purchase, I earn a small commission for my referral at no additional cost to you. Thank you for supporting Flour Arrangements.
YOU MIGHT ALSO LIKE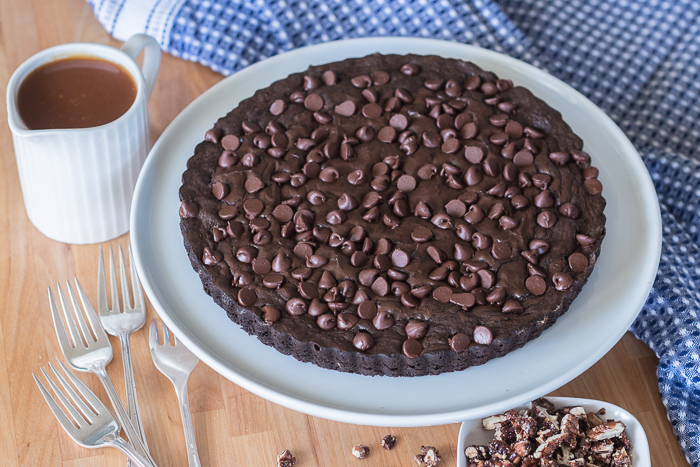 Brownie Tart with Caramel Sauce and Cinnamon Pecans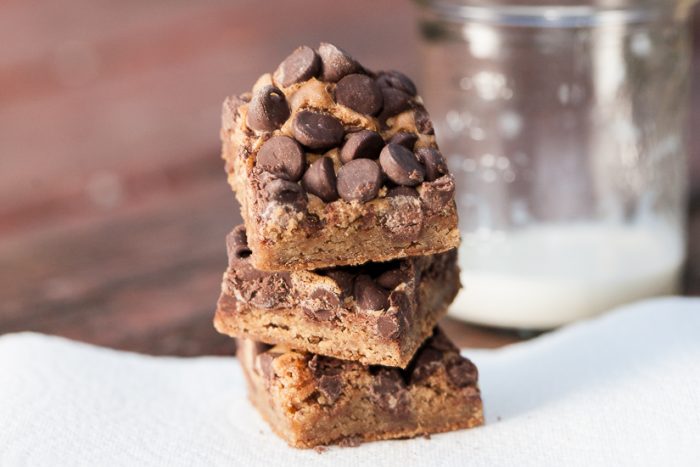 Blond Brownies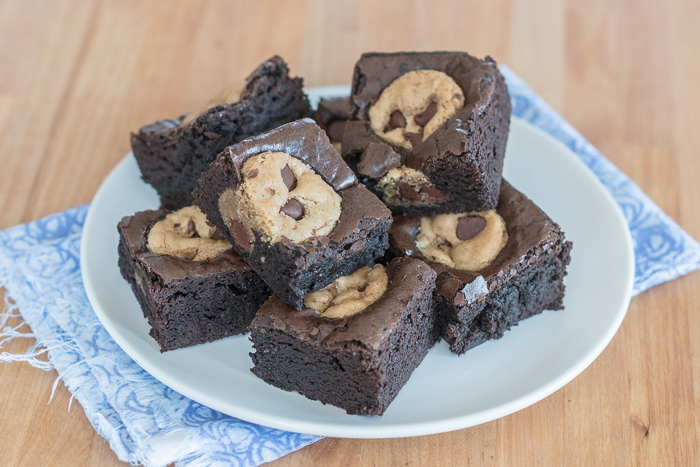 Chocolate Chip Cookie Brownies