Why choose between cookies and brownies when you can have both? Enjoy rich chocolate brownies and chocolate chip cookies in one decadent bite. This mix-by-hand recipe for chocolate chip cookie brownies is surprisingly simple to prepare.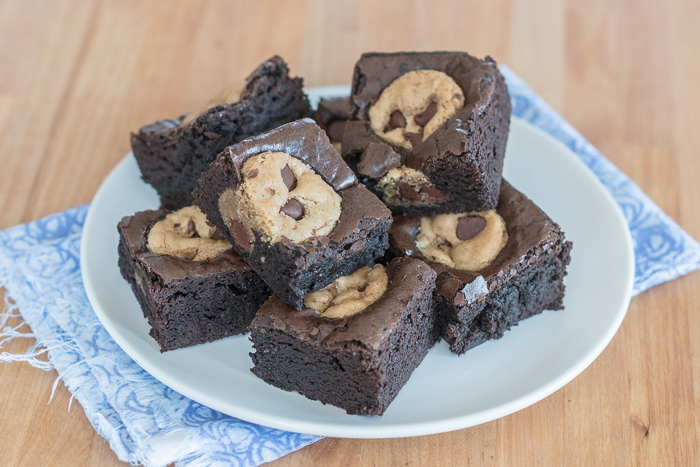 Ever since my daughter and I made chocolate chip cookie dough brownie bites this summer, I've been obsessed with the combination of cookies and brownies. It was only a matter of time before I added cookie dough to brownie batter and baked them together.
Now that I've mixed up these chocolate chip cookie brownies at least a half a dozen times, I can't help wondering what took me so long to unite these simple dessert superstars in baked perfection.
What's not to love about tender chocolate chip cookies and rich chocolate brownies wrapped up in one delicious package?
The real question, though, is what to call them? Brookies? Crownies?
Each of these portmanteau words makes sense, but I've seen brookies in both cookie and brownie form, which leaves me feeling confused. As for crownies, I've never seen the term used to describe this commingled dessert at all. Maybe that makes it better, but it's really less obvious-sounding than brookies.
Yeah, I'm just calling them chocolate chip cookie brownies. I won't be offended if you'd like to call them something else.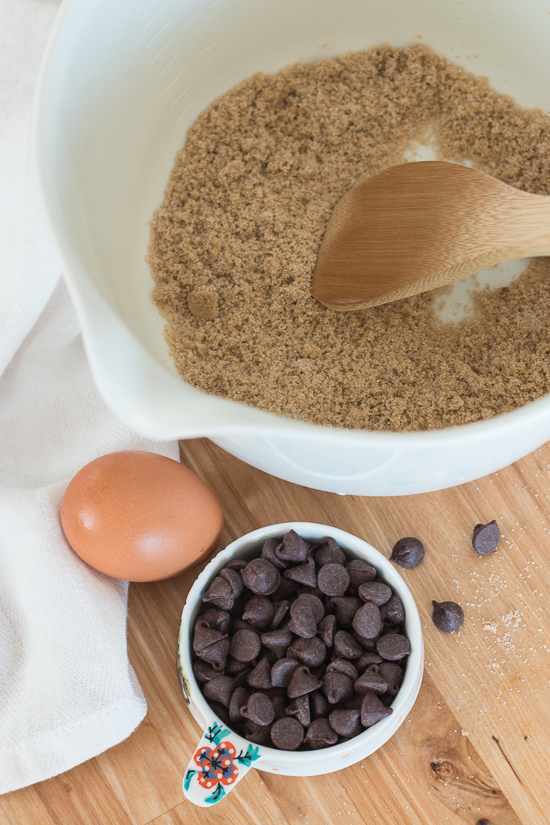 Since this sweet treat was bound to be super indulgent, I decided to create the recipe for an 8-inch square pan rather than a large rectangular one. This meant scaling down my favorite chocolate brownie recipe and using half of a chocolate chip cookie recipe.
Making brownies and cookies at the same time had the potential to make a huge mess, so I searched for ways to streamline the process. Ideally, I hoped to create a mix-by-hand recipe that generated as few dirty dishes as possible.
My brownie recipe called for melted butter, so I looked for a chocolate chip cookie recipe that used melted butter as well. After melting butter for the cookies in a saucepan, I transferred it to a bowl with the sugars and proceeded to mix the cookie dough with a wooden spoon. I then used the same pan to melt butter for the brownies and mixed the remaining ingredients right into the pan.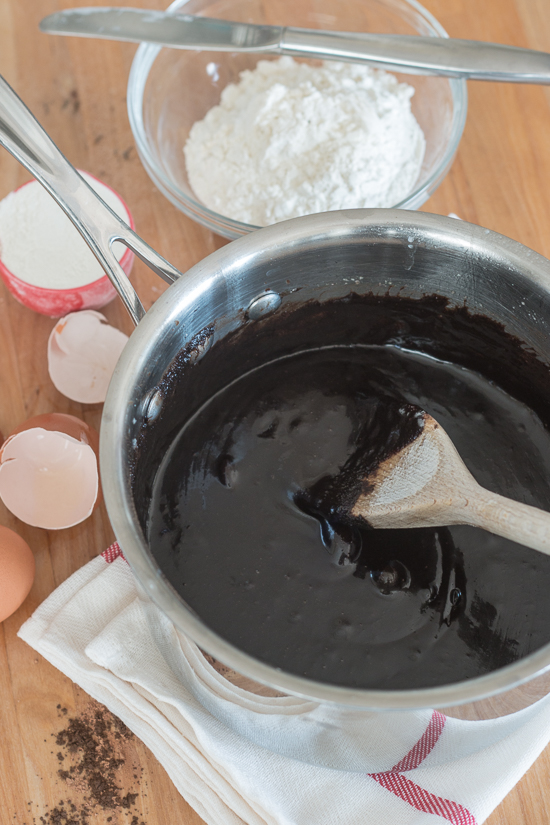 In case you missed that, you can prepare these chocolate chip cookie brownies by hand with only one saucepan and one mixing bowl! Hooray!
While delicious, my first batch took forever to bake. They also rose almost to the top of the pan, baking into the thickest brownies I've ever seen. Even after slicing them into small squares, their sheer decadence made them really too big to manage.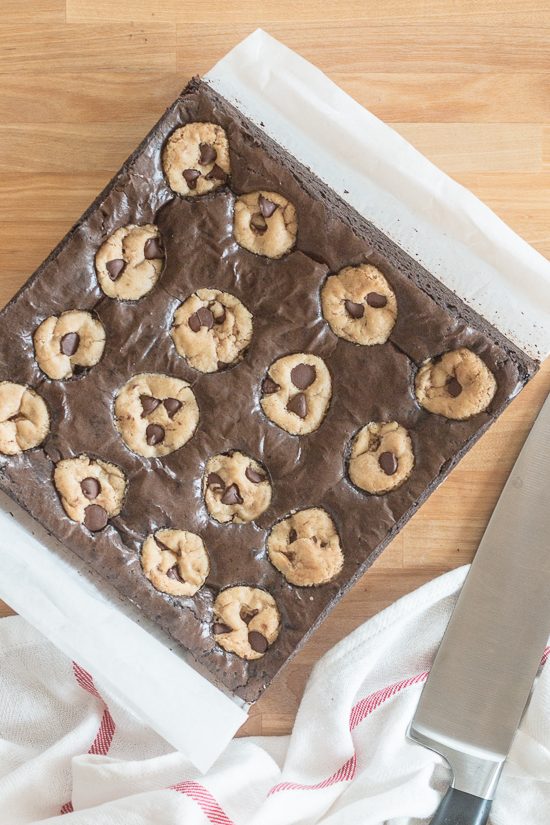 Reducing the cookie recipe even more provided an easy solution, but it meant splitting an egg in half, and this totally undermined my plan to create a simple recipe. Fortunately, the most obvious work-around — using just the yolk — turned out fine after some tinkering.
As the cookie dough bakes in the brownie batter, rather than spreading out in usual cookie fashion, the balls mostly keep their shape as the brownies bake up around them. The adorable little bits of cookie that show on top are tiny hints about what's hiding below the surface.

Since the cookies don't spread out, the chocolate chips don't always show up on top of the cookies very well. To give them a classic chocolate chip cookie look, you can press a few chocolate chips into the top of each cookie ball once it's tucked into the brownie batter. This is totally optional, but it works like a charm and provides another opportunity to snack on chocolate chips as you bake.
Despite their extreme indulgence, we can't seem to keep these chocolate chip cookie brownies around for too long. If I thought I could manage eating more than one at a sitting, I'd rethink the idea of baking them in such a small pan.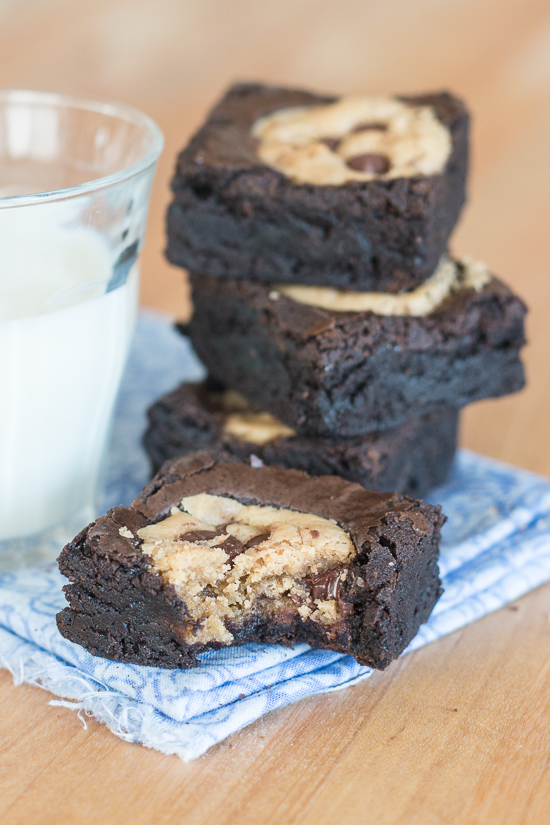 Print Recipe
Chocolate Chip Cookie Brownies
Since the brownies bake up around the cookie dough balls, the cookies don't flatten out to reveal the luscious chocolate chips inside. To give them a classic chocolate chip cookie appearance, press a few chocolate chips into the tops of the balls of dough before baking.
Ingredients
Chocolate Chip Cookies

4

tablespoons

unsalted butter

¼

cup

packed brown sugar

2

tablespoons

granulated sugar

1

large egg yolk

1 1/4

teaspoon

vanilla extract

½

cup

all purpose flour

1/8

teaspoon

baking soda

1/8

teaspoon

kosher salt

1/3

cup

chocolate chips

plus a handful, divided

Chocolate Brownies

1/2

cup

unsalted butter

1

cup

granulated sugar

1/2

cup

unsweetened cocoa powder

2

teaspoons

vanilla extract

2

large eggs

1/2

teaspoon

kosher salt

1/2

teaspoon

baking powder

3/4

cups

unbleached all-purpose flour
Instructions
Preheat oven to 350° F. Butter an 8-inch square pan. Add a layer of parchment paper to the pan, leaving the edges long enough to lift the brownies out of the pan once cool or easier slicing. Butter the parchment paper, pressing it to adhere smoothly to the pan.

For the cookie dough, melt butter in a medium saucepan over moderate heat. Add sugars to a medium bowl and stir to combine. When the butter has just finished melting, pour it over the sugars, setting the pan aside without washing to use for the brownies. Mix butter into the sugars with a wooden spoon until well combined. Add egg yolk and vanilla extract and mix well. Stir in salt and baking soda. Add ¼ cup of the flour and stir until just combined. Add remaining flour 1 tablespoon at a time, stirring until just combined. Mix in chocolate chips, cover, and refrigerate while you prepare the brownie batter.

For the brownies, melt butter in saucepan over moderate heat. Add sugar and stir to combine. Continue heating the mixture until it is hot but not bubbling; it will become shiny as you stir it. Stir in cocoa powder and vanilla extract. Add eggs, one at a time, beating until smooth after each addition. Add salt and baking powder, stirring until combined. Add flour, ¼ cup at a time, stirring until the flour is incorporated.

Scrape the batter into prepared pan, spreading it as evenly as you can; it will be thick and glossy. Divide prepared cookie dough into 16 even pieces. Roll dough into balls and gently press them into the brownie batter. If desired, press chocolate chips into the tops of the cookie dough balls so they will show after baking.

Bake until a toothpick inserted in the center comes out with just a few clinging crumbs, about 35 minutes. Place pan on rack to cool completely.

Gently lift the cooled brownies from the pan and transfer them to a cutting board. Slice into 2-inch squares and serve.
Pin Chocolate Chip Cookie Brownies for Later

You might also like:
Chocolate Chip Cookie Dough Tart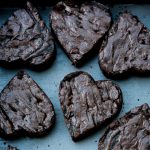 Chocolate Brownies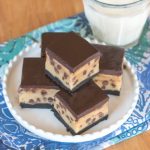 Chocolate Chip Cookie Dough Brownie Bites
Chewy Chocolate Chip Cookies