Sweet, nutty cake layers interspersed with a decadent ganache come together in this peanut butter cake with chocolate ganache. Indulgent and flavorful, this cake is a peanut butter lover's dream.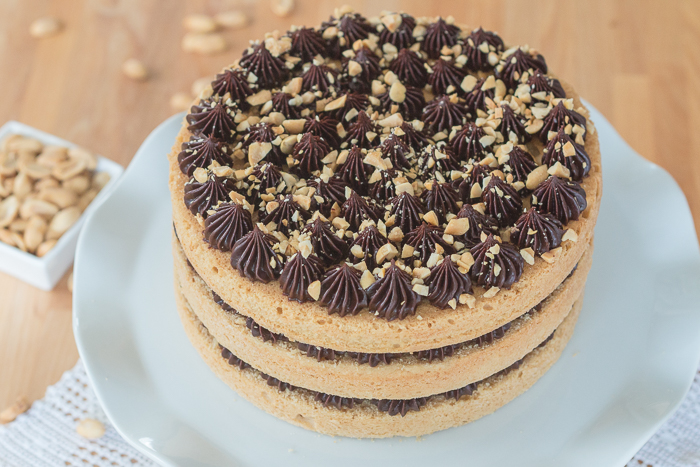 My kids both love to bake, which should surprise no one at all.
When special occasions come up, my older daughter — who's really come into her own in the kitchen — jumps at the opportunity to create unique celebratory desserts. She always has an elaborately detailed baking plan, not unlike her baking-obsessed mama.
For my husband's recent birthday, she and a friend set out to bake mini chocolate bundt cakes topped with raspberry glaze and homemade chocolate spoons. The girls even tested making chocolate spoons the week before his birthday.
I like to think they've learned something from all the testing that happens in my kitchen, but I'm guessing their practice run had more to do with a desire to eat little chocolate spoons.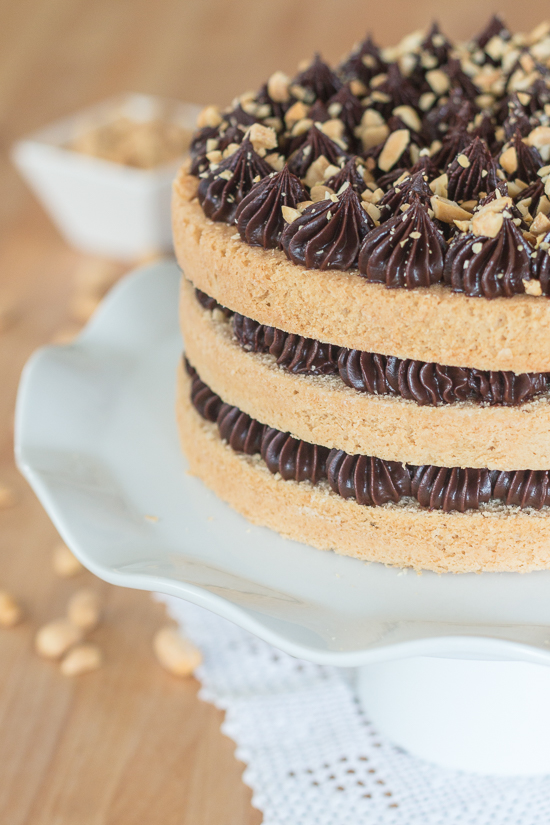 I happened to have a birthday cake plan for my husband's birthday, too, but I put it on hold for another day. Allowing my daughter's creative spirit to shine, along with her desire to do something special for her dad, meant more than any cake I could bake. Topped with candles, the girls' adorable, delicious treats provided a perfect birthday party finale.
When my parents' decided to throw a little party for my husband at their house, I got the opportunity to bake a birthday cake for him after all. My mom offered to buy a cake if I felt too busy, but I waved aside her concerns.
I'll always make time to bake a cake. Besides, I was already looking for the chance to bake a peanut butter cake frosted with rich chocolate ganache.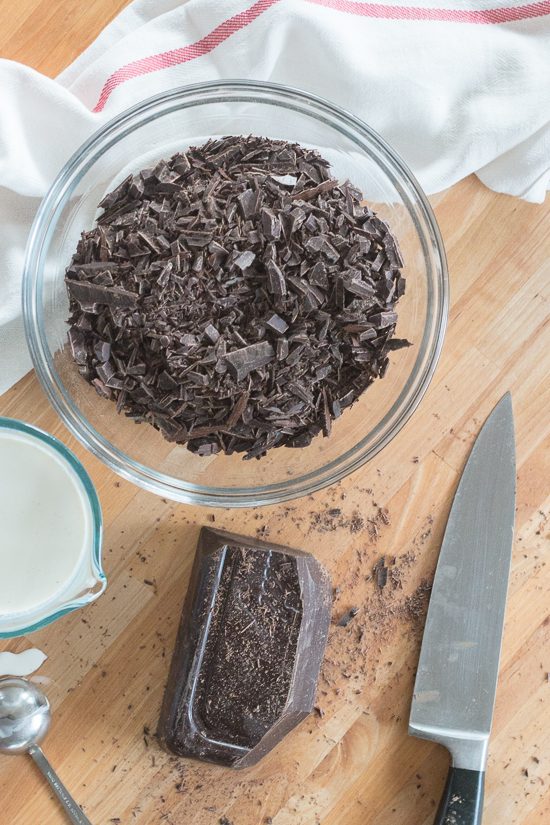 Loaded with creamy peanut butter, the cake layers taste deliciously nutty and sweet. After sampling the batter, I could tell this cake was going to be awesome.
While I usually share spatulas and bowls once a cake goes in the oven, I tried to hoard them for myself with this one. My husband managed to get his hands on a spatula, though, and asked if it was frosting. It's that good.
Since the cakes looked so pretty with their perfect peanut buttery hue, rather than cover the whole thing up with frosting, I decided to pipe the chocolate ganache between the layers and atop the cake instead.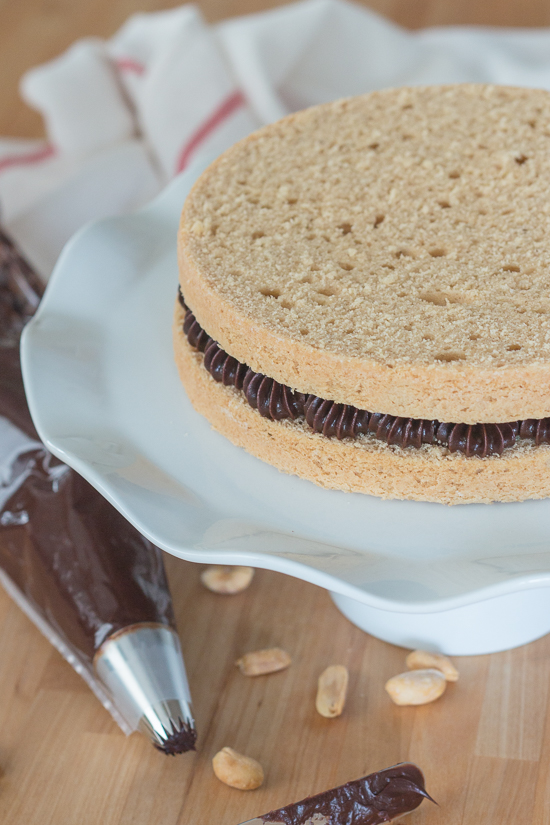 The sweetness of the peanut butter cake blends perfectly with the deep richness of the chocolate ganache, which thickens into a truffle-like texture that's smooth and indulgent.
Despite its sophistication, this easy ganache recipe includes just two ingredients and requires minimal effort to prepare. Simply pour hot cream over chopped chocolate, let sit for two minutes, and then stir until smooth.
In truth, the most challenging part of the ganache making is waiting for it to firm up. You'll want to prepare it before starting to bake the cake layers since it needs several hours to thicken. Once it can hold its shape on a spoon, it's ready to for piping.
A sprinkling of chopped peanuts adds a finishing touch. I loved their satisfying crunch, too, which makes me think they'd taste great sprinkled between the cake's layers as well.
Full of sweet, peanutty goodness and and rich, chocolate flavor, this cake pairs peanut butter and chocolate in perfect harmony! I'm already trying to figure out when I can make it again.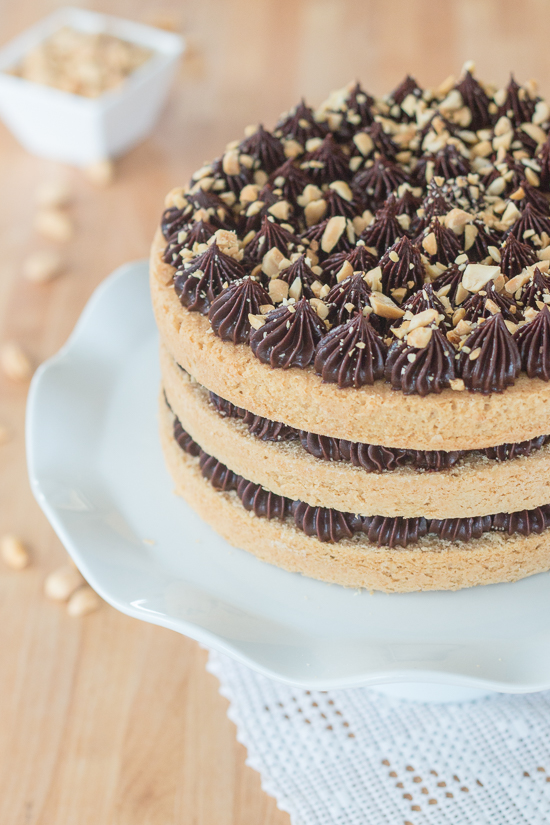 Pin Peanut Butter Cake for Later

You might also like