Deep and rich, this Peppermint Chocolate Cake gets a cool, refreshing burst from both peppermint extract and schnapps. Topped with peppermint ganache and crushed candy canes, it's a breathtaking holiday dessert.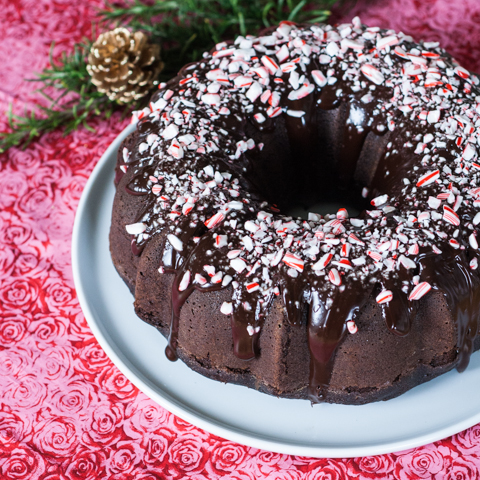 Much to my kids' dismay, I rarely frequent the candy aisle at the grocery store. I bake too much cake and pie to want to mess around with candy most of the time, but I needed some candy canes to crush as topping for this Chocolate Peppermint Cake the other day.
As I marched into the sugary confection section, I learned something completely astonishing: broken candy canes are totally a thing you can buy. I have to hand it to those candy makers.
Imagine the sheer mass of candy cane wreckage piling up in their factories. I wonder who first thought, "Let's market the broken stuff to all those people crushing up candy canes for their peppermint bark and other holiday treats"? Good on him or her.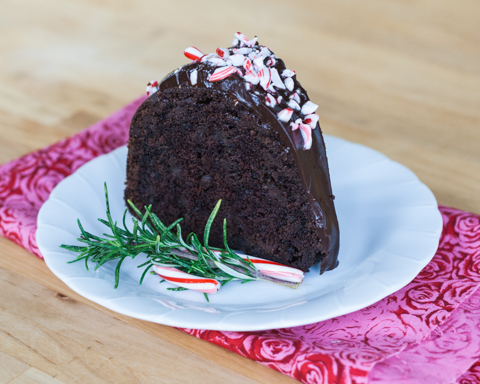 Here's the thing, though. I couldn't bring myself to buy them. I don't often get to smash things, and I wanted to smash my own candy canes, dammit. It's so satisfying, especially if you remember to do it in a plastic bag so the candy shards don't go flying all over the kitchen.
I came home with two packages of candy canes. My kids had asked if we could hang some on the tree, which really means they hope to snack on this Christmas tree fruit when I'm not looking. Good on them. Sometimes I can be nice.
This rich, chocolate cake is plenty pepperminty on its own, but the crushed candy makes it feel Christmasy and festive ( and don't forget the permission it gives us to smash stuff). Peppermint schnapps and peppermint extract infuse the deep chocolate cake with cool, minty flavor.
Top it all off with peppermint ganache and candy cane crumbs, and you've got the perfect holiday dessert. It's rich and flavorful and refreshing all at the same time.
And did I mention that you get to smash candy? Sorry professional candy smashers. While I admire your gumption, I just can't support you.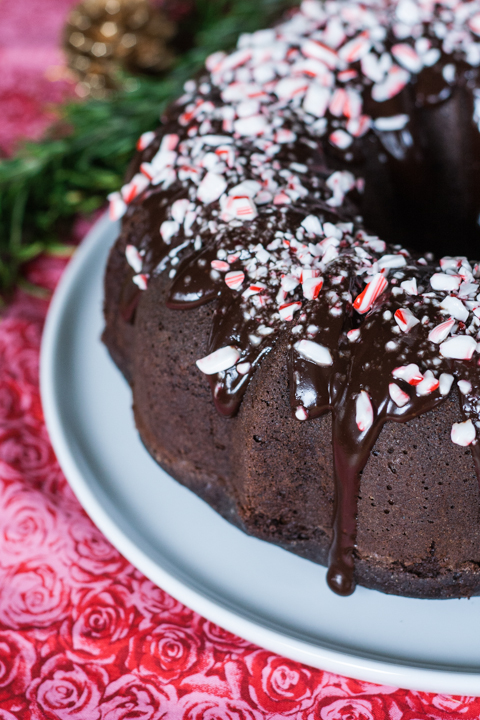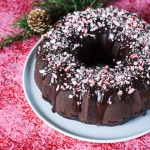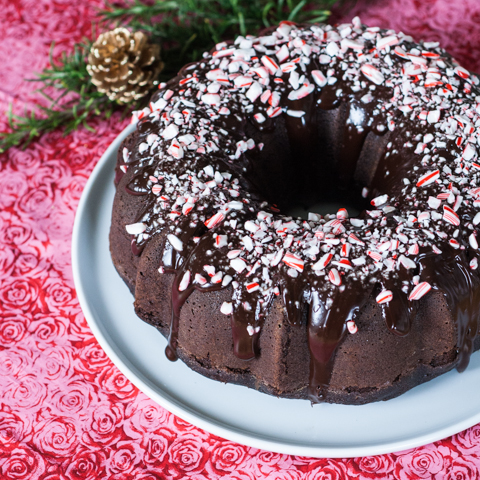 Print Recipe
Peppermint Chocolate Cake
Sprinkle peppermint candies over the ganache right before serving; the candy absorbs moisture from the ganache which makes it gooey within an hour. Omit if desired.
Ingredients
Cake

4

ounces

unsweetened chocolate, chopped

1/4

cup

unsweetened cocoa powder

3/4

cups

boiling water

2 1/4

cups

unbleached all-purpose flour

1 1/2

teaspoons

baking soda

1/2

teaspoon

salt

1/2

cup

peppermint schnapps

1

cup

sour cream

9

tablespoons

butter, softened but still cool

1 1/2

cups

granulated sugar

3

large eggs

1

tablespoon

peppermint extract

1

cup

mini chocolate chips

Peppermint Ganache & Topping

6

ounces

dark chocolate, chopped

1/2

cup

heavy cream

1 1/2

teaspoons

peppermint extract

3

large or 10 small candy canes, crushed (optional)
Instructions
Preheat oven to 350° F. Grease and flour a 12-cup bundt pan. Set aside.

Place unsweetened chocolate and cocoa powder in a small bowl. Carefully pour in boiling water and stir until melted and smooth. Set aside.

Combine flour, baking soda, and salt in a bowl and set aside.

Pour peppermint schnapps into a 2-cup glass measure with a pour spout. Spoon in sour cream until the schnapps and sour cream reach the 1 1/2 cup line. Mix well and set aside.

In the bowl of a standing electric mixer, cream together butter and sugar until light and fluffy.

Add the eggs to the butter mixture one at a time, beating well after each addition. Beat until well blended. Add the peppermint extract and melted chocolate. Stir to mix.

Alternate adding the flour mixture and sour cream-peppermint mixture to the egg-butter-chocolate mixture in several additions. Stir until well combined. Gently mix in chocolate chips.

Scrape the batter into prepared bundt pan, smoothing the top to even out the batter. Bake for 55 to 60 minutes, until the cake is firm to the touch and a skewer inserted into the center comes out with just a few crumbs clinging to it.

Remove from the oven and cool the cake for 30 minutes in the pan. Carefully turn the cake out onto a rack and cool completely.

For the glaze, place dark chocolate in a 2-cup measuring glass with a pour spout. Bring cream to a boil in a small saucepan over medium heat. Pour cream over the chocolate and let it sit without stirring for two minutes before mixing vigorously with a small spatula. Once the chocolate becomes smooth and glossy, add peppermint extract and mix until smooth.

Set the rack holding the cooled cake atop a baking sheet. Stir the ganache well before slowly drizzling the glaze over the cake. Allow the glaze to set. Right before serving, sprinkle with crushed candy canes if desired.
YOU MIGHT ALSO LIKE
Chocolate Peppermint Cookies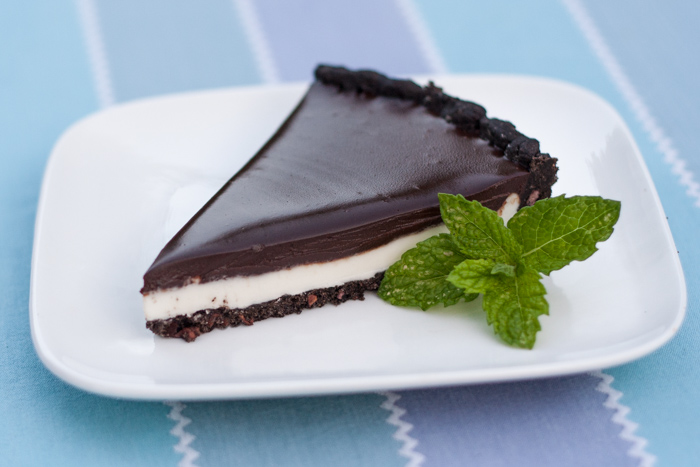 Peppermint Patty Tart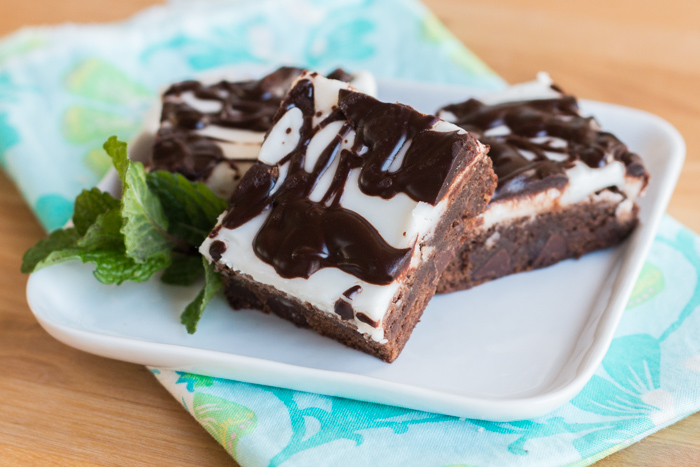 Mint Chocolate Brownies
PIN PEPPERMINT CHOCOLATE CAKE FOR LATER