Dried fruit and sliced almonds give this Holiday Fruit Cake amazing flavor and texture. With its warm spices and a delightfully boozy bourbon backdrop, this take on fruit cake will add magic and merriment to your holiday season.
Until my romance-writer friend Rebecca mentioned that she was writing a Christmas story featuring a magical fruit cake, the idea of baking this holiday dessert had never, ever occurred to me.
We couldn't help but joke about needing more than a little magic to produce a good fruit cake, which, of course, was all the challenge I needed. I didn't know how it would end, but I was making fruit cake.
As it turns out, Rebecca's story joins 11 others in a collection called The 12 Nights of Christmas. Magical fruit cake and a bottle of bourbon spark romance in each steamy tale.
As I worked on creating a fruit cake worthy of magical properties, I realized that this much-maligned holiday dessert doesn't deserve its bad rap.
Fruit cake — done right — is actually a holiday gem with some unexpected virtues.
My image of fruit cake always involved that weird, brightly colored candied fruit that looks and tastes completely unnatural. As I read through recipes, though, I found a number that featured dried fruit instead.
I opted to use a mix of dried fruit — cherries, cranberries, raisins, apricots, pears, prunes, and mangoes — which filled the cake with awesome flavor and texture.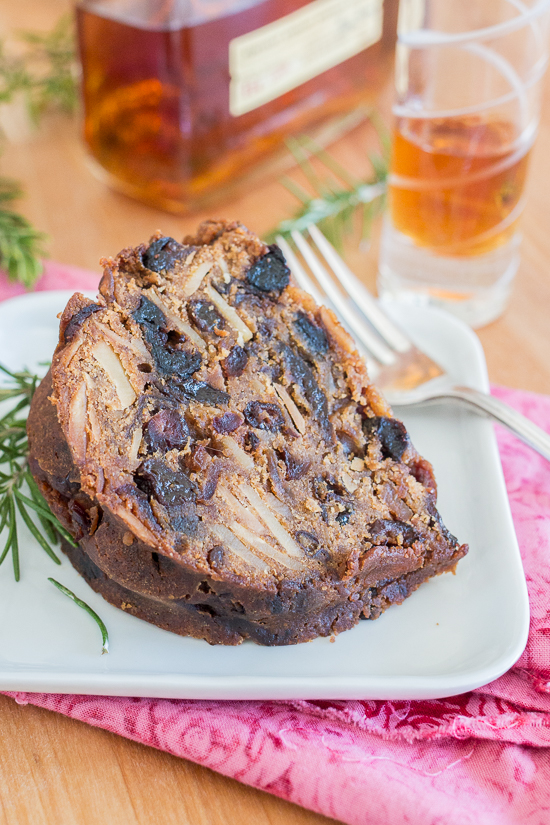 One extraordinary revelation — that fruit cake is mostly fruit — really shouldn't have surprised me at all. The sheer quantity of fruit in proportion to other ingredients totally blew my mind. This cake boasts two whole pounds of dried fruit along with fresh citrus zest and juice! Other ingredients simply join in to bind all the fruit together.
Lots of fruit means a slice of this cake serves up plenty of vitamins, minerals, and dietary fiber! It's like health food!
Fruit cake also packs quite a bit of protein. Almond flour and sliced almonds add nutty flavor and crunch, while four large eggs add structure and stability. Not bad, right? Again, health food!
Dousing fruit cake with bourbon at regular intervals means this cake keeps really well. Alcohol acts as a preservative, keeps the cake moist, and imparts a pleasant, though not overwhelming flavor. While I can't say it's health food this time, let's just say a generous slice is a toast to your health.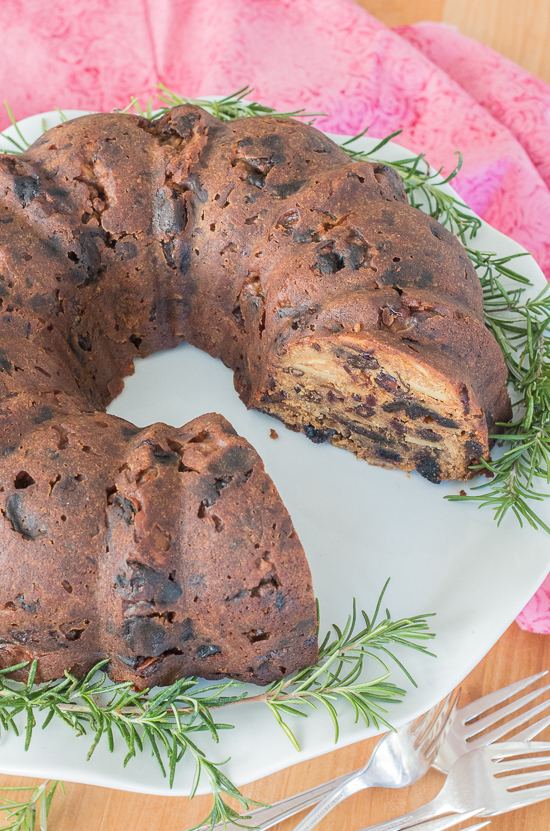 Add in a warm mix of holiday spices and you've got a magical, fruity, nutty, boozy eating experience to that will add flair to your holiday season.
If you happen to be a fruit cake skeptic, I urge you to give this cake a chance. I, too, once mocked the fruit cake, but this experience has turned me into a fruit cake believer.
Many traditional fruit cake recipes suggest letting the cake age before enjoying it. Waiting several weeks to taste a cake was a new experience for me, but it built some anticipation that balanced my skepticism about actually eating it.
I joined Rebecca for a live tasting during a short promo for the book, where we finally take our first bites of this truly magical cake. We both liked it so much that we polished off our slices and called it lunch.
As we chatted, Rebecca made an excellent point about this fruit cake's texture when she described it as more like an energy bar than a cake. I'm wondering if its less than stellar reputation results, in part, from the fact that it doesn't live up to people's expectations of a typical cake.
Rather than thinking about a light and tender cake, imagine a sweeter, softer energy bar with some booze in it, and you'll have this fruit cake.
While I can't promise this festive holiday fare will lead to any romantic encounters, its delicious flavor, inviting texture, and boozy backdrop will surely to add magic and merriment to your holiday season. Cheers!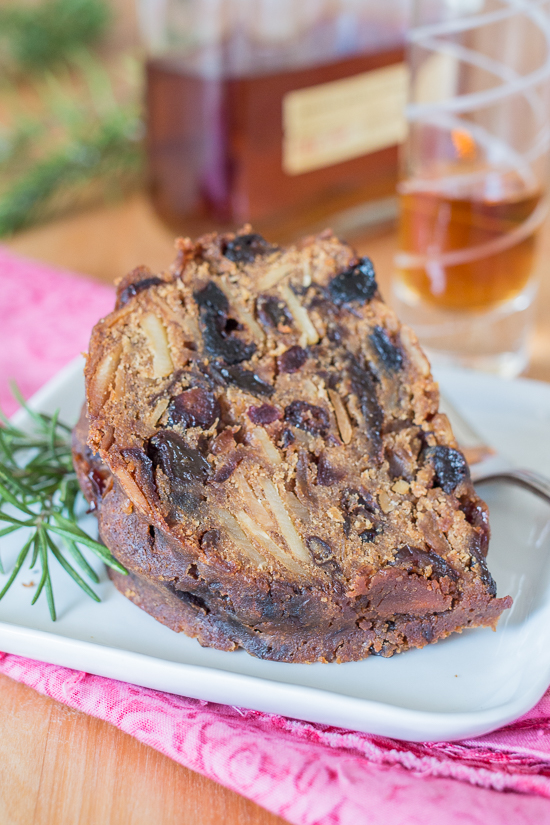 Print Recipe
Magical Holiday Fruit Cake
I used dried cherries, cranberries, raisins, apricots, pears, prunes, and mangoes in my fruit cake, but choose your favorites to suit your own personal tastes. Be sure to plan ahead and bake at least a week ahead to give the fruit cake time to absorb plenty of bourbon!
Ingredients
2

pounds

mixed dried fruit

pieces larger than raisins chopped (about 5 cups)

1

large orange

zested and juiced

1

large lemon

zested and juiced

2/3

cup

bourbon

plus more for feeding

1

cup

butter

1

cup

brown sugar

4

large eggs

2

teaspoons

vanilla extract

1

teaspoon

ground cinnamon

1

teaspoon

ground ginger

1

teaspoon

freshly grated nutmeg

1/2

teaspoon

ground cardamom

1/2

teaspoon

ground coriander

1/4

teaspoon

ground cloves

3/4

teaspoon

salt

1 /2

teaspoon

baking powder

1 1/4

cups

unbleached all-purpose flour

1

cup

almond flour

1 1/2

cups

sliced almonds
Instructions
Combine dried fruits, citrus zest and juice, bourbon, butter, and sugar in a large sauce pan over medium heat. Heat until butter melts and the mixture comes to a boil. Reduce heat and simmer for 5 minutes. Transfer the mixture to a large bowl and let cool at room temperature for about 30 minutes.

In the meantime, preheat oven to 300º F. Grease and flour a 12-cup bundt pan.

Add eggs, vanilla, spices, salt, and baking powder to fruit mixture, stirring well to combine.

Mix in all-purpose flour, almond flour, and almonds, stirring until no pockets of flour remain.

Scrape the batter into the prepared pan and level the top with a spatula. Bake in the middle of the preheated oven until a tester comes out clean, about 90 minutes.

Remove the cake from the oven, poke holes in the bottom with a skewer, and spoon 2 tablespoons of bourbon over the cake. Cool the cake in the pan for about 20 minutes before turning it out to cool completely on a rack.

Once cool, brush the top and sides of the cake with 2 tablespoons bourbon and wrap well with plastic.

Store well-wrapped at room temperature for several weeks before serving, brushing it every few days with more bourbon.
Some of the links in this post are affiliate links. If you click through and make a purchase, I earn a small commission for my referral at no additional cost to you. Thank you for supporting Flour Arrangements.
Peppermint Chocolate Cake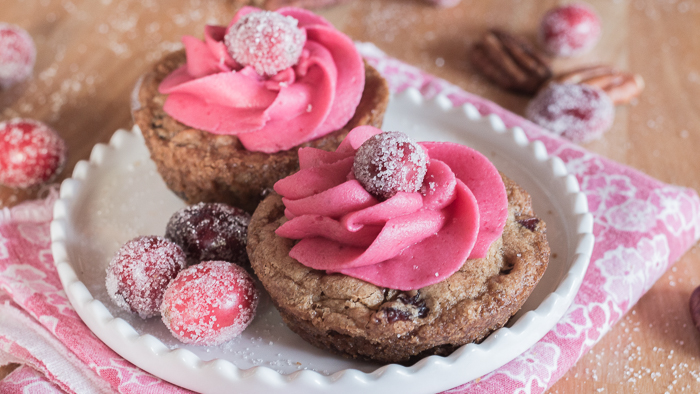 Muffin Tin Cranberry-Pecan Blondies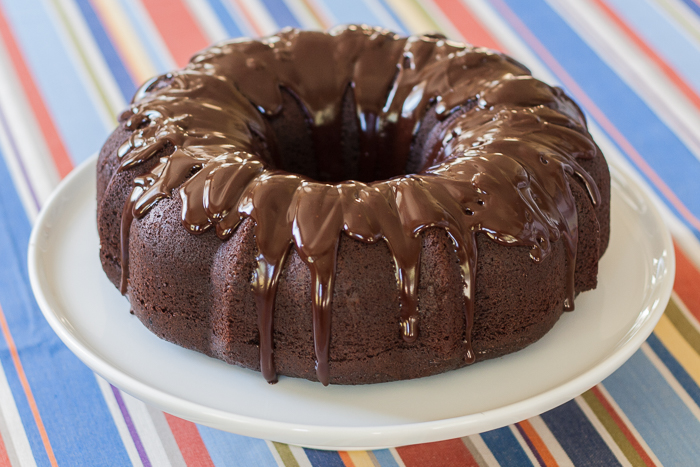 Chocolate Whiskey Cake