Small and adorable, these Mini Chocolate Cream Pies feature creamy chocolate pudding layered over a crisp hint-of-cinnamon chocolate crust topped with lightly sweetened whipped cream. Hooray for pie!
M
ost people who send holiday cards get them out in time for Christmas. At my house, we're not what you'd call super organized about holiday cards. For a time, we felt pretty proud of ourselves if we managed send them out in honor of the new year sometime in January. Somehow we realized, though, that once we missed the traditional holiday card window,
any "special day" worked just as well as another
. Valentine's Day? Why not? Groundhog Day? Perfect! Last year, by lucky chance, we happened to start thinking about our cards in time to send them out for
Pi Day
.
This year, we managed to pull off a Pi Day Card again, and I hope I don't jinx things by saying that Pi Day is a perfect card occasion for my family, which is made up of a geeky scientist, an obsessed baker, and two kids who fall somewhere in between. My kids keep asking if we're having a Pi Day party on March 14, AKA 3.14, AKA Pi Day. Since it falls on a Monday this year, we'll celebrate more quietly than we did last year, when we invited friends over for a meal of pie, pie, and more pie. The pack of kids at our gathering got into the spirit of the day by writing 1,000 digits of Pi in chalk along the sidewalk on our street; their work stretched several blocks and they made lots of friends along the way.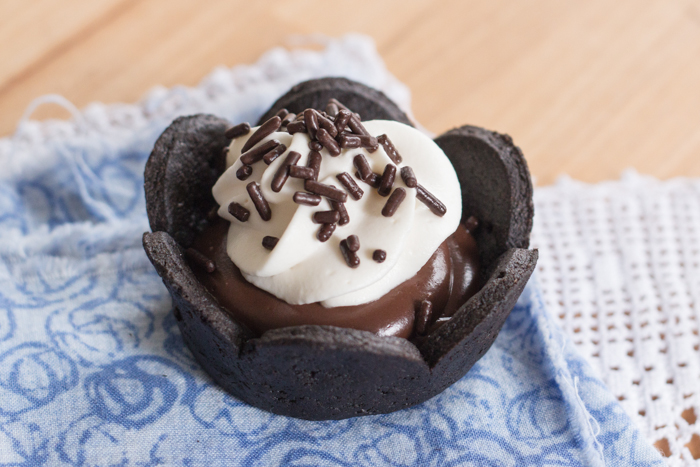 Since we're not throwing a big bash, we've been doing some
pie-bys
with Mini Chocolate Cream Pies. It's fun to surprise friends with plates of little pies. If you've never tried this before, I totally recommend it. Pi Day is the perfect excuse to do it! We started out delivering mini pies with the symbol "?" piped in whipped cream, but I soon gave up on making these billowy little symbols. They just didn't deliver the proper ratio of whipped cream to chocolate pudding.
In the past, I've gushed about my love for this amazing
Chocolate Cream Pie
recipe. A week ago, I would have said there was nothing finer than a slice of this rich, decadent pie. It's hard to beat creamy chocolate pudding layered over a crisp hint-of-cinnamon chocolate crust topped with lightly sweetened whipped cream. But guess what? I found something even better. Miniaturizing Chocolate Cream Pie take this impossibly delicious dessert to a whole new level. On my honor, Mini Chocolate Cream Pies are the best thing I have ever made in my whole entire life. First of all — Chocolate Cream Pie. Secondly, mini anything equals adorable. Thirdly, Chocolate Cream Pie that needs
no slicing
. Fourthly, Chocolate Cream Pie as finger food. Fifthly, small Chocolate Cream Pies mean you can eat a whole bunch without feeling like a complete and total pig. I could go on, but I'll spare you.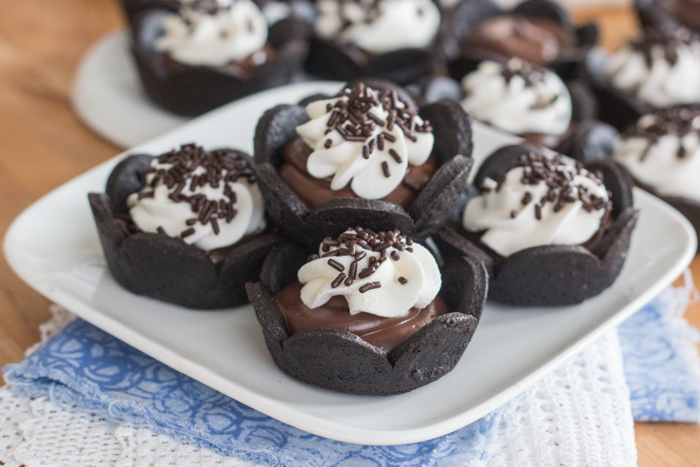 These Mini Chocolate Cream pies are a perfect starting place for your Pi Day planning, but don't stop there. Check out this
collection of pie recipes
to help you celebrate this once-a-year pie extravaganza with abundance. While you're at it, you're going to need some savory pie, too.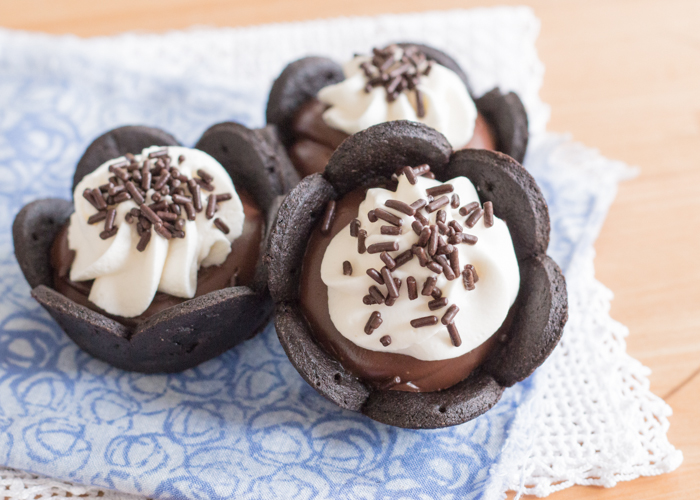 How about some
chicken pot pie
before you get down to the serious business of dessert? Or go with
mini turkey pot pies
so you don't have to slice them! Happy 3.14.16!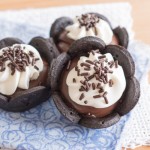 Print Recipe
Mini Chocolate Cream Pies
Makes 18 pies.
Ingredients
Chocolate Cookie Cups

1 1/2

cups

all-purpose flour

1/2

cup

unsweetened cocoa powder

plus more for rolling out the dough

1/2

teaspoon

salt

1/2

teaspoon

cinnamon

3/4

cups (1 1/2 sticks)

unsalted butter

softened but still cool

1

cup

sugar

1

large egg

2

teaspoons

vanilla extract

Filling

1/3

cup

sugar

2

tablespoons

cornstarch

1/4

teaspoon

salt

2

large egg yolks

1 1/2

cups

whole milk

3

ounces

bittersweet chocolate

not unsweetened, melted

1

ounce

unsweetened chocolate

melted

1

tablespoons

unsalted butter

softened

1/2

teaspoon

vanilla

Topping

1

cup

heavy whipping cream

2

tablespoons

confectioners' sugar

½

teaspoon

vanilla extract
Instructions
To prepare the cookie cups, preheat oven to 350° F. Mix flour, cocoa powder, salt, and cinnamon in a small bowl. Set aside.

Combine butter and sugar in the bowl of a standing mixture on medium speed with the paddle attachment. Beat until light and fluffy. Add egg and vanilla extract and beat until well combined. Add flour mixture and stir on low speed until the dough comes together, about 1 minute. Turn the dough out onto a lightly floured surface and knead 2 or 3 times. Flatten into 2 disks, wrap in plastic, and chill until firm, about 30 to 40 minutes.

One at a time, roll out the chilled disks of dough to about 1/8-inch thickness on a counter generously dusted with cocoa powder. Using a 3 3/4-to 4-inch

flower-shaped cookie cutter

, stamp out as many flowers as possible. Gently transfer the dough to a greased muffin tin, tucking each flower carefully into one of the cups.

With a toothpick or sharp skewer, prick holes in the dough around the edge of the cup, about 1/8 to 1/4 inch apart, adding a few holes in the center as well. Gather the scraps, re roll, and stamp out additional cookies to fill the remaining cups. Bake for about 10 minutes, until just set, shifting the baking sheets halfway through for even baking. Let the cookies cool in the muffin tins for 5-10 minutes before running a thin metal spatula around the outside edge of each cup. Leave cups in the pan to cool completely before removing carefully.

To prepare the pudding, whisk together sugar, cornstarch, salt, and yolks in a small heavy saucepan until well combined. Add milk in a stream, whisking constantly. Bring to a boil over moderate heat, whisking, then reduce heat and simmer, whisking constantly for 1 minute (filling will be thick).

Force filling through a fine-mesh sieve into a medium bowl, then whisk in chocolates, butter, and vanilla.

Place the bowl containing filling in a larger bowl containing ice and water. Whisk filling until it feels just warm to the touch, adding more ice to the water bath if necessary. Pipe or spoon filling into cookie cups and chill uncovered for at least 3 hours.

Just before serving, beat heavy cream with confectioners' sugar and vanilla until it just holds stiff peaks. Pipe or spoon the whipped cream on top of each pie. Garnish with chocolate sprinkles or shavings.
Some of the links in this post are affiliate links. If you click through and make a purchase, I earn a small commission for my referral at no additional cost to you. Thank you for supporting Flour Arrangements.
PIN MINI CHOCOLATE CREAM PIE FOR LATER

You might also like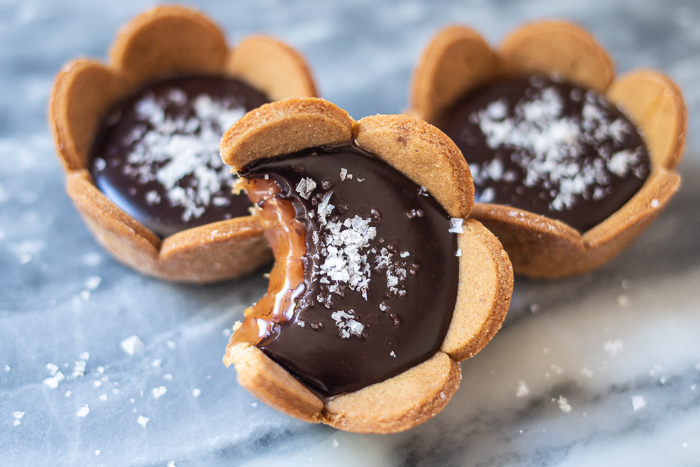 Mini Salted Caramel Chocolate Tarts in Gingerbread Cookie Cups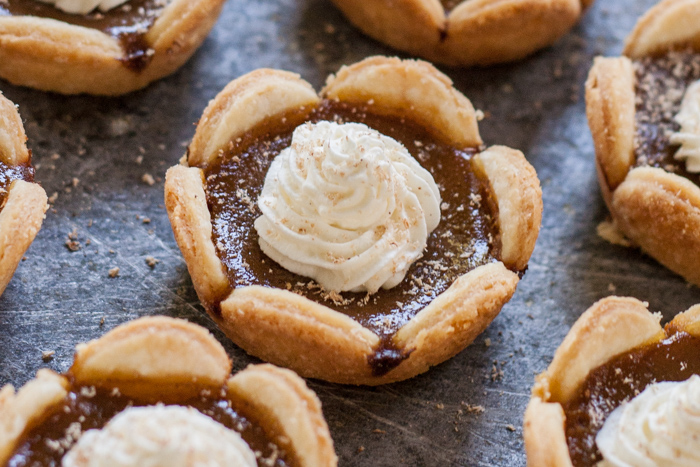 Mini Pumpkin Pies
Little Lime Tarts in Graham Cracker Cups