With crushed candy canes both inside and out, these rich, decadent Chocolate Peppermint Cookies add festive color and flavor to the holiday season!
Awhile back, my daughter found a video detailing the process for making candy canes. Oh, wow! As I watched it with her, I fell more in love with these cool, minty holiday confections.
While smashing candy canes into bits for these Chocolate Peppermint Cookies the other day, my mind replayed the endless kneading and stretching and folding of molten sugar involved in creating these slim, hooked candies.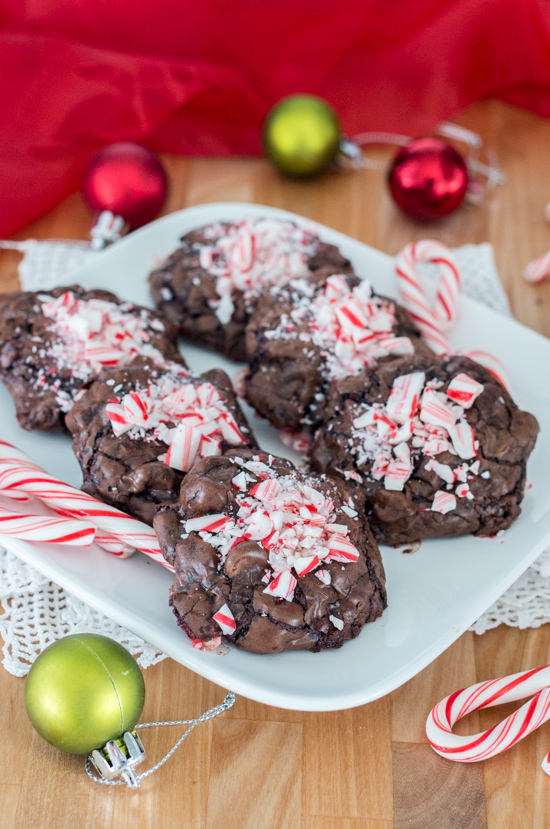 Watching workers make candy canes with industrial machinery gave me a new respect for the effort involved, so I felt kind of guilty crushing them. Not guilty enough to stop, but enough to make me wonder if I should buy pre-crushed candy canes in the future.
I do love smashing candy canes, though. I have lots of practice since I've sprinkled pepperminty bits atop sweets every holiday season for as long as I can remember.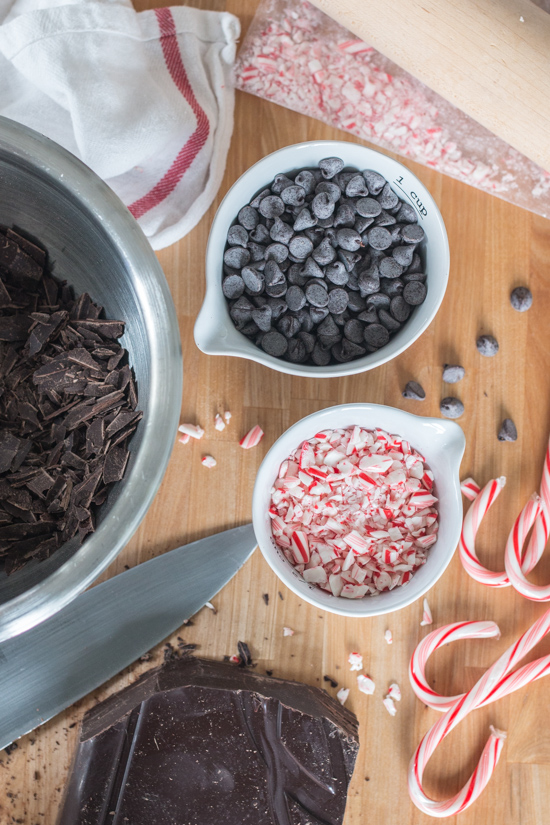 This year, I thought I'd try something new by mixing them into some cookies before baking, and I'm so glad I did. These Chocolate Peppermint Cookies turned out better than I imagined!
The crushed candy melts into the cookies, filling the luscious, velvety centers with peppermint flavor. After they come out of the oven, a sprinkling of crushed candy canes over the top of the cookies adds pretty color and sweet, minty crunch.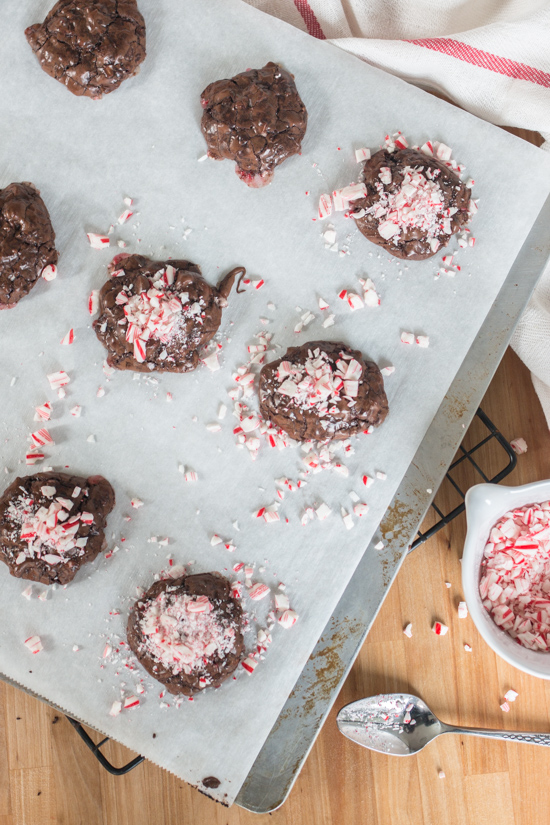 The cookie dough, which is really more of a batter, starts with half a pound of melted bittersweet chocolate. Right before baking, mixing in a generous quantity of chocolate chips along with the candy adds extra richness.
These cookies are really more chocolate than anything else, and the batter has a soft, molten texture, that bakes up perfectly with a thin glossy shell over a gooey, chewy center.
Fresh minty flavor and rich, luxurious chocolate are a perfect match in these fun, easy holiday cookies!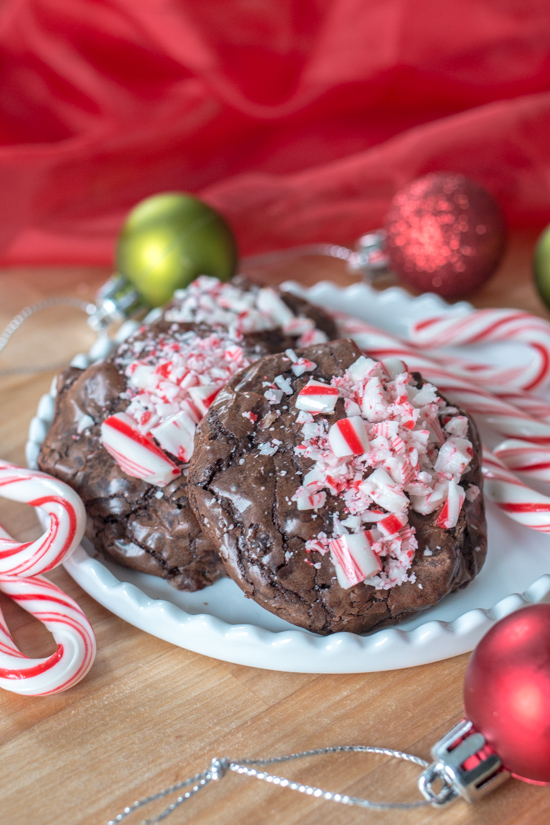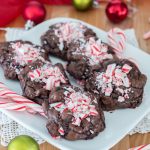 Print Recipe
Chocolate Peppermint Cookies
To crush candy canes with minimal mess, place them in a zip lock bag and smash them with a rolling pin or wine bottle. Makes about 2 1/2 dozen cookies.
Ingredients
8

ounces

bittersweet chocolate

chopped

2

tablespoons

unsalted butter

1/4

cup

unbleached all-purpose flour

1/4

teaspoon

baking powder

1/8

teaspoon

kosher salt

2

large eggs

1/2

cup

granulated sugar

1

teaspoon

vanilla extract

1

cup

chocolate chips

'(about 6 ounces)

1

cup

crushed candy canes

divided
Instructions
Preheat oven to 350° F. Line three baking sheets with parchment paper.

Combine the chopped bittersweet chocolate with the butter in a large stainless steel bowl or double boiler over simmering water. Stir frequently until melted and smooth. Remove from heat and set aside. Continue to heat the simmering water.

Whisk flour, baking powder, and salt together in a small bowl. Set aside.

In another large heat-proof bowl, whisk eggs, sugar, and vanilla together. Set the bowl over the simmering water and stir constantly until the sugar dissolves and the mixture is just warm to the touch.

Stir the egg mixture into the warm (not hot) chocolate.

Stir in the flour mixture until just combined before folding in ½ cup of the crushed candy canes and the chocolate chips.

Drop rounded tablespoons of batter at least 1 1/2 inches apart on prepared baking sheets.

Bake until the surface of the cookies looks glossy and set but the centers are still gooey, about 12 minutes.

Place baking sheets on racks and immediately sprinkle the tops with the remaining peppermint candy. Cool the cookies completely on the baking sheets.
Some of the links in this post may be affiliate links. If you click through and make a purchase, I earn a small commission for my referral at no additional cost to you. Thank you for supporting Flour Arrangements.
YOU MIGHT ALSO LIKE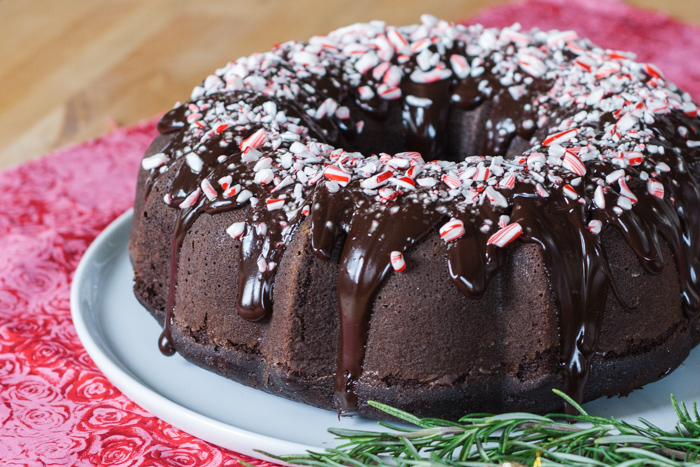 Chocolate Peppermint Bundt Cake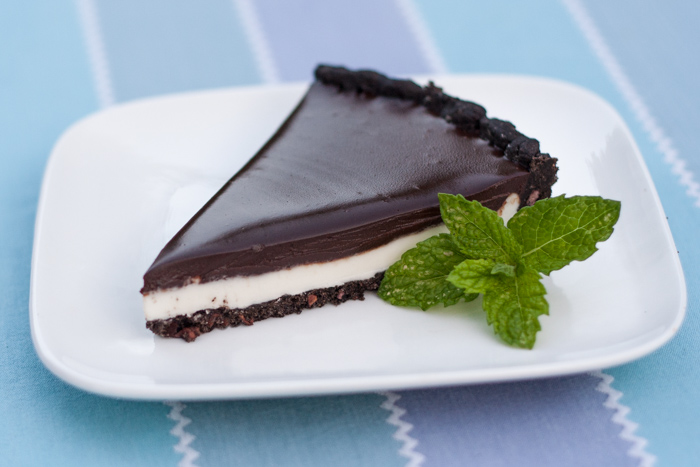 Peppermint Patty Tart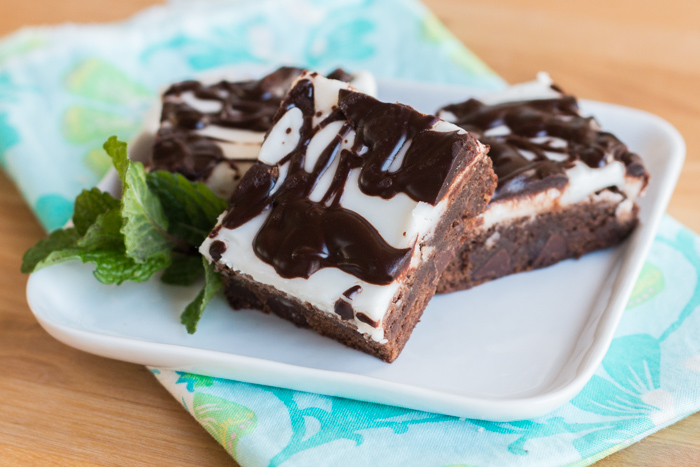 Mint Chocolate Brownies