Wrap up pizza's warm, savory goodness in convenient little packages. Tender, flavor-packed pizza rolls are great alongside dinner or served as easy-to-eat party snacks.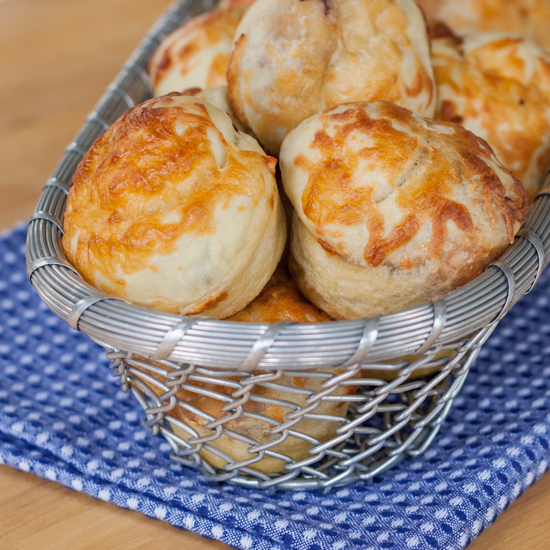 I love pizza. There's just something about oven-warm bread slathered with sauce, savory toppings, and melted cheese.
We make pizza at least once a week for dinner at our house, but it's just never enough for me. Sometimes I want to have pizza for dinner when it's not what's for dinner.
Enter pizza rolls.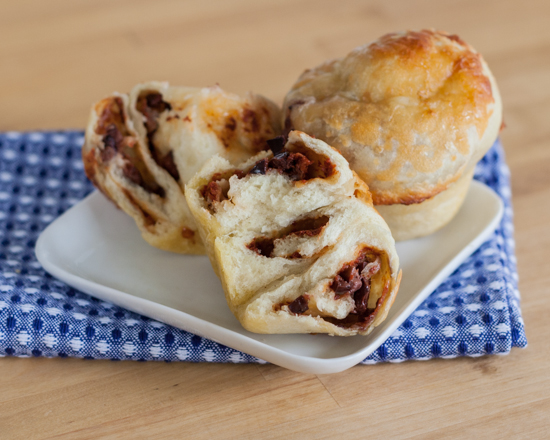 These rolls wrap up pizza's warm, savory goodness in convenient little packages. Tender and flavor-packed, they allow you to enjoy the spirit of pizza alongside a hearty salad or giant, comforting bowl of soup.
It's like having pizza without actually having pizza.
Sometimes you really can have it all.
Moderation is the key to success with pizza rolls. I usually can't help myself, and I always manage to overload pizza with all of the tasty toppings.
This over-zealousness is not often dire on a standard flat pizza, but with pizza rolls, more than a sprinkling can be disastrous.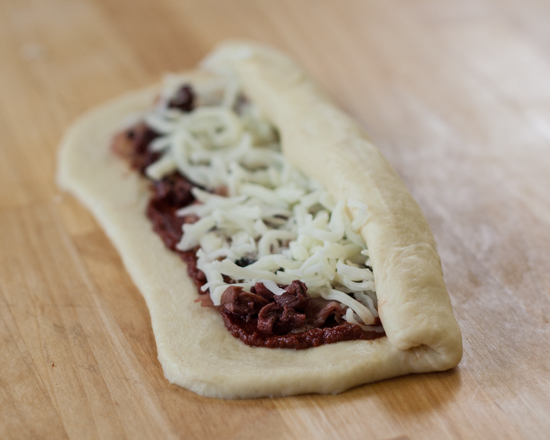 Without proper restraint, excess toppings squeeze out the sides during rolling and shaping, making it impossible to seal the edges properly. This leads to massive blow outs during baking — it's not pretty, but at least it's still tasty.
When you pay attention, food can teach you important life lessons. Right now, I'm learning moderation from the pizza rolls.
With scant toppings, pizza rolls shape and bake like a charm into beautifully domed rolls. They're pretty and tasty.
Here's maybe the best part, though. My kids hate taking sandwiches to school with them. They love pizza, but it's a pain to pack up and fit in their lunchboxes.
Since pizza is thin and fragile, it gets mangled by its edible companions; slices gets bent, toppings slip off, and of course the cheese always sticks to the foil. But leftover pizza rolls pop into a baggie and hold up in a crowded lunchbox like nobody's business. This means that my kids eat their lunches, and they don't come home from school crabby. Amen to that.
Pizza rolls may well be my favorite food ever.
Print Recipe
Olive & Prosciutto Pizza Rolls
Substituting tomato paste for tomato sauce delivers maximum flavor without adding too much moisture to the pizza rolls. Vary the fillings to suit your tastes, but remember to use moderation! Overfilling leads to pizza roll blow outs.
Servings:
6
to 12. Makes 12 rolls.
Ingredients
Pizza Dough

1

cup

warm water

(110° to 115° F)

pinch

sugar

2 1/4

teaspoons

active dry yeast

3 to 3 1/4

cups

unbleached all-purpose or bread flour

1

teaspoon

salt

1/4

cup

olive oil

Filling

1/4

cup

double-concentrated tomato paste

(see note, above)

4

slices

proscuitto

1/2

cup

minced olives

(from about 2/3 cup whole olives)

1 3/4

cups

shredded mozzarella cheese
Instructions
Combine water, sugar, and yeast in the bowl of a standing electric mixer, stirring until the yeast dissolves. Let sit until bubbly, about 5 to 10 minutes.

Add two cups flour, salt, and olive oil to the yeast mixture. Mix well with the paddle attachment until evenly combined. Add additional flour about 1/4 cup at a time until the dough clears the sides of the bowl.

Switch to the dough hook and knead until the dough is smooth and elastic, about 3 to 5 minutes. The dough should feels slightly tacky; if it's overly sticky, knead in a bit more flour. Transfer the dough into a lightly greased bowl, flipping it to coat the entire surface with oil. Cover with plastic wrap and let the dough rise until doubled in size, about one hour.

Generously grease the cups of a standard-sized muffin tin. Set aside. Preheat oven to 350° F.

Turn the dough out on an unfloured surface and divide it into 12 pieces roughly the same size.

Working with one piece at a time, shape the dough into 4 by 6-inch rectangles. Spread 1 teaspoon tomato paste over the dough with the back of a spoon, leaving a border at least 1/4-inch all the way around the edge. Tear 1/3 of a piece of prosciutto into small pieces and sprinkle them over the tomato paste. Add about 2 teaspoons minced olives, spreading them evenly over the rectangle. Top with two scant tablespoons mozzarella and tamp the toppings down lightly with your fingers.

Working from the rectangle's wide edge, carefully roll up the dough and seal the edges together. Give dough a gentle roll with your fingers to even it out and lengthen it slightly. Wrap the dough into a tight snail and place it in the muffin tin, pressing it down to fill the cup. Repeat with remaining dough.

Sprinkle remaining cheese evenly over the tops of the pizza rolls. Bake until the rolls feel firm and the cheese on top turns deep golden brown, about 25 to 30 minutes. Serve warm.
PIN IT FOR LATER