Crisp and delicious, these Garlic and Rosemary Grissini look super cool in a vase or pitcher on your table. Not only that, these Italian-style bread sticks are fun to make and shape.

Initially, I started experimenting with grissini recipes — crisp Italian-style bread sticks — because I thought I'd include them in this Jenga Veggie Tower. I soon gave up on the idea, though, when I realized that they absorbed moisture from the vegetables.
I wasn't worried about stability — they wouldn't get soggy enough to make the tower fall — but I was pretty sure that even slightly soggy bread sticks wouldn't add much to this fun party appetizer.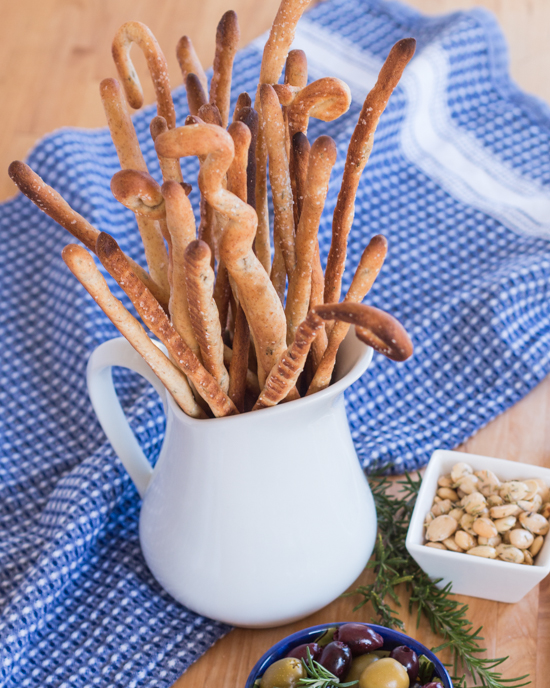 Since I learned a few things making grissini, and since they're another great party snack, I'm sharing this easy grissini recipe flavored with rosemary and garlic. Not only are they crisp and delicious, they're fun to make and shape, and they look super cool in a vase or pitcher on your table.
During preparation, many recipes suggest flattening the soft, yeasted dough into a large rectangle for slicing into thin strips for baking. When I tried this, my strips stretched out way too much while I transferred them to a baking sheet.
Grissini don't need to be perfect — part of their charm is their quirky unevenness — but my bread sticks were so uneven that parts burned while others remained under-cooked and soft rather than crisp.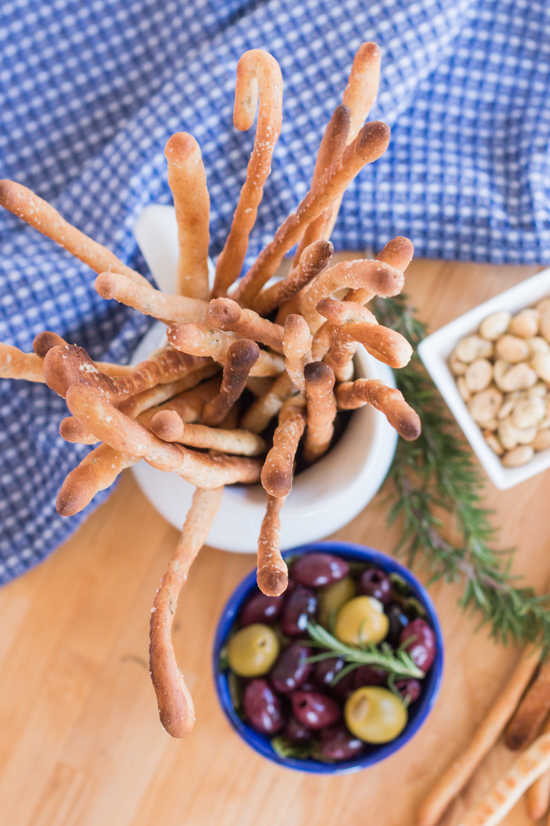 I tried making thicker strips, but even with these, I had a hard time stretching them evenly enough to ensure uniform baking.
I also tried cutting strips directly on a parchment-lined baking sheet, but it was difficult to space out the individual strips as I cut them.
One recipe suggested refrigerating the dough once pressed into a large rectangle, and this probably would have solved some of my problems, but I didn't want to extend the prep time by several hours.
When I finally dispensed with the idea of cutting strips from a rectangle, I had the solution.
I simply divided the dough into evenly sized pieces, which I rolled into long, thin snakes.
These snakes, while still stretchy, held their shape much better than the strips did.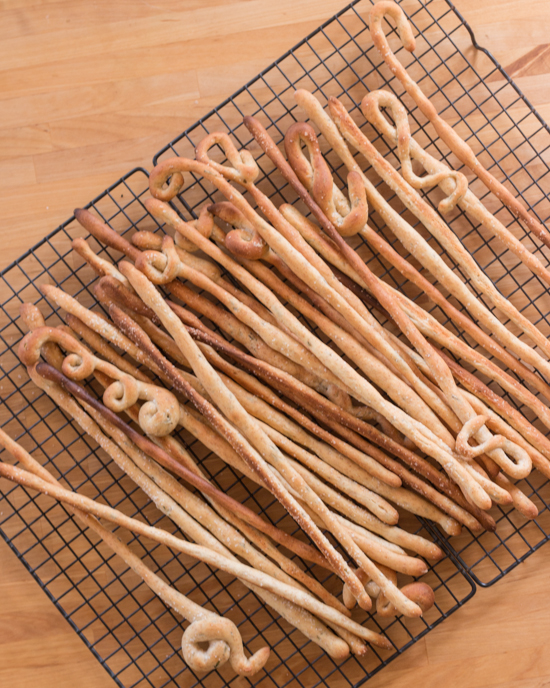 Since my oven is tiny, the baking sheets that fit in it — 16 by 14 inches — set the length of my bread sticks.
Here's what I learned about dividing the dough for baking sheets of this size: if you want the grissini to have curlicued or zigzagged ends, divide the dough for 36 bread sticks. If you you want to make relatively straight bread sticks, divide the dough in smaller pieces to make 40 bread sticks.
Since you shape only half of the the dough at a time, it's easy to do both if that suits you.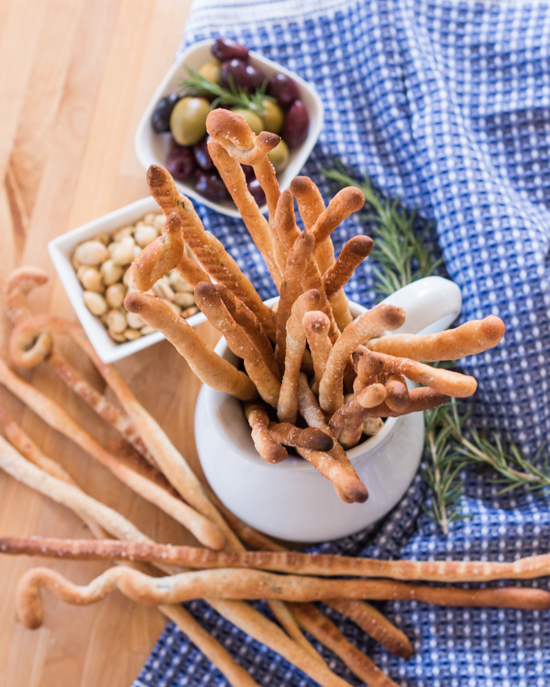 While these grissini are fun for casual snacking, I recommend making them for a party — a vase full of these long, narrow bread sticks would provide the perfect complement to a tall Jenga Veggie Tower on your appetizer table.
But be warned, if your kids (or guests) start using grissini as light sabers, your floor might get crunchy.
Oh, and that tall veggie tower might tempt a swipe or two from grissini-wielding Jedi. Try not to worry; it will fall eventually anyway.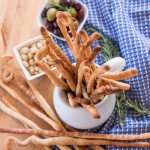 Print Recipe
Garlic and Rosemary Grissini
Makes 36 to 40 breadsticks.
Ingredients
1/2

cup

whole wheat flour

3/4

cup

warm water

1

teaspoon

honey

2 1/4

teaspoons

active dry yeast

1 1/2

cups

unbleached all-purpose flour

3

tablespoons

olive oil

3-5

cloves garlic

minced or pressed

3

tablespoons

coarsely chopped fresh rosemary

dash cayenne pepper

1 1/4

teaspoons

salt

plus more for shaping
Instructions
In the bowl of a standing electric mixer, combine whole wheat flour and yeast. Stir in water and honey to combine. Let sit until the mixture starts to bubble, about 10 minutes.

Add a cup of the all purpose flour, olive oil, garlic, rosemary, cayenne pepper, and salt. Stir to combine with a wooden spoon. Add remaining flour and mix. With the mixer's paddle attachment, knead dough at medium speed for 5 to 7 minutes.

Scrape the dough into a small bowl coated with olive oil. Turn dough to distribute oil on all surfaces. Cover bowl with plastic wrap and let rise until doubled in bulk, about an hour.

Preheat oven to 425º F and line baking sheets (sized 14 by 16 inches) with parchment paper.

Turn the dough out on a lightly floured surface. Divide it in half. Working with one portion, divide the dough into 18 pieces if you want decorative ends or 20 pieces for straight bread sticks.

Using flour only as necessary to prevent sticking, roll each piece into a snake about 1/2 inch thick. Sprinkle a line of salt next to the snake and continue rolling until it is about 1/4 inch thick. Transfer to prepared baking sheets, twisting the ends decoratively if desired, leaving about 1/2 inch between each snake. Repeat with remaining dough.

Bake for 12 to 15 minutes, rotating pans halfway through baking, until golden brown. Because they're so thin, grissini burn easily, so watch them carefully, especially if you're using non-insulated pans.

Tranfer grissini to a cooling rack. Store cooled breadsticks in an airtight container for up to three days. If desired, reheat at 300º F for 5 to 10 minutes to refresh.
YOU MIGHT ALSO LIKE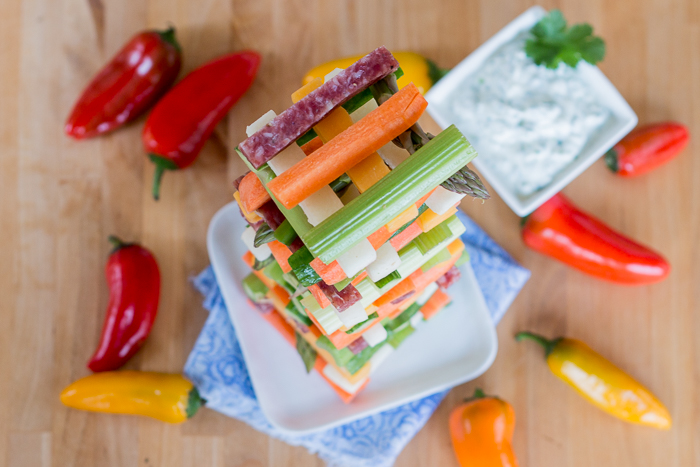 Jenga Veggie Tower with Creamy Cilantro Dip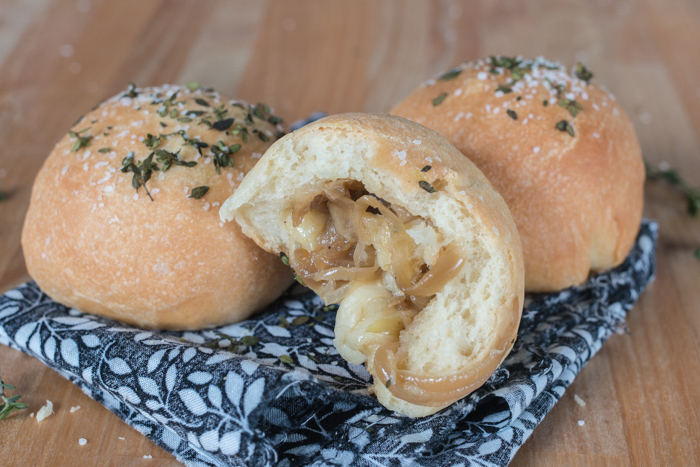 Caramelized Onion and Gruyere-Stuffed Rolls
PIN GRISSINI RECIPE FOR LATER

You might also like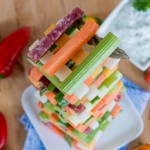 Jenga Veggie Tower
Homemade Flatbread
Cheese-Stuffed Monkey Bread
Muffin Tin Popovers