Super tender and incredibly rich and buttery, these Cheddar Drop Biscuits are perfect for snacking, serving with soup or stew, or dishing up alongside bacon and eggs for breakfast.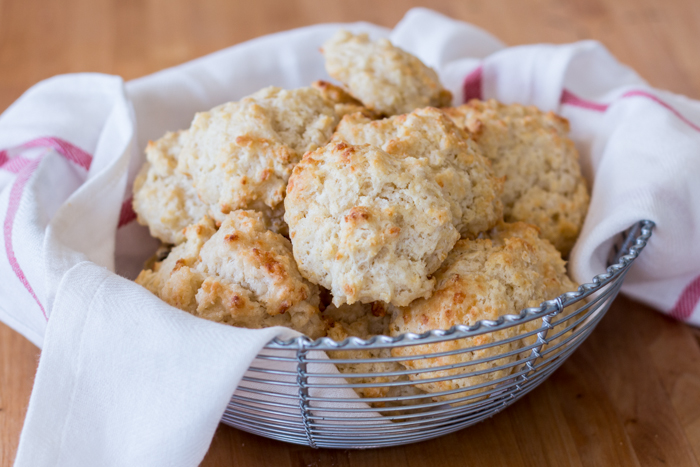 I've been volunteering to help with math centers in Eliza's fifth grade class all year. Until about a month ago, I ran the math games center. My students got to play games like Set, Gravity Maze, Rush Hour, or Tantrix. How cool is that?
In another station, kids were learning to knit. Their teacher decided that she should offer a different station once everyone had knitted a hat: "I need a new idea," she kept lamenting.
Every time she said this, I responded in the same way:"Baking involves lots of math."
She always shook her head, thinking, I'm sure, of the mess, the lack of an oven, and the impossibility of completing a baking project in less than an hour.
But about a month ago, after I said it again, her eyes widened as she looked at me. "You could run the station," she said, "and help kids bake in the staff lounge!"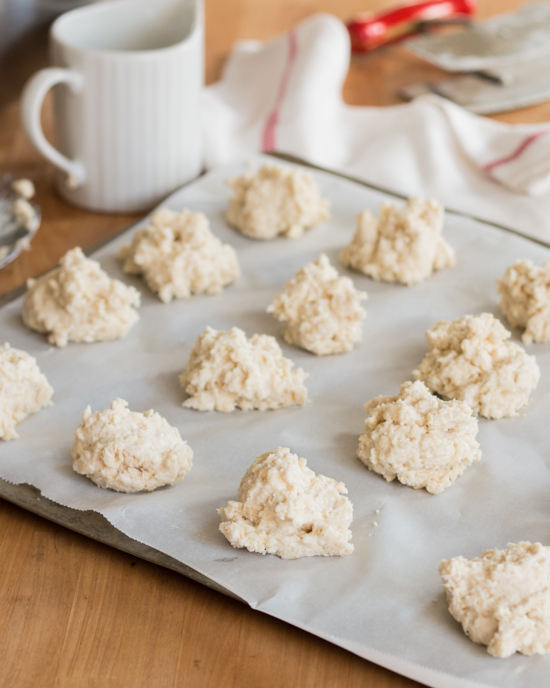 Maybe I was finally pushy enough, or maybe she was just ready to think about how this new station might actually work.
Whatever it was, I jumped on it. I've missed teaching and working with kids, and I was excited to have an opportunity to lead an activity rather than just supervise one.
In addition to helping kids work with kitchen math, I've focused on helping them develop the skills and confidence they need to try the recipes by themselves at home.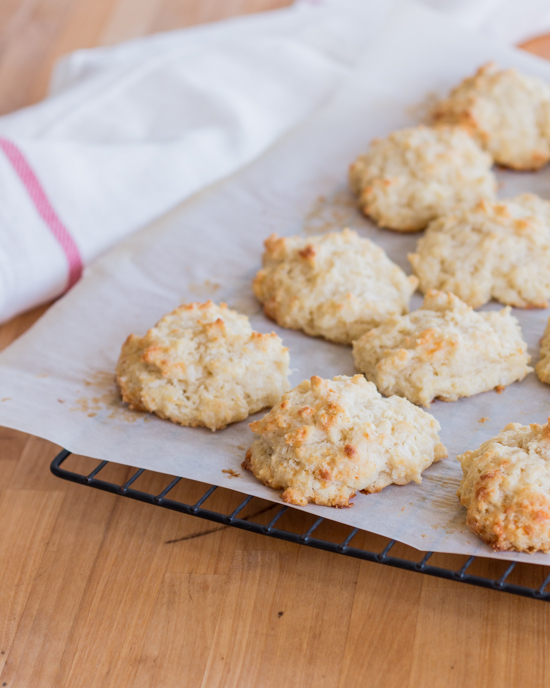 I've chosen simple recipes with basic ingredients that most people have on hand; if parents don't have to take an extra trip to the store, hopefully they'll have an easier time saying, "Yes," when kids ask to use the kitchen.
So far we've made Muffin Tin Popovers, Corn Bread Muffins, Mini Irish Soda Breads, and now, Drop Biscuits, all quick and easy recipes that can be made in less than one hour — including clean up. After kids have washed their dishes and wiped down their work areas, we usually still have time to play math games.
When Eliza's teacher, having warmed up to the idea of baking, suggested making biscuits with the kids, I think I probably shuddered. I couldn't help but visualize three groups of 10-year-olds flouring the table to roll out biscuit dough.
While the kids always clean up, they don't necessarily think about how that process will go down until whatever we're baking makes it in the oven. Since time is tight, I've been careful to choose recipes that involve minimal mess.
When the teacher said, "What about drop biscuits?" it was my turn to think about how something new might work.
Turns out, drop biscuits are quick, easy, and mostly tidy to prepare. Because the dough is simply scooped from the mixing bowl and dropped onto a baking sheet, the recipe requires fewer tools to clean and much less flour all over the place.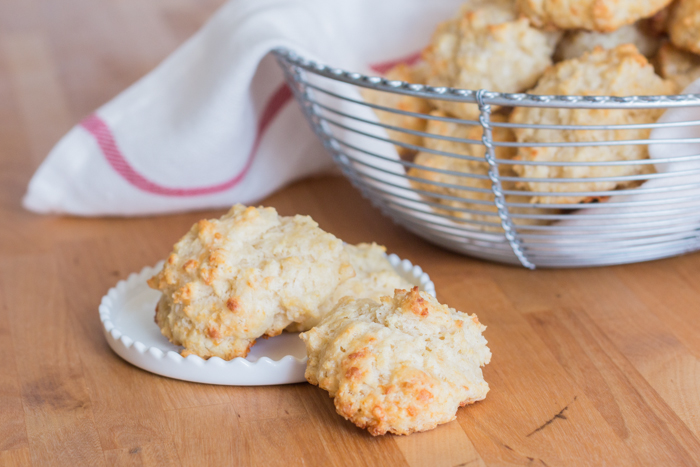 Most importantly, though, these biscuits are super tender and incredibly rich and buttery. The kids devoured the ones they baked in nothing flat.
As I worked with the kids making biscuits, I couldn't help but wonder how the recipe would taste with additions like fruit or cheese.
I'm sharing this cheddar variation, which is the first of what I'm sure will be a long line of experiments with this simple, delicious recipe.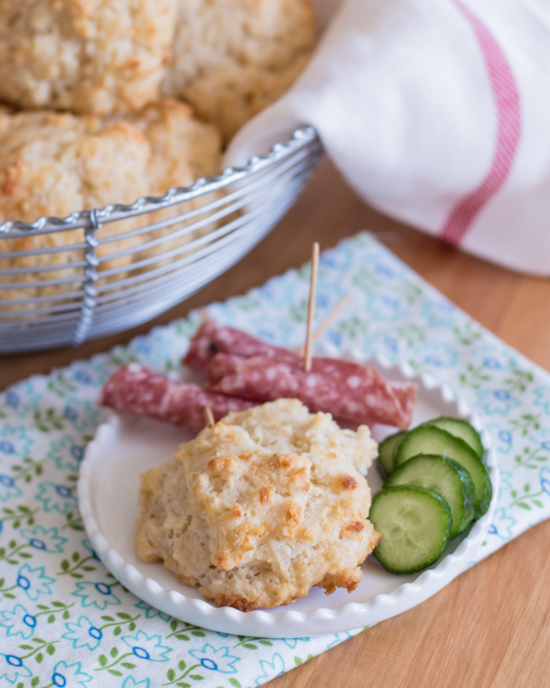 The cheese adds great tangy goodness to these already flavorful biscuits. As snacks, served with soup or stew, or dished up alongside bacon and eggs for breakfast, they're homey and comforting.
While this recipe — with or without the cheese — is an ideal one to let your kids loose with in the kitchen, its simplicity and deliciousness make it easy for anyone to prepare at a moment's notice.
And even though this recipe is incredibly easy to make, you can feel good about practicing math skills while you work.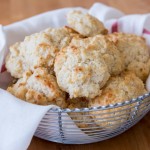 Print Recipe
Quick and Easy Cheddar Drop Biscuits
Feel free to omit the cheese from the recipe; it works just as well without it. You can also swap in a different cheeses or additions if you're feeling creative. Adapted from
Serious Eats
. Makes about 16 biscuits.
Ingredients
1/2

cup (1 stick)

cold unsalted butter

1 1/2

cups

all-purpose flour

2

teaspoons

baking powder

1

teaspoon

kosher salt

2/3

cup (about 2 ounces)

grated cheddar cheese

3/4

cup

whole milk
Instructions
Chop butter into 1/4-inch pieces and return it to the refrigerator to keep it cold until needed.

Preheat oven to 400°F and line a baking sheet with parchment paper or grease it with butter.

Measure flour, baking powder, and salt into a large bowl; whisk to combine.

Add chopped butter and cheese to dry ingredients and toss to coat with flour. Working quickly with your fingers or a pastry blender, rub or cut butter and cheese into the flour until it resembles coarse meal.

Add milk and stir with a fork until a slightly sticky, shaggy dough forms; do not over-mix.

Using a 2 tablespoon cookie scoop, transfer generous mounds of dough to the prepared baking sheet.

Bake biscuits until golden brown, about 15 to 20 minutes. Let cool slightly on baking sheets before transferring to a wire rack. Serve warm or at room temperature.
Some of the links in this post are affiliate links. If you click through and make a purchase, I earn a small commission for my referral at no additional cost to you. Thank you for supporting Flour Arrangements.
You might also like
Cheese-Stuffed Dinner Rolls
Pizza Rolls
Cheese-Stuffed Monkey Bread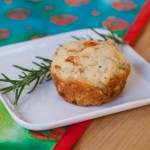 Prosciutto & Rosemary Muffins
PIN CHEDDAR DROP BISCUITS FOR LATER