With fresh orange zest and juice mixed into the thick batter, these Orange Creamsicle Cupcakes bake into tender little treats with a deliciously sweet orange flavor. Topped with vanilla buttercream or freshly whipped cream, they're reminiscent of the classic orange-vanilla frozen bars.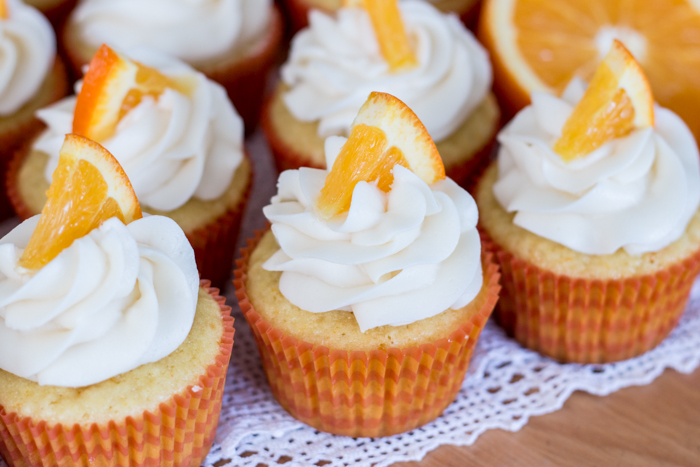 When we arranged a cupcake decorating date with some friends a few weeks ago, I asked my kids what kind of cupcakes they wanted. Eliza suggested baking some that would taste like Orange Creamsicles.
I'm a sucker for these classic summer-time treats that combine sweet orange and creamy vanilla ice cream on a stick. At the mere thought of them, I can almost hear the chimey, tinny sound of the ice cream truck rolling through the neighborhood.
I'm sure it would never have occurred to me to try and replicate this frozen treat in cupcake form, so I'm glad I asked for suggestions.
I'd imagined these Orange Creamsicle Cupcakes with vanilla cake and orange-flavored frosting, but when I asked Eliza if that fit with her vision, it turns out I'd gotten it backwards: she wanted orange cupcakes with vanilla frosting.
With fresh orange zest and juice mixed into the thick batter, these cupcakes bake into tender little treats with a deliciously sweet orange flavor. Their pale golden color flecked with small bits of orange zest makes them look almost like cornbread muffins, and I'm sure it won't be long before Eliza pulls a fast one when I ask her to make cornbread muffins to go along with dinner.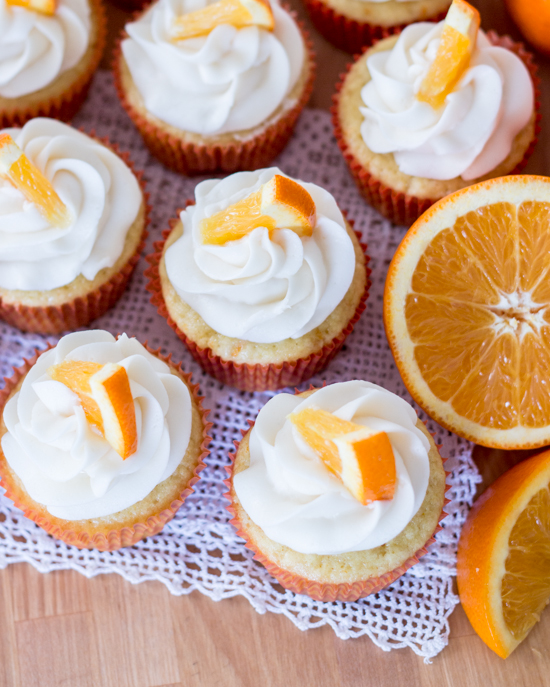 While the cupcakes look quite pretty as is, if you want a deeper orange hue, just add a few drops of orange food coloring to the batter. I opted to bake them in orange cupcake liners instead, which made the finished treats appear more orange.
Topping these cupcakes with vanilla buttercream completes the Orange Creamsicle effect. My kids love them with this ultra-sweet frosting, but if your sweet tooth doesn't demand quite as much sugar, they're also delicious with a dollop of vanilla-spiked whipped cream.
Whatever you decide to frost them with, I recommend slicing the cupcakes in half lengthwise right before eating; flipping the frosted top upside-down creates an adorable cupcake sandwich which maximizes the frosting-to-cake ratio (and keeps your nose clean at the same time).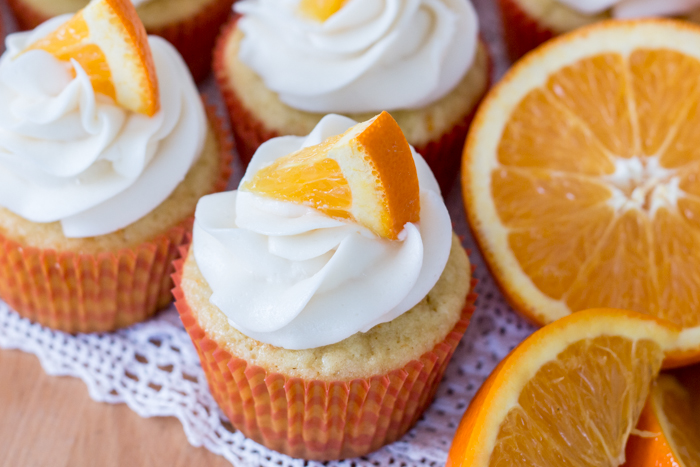 At our cupcake decorating party, none of the kids had any interest in my idea of topping their beautifully piped cupcakes with orange wedges.
With these kids, it's all about rainbow sprinkles, and really, who can blame them? Shaking those tiny confections over sugary sweet frosting is darned satisfying.
Unless, of course, like me, you find it more satisfying to add the sunshiny touch of orange wedges atop a mound of frosting.
On second thought, since you can't have a rainbow without sunshine, maybe we all need both.
Some of the links in this post are affiliate links. If you click through and make a purchase, I earn a small commission for my referral at no additional cost to you. Thank you for supporting Flour Arrangements.
PIN ORANGE CREAMSICLE CUPCAKES FOR LATER
You might also like