Homemade graham cracker cups filled with sweet, tangy lime curd come together in adorable little lime tarts. Simple to serve, these eat-by-hand treats make a perfect party dessert.
A couple of years ago, we planted citrus trees along the back fence of our small yard. As these evergreen trees grow and fill in, we're hoping we'll look out our windows to see a wall of green.
We also look forward to seeing bright splashes of color, too, from lemons, mandarins, tangelos, and grapefruits as they ripen on our trees. While the limes may blend in with all the green leaves, they won't lack in bright, tangy flavor.
Our young trees don't yet produce enough citrus for baking, but this hasn't stopped me from working on recipes to use with future harvests. I've made grapefruit meringue roses, a margarita tart, and, now, some little lime tarts.
While these little lime tarts may look too cute to eat, they won't last long come dessert time. Sweet, tangy lime curd nestled into crisp graham cracker cups come together in perfect individual servings.
Though small, their bright, bold flavor is big enough to satisfy, yet not so sweet as to preclude indulging in seconds. While I probably only need one little tart, I usually can't stop myself from eating two.
Since they're so easy to serve and eat by hand, these petite lime treats make great party food. They keep well in the refrigerator for a day or two, which means you can prepare them ahead of time.
At dessert time, top the tarts with lightly sweetened whipped cream, set on a platter, and serve. If you're feeling extra fancy, add lime wedges for garnish.
The bright, bold filling comes together easily on the stove. Simply whisk together lime zest and juice in a sauce pan with sugar and eggs over gentle heat.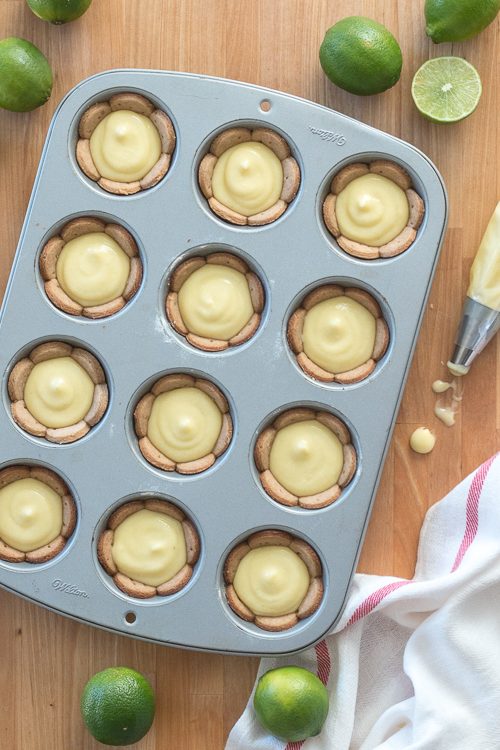 When the mixture takes on a pudding-like texture, stir in a generous amount of butter for silky richness as well as stability. Once the butter melts completely and the mixture looks smooth, passing it though a fine mesh strainer removes the lime zest, which takes on a decidedly unappetizing hue during cooking.
Chilling the mixture for at least two hours gives it enough substance for spooning or piping neatly into to the graham cracker cups.
With a just a hint of cinnamon and subtle texture from whole wheat or graham flour, the graham cracker cups provide the perfect backdrop for the smooth, addictive lime curd.
A flower-shaped cookie cutter and standard muffin tins make these delicate, adorable cups easy to prepare.
Someday I'll prepare this dessert with limes from our own tree, but in the meantime, I'll use limes from the store or from the trees of generous friends. Life is short, and these tarts taste just too delicious to wait.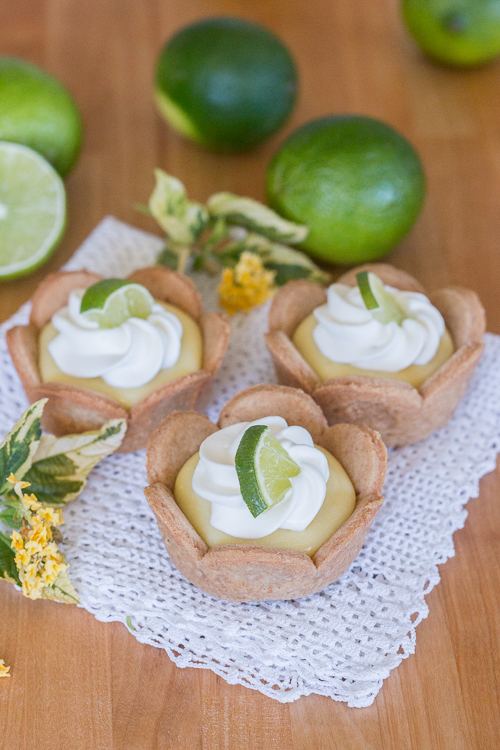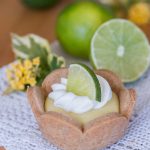 Print Recipe
Little Lime Tarts
Ingredients
Lime Curd

5

medium limes

zested

1/2

cup

fresh lime juice

from about 5 medium limes

1/2

cup

plus 2 tablespoons sugar

3

large eggs

14

tablespoons

unsalted butter

sliced

Graham Cracker Cups

11

tablespoons

unsalted butter

softened but still cool

1/2

cup

firmly packed brown sugar

2

tablespoons

honey

1 1/2

cups

unbleached all-purpose flour

1/3

cup

graham or whole wheat flour

1/2

teaspoon

salt

1/4

teaspoon

ground cinnamon

For Serving

1/2

cup

heavy cream

1

tablespoon

confectioners' sugar

1/4

teaspoon

vanilla extract

lime wedges
Instructions
For the lime curd, whisk lime zest, juice, sugar, and eggs in a medium sauce pan. Cook over medium-low heat, whisking constantly, until mixture thickens to the consistency of loose pudding, about 10 minutes. Remove from heat and whisk in butter, a few slices at a time, until completely melted and smooth. Pour mixture through a fine strainer into a clean bowl and let it cool to room temperature. Place plastic wrap directly on the surface of the lime curd and refrigerate until well chilled, at least two hours.

To prepare the graham cracker cups, combine the butter, brown sugar, and honey in the bowl of a standing electric mixer fitted with the paddle attachment. Beat until fluffy, about 5 minutes.

Whisk flours, salt, and cinnamon in a small bowl to combine. Add the dry ingredients to the butter mixture in three additions, beating until just combined after each addition. Beat the mixture for about one minute after the final addition to ensure even distribution of ingredients. It's okay if the dough looks a bit crumbly. Gather the dough together and press it into a flat disk. Wrap tightly with plastic and refrigerate for about 30 minutes before rolling (if you refrigerate it for much longer, let it soften at room temperature a bit before continuing).

Lightly grease 18 cups in two standard-sized muffin tins. Unwrap the dough and place it between two large sheets of parchment paper. Roll the dough to a thickness of about 1/8 inch. Peel away the top layer of paper and dust the dough lightly with flour. Replace the paper, flip the dough over, and remove the other piece of parchment paper. Using a 3¾-to 4-inch flower-shaped cookie cutter, stamp out as many flowers as possible.

Gently transfer the dough to muffin tins, tucking each flower into one of the cups. If you have difficulty transferring the flowers, you may need to dust the dough with more flour before cutting the shapes. Gather scraps, re-roll, and cut flowers as many times as needed until you have prepared 18 cups.

With a toothpick or sharp skewer, prick holes in the dough around the bottom edge of the cup, about 1/8 to 1/4 inch apart, adding a few holes in the center as well.

Transfer muffin tins to the refrigerator for at least 15 minutes before placing them in an oven preheated to 350° F. Bake for 10 to 12 minutes, until just set, shifting the baking sheets halfway through for even baking. Remove from oven and let cool in the muffin pans for about 5 minutes. Loosen the cups with a thin metal spatula before allowing them to cool completely in the muffin pans.

Once the cups have cooled completely, pipe or spoon prepared lime curd into them and chill uncovered until ready to serve.

Just before serving, beat heavy cream with confectioners' sugar and vanilla until it just holds stiff peaks. Pipe or spoon the whipped cream on top of each tart. Garnish with lime wedges, if desired.
Some of the links in this post are affiliate links. If you click through and make a purchase, I earn a small commission for my referral at no additional cost to you. Thank you for supporting Flour Arrangements.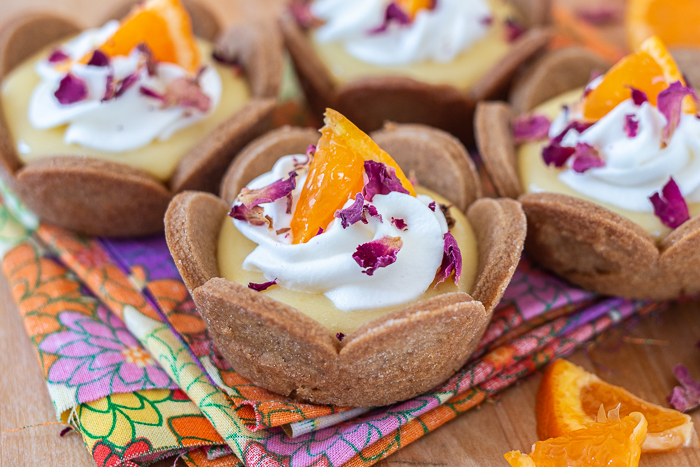 Mini Mandarin Tarts
Mini Salted Caramel Chocolate Tarts in Gingerbread Cookie Cups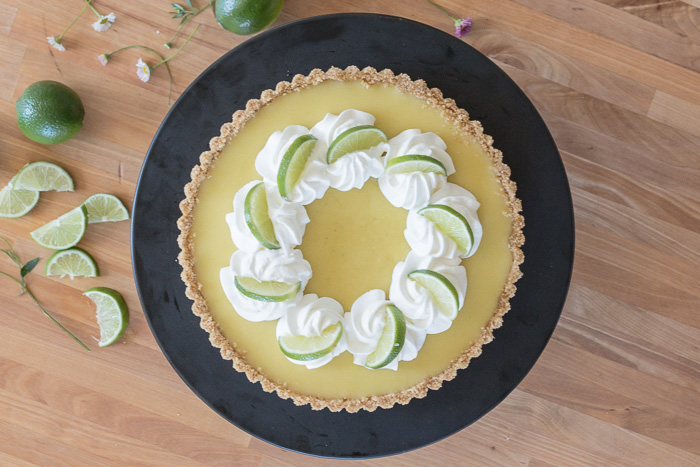 Margarita Tart with Tortilla Chip Crust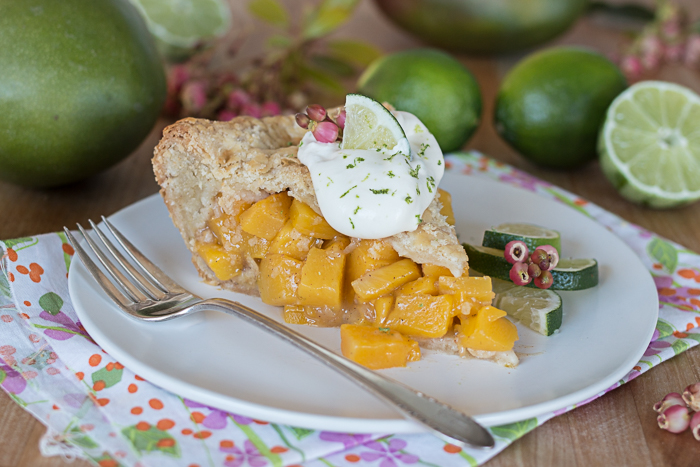 Mango Pie with Lime Whipped Cream
Pin Lime Tarts for Later