Full of tangy citrus flavor, these moist lemon cupcakes provide a perfect vehicle for billowy meringue frosting. A sweet treat for lemon lovers, these Lemon Meringue Cupcakes are surprisingly simple to make.
My practical-joke-loving daughter Eliza hatched a plan to wear a shirt that reads "Life" while handing out lemons to passersby.
If she gets a friend to film people's reactions, maybe they can create a viral video that will pay for their college educations. We even have tons of lemons right now, so the time is right. I feel it.
They'd better hurry, though, since I'm baking my way through our lemon supply. After making a lemon meringue pie the other day, I felt pretty sure that light, airy meringue frosting would taste awesome with lemon cupcakes.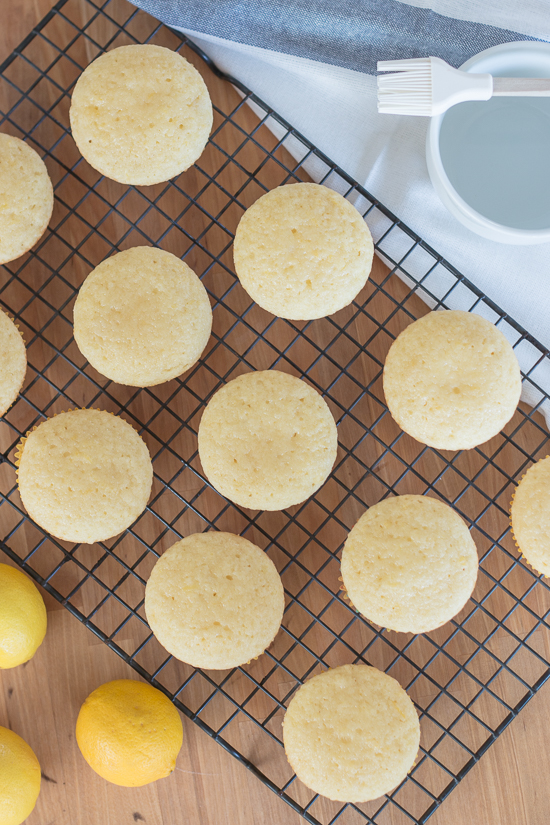 When I searched the internet for lemon meringue cupcakes, though, every recipe I found involved scooping out a well in a cupcake to fill with lemon curd. While this sounds amazing and delicious, I wanted to keep things simple. I wanted moist and lemony cupcakes full of enough tangy citrus flavor to offset the meringue's sweetness all on their own.
With zest of two lemons and a shot of lemon juice mixed into the batter, these cupcakes do the trick. And, once baked, a dose of simple lemon syrup brushed over the still-warm tops amps up the fresh lemon flavor of these sweet citrus treats.
If you wanted to, you could dig right into the simple, unadorned cupcakes and feel totally satisfied at this point.
I don't recommend it, though, because once the cupcakes are cool and ready to frost, making the meringue is the easiest and most fun part of this recipe.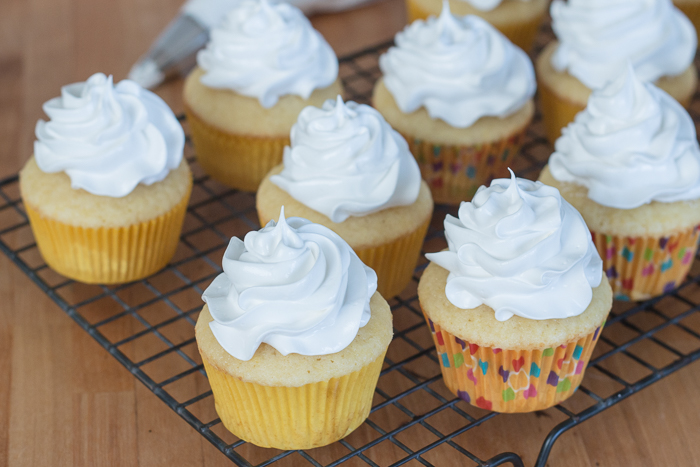 Just two egg whites, some cream of tartar, sugar, and water miraculously transform into billowy white meringue, and the process is seriously easier than making traditional buttercream. Bringing the water and sugar to a boil on the stove before adding it to the beaten eggs provides enough heat to ensure that the mixture is safe to eat.
This simple recipe relies on time, rather than temperature, for preparing the sugar syrup, so there's no need for a candy thermometer.
Once the mixture boils for four minutes, drizzle it in to the egg whites and let your mixer do the work for you. Watch the magic as these basic ingredients turn into a smooth, glossy mixture just perfect for piping or spooning atop lemon meringue cupcakes.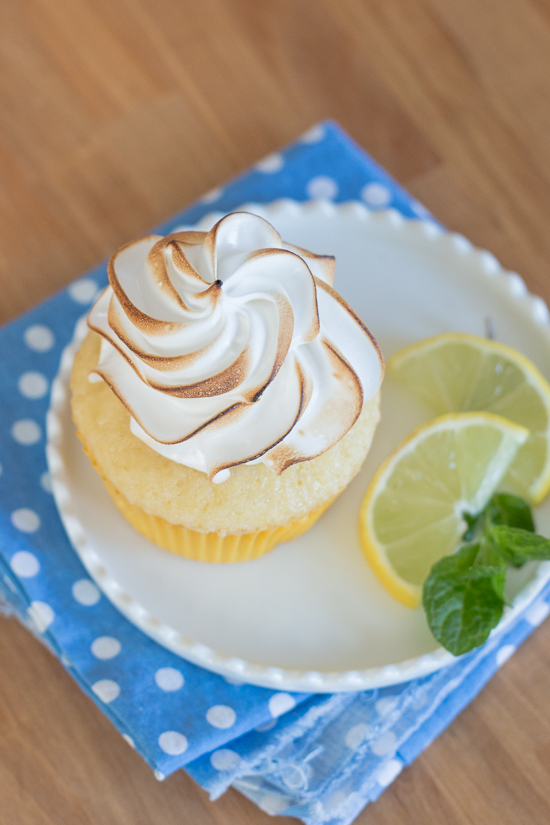 After frosting the cupcakes, the real fun begins — toasting the meringue!
Use your oven's broiler or wield some fire with a torch. If you don't have a culinary torch but like the idea of playing with fire, here's a tip — a propane torch (available in the plumbing section of any hardware store) costs about the same and works a hundred times better than most torches designed for kitchen use.
Culinary torches just don't have much firepower. The one I used to have barely flickered with a thin line of flame.
It took forever to brown anything, and it only worked while I held down a small, awkward button. Every time I used it, my hand cramped up and hurt for days.
It didn't take me long to drop my kitchen torch off at the Goodwill and start using my husband's heavy duty torch instead. Turn a knob, click a switch, and it's raring to go.
Sure, safety features are pretty much non-existent, so you have to be careful, but there's something super satisfying about browning a small dollop of meringue atop a petite cupcake with a serious blaze of fire.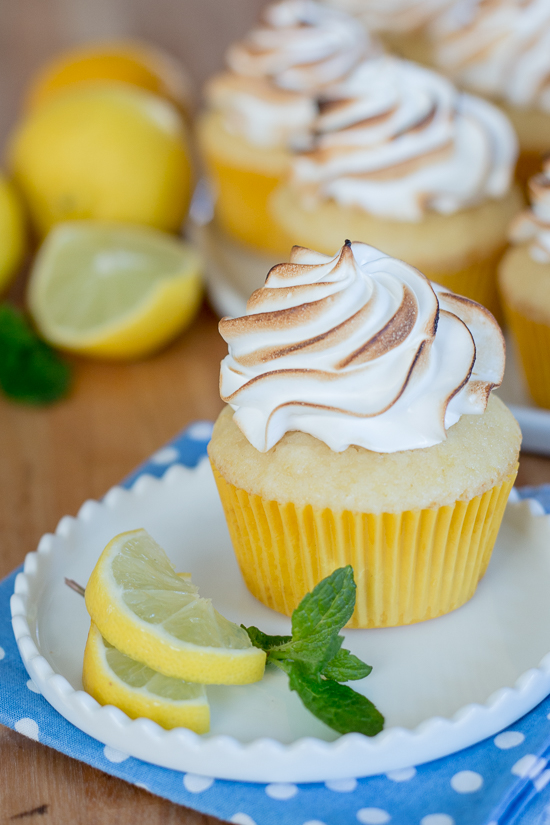 The sweet, silky meringue atop these luscious lemon cupcakes makes for a show-stopping dessert that's easy to transport, serve, and eat.
Not only that, these little cupcakes taste irresistible.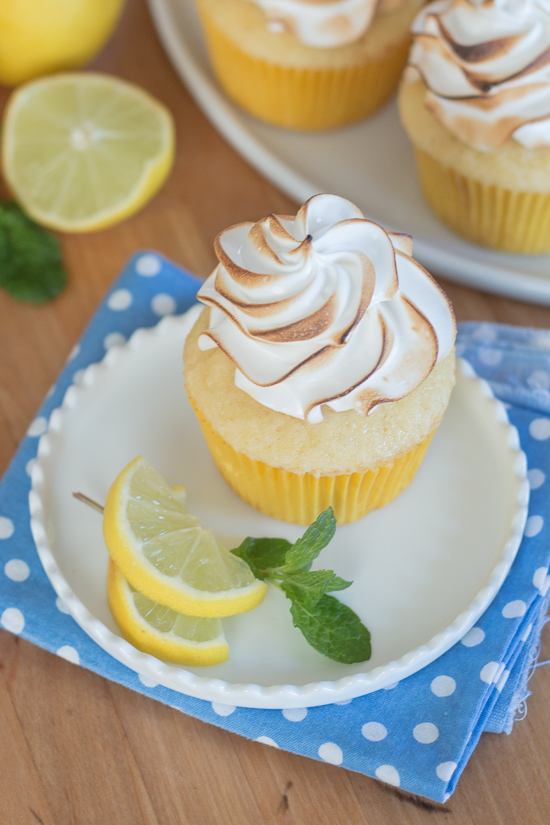 Oh, and don't forget the whole playing with fire thing.
Next time life gives you lemons, skip the lemonade and make lemon meringue cupcakes.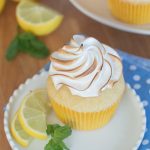 Print Recipe
Lemon Meringue Cupcakes
Ingredients
Lemon Cupcakes

1 1/2

cups

unbleached all-purpose flour

1/2

teaspoon

baking powder

1/4

teaspoon

baking soda

1/4

teaspoon

salt

1/3

cup

buttermilk

2

tablespoons

lemon juice

2

lemons

zested

1/2

cup (1 stick)

unsalted butter

softened but still cool

1

cup

granulated sugar

2

large eggs

1/2

teaspoon

vanilla extract

Lemon Syrup

2

tablespoons

lemon juice

2

tablespoons

sugar

Meringue

1/3

cup

egg whites

(about 2 large eggs)

¼

teaspoon

cream of tartar

½

cup

water

1

cup

granulated sugar
Instructions
Preheat oven to 350ºF. Grease or paper-line 12 standard-sized muffin tin cups.

Whisk flour, baking powder, baking soda, and salt in a medium bowl to blend. Combine buttermilk, lemon juice, and zest in a small bowl.

In the bowl of a standing electric mixer, beat butter until smooth. Slowly add sugar and beat until well-blended. Beat in eggs, one at a time, scraping down the sides to ensure even mixing. Add vanilla extract and mix well. Stir in dry ingredients until just combined. Add wet ingredients, stirring to incorporate evenly while taking care not to over mix.

Scoop the thick batter into the prepared muffin cups, filling each one about halfway. Bake until the tops look firm and a skewer inserted in the center of a cupcake comes out mostly clean, about 20 minutes.

While the cupcakes bake, prepare the lemon syrup. Combine lemon juice and sugar in a small saucepan over low heat. Stir until the sugar dissolves. Set aside.

As soon as the cupcakes come out of the oven, brush the lemon syrup over the tops with a pastry brush, avoiding the area close to the edges. Repeat until all the glaze is used. Let cupcakes cool for 5 to 10 minutes in the pan before removing them to a cooling rack.

To make the meringue, combine egg whites and cream of tartar in the bowl of a standing electric mixer. Set aside.

Combine water and sugar in a medium saucepan over high heat. Bring to a full boil, reduce heat to medium, and continue cooking for 4 minutes.

In the meantime, beat eggs with the mixer's whisk attachment at medium speed until soft peaks form (lift the mixer and look for gentle peaks that slowly collapse), about 2 minutes.

With the mixer running – working very carefully – add the hot sugar to the egg whites in a slow, steady stream. Increase speed to high and beat for about 4 minutes or until the mixture is just warm to the touch. Spoon or pipe meringue atop cupcakes and lightly brown with a blowtorch or under the broiler.
Some of the links in this post are affiliate links. If you click through and make a purchase, I earn a small commission for my referral at no additional cost to you. Thank you for supporting Flour Arrangements.
PIN LEMON MERINGUE CUPCAKES FOR LATER
You might also like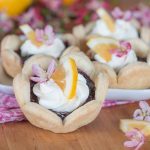 Mini Cherry Pies with Meyer Lemon Cream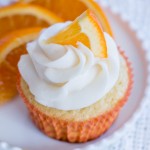 Orange Creamsicle Cupcakes
Grasshopper Cupcakes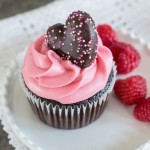 Raspberry Chocolate Cupcakes