With minimal prep required, this blackberry crisp makes summer baking a breeze. Its sweet berry flavor and hint-of-spice oatmeal-streusel topping taste amazing oven-warm with rich vanilla ice cream.
While I was growing up, summer always meant feasting on freshly picked blackberries. Scratches from the deadly thorns perpetually lined my arms and deep purple stains covered my fingers and mouth.
I'm pretty sure I only got clean when I jumped in the swimming pool.
While it's a bit early for picking ripe blackberries in the Bay Area, this week's farmers' market managed to deliver some summer nostalgia in convenient pint sized packages — with no bramble wrestling required.
When I saw the sunlight glistening off that display of succulent blackberries, I needed to taste one right then and there.
Its juicy sweetness could only have tasted better if I'd plucked it from the cane myself. I bought an entire flat.
My kids and I ate about half the berries right from the box, but I managed to hold back enough to bake blackberry crisp.
I especially love baking with blackberries since they require minimal preparation. During summer, I want to spend as little time in the kitchen as possible; blackberries (and raspberries and blueberries, for that matter) need no slicing or dicing. With just a quick rinse, they're ready to use.
With its simple oat-streusel topping, this blackberry crisp recipe works well with my minimalist summer approach. Just toss oats, brown sugar, flour, spices, and salt together in a bowl, and then work in some butter with clean fingers (or a pastry cutter if you don't like getting your hands dirty!).
After mixing berries with brown sugar, flour, lemon, and a pinch of salt, load their juicy goodness into individual ramekins or a pie dish and add the prepared topping.
The streusel mixture tastes almost like oatmeal cookie dough. Try not to eat too much while you work.
This blackberry crisp, despite its quick and easy preparation, doesn't skimp on taste. Oven-warm with a scoop of vanilla ice cream and topped with additional fresh berries, it tastes like summer in dessert form.
If you have kids who are home for the summer and looking for something to do, set them loose with this simple recipe. Depending on their level of experience in the kitchen, they could prepare it all by themselves or with a bit of assistance.
If you're lucky enough to have a blackberry bramble nearby, you can send them out to pick the berries as well.
Why not start an awesome summer-berry-picking-crisp-baking tradition?
Hooray for summer berries!
Print Recipe
Easy Blackberry Crisp
Ingredients
Topping

1

cup

rolled oats

(quick or old-fashioned)

1/2

cup

unbleached all-purpose flour

1/2

cup

packed brown sugar

1/2

teaspoon

ground cinnamon

1/2

teaspoon

ground cardamom

1/8

teaspoon

salt

1/2

cup (1 stick)

unsalted butter

sliced into tablespoon-sized pieces

Fruit

1/4

cup

packed brown sugar

(if berries aren't super sweet, you might want to add more)

3

tablespoons

unbleached all-purpose flour

1/8

teaspoon

salt

6

cups

fresh blackberries

1

lemon

zested

1

tablespoon

fresh lemon juice
Instructions
Preheat oven to 350º F. Lightly grease six 4-inch ramekins or one 10-inch pie dish.

In a medium bowl, whisk oats, flour, brown sugar, spices, and salt to combine. Toss in butter to coat. With a pastry blender or clean fingers, work butter into the dry ingredients until the mixture is crumbly and the butter is evenly distributed. Set aside.

Prepare the fruit filling in a separate medium bowl. Whisk brown sugar, flour, and salt together, smashing or removing any hard clumps of brown sugar in the mixture. Add blackberries, lemon zest and juice, and stir until combined.

Spoon filling into ramekins or pie dish. Sprinkle crisp topping evenly over the filling. Bake until the fruit bubbles thickly and the crisp topping is golden, about 40 to 45 minutes.

Serve warm with vanilla ice cream and fresh berries.

You might also like
Honey Chamomile Whipped Cream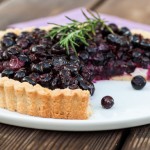 Honeyed Blueberry Tart
Blackberry Swirl Ice Cream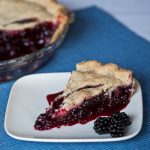 Blackberry Pie