Sweetened with maple syrup and spiced with cinnamon, these oatmeal pancakes will start your day with a substantial, whole grain take on pancakes.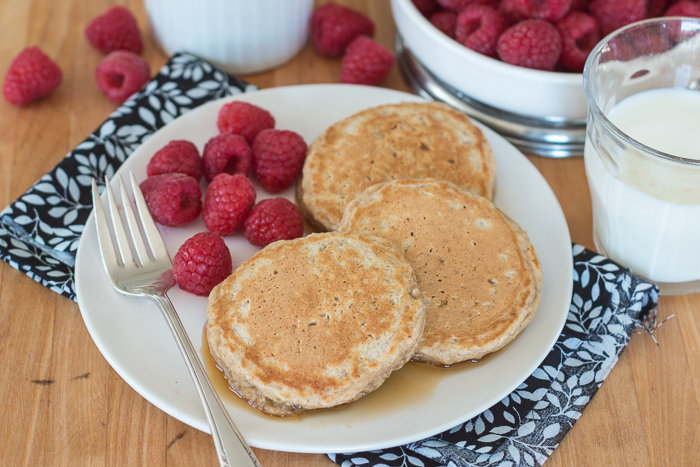 I'm not usually the breakfast-maker in our house. I like to sleep in too much.
On weekdays, my husband makes a pot of oatmeal for breakfast, and on the weekends, the kids usually make pancakes or waffles with him.
While I did my best to sleep in a few weekends ago, I overheard my younger daughter Tessa discussing oatmeal pancake recipes with my husband as they looked for one to try.
I almost thought I was dreaming, but when I finally dragged myself downstairs, they really were making oatmeal pancakes.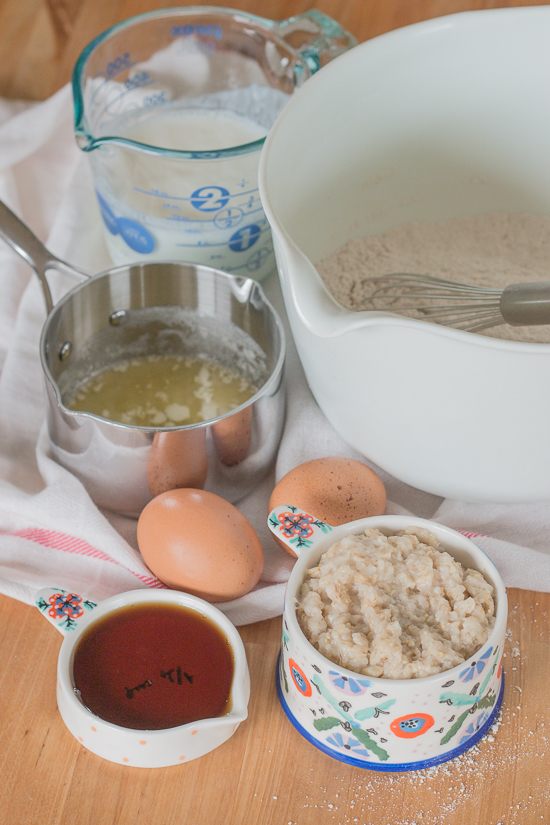 I'm a fan of oatmeal for breakfast, so the idea of mixing it into pancake batter it seemed genius. I couldn't wait to try them.
The recipe they settled on incorporated leftover oatmeal — a plus in our house — and oat flour. While alternatives to wheat flour are super trendy these days, we just don't keep them around. With all-purpose, bread, whole wheat, and cake flour vying for space in our cupboard, there's no room for flours that we'll use only sporadically.
My pancake chefs solved this problem by making their own oat flour; they simply pulsed rolled oats in a food processor until they were finely ground. Hooray for kitchen tools and creativity!
Unfortunately, though, their oatmeal pancakes cooked up thin and pale instead of fluffy and golden. Not only that, the pancakes tasted fine but were definitely not worth the extra step of making making oat flour to repeat the recipe.
Tessa was undeterred, though. She immediately tried to figure out what to do the next time around. This girl is clearly my daughter.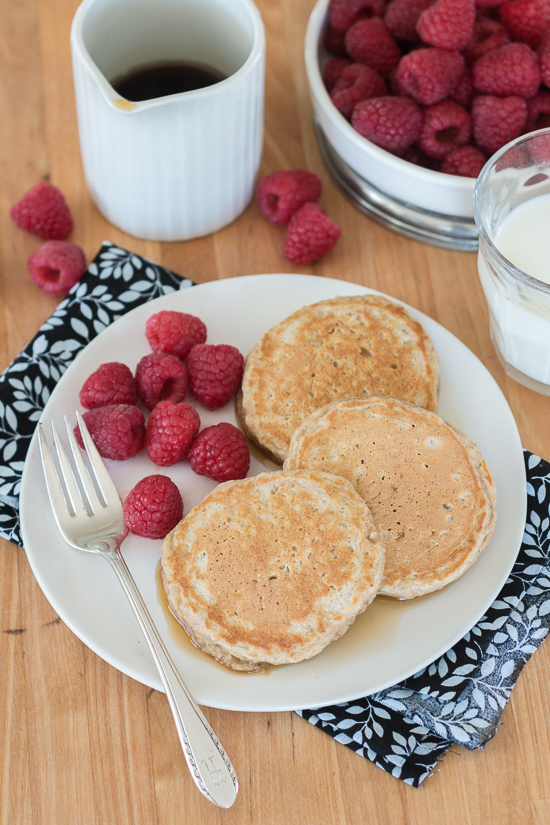 Tessa decided to add cinnamon and use maple syrup instead of sugar to improve their flavor. She also wanted to use buttermilk instead of milk.
I chimed in with the suggestion of including baking soda to add lift and give the pancakes a deeper golden color. In addition to its leavening qualities, baking soda helps foods like pancakes, muffins, and cakes to brown as they cook.
On their next try, they totally nailed it.
Oatmeal gives these pancakes great texture and keeps them moist without feeling gummy. They're substantial, these pancakes, but not dense, and the addition of cinnamon and maple syrup provide just enough flavor to make them interesting without feeling overly sweet or spiced.
With extra maple syrup for serving and a spoonful of fresh fruit on the side, these oatmeal pancakes are worth waking up early for on the weekend.
For me, that's saying something.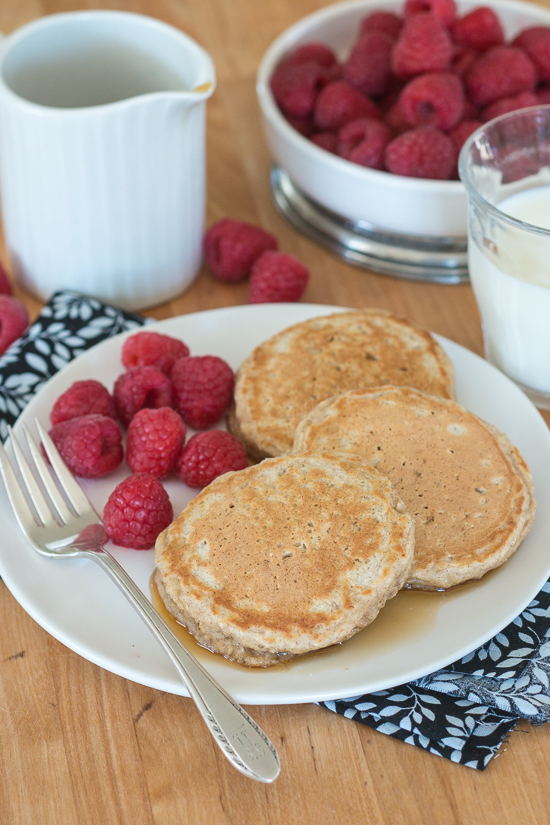 Print Recipe
Maple-Cinnamon Oatmeal Pancakes
If you don't have leftover oatmeal, see note at the bottom of the recipe for making a quick batch sized for these pancakes. Makes about 16 3-inch pancakes.
Ingredients
1

cups

dried rolled oats

1 1/4

cup

unbleached all-purpose flour

2

teaspoons

baking powder

1/4

teaspoon

baking soda

1 1/2

teaspoons

cinnamon

3/4

teaspoons

coarse salt

3

tablespoons

butter

melted and slightly cooled

1 1/4

cups

buttermilk

1

cup

cooked oatmeal*

1/4

cup

maple syrup

2

large eggs
Instructions
Pulse dried oats in a food processor until finely ground. Combine with other dry ingredients in a large bowl, whisking to mix.

In a separate bowl, whisk wet ingredients until well combined. Fold wet ingredients into the dry, mixing until just combined.

Using a 1/4 cup measure, add batter to a lightly greased griddle or skillet preheated to medium-high.

Cook pancakes until large bubbles begin to appear on the top surface, about 2 to 3 minutes. Flip with a thin, wide spatula and cook until golden brown on the second side, about 2 minutes more. Serve immediately or keep pancakes warm in an oven heated to 200º F until ready to serve.
Notes
*If you don't have leftover oatmeal on hand, combine 1 cup water, a generous 1/2 cup rolled oats, and a pinch of salt in a small sauce pan. Bring to boil, reduce heat to medium-low, and simmer, stirring occasionally until thick, about 5 minutes for old-fashioned oats or 1 minute for quick oats.
Pin Maple-Cinnamon Oatmeal Pancakes for Later

You might also like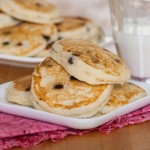 Chocolate Chip Pancakes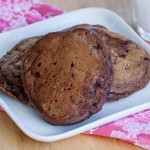 Chocolate Chocolate Chip Pancakes
Ginger Spiced Waffles
Cocoa Nib Cinnamon Waffles