Bacon adds richness and smoked paprika imparts a deep, complex flavor to this easy Beef and Bean Chili. Serve it on its own or with rice, baked potatoes, or mac and cheese! This recipe produces a generous pot of chili, which makes it great for parties and leftovers.
The warm summer weather turned cold this week, which prompted my kids to ask for chili. While the lack of sunshine bummed me out, a big pot of chili provided a silver lining.
Chili is delicious served on its own with a thick slice of corn bread, but why stop there? Ladled over rice, nestled atop baked potatoes, loaded on macaroni and cheese, spooned over nachos, or slathered on a bun with a hot dog, chili adds a unique twist to so many simple foods and dishes.
This awesome versatility takes the thinking out of feeding my family for a few days. Since I can serve it in so many different ways, no one gets tired of it.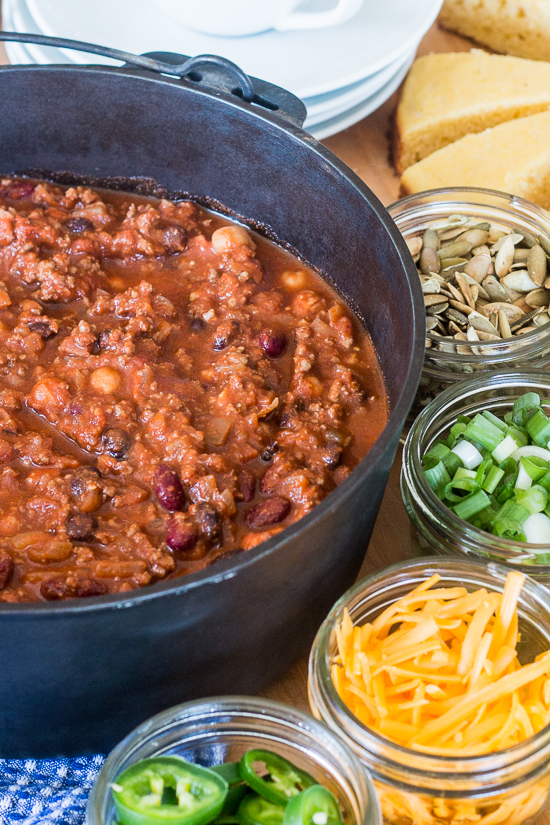 I've long had a chili recipe that I've used as a starting point because it's an easy, no fuss recipe that starts with bacon and includes beer. What's not to love about this promising partnership?
Since chili is such a great make-ahead recipe, I often prepare it in the morning to serve later in the day. The recipe calls for 8 ounces of beer, but I always just find myself glug, glug, glugging the whole 12 ounces into the pot rather than measuring and chugging the leftovers myself.
Does this means that I'm getting old, or that I think part of a beer is just not enough for a decent batch of chili?
In any case, in addition to extra beer, I realized that I've made many adjustments to the recipe over time. Whenever I set out to prepare it, I'd invariably scratch my head trying to remember what worked well in the past and feel annoyed with myself for failing to take any notes about adjustments to spices and other ingredients.
In an effort to break this vicious cycle, I forced myself to prepare chili with a pencil in one hand this time around.
This rich, delicious chili, while easy to make, does not skimp on taste. Starting with bacon adds richness. Including smoked paprika with the other spices gives the chili a deep, complex flavor. Since my kids don't love spicy food, I use only a small amount cayenne pepper and offer jalapenos and Tabasco sauce when serving since it's easier to add heat later. The recipe does, however, include a range for cayenne, so if you love more spice, use a full teaspoon or more to taste.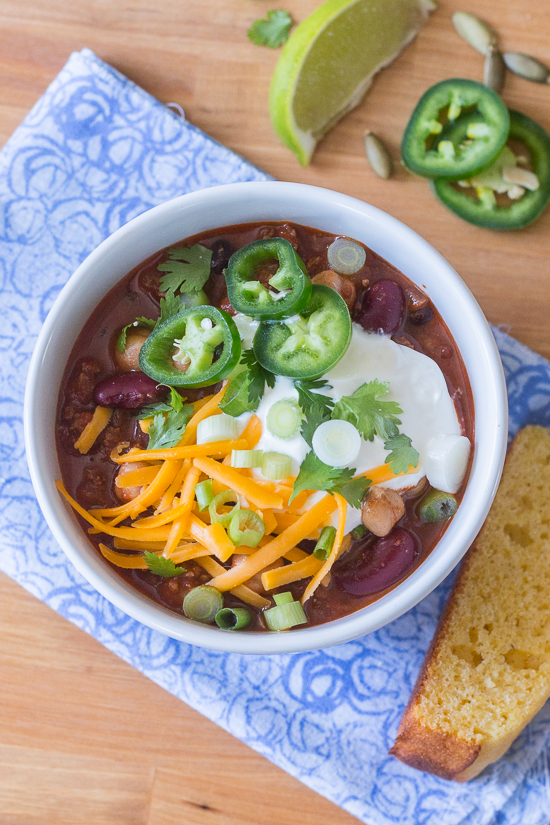 While the recipe includes ground beef, beans always feel like the star of any chili recipe, so I increased the amount of beans, which has the added bonus of adding variety as well. My kids love garbanzos, so I always include them, along with kidney beans and black beans.
While any combination of beans will do, this trio's diverse shapes and colors adds visual interest to this decidedly, brownish dish.
Toppings add colors and textures as well, along with bursts of flavor. The zip of cilantro, the richness of cheddar cheese, the smooth coolness of sour cream, the fresh tang of lime juice, the nutty crunch of roasted pumpkin seeds all combine in perfection with the warm, comforting chili.
Providing a topping bar or passing small bowls with garnishes means that everyone can customize their chili and get the flavors just right, a definite bonus when feeding kids with particular palates.
While I'm not ready to let go of summer, I'm happy to head into cooler weather finally armed with a chili recipe that I know I'll get right every time without any improvisation.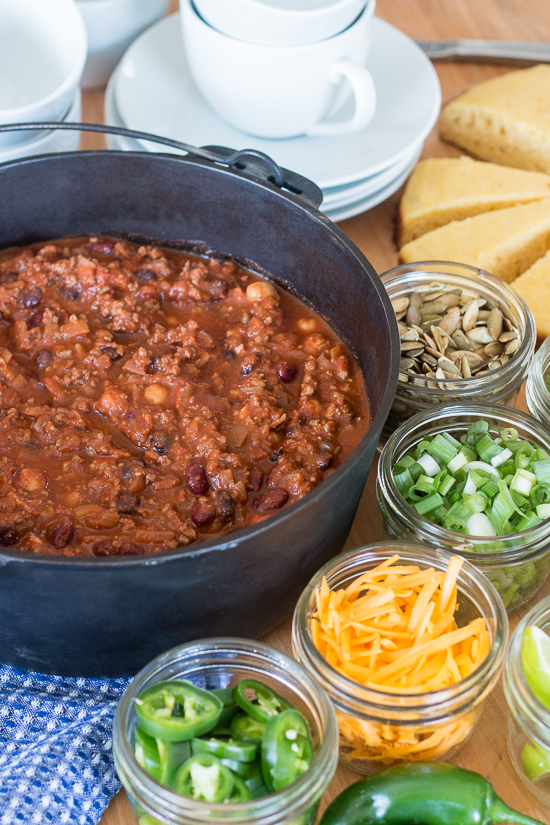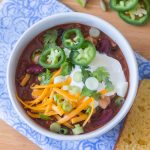 Print Recipe
Easy Beef and Bean Chili
I've used garbanzo, black, and kidney beans in the recipe, but any beans will do. This chili is equally delicious on its own or served atop rice, baked potatoes, or mac and cheese. Inspired by
Sunset magazine
.
Ingredients
Chili

4

slices

thick-cut bacon

finely chopped

1

large onion

finely chopped

2

large garlic cloves

minced or pressed

1 to 1 1/2

pounds

lean ground beef

1/4

cup

chili powder

1

tablespoon

ground cumin

1

tablespoon

smoked paprika

1/8 to 1

teaspoon

cayenne pepper

1

teaspoon

salt

plus more to taste

15

ounces

tomato sauce

12

ounces

beer

any flavorful variety

1

tablespoon

Worcestershire

1 28-

ounce

can whole peeled tomatoes

15

ounces

garbanzo beans

drained and rinsed

15

ounces

black beans

drained and rinsed

15

ounces

kidney beans

drained and rinsed

Toppings

grated cheddar cheese

sliced green onions

lime wedges

sliced jalapenos

roasted pumpkin seeds

chopped fresh cilantro

diced avocado

sour cream
Instructions
In a large pot, cook bacon over medium-high heat, stirring frequently until it just begins to brown, about 4 minutes. Lower heat to medium, add onion, cover, and cook, stirring occasionally, until translucent, 5 to 7 minutes. Uncover pan, stir in garlic, and cook, stirring, for 1 minute.

Increase heat to medium-high and add ground beef, breaking it up with a wooden spoon. Stir until meat loses its raw color, about 5 to 7 minutes. Add spices and 1 teaspoon salt, stirring for 1 minute. Mix in tomato sauce, beer, and Worcestershire. Add whole tomatoes with their juices, breaking them up with your fingers as you add them. Bring pot to a boil before reducing heat to medium-low. Cover partially, and cook for 30 minutes, stirring occasionally.

Add beans and cook uncovered until warmed through, about 10 minutes. Season to taste with salt and serve. Set up a topping bar or pass garnishes around the table after serving.
Pin Chili Recipe for Later

You might also like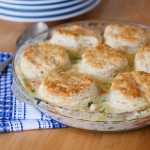 Chicken Pot Pie