Dress up a simple, wholesome snack of Peanut Butter Apple Slices by piping creamy peanut butter in small spirals atop crisp, tart apples. Sprinkling toppings like mini chocolate chips, toasted coconut, or raisins over these apple-tizers adds to the fun of this easy, healthy snack.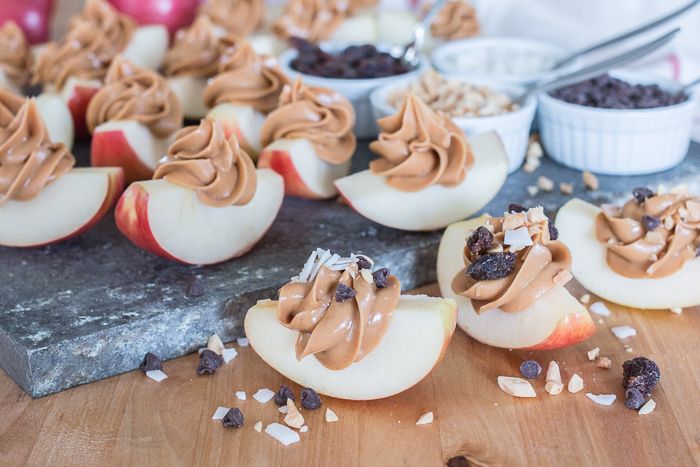 As I slathered peanut butter on apple slices the other day, my older daughter Eliza piped beautiful buttercream spirals on the chocolate cupcakes she'd baked. After watching her for a moment, I took a closer look at the peanut butter and realized that its smooth and creamy frosting-like texture would pipe onto apple slices like a dream!
I loaded up a pastry bag with peanut butter and surprised my daughters with a fancy afternoon snack of sweet, crisp apple slices topped with delicious peanut butter rosettes. I love how this simple trick turns an easy-to-prepare wholesome snack into something special.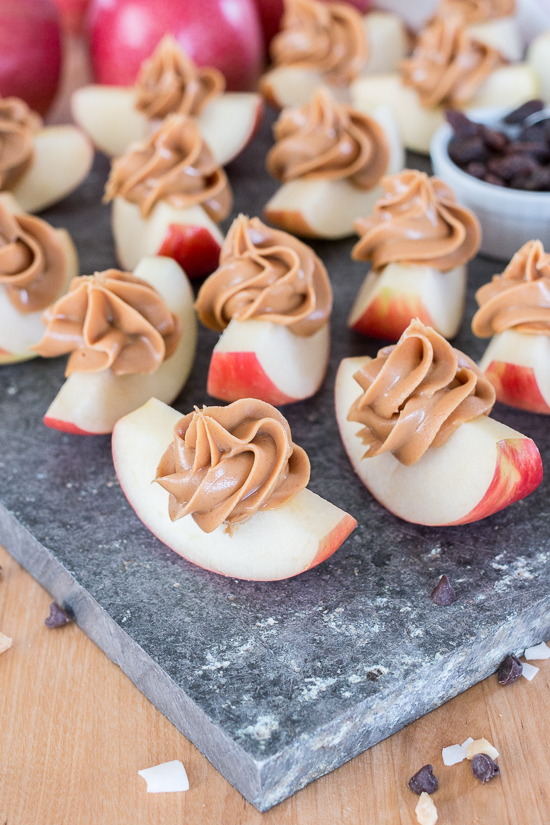 The peanut butter apple slices looked so pretty on a platter that they seemed to call out for something more. Right before we dug in, I sprinkled mini chocolate chips over the top, which instantly made me a snack-time hero.
As we ate, we brainstormed other topping ideas, like chopped peanuts, toasted coconut, and raisins. The girls argued for sprinkles, which would look super cute, too, especially for a festive occasion.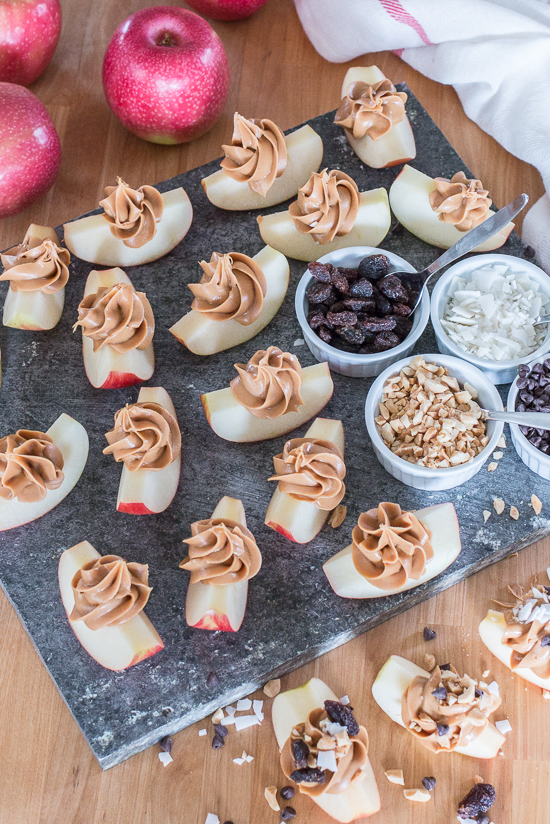 While this versatile snack is easy enough to prepare any time with whatever toppings suit your tastes, it makes an awesome kid-friendly party platter cool enough to entice adults as well.
Adding the toppings before serving works great, but I prefer to set peanut butter apple slices on a platter alongside bowls of toppings so snackers can experiment with a variety of embellishments according to their own personal tastes.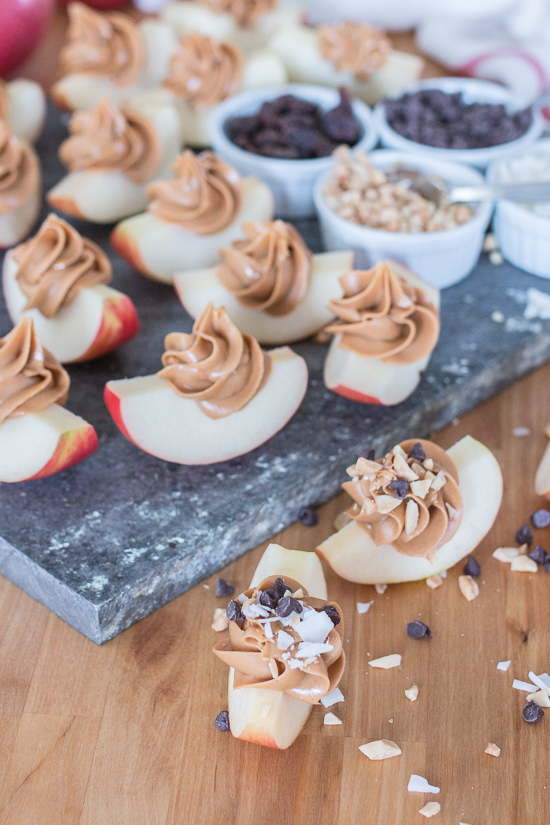 Eliza calls these peanut butter apple slices apple-tizers. It's the perfect name for this perfect snack.
A few weeks ago, I probably would have argued that the delicious combination of tart, crisp apple and smooth, creamy peanut butter needed no improvement, but these apple-tizers manage to dress up this humble, comforting snack with little extra effort.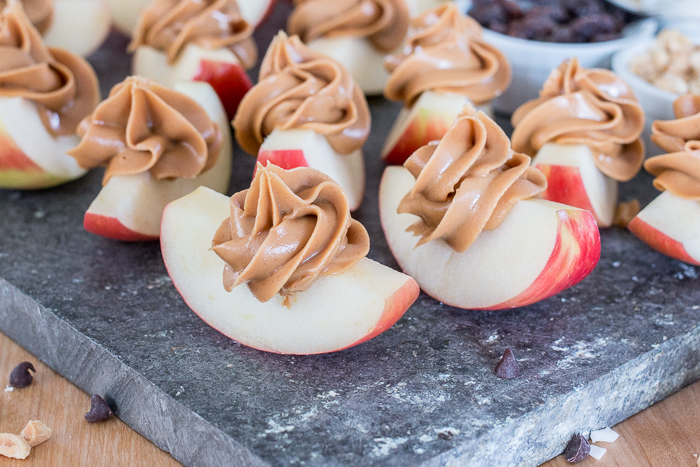 In addition to the elegant look it gives these apple slices, applying peanut butter in small spirals feels about million times more satisfying than spreading it with a knife or the back of a spoon.
Just try it! I can pretty much guarantee that you'll love making this snack as much as you'll love eating it and sharing it with your family and friends.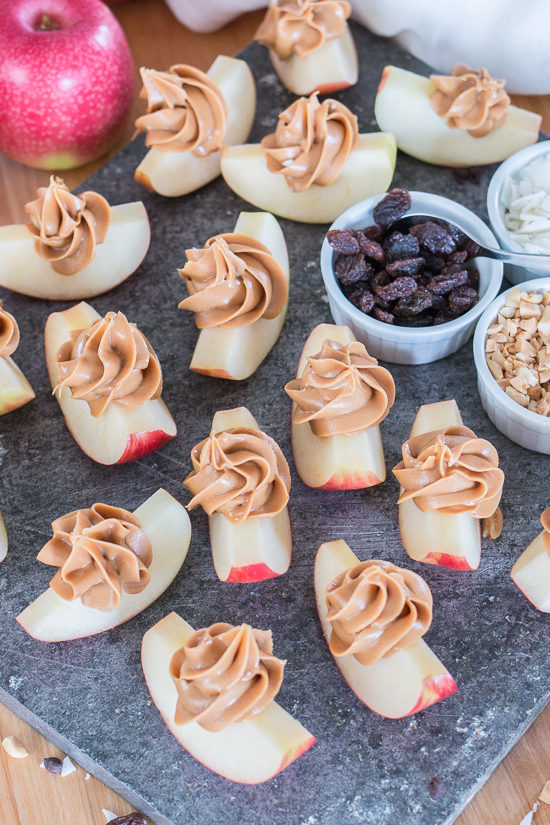 The idea of filling a pastry bag with peanut butter has opened up a whole new realm of snack-time possibilities for me. I can't believe I've never used piping tips for more than just dessert!
I'm eager to experiment with other snack-worthy soft toppings like cream cheese, hummus, or even onion dip! If you have any fun ideas, I'd love to hear them!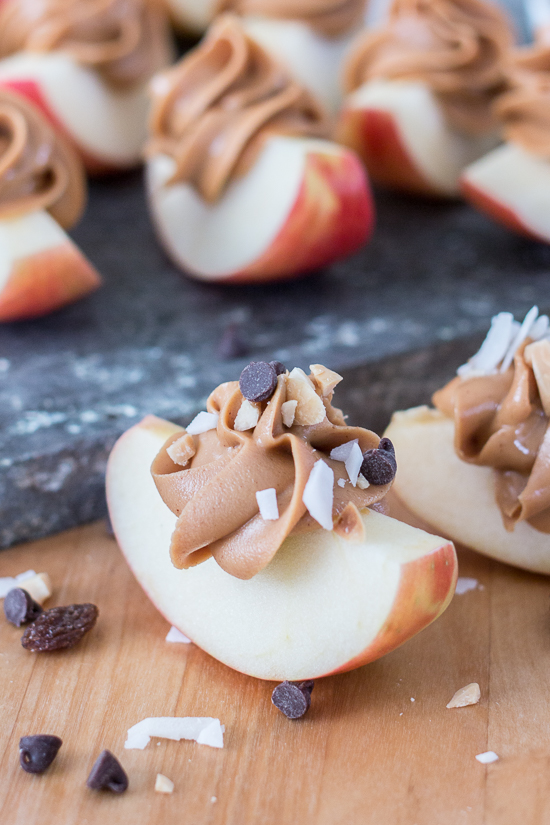 Some of the links in this post are affiliate links. If you click through and make a purchase, I earn a small commission for my referral at no additional cost to you. Thank you for supporting Flour Arrangements.
PIN PEANUT BUTTER APPLE SLICES FOR LATER
You might also like