Sweet, tangy barbecue sauce provides a flavorful, fun twist to homemade pizza. Topped with cooked chicken, roasted Brussels sprouts, red onion, and Gruyere cheese, this simple barbecue pizza tastes totally gourmet!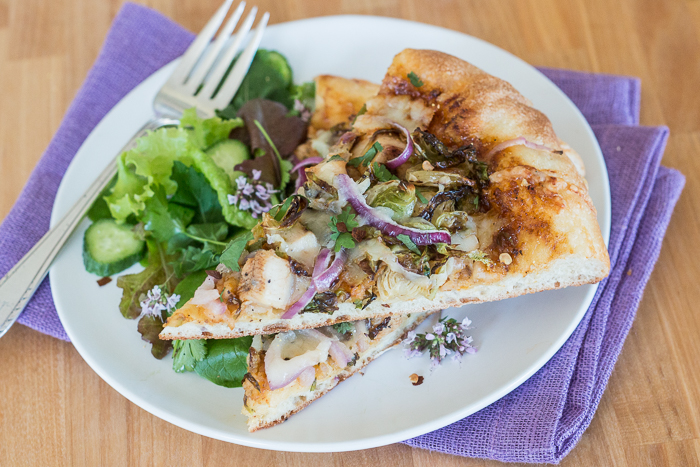 Pizza recipes feel more like suggestions than absolutes to me. This is probably because I treat pizza as a way to use up ingredients in my fridge.
Over time, this strategy has led to some awesome combinations that we come back to again and again. For example, we often have leftover grilled chicken and veggies, which work out great on pizza. At some point, I tried using barbecue rather than tomato sauce with these grilled leftovers and was amazed how well it broke our pizza night routine.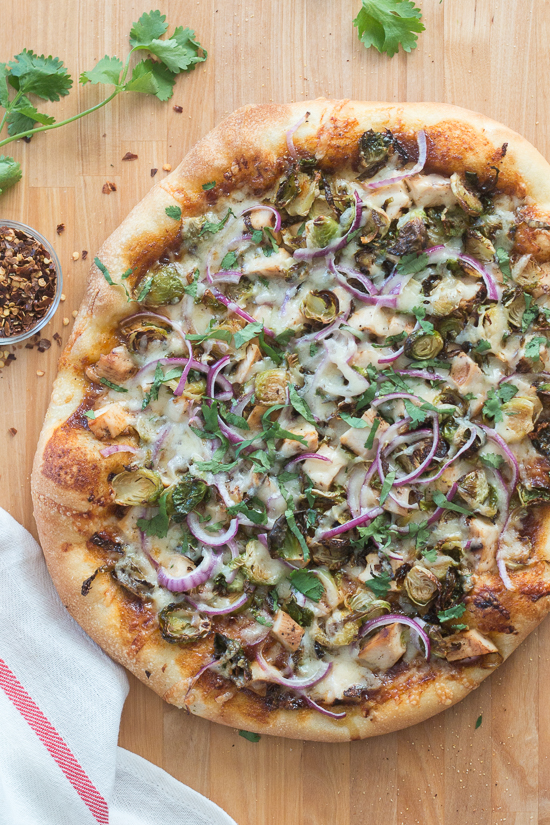 Sweet, tangy barbecue sauce tastes amazing baked over soft, chewy pizza dough. Its zesty kick provides the perfect backdrop for chicken and Brussels sprouts, broccolini, zucchini, or any other hearty vegetable. Adding a flavorful cheese like Gruyere or smoked mozzarella transforms a simple-to-prepare pizza into something that feels truly gourmet.
I first added Brussels sprouts to pizza on April 2nd a couple of years ago. The day before, April Fool's Day, my husband had played a joke on our family by swapping out the chocolates in a box of See's Candy with Brussels sprouts. When he saw the pizza, he looked stunned. Since he had no love for these cruciferous vegetables, he assumed no one else would want to eat them.
"Joke's on you, I guess," I told him. To show he was a good sport, he tried the pizza and decided that he liked Brussels sprouts after all. It actually tasted so good that we now buy Brussels sprouts on purpose.
Those April Fool's Day Brussels sprouts turned out to the the joke that keeps on giving, though.
About a month later, I kept smelling something horrible in our garage. I couldn't track it, and I asked my husband about it.
He'd smelled it, too, and had been looking for a dead animal. The stench finally got so bad that we started to clean out the whole garage (a task well worth all the suffering; if you saw my garage, you'd understand).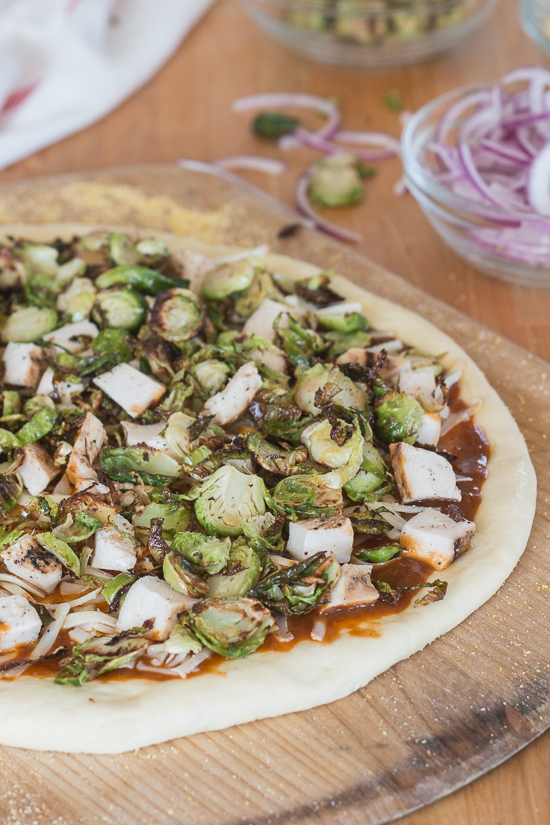 But before we managed to make a good start, he dug a plastic shopping bag from underneath the clutter on his work table.
The bag — slimy, drippy, and writhing with maggots — gave off such a strong stench that I backed away in horror. After as much inspection as was possible without a mask, he realized that the bag contained, rather than a dead animal, the Brussels sprouts that wouldn't fit in the See's Candy box on April Fool's Day.
After he'd loaded up the box, he'd completely forgotten about them. Oops.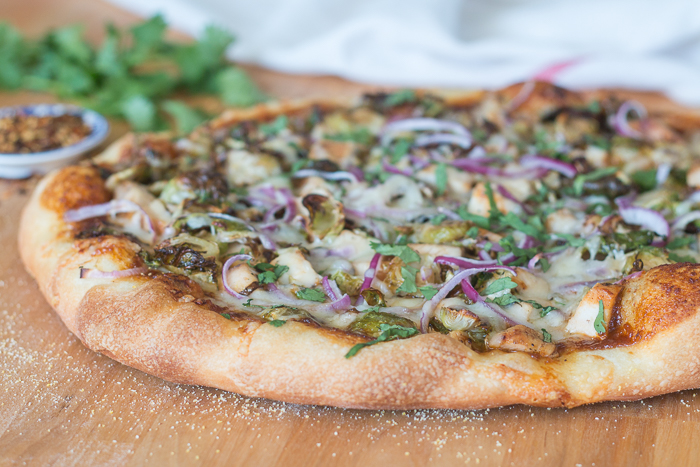 We still like Brussels sprouts, and I half chuckle every time I see them. I've even managed to forget just how bad rotten Brussels sprouts smell.
So this pizza, yeah, I hope I haven't put you off it.
I slice fresh, lovely Brussels sprouts thinly and roast them with olive oil, salt, and pepper in the oven while it's heating up to bake the pizzas. They get nice and crispy around the edges. All that charring makes them deliciously flavorful.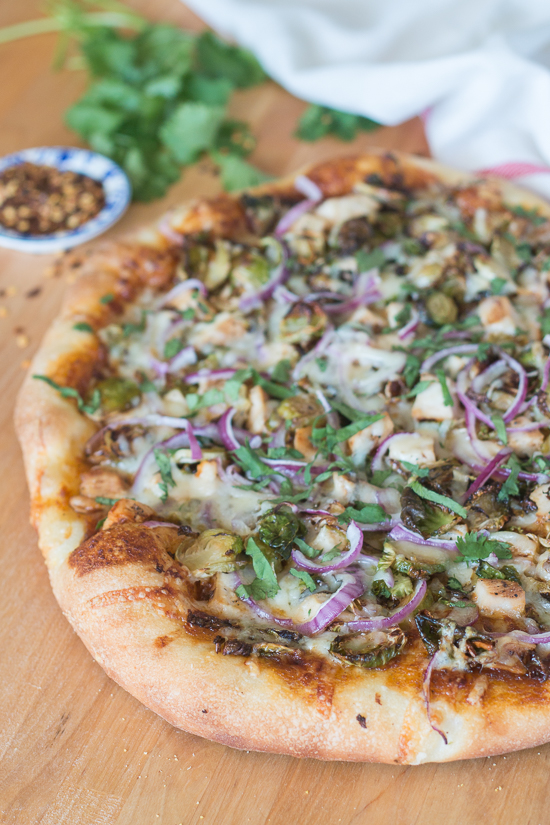 They're so good that I have to stop myself from snacking on them while I prepare the pizzas. I could really eat the whole bowl.
Layered with chopped cooked chicken and red onion — which adds color as well as flavor — the Brussels sprouts really make this barbecue pizza.
I've prepared similar barbecue-style pizzas with other veggies, and this one's definitely my favorite. I love the flavor combination with Gruyere cheese, but smoked mozzarella would taste great as well.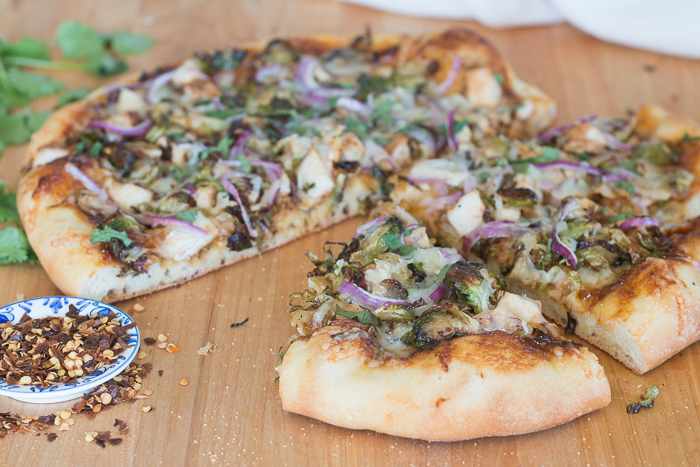 A sprinkling of chopped cilantro over the top when it comes out of the oven gives it freshness, and crushed red pepper gives it heat if you want a bit of kick.
Remember, though, that pizza recipes are really just suggestions. Don't be afraid to get creative! Mix it up with different meats, veggies, or cheeses. Let me know if you hit on an especially amazing combination.
But if you ever find that you have extra Brussels sprouts on hand, use them for pizza. Like right away! You really don't want to forget about them.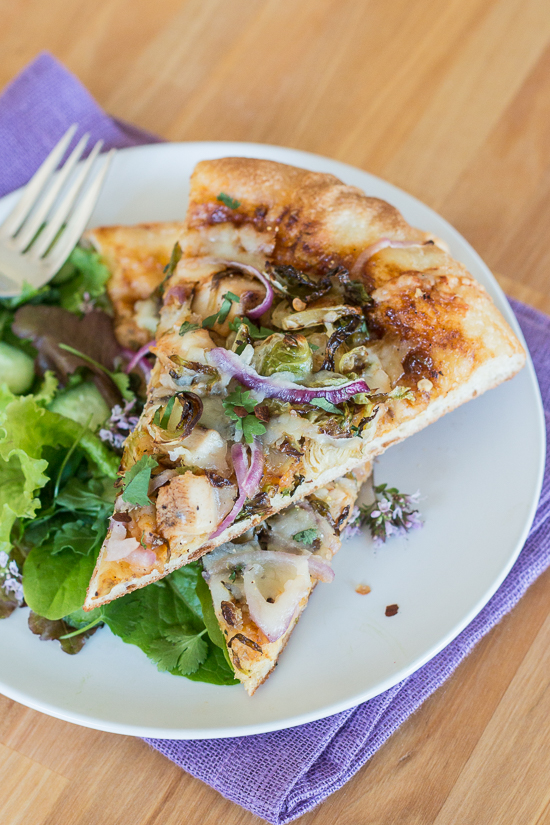 Print Recipe
Barbecue Pizza with Chicken and Roasted Brussels Sprouts
Makes two 12-inch pizzas. If you like more variety, prepare half the topping amounts listed below and use the extra dough to make something
different.
Ingredients
1

recipe pizza dough

8

ounces

Brussels sprouts

trimmed and thinly sliced (about 3 cups prepped)

1

tablespoon

olive oil

plus more for the tops of pizzas

salt and pepper

to taste

1/2

small red onion

sliced thinly

2

cups

chopped cooked chicken

(about 10 ounces)

4

cups

shredded Gruyere cheese

(about 8 ounces)

2/3

cup

barbecue sauce

2

tablespoons

coarsely chopped cilantro

crushed red pepper

if desired
Instructions
Preheat the oven to 475º F. Grease and dust two baking sheets with cornmeal or place a baking stone in the oven (preheat for at least 45 minutes before baking). Gently deflate the dough and turn it out on a lightly floured surface. Divide the dough in half and shape each piece into a ball. Let the dough rest for 15 to 20 minutes as you prepare toppings.

Line a rimmed baking sheet with foil. Add prepared Brussels sprouts, olive oil, salt and pepper. Toss to combine and roast in preheated oven until Brussels sprouts begin to char, about 15 minutes. Continue prepping remaining ingredients.

Working one at a time, flatten each dough ball on a lightly floured surface, rolling and stretching it into a 12-inch round. Place the dough circles on prepared baking sheets or pizza paddles dusted with cornmeal.

Brush the top of one of the dough rounds with olive oil. Add half of the barbecue sauce and spread it evenly. Cover sauce with about 1 cup of of the cheese and scatter half of the chicken, Brussels sprouts, and onion over the sauce. Top with another cup of the cheese. Repeat with remaining dough round.

If using a baking stone, slide pizza off the paddle (a baking sheet works just as well if you don't have a paddle) onto the baking stone. If using a baking sheet, place the pan and pizza on the oven's bottom rack. Bake until the crust is browned and the cheese is melted and golden around the pizza's edges, about 12 minutes. Top with cilantro. Serve with Parmesan cheese and crushed red peppers.
Pin Barbecue Pizza for Later
You might also like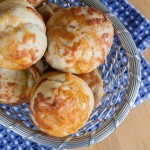 Olive & Prosciutto Pizza Rolls
Homemade Pizza Dough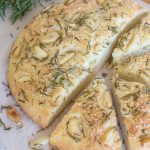 Garlic and Rosemary Focaccia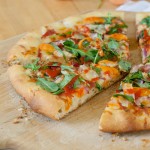 Apricot & Prosciutto Pizza with Sriracha & Honey