With their deep pink cranberry buttercream and glittery sugared cranberries, these pretty Muffin Tin Cranberry-Pecan Blondies make a great, easy-to-serve dessert for festive occasions.
For the last month, my kitchen has been stripped, not only of cooking equipment, but lights, cabinets, and even drywall.
What started as an effort to replace my oven has evolved into a larger project requiring new wiring, plumbing, and pretty much everything else. I don't see an end in sight.
Despite the obvious inconveniences, there have been some bright spots. On a whim, we asked our contractor to remove the laundry sink in our garage and install the cabinet housing our old kitchen sink in its place. The addition of a plug-in induction burner, a microwave, and a large toaster oven have turned my garage into a makeshift kitchen.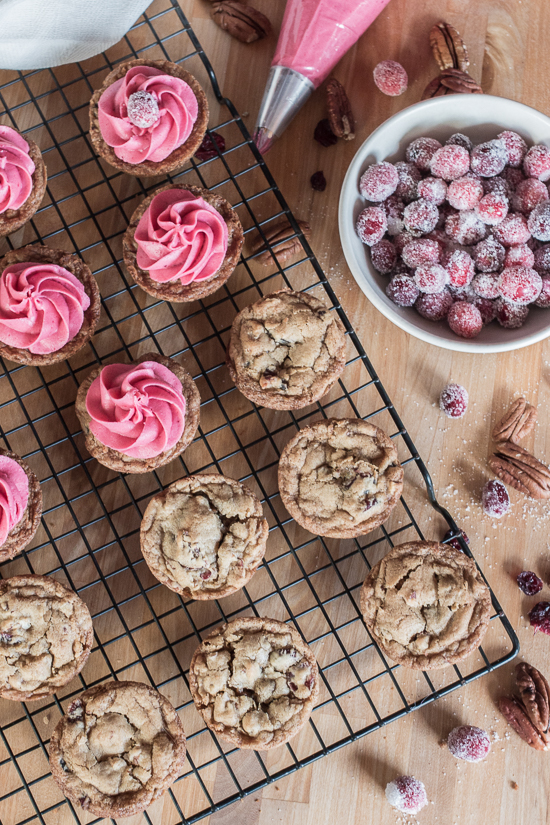 Thanks to my plus-size toaster oven, I've made several pies, experimented with mini stuffed pizzas, and created a recipe for Muffin Tin Cranberry-Pecan Blondies.
This muffin tin blondie recipe draws inspiration from these Muffin Tin Chocolate Brownies and these sweet, almost caramel-tasting Blond Brownies.
I wanted to try something different with the blondies, so I replaced the chocolate with dried cranberries and topped the finished treats with cranberry buttercream. I figured the cranberries would give the sweet dessert a tart punch, but it didn't work out that way at all.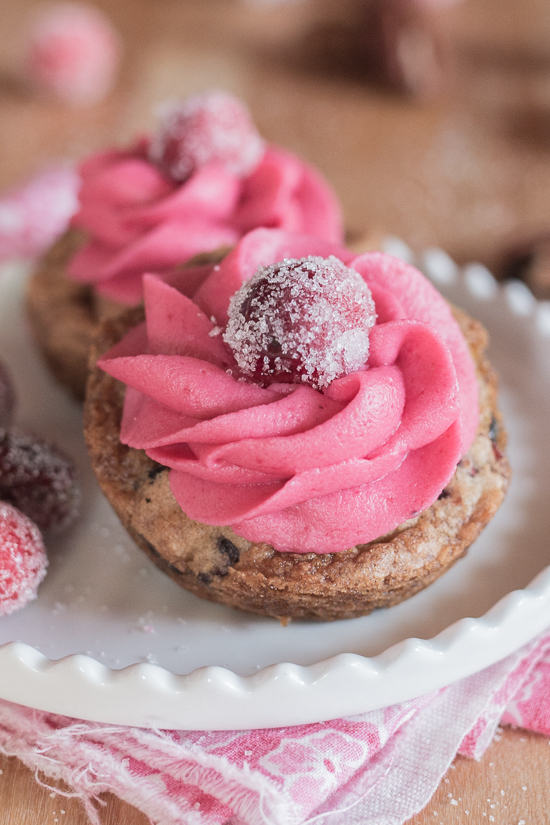 While the dried cranberries added some tartness, it turns out that, no matter how much tangy cranberry you mix in to buttercream frosting prepared with confectioners sugar, it will always taste sweet.
I needn't have worried about the extreme sweetness, though. Despite their incredible indulgence, people loved these muffin tin blondies topped with cranberry buttercream!
In an attempt to reign in the sweetness for my own personal taste, I added pecans the next time around to give them some nutty flavor and crunch. I also topped the frosted blondies with sugared cranberries, which, despite their name, are quite tart and puckery.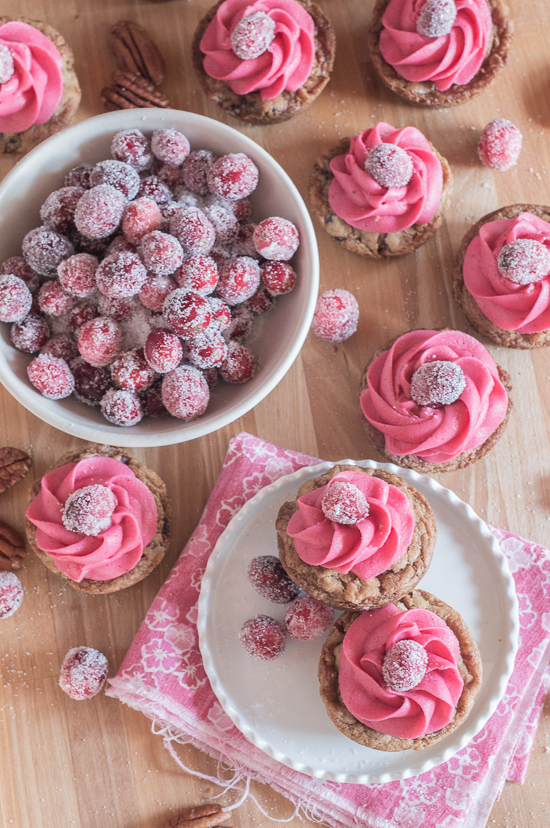 The nutty pecan crunch and tart burst of tangy cranberry flavor don't cut the sweetness, but they definitely round out the flavors and textures.
With their deep pink frosting and glittery cranberries, these pretty Muffin Tin Cranberry-Pecan Blondies make a great, easy-to-serve dessert for festive occasions.
Since the recipe has three different components, these blondies do take a bit of planning, like allowing time for the sugared cranberries to dry after their soak in a simple syrup as well as time to simmer fresh cranberries down to a thick jelly for the frosting.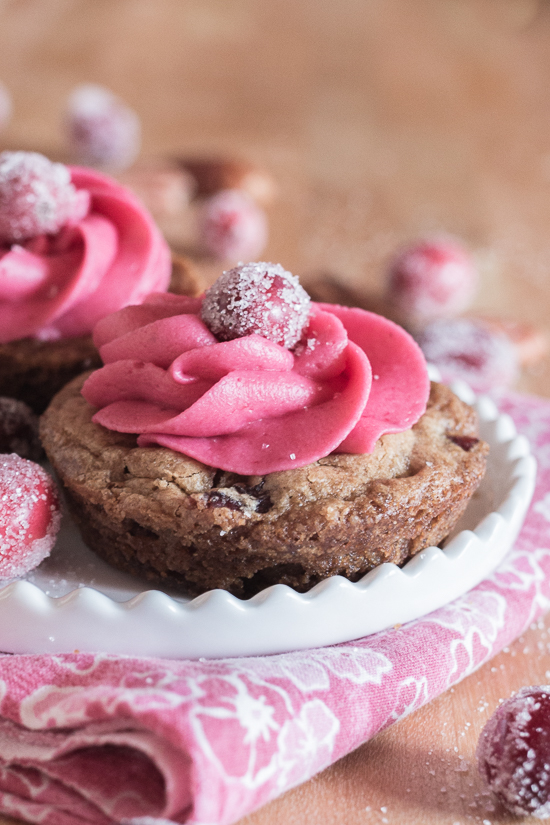 But consider this: I've made these Muffin Tin Cranberry-Pecan Blondies several times in my garage with a single burner and a toaster oven, so they can't be that hard!
If all the parts of this recipe seem too overwhelming to tackle, I recommend whipping up a batch of muffin tin blondies and serving them simple and unadorned. They're delicious and satisfying, even without their fancy trappings!
Print Recipe
Muffin Tin Cranberry-Pecan Blondies
Ingredients
Sugared Cranberries

1/4

cup

water

1

cup

granulated sugar

divided

1

cup

fresh cranberries

Blondies

6

tablespoons

unsalted butter

1

cup

packed brown sugar

1/4

teaspoon

kosher salt

1

egg

lightly beaten

1

teaspoon

vanilla extract

1/2

teaspoon

baking powder

1/8

teaspoon

baking soda

1

cup

unbleached all purpose flour

1

cup

dried cranberries

1

cup

pecan halves

coarsely chopped

Cranberry Buttercream

2

cups

fresh cranberries

3/4

cups

water

1/2

cup

unsalted butter

softened but still cool

3 to 4

cups

confectioners' sugar

1/2

teaspoon

vanilla extract
Instructions
To prepare the sugared cranberries, combine 1/4 cup water and 1/4 cup sugar in a small sauce pan over medium-high heat, stirring until sugar is dissolved and the mixture comes to a boil. Turn off heat and add cranberries, stirring well to coat them with syrup. Transfer cranberries to a wire rack and let dry for about an hour. They will feel dry but tacky. Working in small batches, roll the cranberries in the remaining sugar. Let them dry for another hour to set the sugary coating.

Preheat oven to 350° F for the blondies. Grease 24 wells in standard-size muffin pans.

Melt butter in a large saucepan over medium-low heat. Add the brown sugar and salt, stirring to combine.

Remove the mixture from heat and stir in egg and vanilla extract, mixing well. Add baking powder and baking soda, stirring until combined. Add flour and stir until just combined. Mix in dried cranberries and pecans. The batter will be quite thick.

Divide mixture between the prepared muffin pans and bake until just set, about 10 to 12 minutes. Place pan on rack to cool for about 10 minutes. Remove blondies from the pan with a thin spatula or with skewers.

For the buttercream, combine cranberries and water in a small sauce pan. Bring to a boil and then reduce heat, simmering until the mixture bubbles thickly and takes on the consistency of tomato paste.

Transfer the cranberries to a fine mesh sieve and press on the mixture with a silicone spatula to separate out the skin and seeds. The remaining mixture should measure about 1/4 cup. Let cool to room temperature.

In the bowl of a standing electric mixer, combine butter, 2 cups of the confectioners' sugar, the cranberry puree, and vanilla. Mix slowly with the paddle attachment to combine. Add another cup of confectioners' sugar and mix until incorporated. Increase speed to medium-high and beat until smooth. Add additional powdered sugar, as needed, to achieve a smooth, creamy consistency.

Pipe frosting on cooled blondies or spread it on generously with a thin, flexible spatula. Garnish with sugared cranberries.
YOU MIGHT ALSO LIKE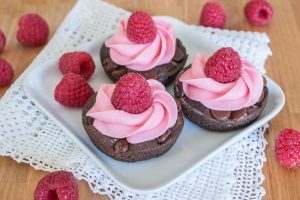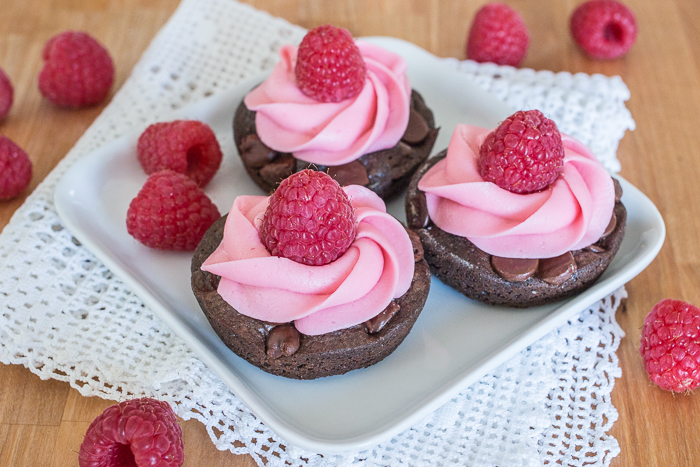 Muffin Tin Chocolate Brownies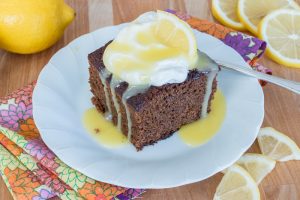 Old Fashioned Gingerbread
Magical Holiday Fruit Cake