Salty, smoky, and sweet, these Bacon-Wrapped Parmesan-Stuffed Dates make perfect party appetizers. Fresh lemon zest and thyme leaves add brightness and zing to this indulgent, addictive hors d'oeuvre.
The first time I made these Bacon-Wrapped Parmesan-Stuffed Dates, my husband and I stood in the kitchen and ate every single one as soon as they were cool enough to eat.
That was years ago, and we were having friends over for dinner. The dates tasted so incredible that we couldn't help ourselves; we did not have a single date left by the time our friends arrived ("Bacon? Uh, no, I don't smell that at all! How strange! Here, have some Brie.").
These Bacon-Wrapped Parmesan-Stuffed Dates entwine salty, sweet, and smoky flavors in one indulgent package. Lemon zest and fresh thyme leaves add brightness and zing that balance the richness of these small bites.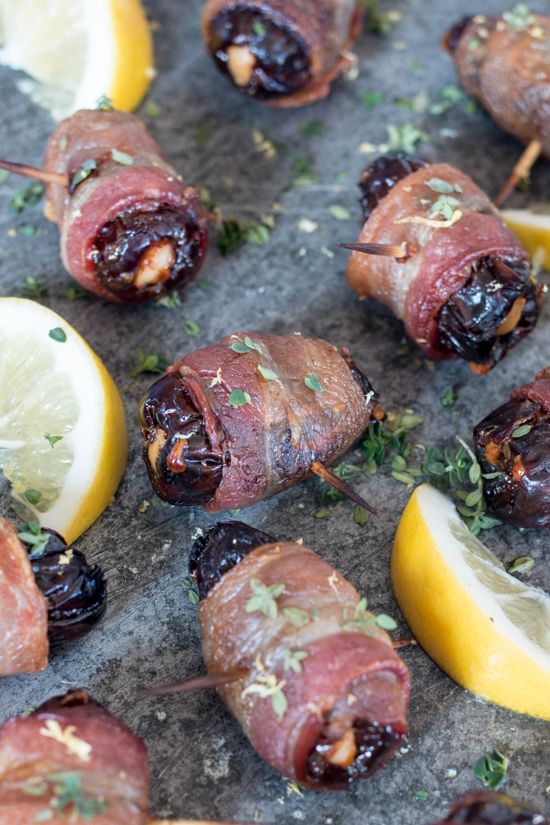 These tasty morsels work well for gatherings of all kinds. Dress them up on a fancy platter with garnishes for formal occasions or serve them on a nice cutting board for more casual events.
If you're preparing them for a crowd (or just suspect that you might eat many of them on your own), this recipe scales up easily.
Best of all, this simple finger food can be prepped ahead of time. Once the dates are stuffed and wrapped, keep them in the fridge until you're ready to bake them.
For this recipe, I recommend using whole dates with pits rather than pre-pitted ones. The pits come out easily and they leave a behind a conveniently-sized pocket that's just right for a small piece of Parmesan cheese. Pre-pitted dates sometimes get a little squashed, and this can make adding the Parmesan challenging.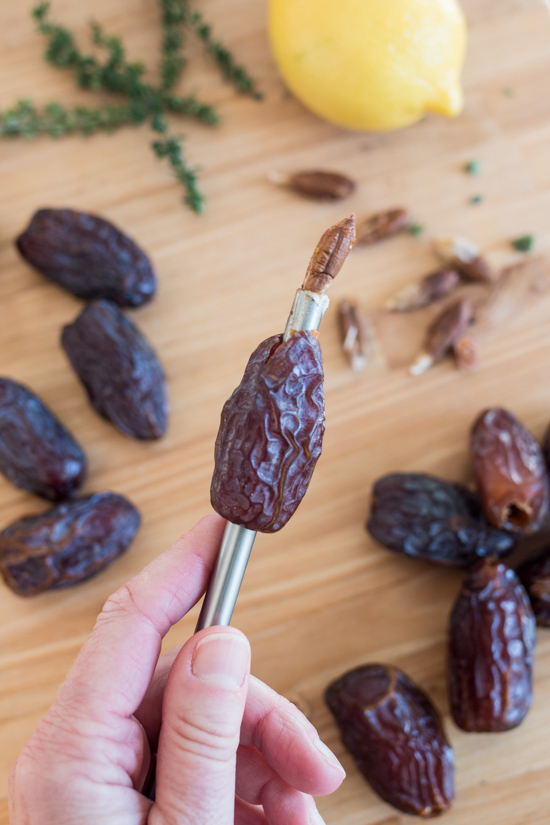 I always used to remove the dates' pits by sliding a chopstick through the dates lengthwise, but I couldn't find one the other day. As I dug through my drawers looking for chopsticks, I pulled out a metal straw to use instead. This turned out to be a game changer.
The pit's pointed tip tucks right into the straw's opening as you push it through the date, which means it always pops straight out the other side exactly as planned. With a chopstick, if you don't push just right, sometimes the seed turns sideways while you work.
That said, I would only use a metal straw for removing the pits if you have a small brush for cleaning the straw. The straw fills up pretty quickly with gooey date pulp that would be difficult to remove without the right tool.]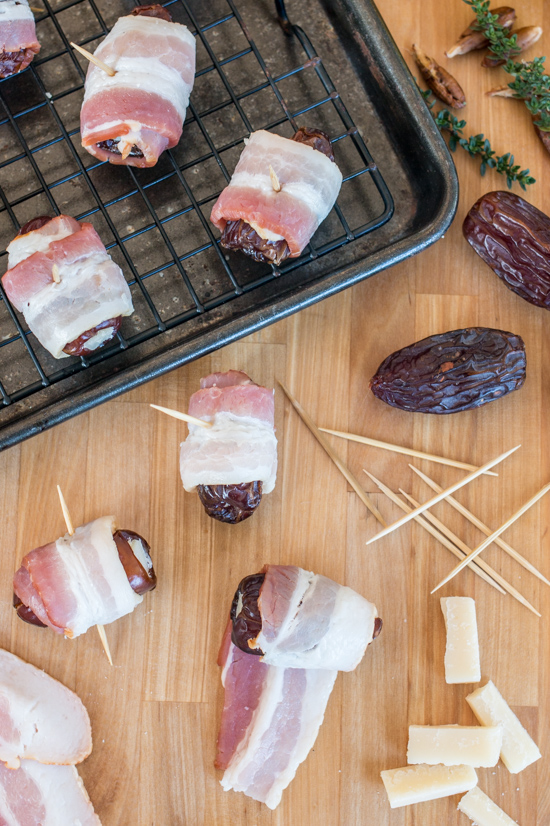 After pitting the dates, slide the cheese inside and wrap each one tightly with a half-slice of bacon. Adding a toothpick helps keep the bacon in place as the dates bake. The toothpick also serves as a handle which makes this finger food easier to eat.
You will definitely want to let these dates cool after they come out of the oven. The cheese in the center stays quite hot for some time, so plan for at least 10 minutes of resting time.
Right before serving, zest a lemon over the dates and scatter thyme over the top. Set out your platter and watch them disappear.
Enjoy!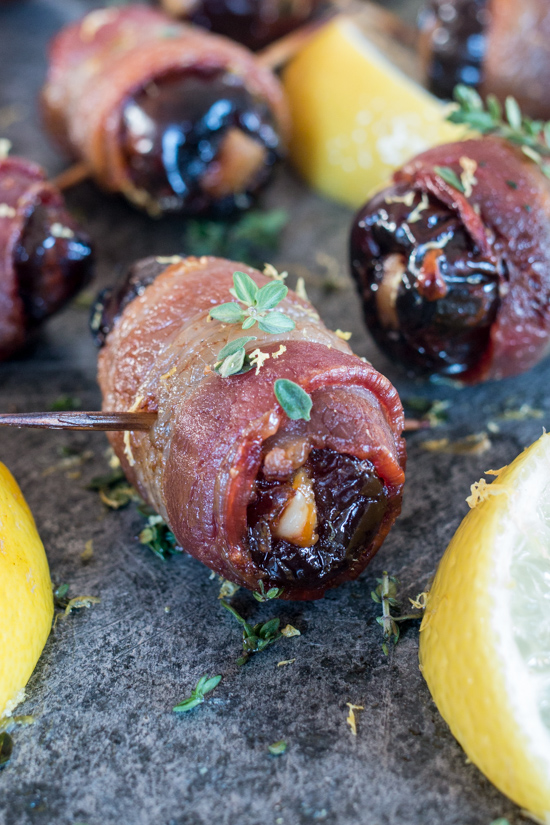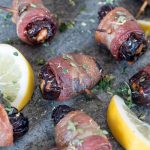 Print Recipe
Bacon-Wrapped Parmesan-Stuffed Dates with Lemon and Fresh Thyme
Ingredients
12

whole Medjool dates

12 1-

by 1/4-inch sticks of Parmesan

(about 1 ounce) cut from a larger piece

6

pieces

thin-sliced bacon

cut in half crosswise

12 to

othpicks

1

large lemon

a handful of fresh thyme stems

coarse salt

to taste
Instructions
Preheat oven to 400° F. Place a rack on a rimmed baking sheet. Set aside.

Press the tip of a metal straw or chop stick through the stem end the dates to push the pits out the opposite side.

Working one at a time, slide a stick of Parmesan into the center of each date.

Wrap a piece of bacon tightly around the date and secure it with a toothpick. If preparing ahead, refrigerate prepared dates in a sealed container until ready to bake.

Arrange dates about an inch apart on the rack. Bake until the bacon crisps, about 20 to 25 minutes. Let the dates cool for about 10 minutes before plating.

Just before serving, zest a lemon over the dates and scatter torn thyme leaves over the top. Add coarse salt.

Take care when eating as the centers stay hot for quite awhile.
Some of the links in this post are affiliate links. If you click through and make a purchase, I earn a small commission for my referral at no additional cost to you. Thank you for supporting Flour Arrangements.
YOU MIGHT ALSO LIKE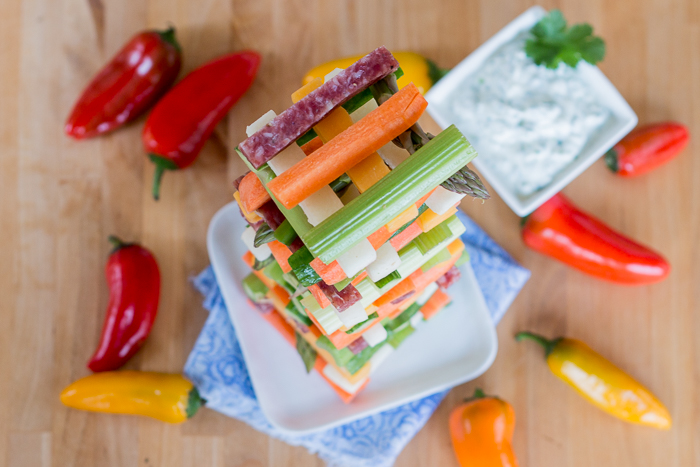 Jenga Veggie Tower with Creamy Cilantro Dip