Lightly spiced with cardamom and a pinch of nutmeg, this Pear Pie highlights the delicate, enticing flavor of ripe pears. A flaky all-butter crust provides the perfect backdrop for the luscious pear filling.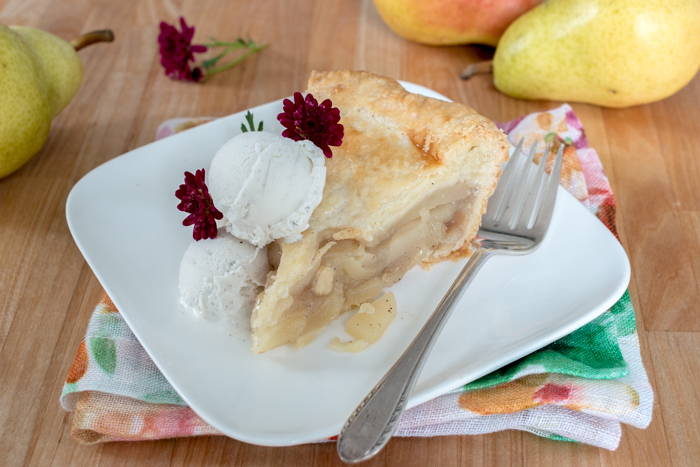 Pears, so smooth and creamy with a delicate floral flavor, may be one of my favorite fruits. Ripe and juicy, they taste amazing all on their own.
During pear season, they always disappear quickly from my fruit bowl. Last week, I made sure to buy extra so I would have enough to bake a Pear Pie.
I'd never had a slice of Pear Pie until I baked one for my uncle's birthday last year. He loved pears so much that he carefully pruned and tended an espaliered pear tree in his back yard.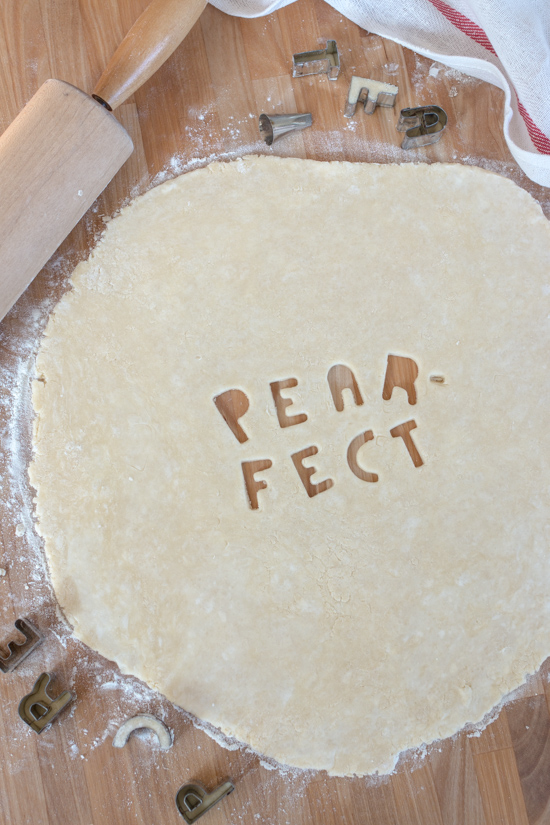 Unfortunately, I'm pretty sure he never managed to eat a single piece of fruit from his own tree. He grumbled often throughout the years about the squirrels that ran off with his fruit just as it ripened. I remember many a holiday meal in which my husband and I brainstormed ideas, like a motion-triggered water gun, to keep the squirrels away. He'd just smile at us in an amused way. Maybe he didn't mind sharing his pears.
My uncle passed away last winter. Now, whenever I bake Pear Pie, I think of him fondly. I remember his love for biking and backpacking, his quiet, dry sense of humor, and his pleasure in making things by hand.
He built his own bicycles, sewed much of his outdoor gear, and almost always crafted homemade gifts for others.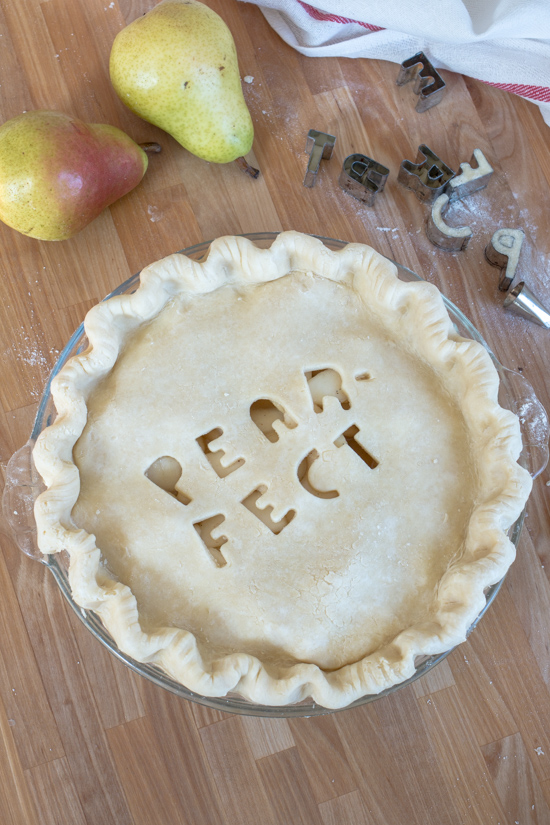 When my sister, brother, and I were young, he made us gifts like wooden toys, cool hats, and pint-sized backpacks. As we grew older, we always knew we could count on a jar of homemade pomegranate jelly during the holidays. I still have some of the gifts my uncle made me; those that I don't have, I remember well.
My uncle, one of the most health-conscious people I've ever known, always refused dessert — with the exception of fruit pies. The idea of choosing not to eat dessert always astonished me as a child. Now I can appreciate the fact that he only ate what he really felt like eating.
When I came up with the recipe for my uncle's birthday pear pie, I wanted to focus on the subtle, delicate flavor of this succulent fall fruit.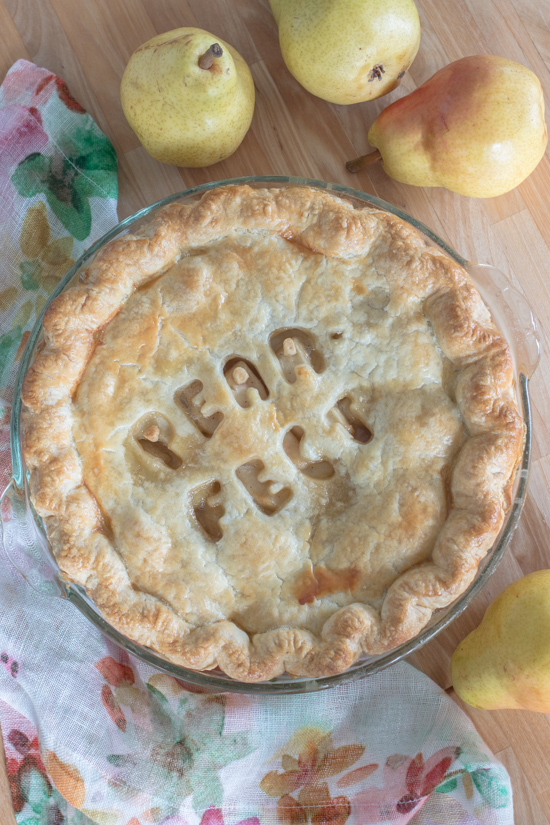 Lightly spiced with cardamom and a pinch of nutmeg, the pears truly shine in this pie. A flaky all-butter crust provides the perfect backdrop for the luscious fruit filling.
I love adding messages to pies, so couldn't resist using my alphabet cutters to write a celebratory "Happy Birthday" atop his pie. It looked so festive with tall, colorful birthday candles.
My uncle's birthday pie was such a hit that I baked it again for Thanksgiving last year. Almost everyone who ate a slice remarked that they'd never had Pear Pie before.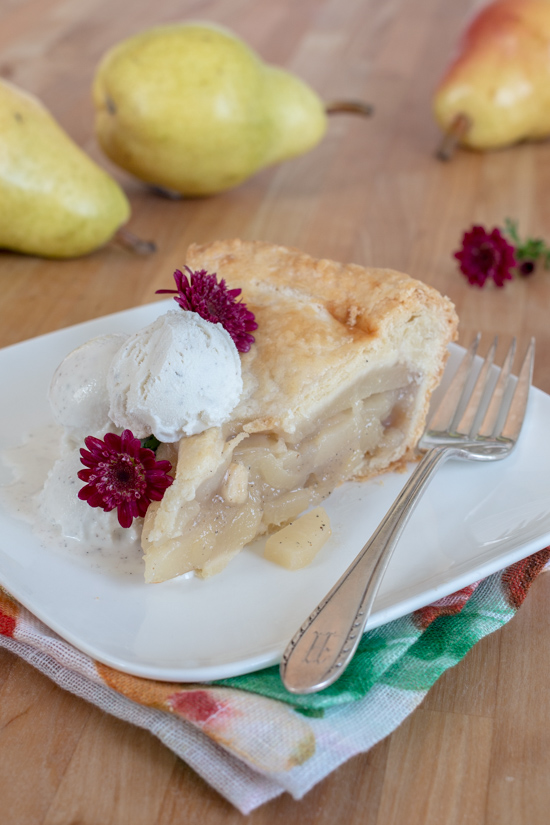 Pear Pie is definitely not as common as other fruit pies, but once you try it, you will wonder why. This pie delivers distinctive pear flavor in a crisp, flaky packaging. Each tender, lightly spiced bite leaves you eager for more.
I'm so glad that my health-conscious, pear-loving uncle liked pie. I wish he were still around to enjoy another slice.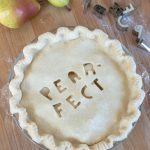 Print Recipe
Pear Pie
If you decide to use
alphabet cutters
or other shapes to decorate your pie, cut the shapes before adding the top crust to the pie. Bake the centers of the letters separately on a baking sheet. Watch them carefully as they burn quickly -- timing will vary depending on their size and thickness. Add them to the pie after it cools.
Ingredients
Pastry

2½

cups

unbleached all-purpose flour

1

tablespoon

confectioners' sugar

1

teaspoon

kosher salt

2½

sticks cold butter

cut in ¼-inch slices (1¼ cups)

1/3

cup + 1 tablespoon

ice water

strained

Pear Filling

5 to 6

large pears (about 5 cups)

sliced

2

tablespoons

fresh lemon juice

½ to ¾

cups

maple syrup

depending on the pears' sweetness

½

teaspoon

ground cardamom

pinch

freshly grated nutmeg

1/8

teaspoon

kosher salt

3

tablespoons

corn starch

1

tablespoon

unbleached all purpose flour

Egg Wash

1

large egg

2

teaspoons

cold water

pinch

kosher salt
Instructions
To prepare the pastry dough, whirl flour, confectioners' sugar, and salt in food processor with the blade attachment. Add about half of the butter and whirl until no chunks remain. Add remaining butter slices and whirl briefly to chop them up slightly. Turn food processor on again and quickly begin drizzling ice water through the feed tube, stopping before the dough comes together. Pinch some crumbs together between your fingers; if they don't stick together, add a bit more water and whirl briefly.

Turn the mixture out onto a large piece of plastic wrap. Use the plastic wrap to help you bring the dough together; fold the edges of the dough toward the center and press down until it holds together, taking care not to overwork the dough. Divide it in half and shape into two flat disks wrapped tightly in plastic. Refrigerate for at least 30 minutes.

While the dough chills, preheat oven to 425° F.

Peel, core, and slice pears to 1/4-inch thickness. Toss the slices gently with lemon juice, maple syrup, cardamom, nutmeg, salt, corn starch, and flour. Let the mixture stand for about 20 minutes to soften the fruit.

Whisk egg, water, and a pinch of salt in a small bowl and set aside.

On a lightly floured surface, roll out one of the dough rounds into a 13 to 14-inch circle. Transfer it carefully to a 10-inch pie dish. Brush some of the egg wash over the bottom and up the sides of the pastry dough. Roll out remaining round into a 13 to 14-inch circle.

Fill bottom crust with the pear mixture. Brush the overhanging edge with cold water, cover with the top crust, and seal gently by pressing down on the edge with the bottom of a fork. Trim overhanging dough with a knife and flute the edge with your fingers, if desired. Cut steam vents in the top.

Place pie on a baking sheet to catch any overflowing juices. Bake for 30 minutes. Reduce heat to 350° F and continue baking until the juices bubble thickly through the vents and the fruit feels just tender when poked with a sharp knife, about 40-50 minutes. Allow the pie to cool for several hours before serving.
Some of the links in this post are affiliate links. If you click through and make a purchase, I earn a small commission for my referral at no additional cost to you. Thank you for supporting Flour Arrangements.
YOU MIGHT ALSO LIKE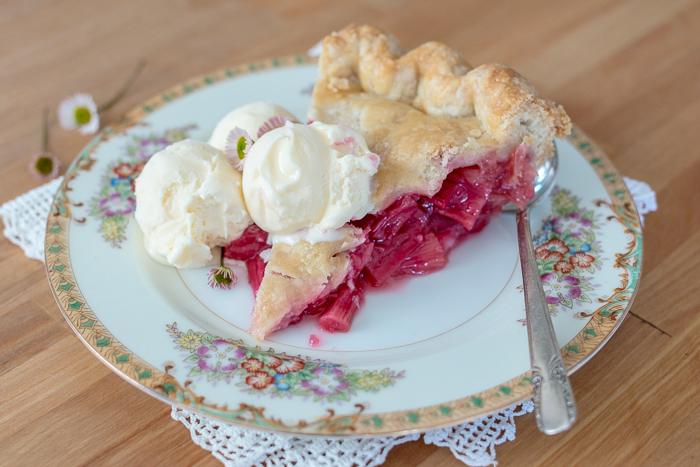 Rhubarb Pie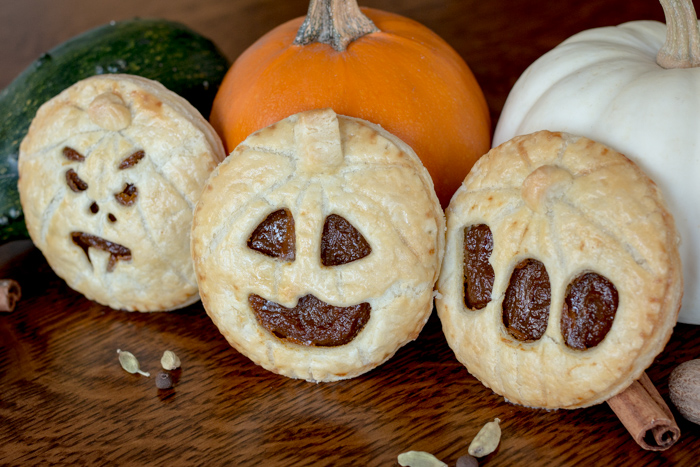 Pumpkin Hand Pies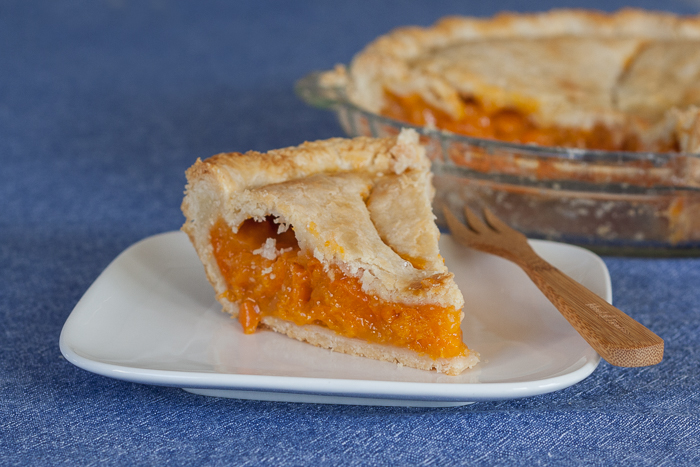 Apricot Pie